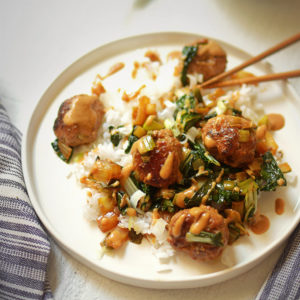 One-Pot Asian Meatballs with Bok Choy and Peanut Sauce
Author: Rachel Hanawalt
Prep time: 25 mins
Cook time: 13 mins
Total time: 38 mins
This sweet and savory Asian-inspired dish with hints of ginger and green onion will be a tasty, fun hit with the whole family!
Meatballs
1½ lb ground pork
⅔ C finely chopped green onions
3 cloves garlic, minced
1½ Tbsp soy sauce
1 tsp dry ginger
1 Tbsp vegetable oil
Bok Choy
1-2 heads of bok choy (depending on size), chopped*
1 C sliced green onions
2 cloves minced garlic
2 tsp sesame oil
2 Tbsp soy sauce
2 Tbsp dark brown sugar
½ tsp corn starch
Peanut Sauce
¼ C peanut butter
1 tsp dark brown sugar
1 Tbsp soy sauce
4 Tbsp water
Mix together the meatball ingredients and roll the mixture into meatballs. Place them on a skillet that has been oiled with 1 Tbsp of vegetable oil. Each meatball should be made of about 1 Tbsp of meat and you should end up with approximately 25 meatballs. Cook over medium heat for 2-3 minutes on each side. Once the meatballs are cooked through, remove the them from the skillet and set aside.
While the meatballs are cooking, make the peanut sauce. Simply whisk together the ingredients and set aside to serve with the meal later.
Once the meatballs are done cooking, drain off the excess fat from the skillet but leave some of the meat drippings and a light coating of oil in the pan. Add the bok choy stems to the skillet and sauté for 4 minutes. Next add the bok choy leaves, as well as the green onion and garlic and sauté for two more minutes. Add the meatballs back into the skillet.
While the greens are cooking, whisk together the corn starch, soy sauce and brown sugar in a small bowl. Turn the heat to high and add the soy sauce mixture to the skillet. Cook on high until the sauce begins to bubble, then cook for one more minute to thicken the sauce. Remove from the heat. Serve hot with the peanut sauce.**
*Chop about 3 C stems, and 5 C of coarsely chopped bok choy leaves.
**Serve as is for a low carb option, or serve on a bed of rice. The recipe produces 5 servings of approximately 5 meatballs.
Recipe by
Simple Seasonal
at https://simpleseasonal.com/recipes/one-pot-asian-meatballs-with-bok-choy-and-peanut-sauce