Chocolate-Dipped Orange Shortbread Cookies – Three big holiday flavors combine to form an irresistible treat that will be the hit of your year-end party (if you don't gobble them up yourself, that is).
During the holiday season (or any season, really) my favorite thing to nibble on is shortbread. Call it an obsession with butter if you must, but aside from the buttery goodness, my love for this cookie results from it being a delightful blank slate for showcasing seasonal flavors. My favorite additions to a shortbread cookie are nuts, berries, chocolate, and, most of all – citrus.
Combining chocolate and orange in a yummy little shortbread cookie seemed to be the natural thing to do this Christmas. Actually, confession time… My husband and I have been in a chocolate-orange food disposition as of late. Check out my recipe for Orange Cannoli Pancakes, which is a wild card winner on Food52 by the way! My husband is also currently developing a chocolate orange cocktail, which will debut before Christmas – after I taste-test a few more… 😉 By the way, drinking a chocolate orange cocktail with a jar full of these cookies in front of you tends to lead to poor judgment in cookie consumption. So for goodness sake, be careful!
This recipe comes together pretty quickly, since shortbread cookies are about as simple as it gets in the cookie-making department. A lot of butter, plus a medium amount of flour, and a little powdered sugar makes shortbread goodness. To add the delightful orange flavor I used a couple of teaspoons of Cointreau and some orange zest, which gave the cookie a natural orange flavor.
Once the cookies were baked and cooled, the naked little orange shortbread wafers were just begging to be dipped in a little melted dark chocolate.
A quick dunk and a few hours to dry (hint: speed this up by sticking them on a chilly patio) and you'll have a sophisticated yet simple cookie that will be a hit whether you take them to a holiday party or decide to keep them all to yourself and eat them without abandon in front of your Christmas tree while sipping on a chocolate orange cocktail. Not that I would know anything about that…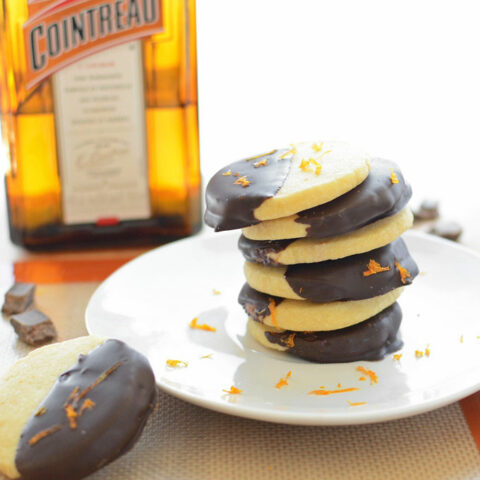 Chocolate-Dipped Orange Shortbread Cookies
Yield: 24

Prep Time: 20 minutes

Cook Time: 12 minutes

Total Time: 32 minutes

Three big holiday flavors combine to form an irresistible treat that will be the hit of your year-end party (if you don't gobble them up yourself, that is).
Ingredients
1/2 C (1 stick) salted butter at room temperature
1/3 C plus 1 Tbsp powdered sugar
2 tsp orange liqueur (Cointreau)
1/4 tsp vanilla extract
1 C unbleached flour
1 tsp orange zest
2 C dark chocolate morsels
Instructions
In a medium sized mixing bowl, cream the butter and then add powdered sugar and cream together with a hand mixer. Add orange liqueur and vanilla and continue to mix until smooth.
Add flour and orange zest to the bowl and work the two ingredients into the butter and sugar mixture using a spatula or your hands. Take care not to over-mix. You're going for well-combined, but not beaten.
Scoop the mixture into the middle of a piece of plastic wrap, mold into a log shape about 1 1/2 inches in diameter, then roll up in the plastic wrap and tie off the ends. Place in the freezer for 1 hour.
After the dough has hardened in the freezer, preheat your oven to 350ºF. Cut the dough out of the plastic wrap and cut in 1/8 inch think slices. Place on a cookie sheet covered with parchment and bake for 11-13 minutes or until the cookies begin to turn golden brown.
Allow the cookies 20 minutes to cool. Meanwhile, microwave your chocolate in a small microwave safe dish by heating in 1 minute increments at 30% power, stirring in between each increment. Continue to do this until the chocolate is melted - warm to the touch, but not hot.
Dip each cookie half-way into the chocolate and then place on a nonstick surface to harden. A silicone mat or parchment paper works well for this. Sprinkle the chocolate with fresh orange zest as desired. Enjoy once set.
If you enjoyed this post, you may also enjoy…