Roasted Garlic Scape White Bean Dip – Are you a "dipper?" If so, you'll love this summer treat that pairs perfectly with sandwiches, fresh vegetables, pitas, crostini, or your favorite dipping snacks!
Confession time: I'm a "dipper." When asked my favorite fast food question, "would you like any sauce with your nuggets?" my answer is always a resounding "yes, PLEASE!" And some for my fries, too… And is it normal to want to dip salad in Chick-Fil-A Sauce?? But perhaps that one's just a pregnancy craving. Whoops! Did I just let something slip?! More on that later… 😉
(Oh, and really, I don't eat much fast food, despite the fact that the above paragraph suggests otherwise.)
So, back to dipping. Dip makes everything so much better. When given the choice to eat a plain carrot versus dunking it into something flavorful and delicious, the choice seems pretty obvious to me. Unless, of course, you're trying to be healthy.
Fortunately, I've come up with some pretty good-for-you dips to satisfy my pregnancy cravings, which my husband might also construe as a general condition of forgetfulness and illogical decision-making (I call it "pregnancy brain"). One healthy dip I've developed is my Avocado Lime Yogurt Dipping Dressing. This one is lovely on veggie sticks and is an awesome replacement for ranch or blue cheese dressing when paired with something spicy, like in my Sticky Chipotle Cauliflower Wings. For today, however, I've found a new favorite – my Roasted Garlic Scape White Bean Dip.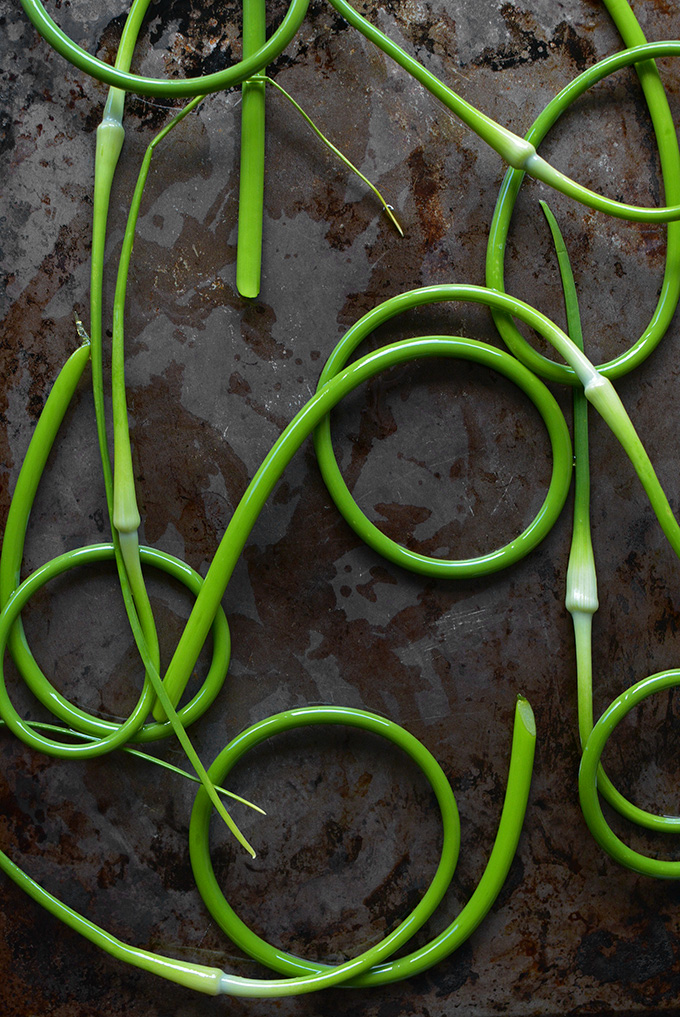 Garlic scapes are like a milder, sweeter garlic. They're the flower bud of the garlic plant, harvested for the tender stalk that lies just beneath the bud. It can be used in much the same way as garlic, keeping in mind that its flavor is less sharp. In my opinion, it's also more elegant and desirable when it's made the star of the show in recipes like this.
In addition to being a culinary delight, garlic scapes offer the same health benefits of garlic, like protection from heart disease and cancer. That's a win in the healthy dipping department. Creamy and savory dips are ever so tasty, but not so healthy. Pairing the garlic scapes with cannellini beans hits both of those marks. It also adds a boost of protein and iron. Another win in the healthy dipping department. After all, I'm eating for two now and have to think about what's good for my little one, too!
Now, as promised, more on that little one. I'm 21 weeks pregnant! I know I waited a little while to announce this on Simple Seasonal… At the beginning of my pregnancy there were some of what I'll call "hiccups," and my husband and I weren't sure wether the it was going to work out. We didn't announce our news outside our family and close friends, and I didn't let myself get too excited about the pregnancy in an attempt to guard my heart.
Finally, after about 17 weeks of 24/7 morning sickness, among some other problems, it was finally time for the 20-week ultrasound. We then got the excellent news that the baby is developing appropriately and is actually quite hefty in size. Now I'm on the other side of the fear of losing the baby (and of the morning sickness, thank heavens). Thus the dipping sauce cravings… And with every little kick I feel, I'm growing in anticipation of this little addition to our family with the expected arrival of November 9th!
We also found out the gender of the baby, but I'll make you wait a week or two before I share that secret. 😋 I know. So annoying!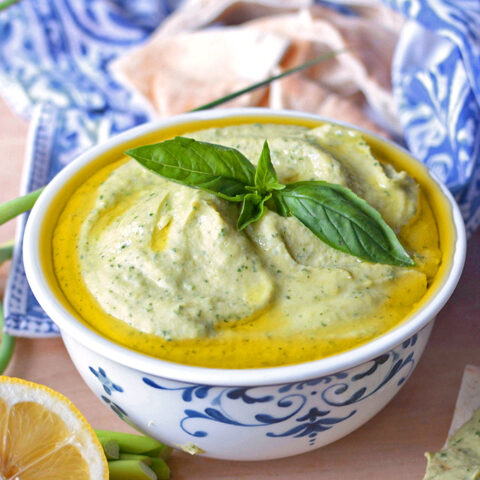 Roasted Garlic Scape White Bean Dip
Yield: 6 servings

Prep Time: 10 minutes

Cook Time: 10 minutes

Total Time: 20 minutes

Are you a "dipper?" If so, you'll love this summertime treat that pairs perfectly with sandwiches, pitas, crostini, or your favorite dipping snacks!
Ingredients
1 15 oz can cannellini beans
7 garlic scapes
1 Tbsp plus 5 Tbsp olive oil divided plus more for drizzling
2 Tbsp lemon juice
1/2 tsp salt
1/8 tsp pepper
2 Tbsp roughly chopped basil
Instructions
Coat the garlic scapes in 1 Tbsp of olive oil and roast them in a 350º F oven for 7-10 minutes depending on the size of your scapes. Allow them a few minutes to cool and then cut off and discard the flower end of the scape. Roughly chop the remaining stalk.
Combine all the ingredients except for the basil in a food processor. Process until smooth for at least 2 full minutes.
Gently pulse in the basil until it's evenly combined and it appears to be finely chopped.
Serve with olive oil drizzled on top with crudités, crostini, pitas or as a sandwich spread.
If you enjoyed this recipe, you may also enjoy…