One CSA item I get super excited about every season is garlic scapes. I have to admit, the first time I brought them home I thought they looked extraterrestrial, but after a few seasons I have come to love them. Garlic scapes are the tender stems and flowers of hard-neck garlic plants. They have a milder and sweeter garlic flavor. For me, they have come to taste like "summer" garlic since we get them early in the season. As fall approaches the bulbs mature and we get traditional garlic.
Despite it's unusually wild appearance, garlic scapes are quite versatile. The whole scape can be sautéed or grilled. The flower can be removed, as pictured below, and the stem can be chopped and used in recipes in place of traditional garlic. It also makes a great pesto! This week I'll be posting a few garlic scape recipes, so if you're aiming to learn how to use this unusual vegetable then stay tuned!
For today I have Garlic Scape Pesto. This recipe is easy to prepare and it makes a mild and sweet pesto, which like traditional basil pesto, is pretty versatile. Keep it simple and serve with pasta or zucchini noodles. It also makes a great marinade for seafood and chicken!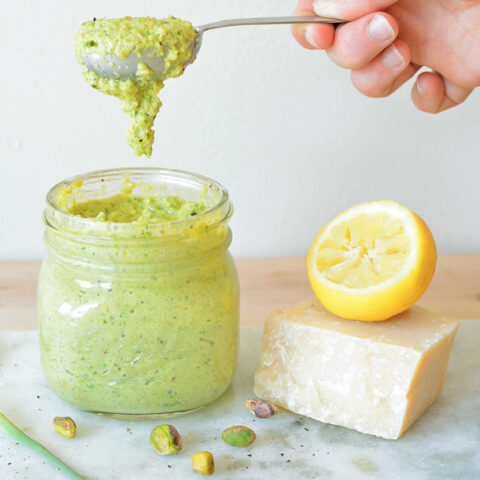 Garlic Scape Pesto
Yield: 6

Prep Time: 20 minutes

Total Time: 20 minutes

Garlic Scape Pesto is made from the tender stems of garlic which has a mild and sweet garlic flavor. Use as traditional pesto on pasta or as a marinade.
Ingredients
2/3 C diced garlic scapes
1/3 C extra virgin olive oil
1/3 C freshly grated parmesan-reggiano
1/4 C raw pistachios
2 Tbsp fresh lemon juice
2-4 Tbsp water
salt and pepper to taste
Instructions
Prep your ingredients by dicing your garlic scapes, grating your parmesan-reggiano, and squeezing your lemon.
Combine your garlic scapes, parmesan-regginao, pistachios and lemon juice in a food processor and process at a medium speed until they are roughly chopped. Continue to run the food processor and slowly pour your olive oil in through the opening on the lid of the food processor. Process until all of the ingredients are very finely chopped and beginning to become smooth. If the pesto seems a little thick add 2-4 Tbsp of water until the desired thickness is achieved.
Finally, stir in salt and pepper to taste. For a basic recipe, serve on pasta or zucchini noodles.