Small Batch Canned Pickled Red Onions – This quick and easy canning recipe is a perfect way to add some zing to everything from salads to sandwiches!
It's been difficult to get myself interested in canning this season. Last summer I was much more zealous, with recipes like my Golden Apricot Jam and Last Harvest Garden Salsa. But right now I'm 6 months pregnant and generally averse to spending all day chopping, jarring and then canning produce in hot, boiling water. Good thing today's recipe for Pickled Red Onions is a little, itty-bitty, small-batch recipe, and quick and easy enough to hold this pregnant lady's attention. Who knows, after this I might find the courage to make a batch of my Small Batch Crunchy Canned Dill Pickles. After all, they're excellent for satisfying those pregnancy cravings…
You may be wondering what one does with a bunch of pickled red onions… First, they have a sharp yet sweet flavor. Additionally, their crunchy texture (along with that pretty pink color) makes them a delicious and attractive condiment. They're perfect for dressing up sandwiches, wraps, burgers, tacos, and salads. You name the recipe, and there's a good chance that adding pickled onions would add a lot of zing.
After all, who doesn't enjoy a little zing in their lives? I know I do! Good thing these Small Batch Canned Pickled Red Onions are so easy to make. Give them a try!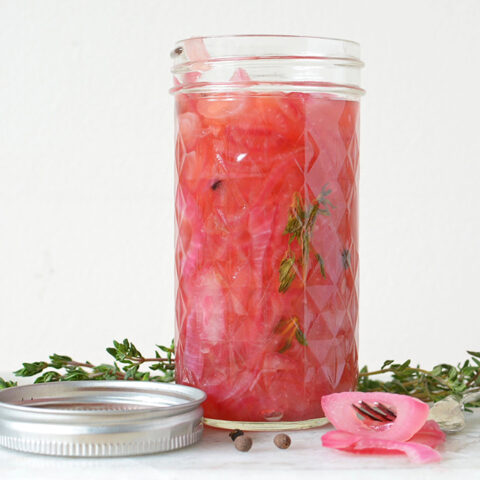 Small Batch Canned Pickled Red Onions
Yield: 2 12 oz jars

Prep Time: 20 minutes

Cook Time: 15 minutes

Total Time: 35 minutes

This quick and easy canning recipe is a perfect way to add some zing to everything from salads to sandwiches!
Ingredients
2 large red onions, thinly sliced
1 C apple cider vinegar
2/3 C organic cane sugar
1 Tbsp pickling salt
8 peppercorns
8 allspice berries
4 thyme sprigs
Instructions
Before beginning a canning project, it's important make sure that you have a clean work space and that you have everything set up and ready to go. Place your jars in your dishwasher on the high heat setting, without soap, in order to sterilize them. If you don't have a dishwasher, you can sterilize them by placing them in a large pot of boiling water for 5 minutes.
Fill a large pot ¾ of the way full with water and begin to bring to a boil over high heat. This will be your hot water bath for canning your onions.
Cut onions into 1/4 inch slices.
Dissolve the vinegar, sugar and salt in a saucepan and bring to a simmer.
Add the onions to the saucepan and simmer on low for 5 minutes uncovered. In the last minute, add the thyme.
Sterilize a pair of tongs by dipping the ends in boiling water for a minute. Use them to pack the onions and one sprig of thyme each into two 12 oz sterilized canning jars. Add 4 peppercorns and 4 allspice berries into each jar.
Using a ladle, fill the space around the onions with the pickling juice, leaving 1/2 inch of head space.
Place your canning lids and rings into a small saucepan with water and bring the water up to scalding temperature (just before boiling) in order to sterilize them. Don't boil, as this may damage your seals. Dip a clean paper towel in the boiling water of your large pot and use it to wipe the rims of your jars. Using a canning lid magnet, grab the lids and place them on your jars. Screw the rings onto your jars until you first meet resistance and then unscrew them a millimeter or two. This is important for creating a seal.
Process for 10 minutes submerged in a boiling water bath. After removing the jars from the water, allow them to sit undisturbed for 24 hours before handling. Store in a cool, dry, dark place for up to 1 year with the rings removed. Once opened, store in the refrigerator for up to a month.
Notes
If you decide not to can this recipe, the onions have a refrigerator shelf life of 2 weeks if not processed in a hot water bath canner. Allow them to pickle for at least 1 hour before using.
Double or triple the recipe as desired to can larger batches.



If you enjoyed this recipe, you may also enjoy…