Korean Bibimbap Bowls – Enjoy a bowl full of traditional Korean flavor with this tasty, satisfying, all-in-one entree that's chock full of seasonal goodness!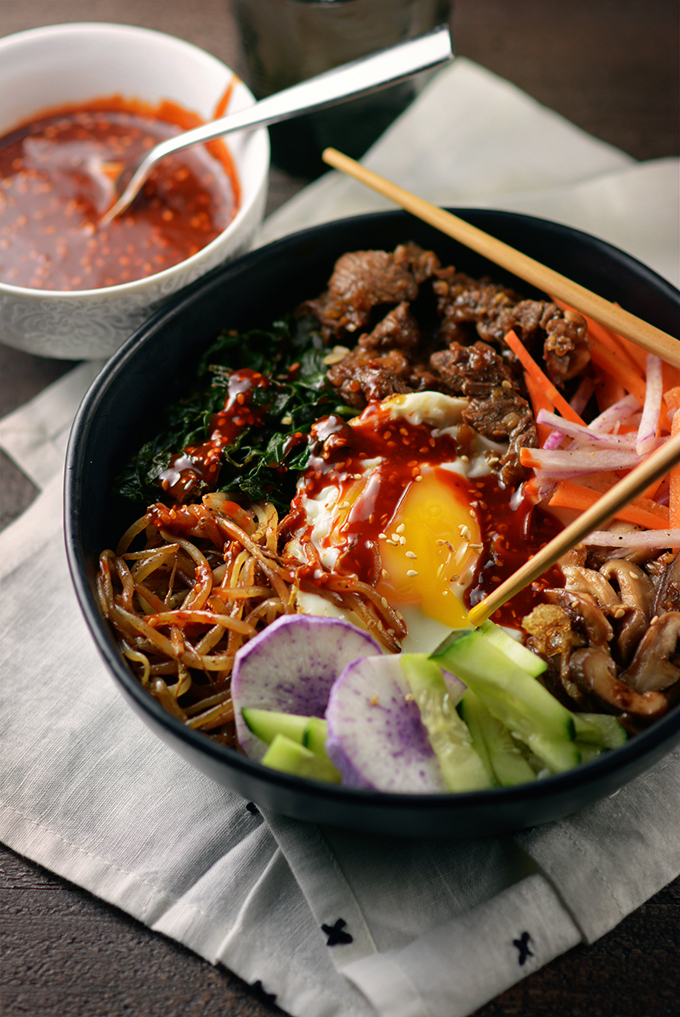 The Olympics are by far my most-looked-forward-to TV event. From opening ceremony to closing I have it playing at every opportunity. That's not to say I sit on the couch all day watching other people being active. Having it playing in the background of my life just makes housework, childcare, and working on the blog that much more exciting for a couple of weeks every two years.
Note: If there are a bunch of typos and nonsensical sentences in this blog post, it's probably because I was distracted by cross-country skiing and speed skating while writing this… oops and sorry!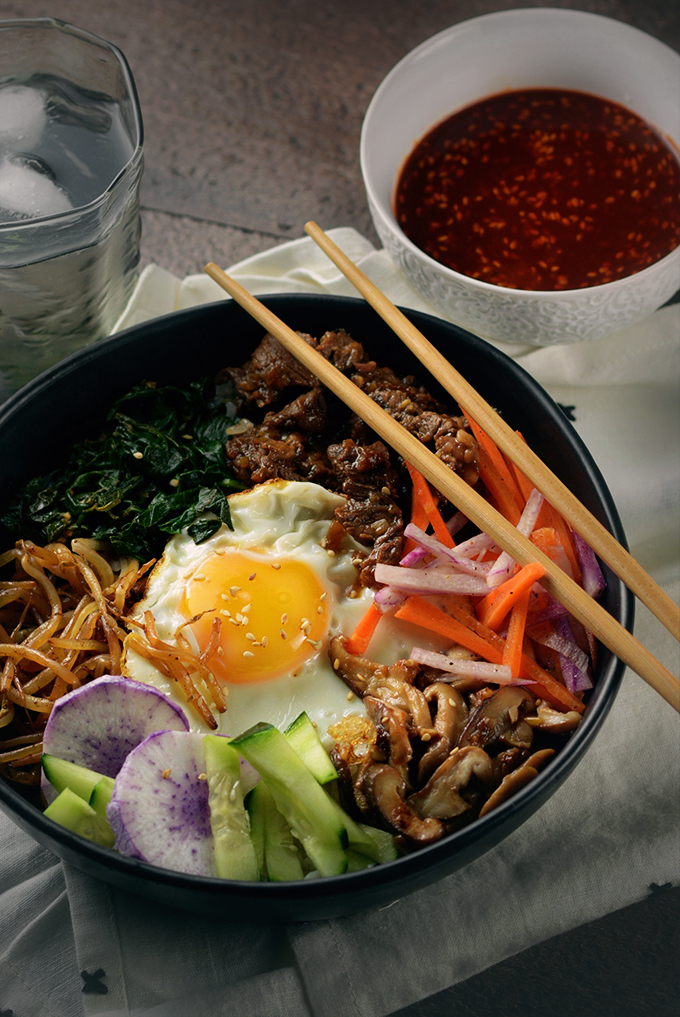 When it comes to the Olympics I love the variety of sports. Whether it be the summer or winter olympics, I couldn't possibly pick a favorite! The friendly competition between the different countries that brings many nations together into a large, celebratory international event is so refreshing. With the news being a constant reminder of the differences and frictions in the world, the Olympics reminds me of our similarities as well as the good in our cultural variety.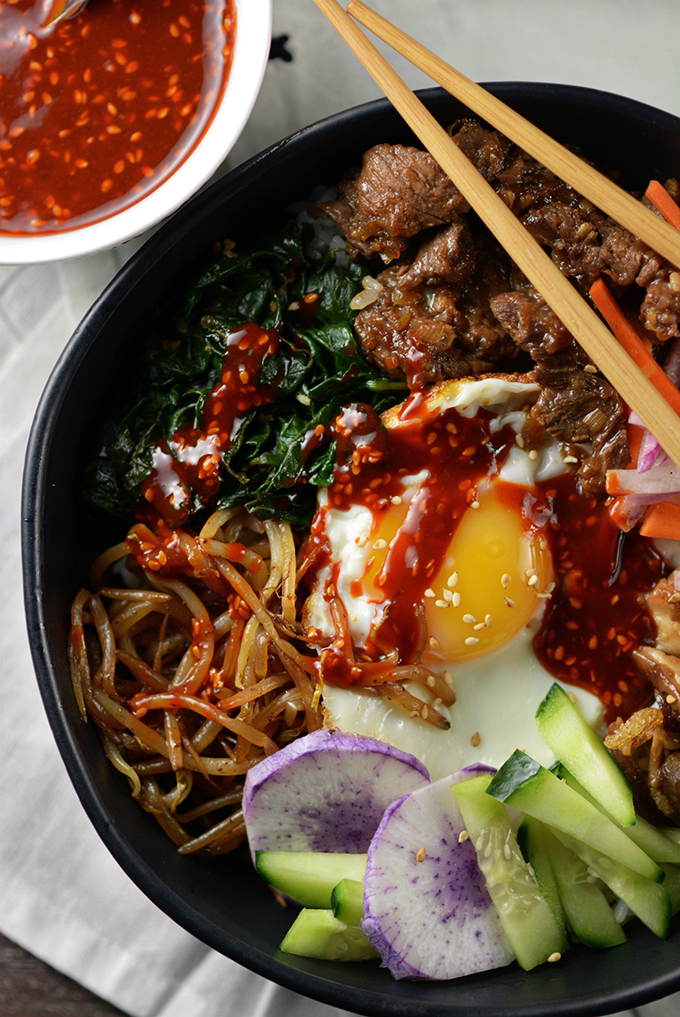 When I watch the Olympics with my kids, they inevitably reenact the competition all over my living room furniture. Normally I'd be totally freaking out, but I think the spirt of the Olympics comes over me and I try to appreciate their joy in the love for the games.
In addition to cultivating a love for sports and exercise in my kids, the Olympics is also an opportune time to instill in them an appreciation for the variety of nations and cultures in the world. When my oldest son sees the different athletes win medals and then hears their interviews with different languages and accents he lights up with curiosity and questions about where they are from on the map and what their different countries are like.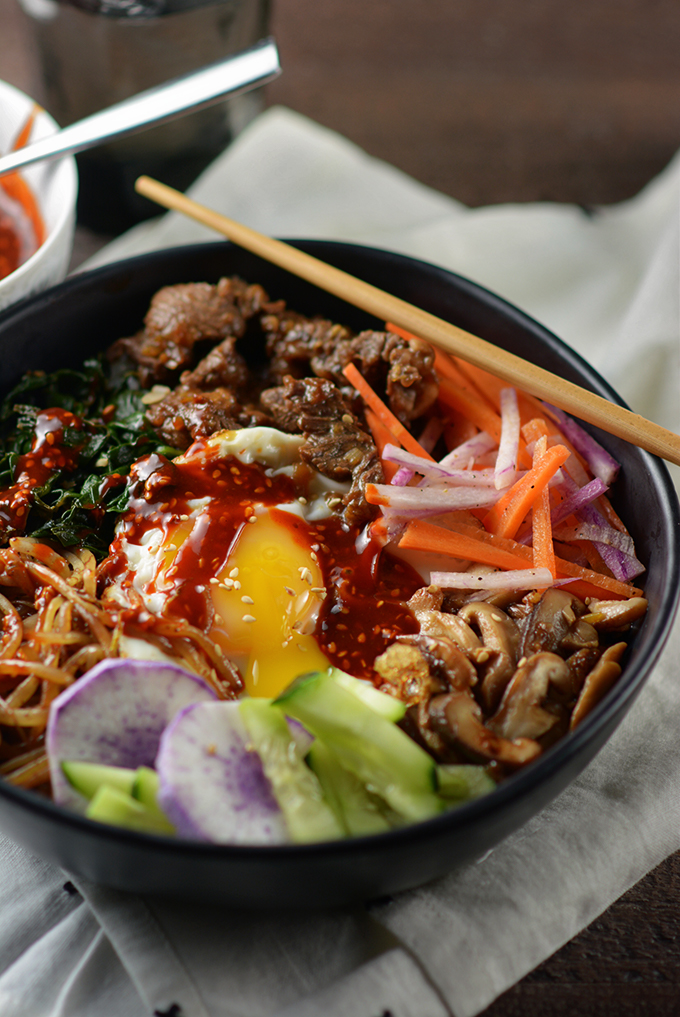 With the 2018 Winter Olympics being held in Korea, we've spent much of our time talking about what Korea is like. Naturally, as a food blogger, I wanted to give my family a taste of Korea. That's why I made them these Korean Bibimbap Bowls. I knew my husband and I would be all about this dish. It's large on the umami taste and flavors like sesame and garlic. What's not to love about that?! The real test with this recipe was to see what the kids thought. The rice and the Korean grilled beef was a really easy sell and they ate some of the vegetables, so I would call it a gold medal win!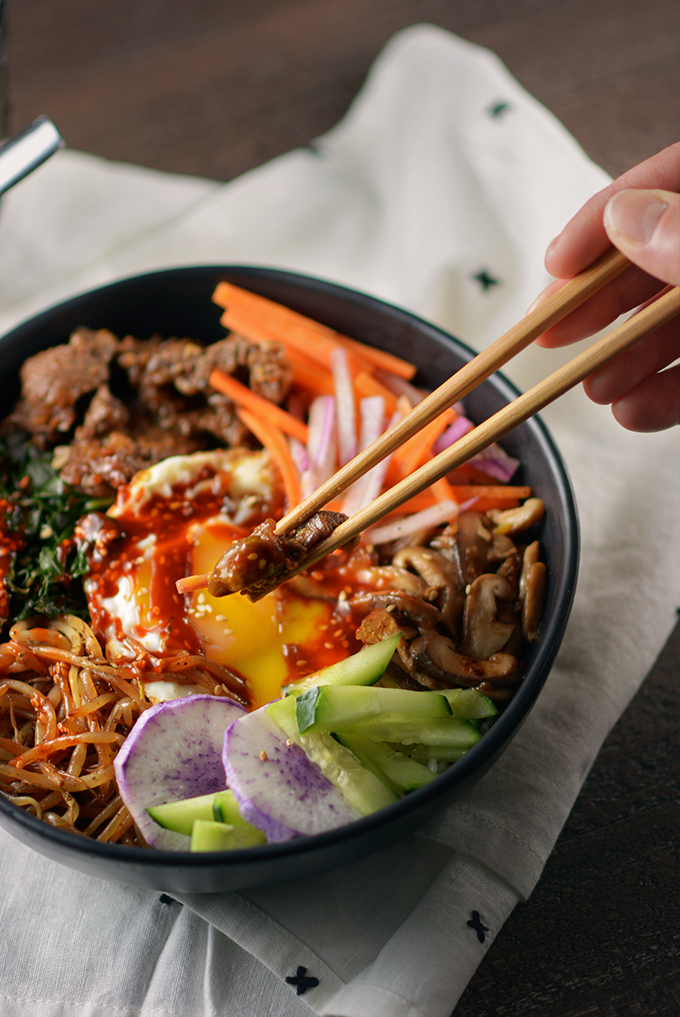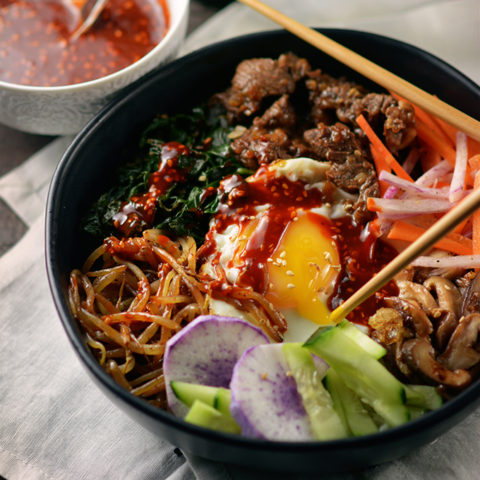 Korean Bibimbap Bowls
Total Time:
1 hour
5 minutes
Enjoy a bowl full of traditional Korean flavor with this tasty, satisfying, all-in-one entree that's chock full of seasonal goodness!
Ingredients
Bulgogi (Korean Grilled Beef)
1/4 C low sodium soy sauce
1/4 C smashed canned pear halves
1 Tbsp packed dark brown sugar
1Tbsp minced green onion
1 clove minced garlic
1 lb thinly sliced boneless beef ribeye
1/2 Tbsp sesame oil
Fried Rice
2 C dry sushi rice
1 Tbsp sesame oil
Egg
4 eggs
1/4 tsp sesame oil
Sesame Carrots and Daikon
3/4 C carrots cut into matchsticks
3/4 C daikon radish cut into matchsticks
1 1/2 tsp sesame oil
3/4 tsp rice vinegar
salt and pepper to taste
Vegtables
1 C sliced yellow summer squash
1 4 oz container (about 1 1/2 C sliced) shiitake mushrooms stemmed and sliced
8 oz (about 4 C) mung bean sprouts
1 1/2 tsp sesame oil
salt to taste
Garlicky Spinach
6 oz 4 C spinach*
1 Tbsp soy sauce
2 Tbsp water
1 tsp sesame oil
1/2 tsp rice vinegar
1 clove minced garlic
Gochujang Sauce (Korean Chili Sauce)
1/2 C Korean chili sauce (gochujang)
1 Tbsp toasted sesame seeds plus more for garnish
Instructions
In a medium-sized bowl, mix together the marinade ingredients for the Bulgogi. This includes the soy sauce, smashed canned pear halves, dark brown sugar, green onion, and garlic. Thinly slice 1 lb of of boneless beef ribeye, removing excess fat. Add the beef to the liquid and allow to marinate covered in the refrigerator for 30 minutes to 2 hours.
While the beef is marinating, steam 2 C of sushi rice. You can either do this on the stovetop per package instructions, or you can cook it in an Instant Pot which will achieve a better texture. For the Instant Pot, rinse the rice for two minutes. Next, place the rice in the Instant Pot with 2 C of water. Cook on the "rice" setting, with the steam valve set to the "sealing" position. Once the rice is done cooking let it rest in the pot for 10 minutes and then remove your Instant Pot lid (this is considered a natural steam release) and the rice is done.
Next, use the time that the rice is cooking to make the sesame, carrot, and daikon salad. Cut the carrot and daikon into matchsticks. Sprinkle them with sesame oil, rice vinegar, and salt. Toss to coat. Cover and store in the refrigerator until you are ready to serve. At this time also clean and cut all the vegetables.
Once the rice is done cooking you're ready to start putting your bowls together. You will be cooking the different parts of this recipe one item at a time for short periods at a time and then adding them directly into the bowls you're serving your Bibimbap in. As such, the meal comes together pretty quickly. To make this go smoothly as it can, have all the ingredients prepped.
First: The rice. You can serve your bibimbap bowl with plain steamed rice (which is a lighter option), or you can fry it to get a nuttier, more toasted flavor and a more chewy texture. To fry the rice, place it in a pan with 1 Tbsp of sesame oil and fry it for 4-5 minutes, stirring occasionally to prevent sticking to the bottom of the pan. Once cooked, evenly divide the rice among four bowls.
Second: The Egg. Fry 4 eggs, sunny side up, so that the yolk is very runny (or to your preference). This recipe is traditionally served with raw egg, but most Americans are likely to prefer it sunny side up. Place one cooked egg atop the rice in the middle of each bowl.
Third: The Veg. Lightly sauté the yellow summer squash**, mushrooms, and sprouts, one item at a time, in 1/2 tsp sesame oil for 3-5 minutes each. Cook until the vegetables are beginning to soften, but are not mushy. Arrange them in a pattern around the egg in each bowl.
Fourth: The Spinach. Add the spinach to the pan and sauté it in a mixture of soy sauce, oil, rice vinegar, and garlic. Cook for 4-5 minutes or until the spinach is wilted and tender. Remove from the pan with a slotted spoon, leaving excess liquid behind, and arrange it around the egg in each Bibimbap bowl.
Finally, mix together Gochujang sauce. I used a pre-made bottle which is available from most grocery stores. In the blog post above I put an Amazon affiliate link to my favorite brand. I like it because it's not too hot for most kids and guests, but still has a great flavor. I then simply mixed it with toasted sesame seeds. Serve the Bibimbap bowls drizzled with the sauce and garnished with a sprinkling of toasted sesame seeds.
Notes
*Not baby spinach, but regular spinach with the stems snapped off.
**You might have noticed that there is no summer squash pictured. I made this recipe in February for the 2018 Winter Olympics and the squash was not seasonally available. This dish can change based on availability. Feel free to experiment with winter squash. I instead added a cucumber garnish.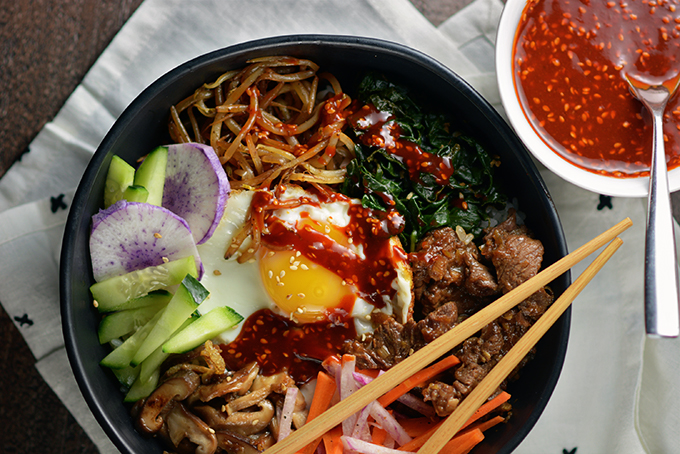 You may also enjoy…