Leftover Chicken or Turkey Pot Pie – This warm, comforting meal in a flaky golden crust is sure to banish the winter chill and lift your spirits!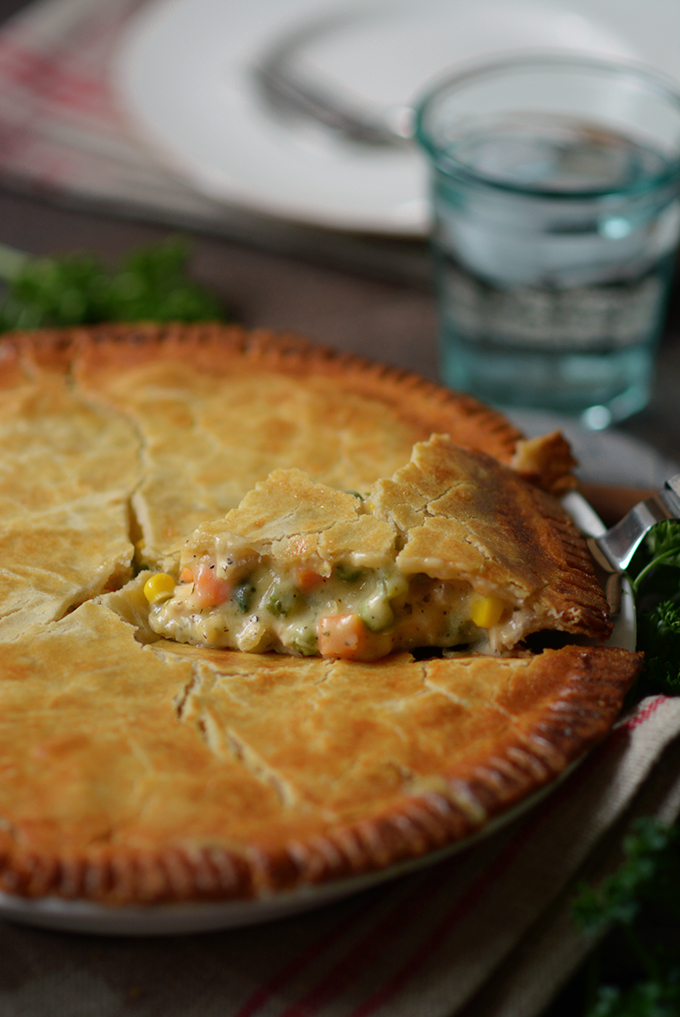 Pot Pie is one of those dishes that I randomly crave. Normally it's the spicy, colorful cuisines that draw me in. In fact, I find the Pennsylvania Dutch style of cooking that dominates much of my home state downright boring. But sometimes on a winter day when the wind is whistling through the window panes and the cold chills you down to the bones, all I want is pot pie.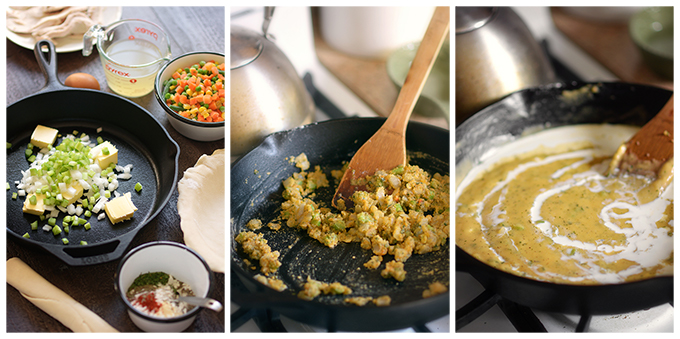 I remember a few years ago… okay, like 11 years ago now (but it seems like yesterday)… Mr. Simple Seasonal and I were engaged and traveling on a cold, misty night from the Philadelphia area to the middle of nowhere part of the state to visit my soon-to-be in-laws. I was EXHAUSTED from nursing school and the prospect of having to spend the weekend trying to get the aforementioned soon-to-be's to like me sounded so un-comforting. I now know they're lovely people… truly.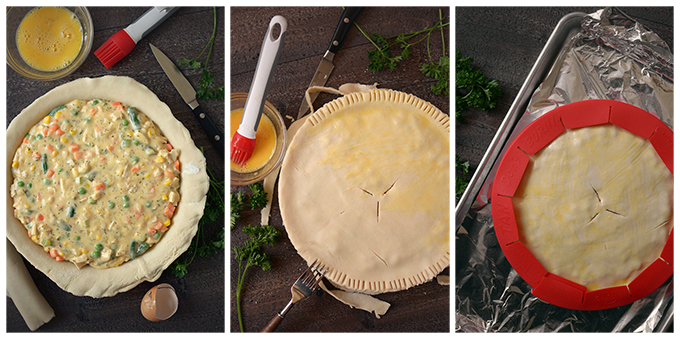 Midway between somewhere and nowhere we stopped for some dinnertime grub. I can't quite remember what Dan ordered, but I do remember the pot pie that the waitress set before me. It was steaming and it's hot gravy warmed me from the inside out. It was as if it melted my cold spirit and bad attitude so that I was ready for whatever the weekend held. That weekend, by the way, ended up being great! I just want to say that I was also quite warm the rest of the weekend because you know how older people like to crank the heat up!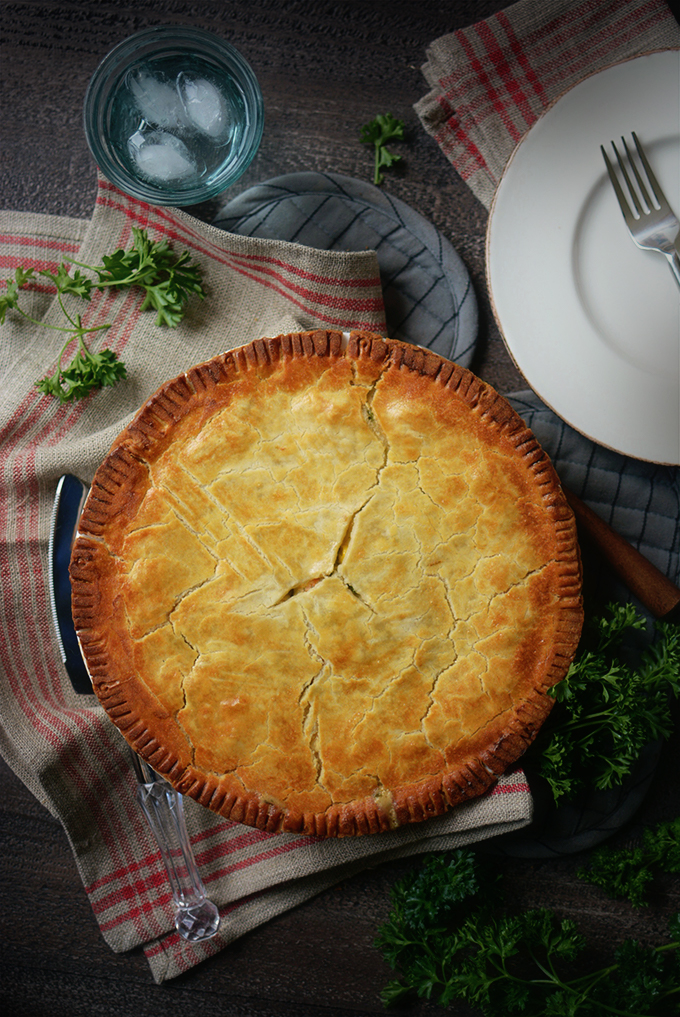 This winter has been a chilly, snowy, and wet one. Naturally, my Leftover Chicken or Turkey Pot Pie is a recipe that keeps making it into our family's dinner rotation. Every Thanksgiving I buy an enormous bird from a local farm and devote a day to cooking it. We spend the holiday at my parent's house so I cook the bird and freeze it to enjoy all winter long. Now that we're into February we still have a few dinner's worth left. This Pot Pie recipe is a perfect way to use up those leftovers because I make it homemade, but not too homemade and time consuming, if you know what I mean.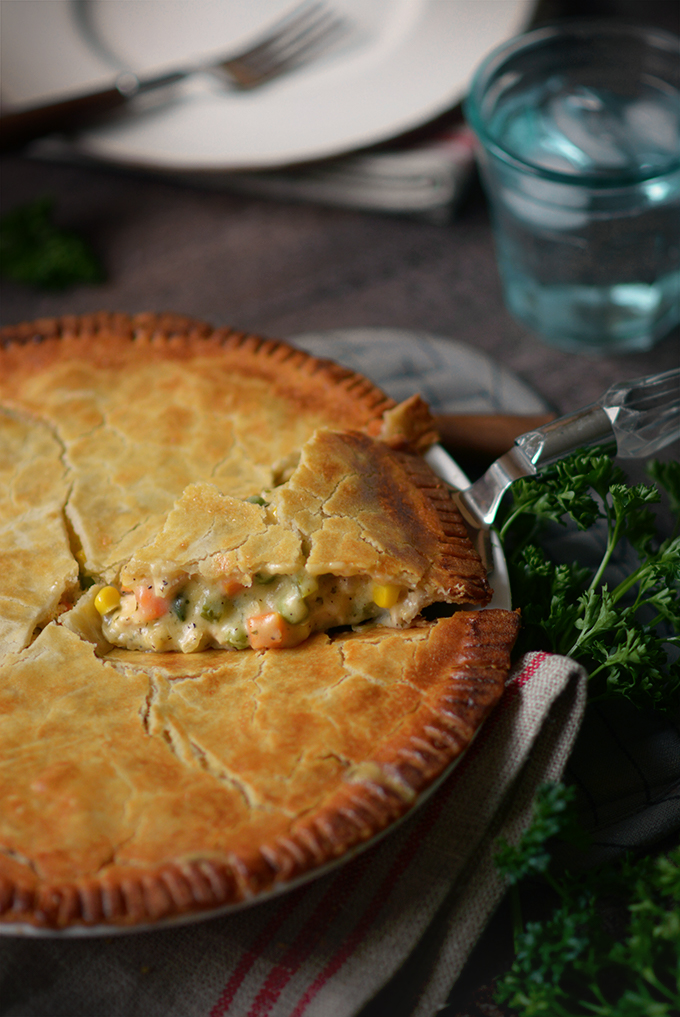 Some shortcuts I take include using a store-bought crust and broth. I also use frozen mixed vegetables. Where I don't cut corners is with the gravy. It's deliciously balanced with herbs, garlic, onion, and celery. Back to my distaste for bland, boring food, this pot pie is anything but bland and it's certainly not boring. It's full of comfort and flavor that will warm your body and spirit from the inside out!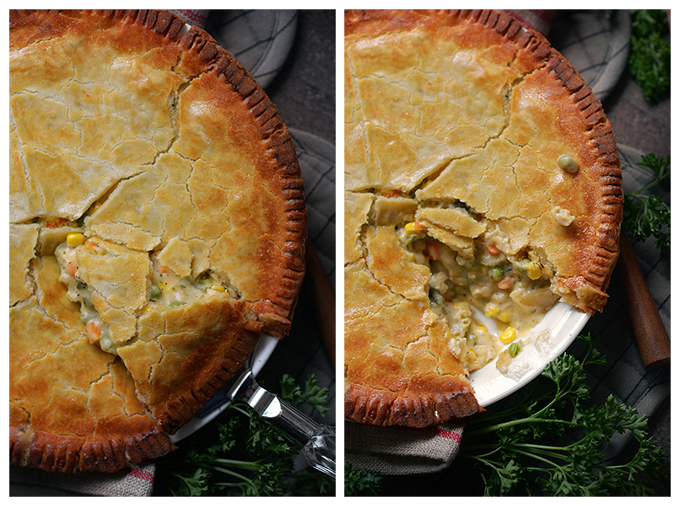 Note that the more westerly parts of Pennsylvania use the term "Pot Pie" to describe a dish that's more like a soup or a stew that has a homemade doughy noodle. Being from the Philadelphia area, in this blog post I decided to bring you what I grew up eating. The doughy noodle version of pot pie is also super comforting and yummy too, so and I'm thinking I have an idea for a recipe to bring you next winter. 😉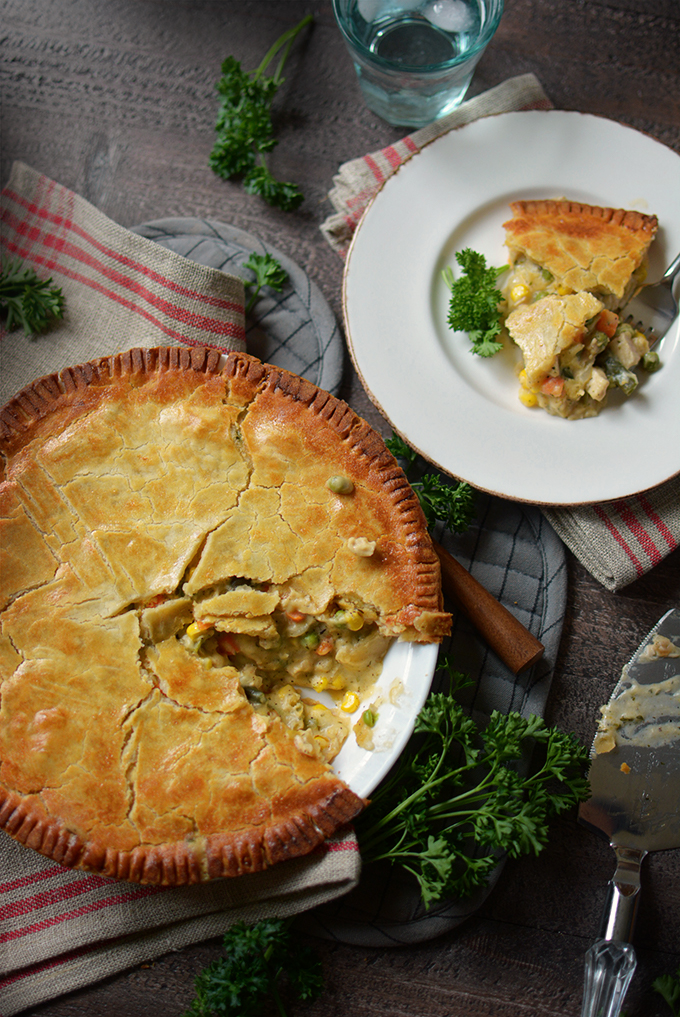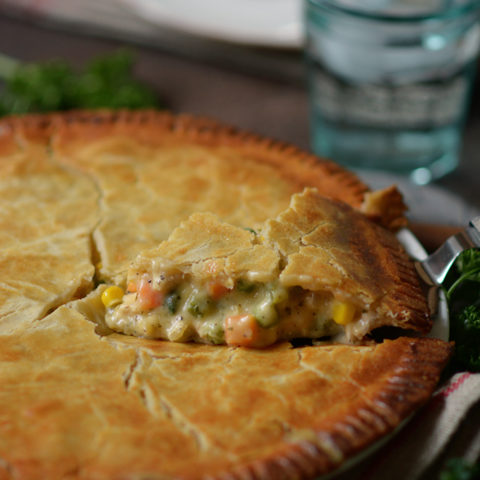 Leftover Chicken or Turkey Pot Pie
Yield: 8 servings

Prep Time: 35 minutes

Cook Time: 45 minutes

Total Time: 1 hour 20 minutes

This warm, comforting meal in a flaky golden crust is sure to banish the winter chill and lift your spirits!
Ingredients
5 Tbsp butter
2/3 C chopped onion
1/3 C chopped celery
1/2 C flour
1 tsp dry parsley
1/2 tsp dry thyme
1/2 tsp salt
1/4 tsp paprika
1/4 tsp black pepper
1/4 tsp dry garlic
1 3/4 C chicken broth
1/2 C half and half
1 1/2 C chopped leftover turkey or chicken
2 C thawed frozen mixed vegetables
1 box 2-crust rolled ready-to-bake pie crust*
1 large egg
Instructions
Preheat your oven to 425ºF. Also, remove your ready-to-use pie crust from the refrigerator, as it should come to room temperature for about 30 minutes before using it. This keeps it from cracking when you unroll it.
Melt 5 Tbsp of butter in a large skillet over medium heat. Add onions and celery to the pan and cook over medium heat for three minutes. Mix the flour and spices in a bowl and then add the mixture to the skillet and stir to evenly combine with the butter, onions and celery. Cook for one minute. This will create a roux that will thicken your sauce.
Next make the sauce by very slowly adding the chicken broth to the skillet while constantly stirring to prevent the flour from clumping. Once all of the chicken broth is incorporated with the flour mixture, bring the sauce to a simmer and cook for 1 minute. Finally, remove from the heat and slowly stir in the half and half.
Stir the leftover chicken or turkey and thawed frozen mixed vegetables into the pot pie sauce.
Lightly grease a 9 inch pie plate with butter. Gently place the pie crusts into the pie plate and lightly press on the crust so that it is formed to the shape of the pan. Pour the pot pie filling into the pie pan and evenly spread out around the pan.
Gently unroll the 2nd pie crust over the top of the pie. Trim the excess dough from around the edges of the pan and then press the edges together around the circumference of the pie with your fingers. Cut four one-inch slits in the middle of the pie to release steam during cooking. Beat 1 egg in a small bowl and paint a light layer over the top pie crust (There will be egg that you don't use).
Bake in 425ºF oven for 45-55 minutes, or until the pie is bubbling and the crust is golden brown. To prevent the edges of the pot pie from burning, consider covering them with aluminum foil or a silicon pie crust shield. Let the pie sit for 10 minutes before serving.
Notes
*At this time I prefer Immaculate Ready-to-Bake Pie Crust. The ingredients are better for you than most of the proprietary brands and the flavor's pretty great, too (this is not an ad).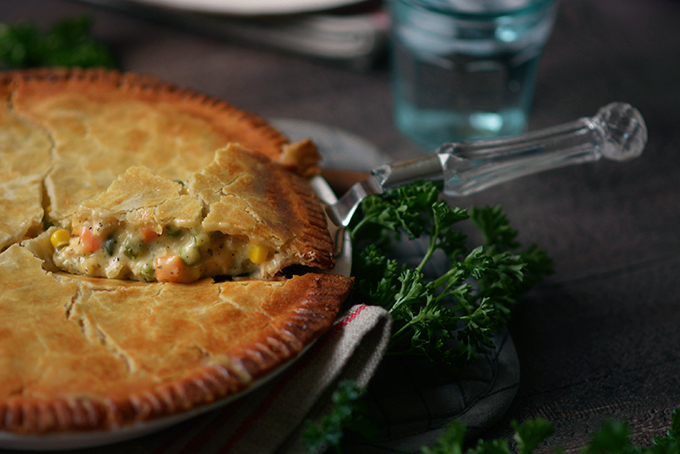 More comfort food recipe…