Kohlrabi Risotto with Roasted Tomatoes and Pancetta- Most people believe that risotto is hard to make. This post teaches you the secrets to a perfect pot of creamy, delicious risotto every time!
I used to believe all the hype about risotto being difficult to make. That being the case, I didn't tend to serve it for dinner very often. After learning a few simple principles for cooking this grain, however, I realized how dumb this idea is. Nowadays it's actually become a weeknight favorite of mine. It only takes 15-20 minutes to cook up and it makes it possible for me to arrange an elegant dinner in just one pot. What a great tradeoff for learning a more "advanced" cooking technique!
Another characteristic I love about risotto is it's an excellent vehicle for a variety of flavor profiles and seasonal vegetables. For instance, during the winter months I can't get enough hearty butternut squash or mushroom risotto. It can also take on lighter characteristics when paired with spring and summer vegetables like peas and fresh herbs.
My summer crop share having recently started, I decided to take on the alien-like kohlrabi paired with summer flavors like fresh basil and roasted tomatoes. The kohlrabi bulb's defining characteristic is it's crunch, which holds up well in cooking and adds an extra "toothiness" to the dish. Additionally, the mild kohlrabi greens add in a nutritional boost while not letting any part of the plant go to waste. The natural creaminess of the risotto paired with these fresh flavors and textures make for some darn good, easy-to-make summer risotto!
How To Make Great Risotto
The most important thing to keep in mind while making risotto? Your goal is to draw out the starchiness of the grain. This creates it's characteristic creaminess. Here's how you do it…
First things first. Have everything ready before you start cooking. That means all of your veggies are chopped, you've poured yourself a glass of wine, and you have some inspiring music playing.
Make a soffrito. Fancy word, I know… Basically this is cooking your aromatics – like onions, garlic, and spices – in butter or olive oil over medium-high heat before adding your rice. I'll sometimes cook and ladle out bacon or pancetta and reserve the grease as my oil. Hello flavor!
Toast your risotto first. Add the grain to a well-oiled pan that has been heated over medium heat and cook the dry grain while stirring frequently until you notice that the outside of the grain looks slightly translucent and the center is opaque. You'll also notice a lovely toasty rice aroma. If you're into those fancy cooking words this is called tostatura.
Add your liquid slowly, usually about a cup or a ladle full at a time. I almost always begin by deglazing my pan with 1/2 to 1 C of white wine because it adds fantastic flavor. Deglazing also pulls bits of caramelized flavor off the bottom of the pan. Otherwise, I prefer to use vegetable or chicken broth rather than water for the added flavor. After adding each cup of liquid, cook it down over medium heat while stirring constantly until almost all of the liquid is absorbed and evaporated before adding your next cup or ladle full of liquid.
STIR CONSTANTLY. I can't emphasize this enough! Yes, it means your stuck babysitting your dinner, but this is key in drawing all that creamy starch out. And really, we're only talking about a 15-20 minute time commitment here for cooking. This is a perfect time to sip on that glass of wine that I recommend you pour in the first bullet point.
After you've added 3 cups or ladles of liquid to the rice, begin checking for doneness. It's done when the grain is soft on the outside, but has a bite or toothiness on the inside, much like al dente pasta. If your grain is almost done, but not quite there yet, add 1/4 to 1/2 C of liquid to the pan at a time, so as to not take your risotto too far in the other direction. In addition to toothiness, a risotto that has been cooked correctly will be creamy. You'll know it's done when you run your spoon along the bottom of the pan and it takes a moment for the liquid to fill up the empty space.
Once cooked, remove from the heat. Garnish by stirring freshly-grated cheese, fresh herbs, salt, and pepper to taste, 1/2 to 1 C of warm broth, and a little butter. Serve immediately.
Once you're done, sink your toothiness into your risotto as you congratulate yourself on learning this classic and elegant cooking technique. Shhh… Nobody needs to know that it's actually not that hard to make!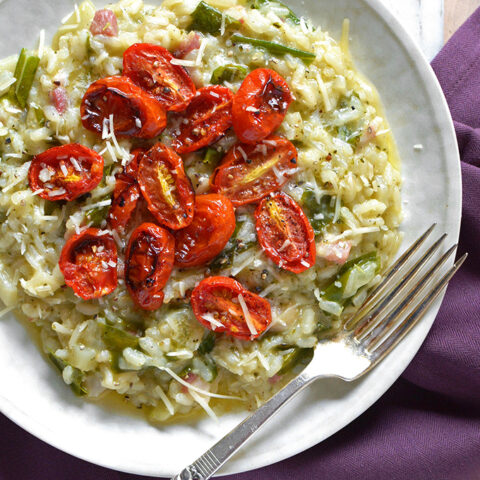 Kohlrabi Risotto with Roasted Tomatoes and Pancetta
Yield: 4

Prep Time: 15 minutes

Cook Time: 20 minutes

Total Time: 35 minutes

Most people believe that risotto is hard to make. This post teaches you the secrets to a perfect pot of creamy, delicious risotto every time!
Ingredients
Risotto
4 oz diced pancetta
1 C diced kohlrabi bulbs
2 Tbsp butter
3/4 C small chopped white onion
2 cloves minced garlic
1 C arborio rice
1/2 C dry white wine
3-4 C chicken or vegetable broth
1 C packed chopped kohlrabi leaves
2 Tbsp fresh chopped basil
1/2 C freshly grated parmesan plus more for garnish
salt and pepper to taste
Roasted Tomatoes

2 C halved grape tomatoes
1 Tbsp olive oil
salt and pepper to taste
Instructions
Preheat your oven to 425ºF.
Cook the diced pancetta over medium heat for about 5 minutes or until it becomes golden brown and crunchy, but not hard. Ladle out of the pan into a small bowl and set aside.
While the pancetta is cooking, slice, oil, and salt and pepper the grape tomatoes. Place them on an unlined baking sheet and roast at 425ºF for about 20 minutes, stirring once. They are done cooking when they are just beginning to blacken. Also use this time to prep your other ingredients.
Turn the pan up to medium-high heat. Melt 2 Tbsp of butter into the pan and then add diced kohlrabi and the chopped onions. Cook until the onions become soft, about 3 minutes. Add the minced garlic and cook 1 more minute.
Add the arborio rice (risotto rice) to the pan and cook in the vegetables in oil until some of the grains are translucent on the outside and opaque on the inside. This will take about 3 minutes.
Add the white wine to the pan and cook uncovered while stirring slowly and continuously until almost all of the liquid is absorbed. Next, add the chicken broth 1 cup at a time and keep stirring slowly and continuously, waiting to add additional broth until the previous cup is cooked down.
After cooking down 2 cups of chicken broth stir in the kohlrabi leaves and the precooked pancetta, then add the third cup of chicken broth.
After the third cup of broth is absorbed, begin checking your risotto for doneness. It should be soft on the outer part of the grain but chewy at the center (much like al dente pasta). The process of continuously stirring the arborio rice and adding the liquid slowly should have drawn starch out of the grain so it will create it's own creamy, starchy sauce. If the rice still seems a bit hard and the sauce is a bit watery, continue adding the chicken broth to the pan 1/4-1/2 C at a time until you reach the desired consistency. The entire cooking process will only take 15-20 minutes.
Once perfectly cooked, remove the rice from the heat and stir in fresh basil, grated parmesan, salt and pepper to taste and 1/2-1 C of warm broth until the risotto reaches your desired thickness. Garnish with the roasted tomatoes and freshly grated parmesan. Serve immediately.
Notes
VEGETARIAN OPTION: Substitute the pancetta with an additional 2 Tbsp of butter and use vegetable broth instead of chicken broth to make this recipe vegetarian.



If you enjoyed this recipe, you may also enjoy…