Gummy Bear Mocktails – Share the fun of a holiday toast with your little ones with this festive and age-appropriate party drink!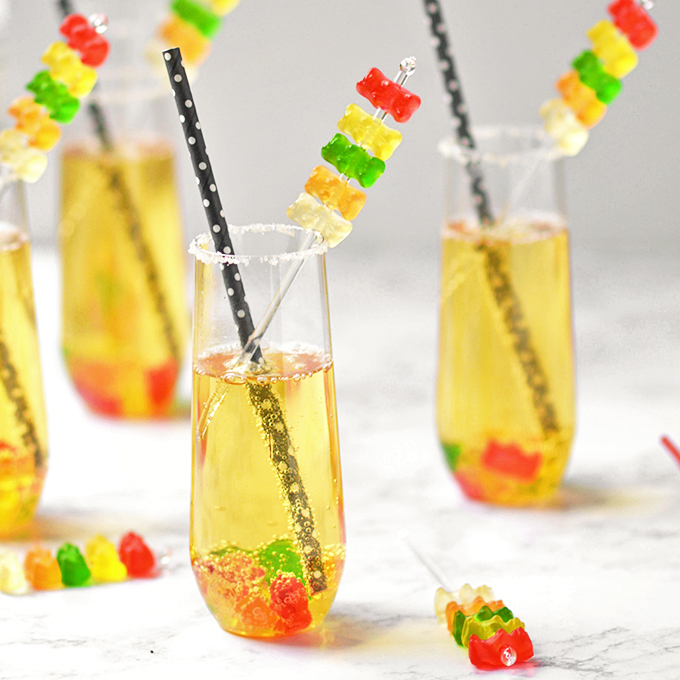 Well, the New Year's Eve "grownup moments" with just my husband and I watching the ball drop and sipping champagne together are so numbered… For the first time, my 6-year-old asked about "staying up 'til midnight." I don't think he's quite ready to stay up that late without being a total monster the next day, but perhaps this year we'll let him stay up past his bedtime. I'm thinking that while the baby snoozes in his bed, big brother will enjoy a special snack with Mom and Dad.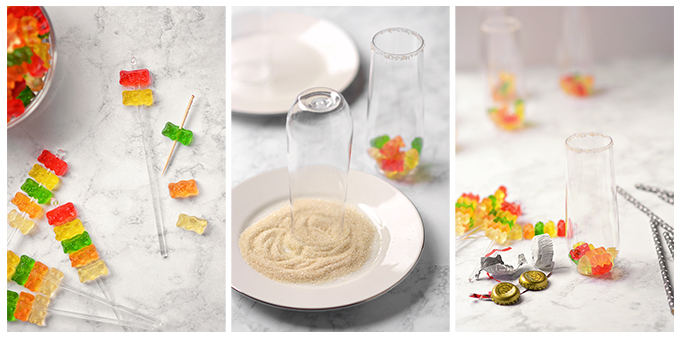 What's New Year's Eve without ushering in the new year with a toast? And what kid doesn't love sparkling apple cider as well as gummy bears? By just thinking of two fun things my kid loves, that's where I got the idea for this super easy and fun recipe for Gummy Bear Mocktails.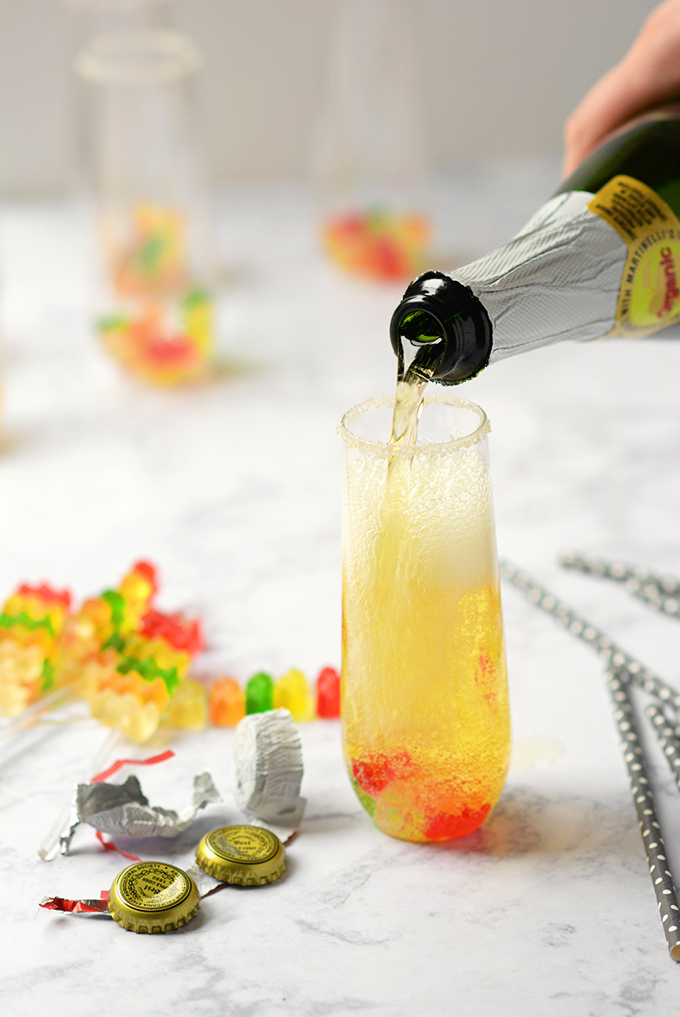 These Mocktails only take three ingredients. They're sweet, colorful, and bubbly. Just the sort of festive drink to serve to kids on New Year's Eve, on Christmas, or at a birthday party! If you have older kids, you can even get them in on the fun of making them.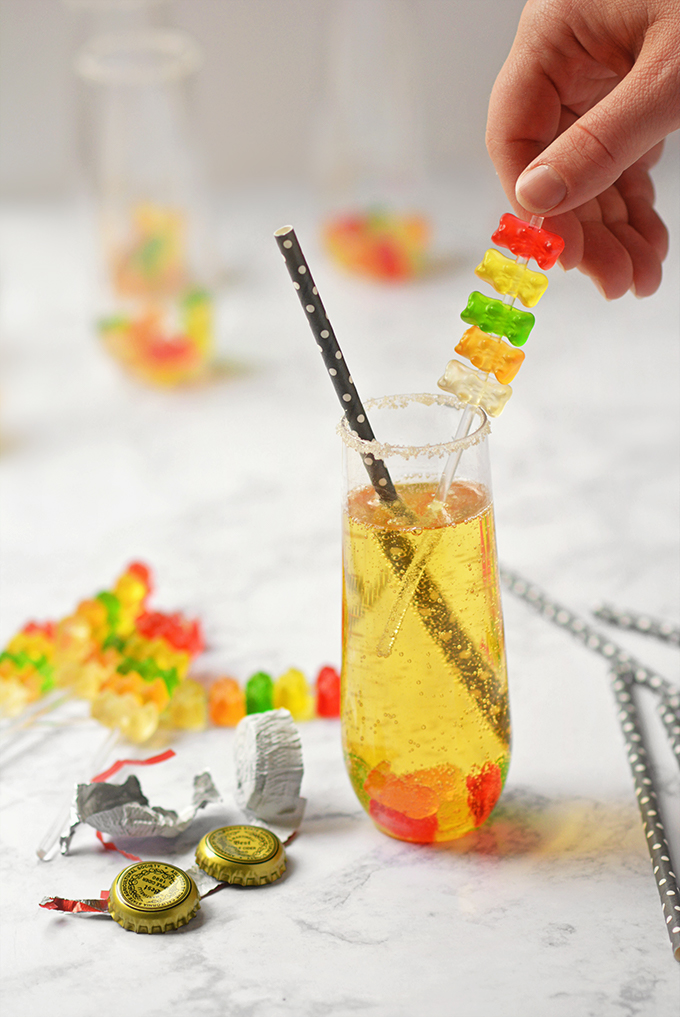 On a parenting note, in addition to being easy and fun, this indulgent drink can be made a touch healthier. Eliminate artificial ingredients and dyes by using organic apple cider and gummy bears. I guarantee that the kids will never know the difference.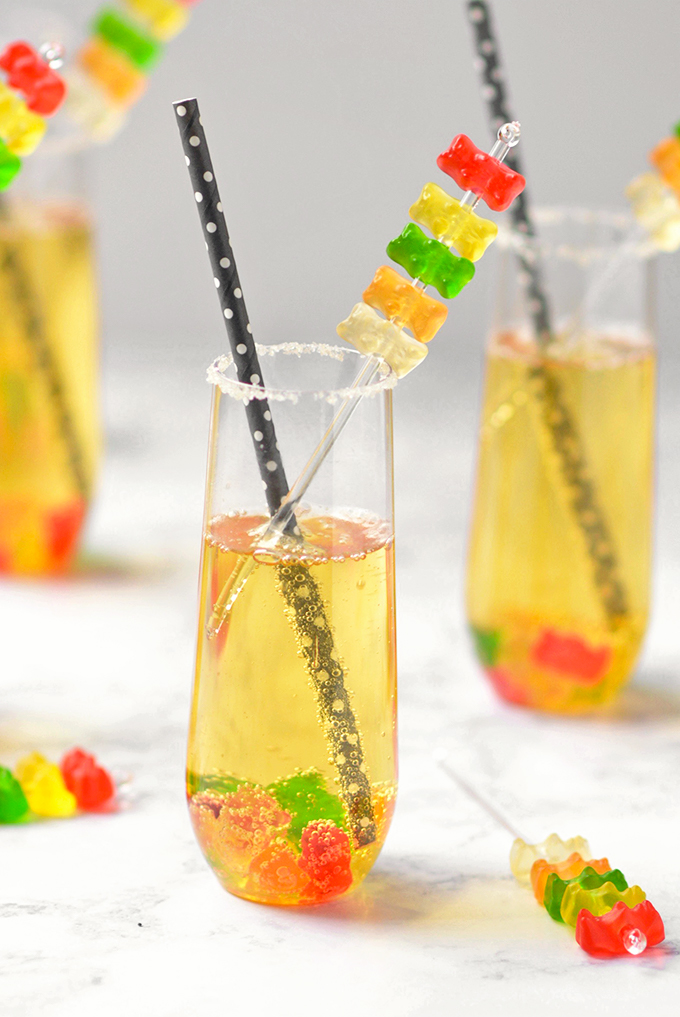 So, perhaps it's the end of an era. No more ushering the kids off to bed so that Mom and Dad can enjoy a New Year's Eve night of grown-up-ness together. But perhaps it's the beginning of a new era and a New Year of bringing in the promise of good things to come and of family fun with a toast and some gummy bears. ☺️

Gummy Bear Mocktail
Share the fun of a holiday toast with your little ones with this festive and age-appropriate party drink!
Ingredients
8 plastic stemless champagne flutes
8 plastic swizzle sticks
8 fun paper straws
1 toothpick
2 25.4 oz bottles of sparkling apple cider
10 oz of gummy bears*
¼ C granulated sugar
a shallow dish with water
Instructions
Place one of each color of gummy bears onto 8 plastic swizzle sticks. To do this, first poke the gummy bears, one at a time, all the way through with a toothpick. This will make it so that you can more easily get the swizzle stick through each bear.
Coat each champagne flute's rim with sugar. One at a time, dip the rim of each flute into a shallow dish of water and then into a shallow dish of granulated sugar. Next, drop a small handful of gummy bears at the bottom of each champagne flute. I used two of each color because I like things to be symmetrical. If your party guests are little kids, consider using one of each color (i.e., less sugar in hyper kids).
Pour sparkling apple cider into each flute until it is three quarters of the way full. Garnish with the gummy bear swizzle sticks. Finally, add a fun party straw to each flute. Don skip this step, because I find that straws make kids less likely to spill! Serve immediately.
Notes
*Many gummy bears contain gelatin. To make this recipe vegetarian and vegan, Annie's Bunny Fruit Snacks and Surf Sweet Organic Fruity Bears will meet your needs.
**To make this recipe less processed and more healthful, consider purchasing organic sparkling apple cider and organic gummy bears.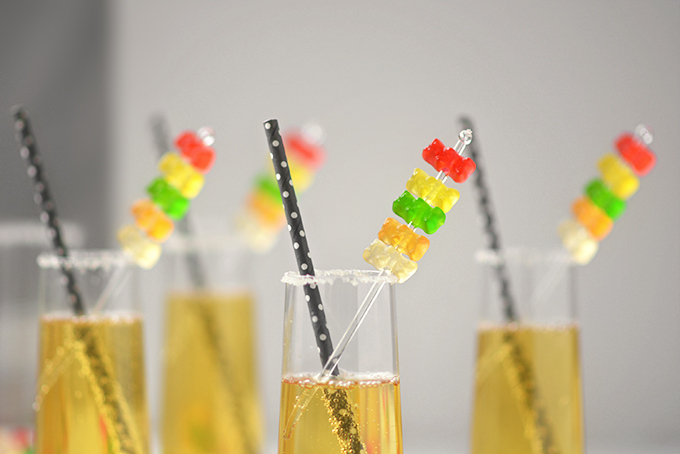 Looking for supplies? Get what you need on Amazon…
(Note: These are affiliate links. Clicking through to make a purchase will help support this blog at no additional cost to you!)
Some more ideas that the kids will love…