Grilled Pineapple Rings – Add a taste of the tropics to any meal with this sweet, fragrant, grilled treat that's dead simple to make.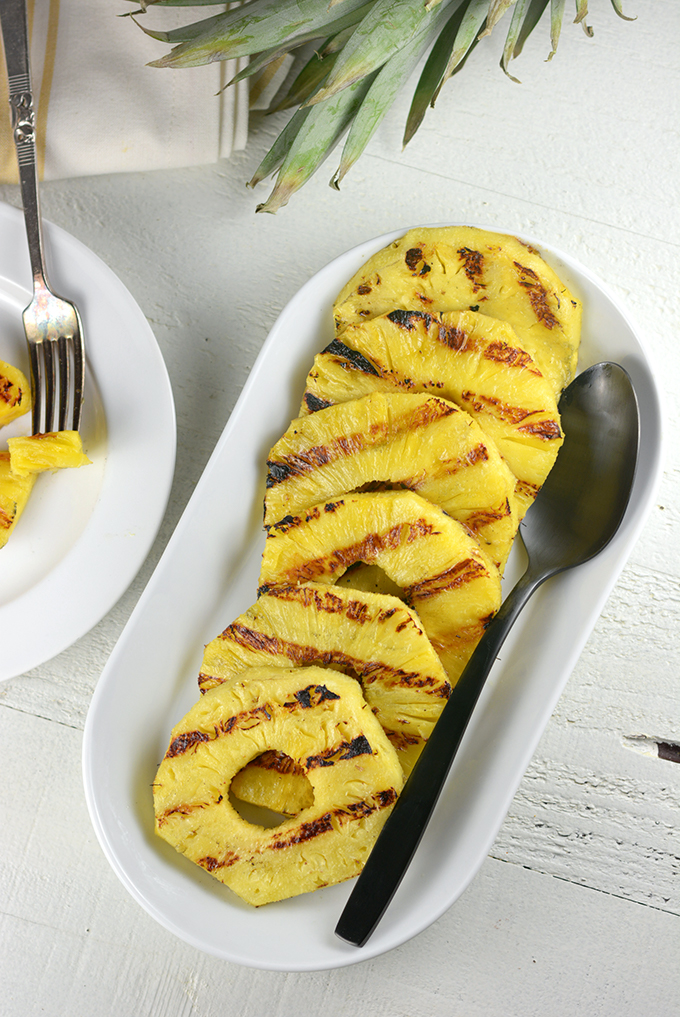 Going back to my last blog post, I've had a renewed enthusiasm for grilling. With going out being cumbersome due to having to wear masks and social distancing, it's often far more relaxing to just chill and grill on my patio with my husband.
By nature I'm not much of a homebody, but the pandemic has changed everything pretty much against my will. Instead of falling into a fun-deprived depression, I've been trying to create my own stay-at-home fun!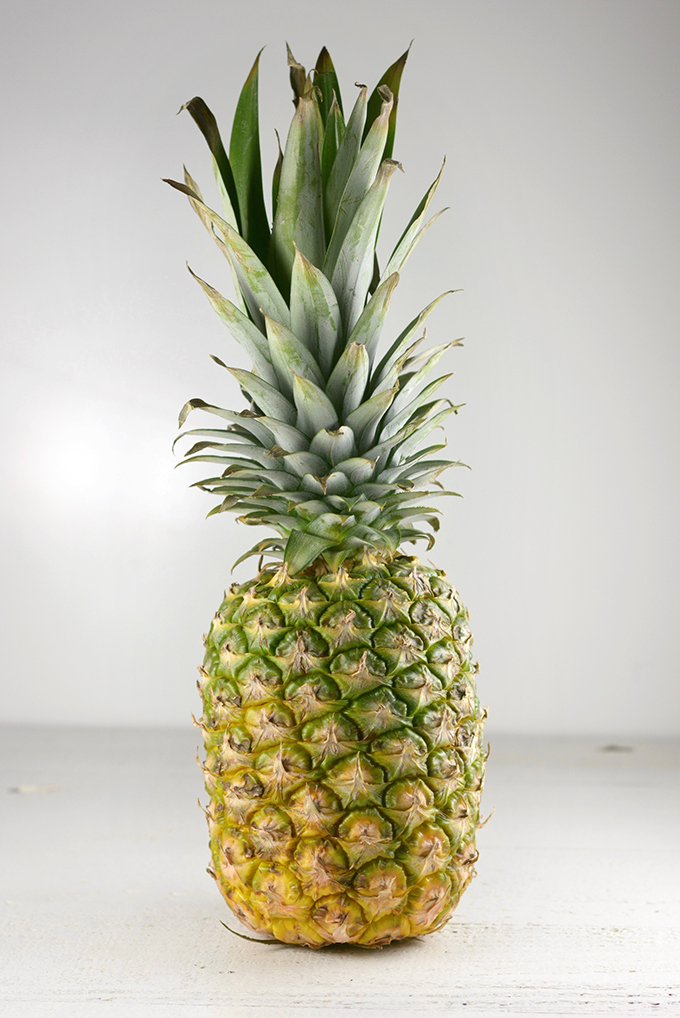 My husband makes amazing tiki drinks and mojitos. Also, I'm a pretty good cook (if I do say so myself). Between the two of us, we sometimes make creations that are far better than what we'd get at a restaurant! Best of all, there's no closing time, and no worry of highly infectious diseases!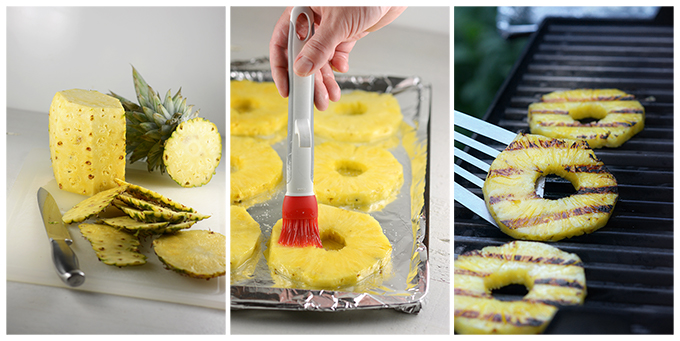 With all this extra grilling time that has opened up in my life, I've started to get more creative and exotic with the things I grill. If you've never tried grilled pineapple, it's totally worth a go. When grilled, it's sweet and develops an outer caramelization.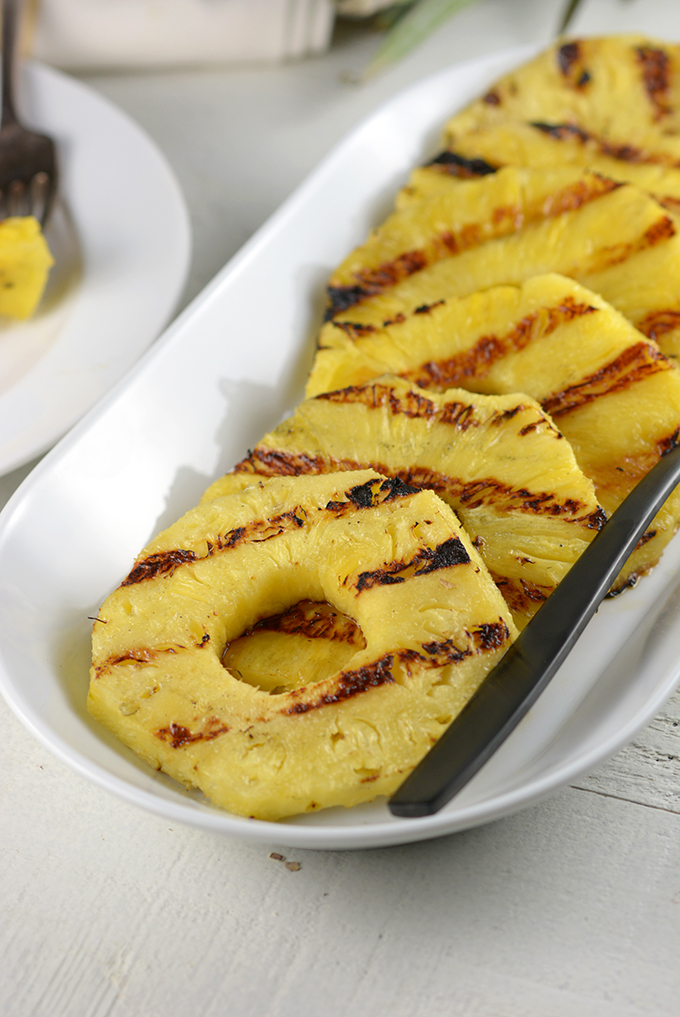 I like grilled pineapple served with Hawaiian and Asian dishes that include things like chicken, pork, and fish. Serve it in big slices, or chop it up and add it to rice.
It's not limited to savory dishes, either. Top grilled pineapple with ice cream and toppings like caramel sauce, toasted coconut, and maraschino cherries for an out-of-this-world tropical dessert.
In my next blog post I'll be making Hawaiian Pork Roll Sandwiches that include this tasty grilled pineapple, so be sure to come back for more grilling fun!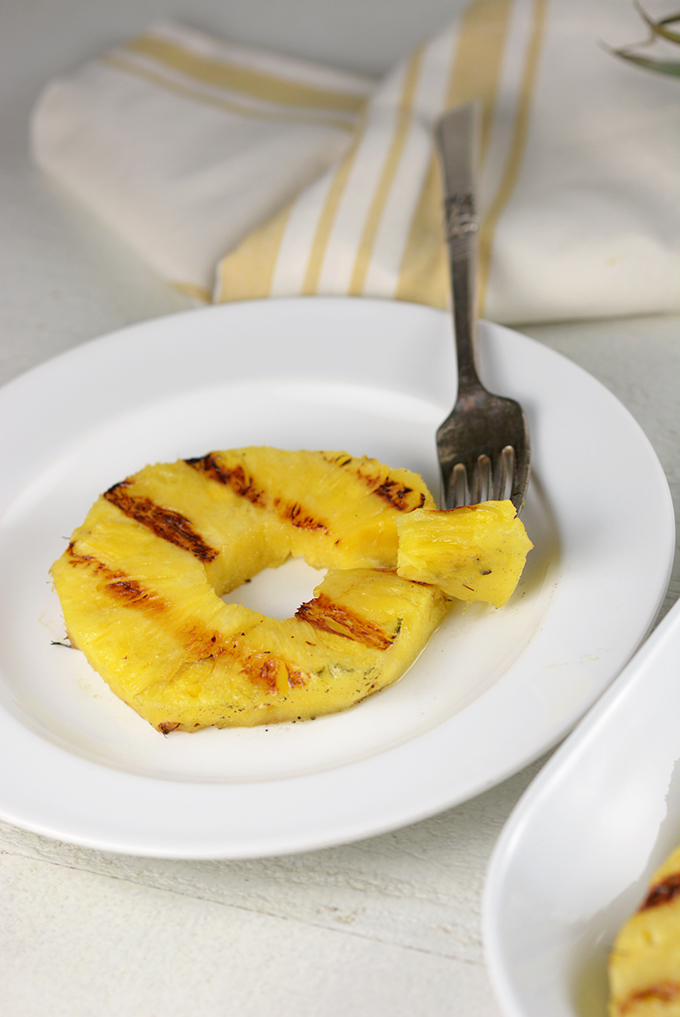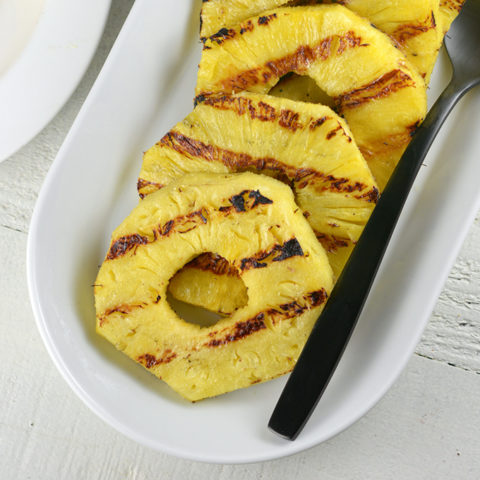 Grilled Pineapple Rings
Add a taste of the tropics to any meal with this sweet, fragrant, grilled treat that's dead simple to make.
Ingredients
1 pineapple, skin and core removed and cut into 6-8 1/2-3/4" slices
3 Tbsp salted butter, melted
salt to taste
Instructions
Peel, slice, and core the pineapple. Each slice should be 1/2-3/4" thick. Depending on the size of your pineapple, you will get 6-8 slices. To core the pineapple, cut out the center circle of each slice using a paring knife. Of course, if you have a pineapple corer you can use that instead, but I find that's a less commonly owned kitchen tool.
Melt 3 Tbsp of butter in a saucepan or the microwave and coat both sides of each pineapple slice in butter. Lightly season with salt.
Grill the pineapple over direct medium heat for about 4 minutes on each side. The pineapple is done when there are grill marks and it's starting to become soft and caramelized on the outside.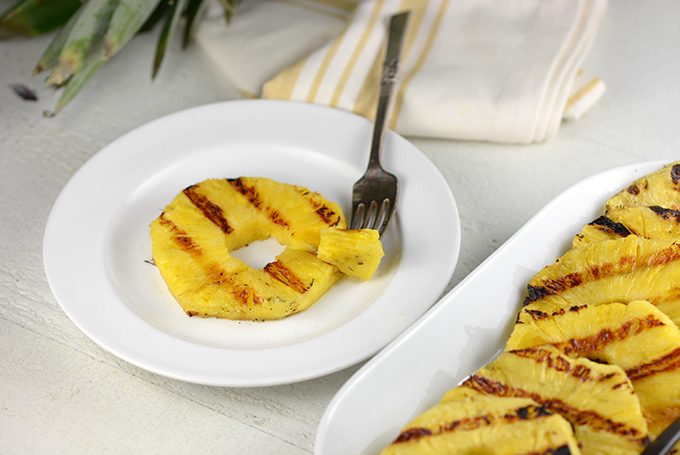 You may also enjoy…