Grilled Pattypan Squash with Spiced Chickpeas – Getting into a summer squash rut? This wonderfully flavorful dish adds a Middle Eastern flair all the best aspects of this prolific American garden staple.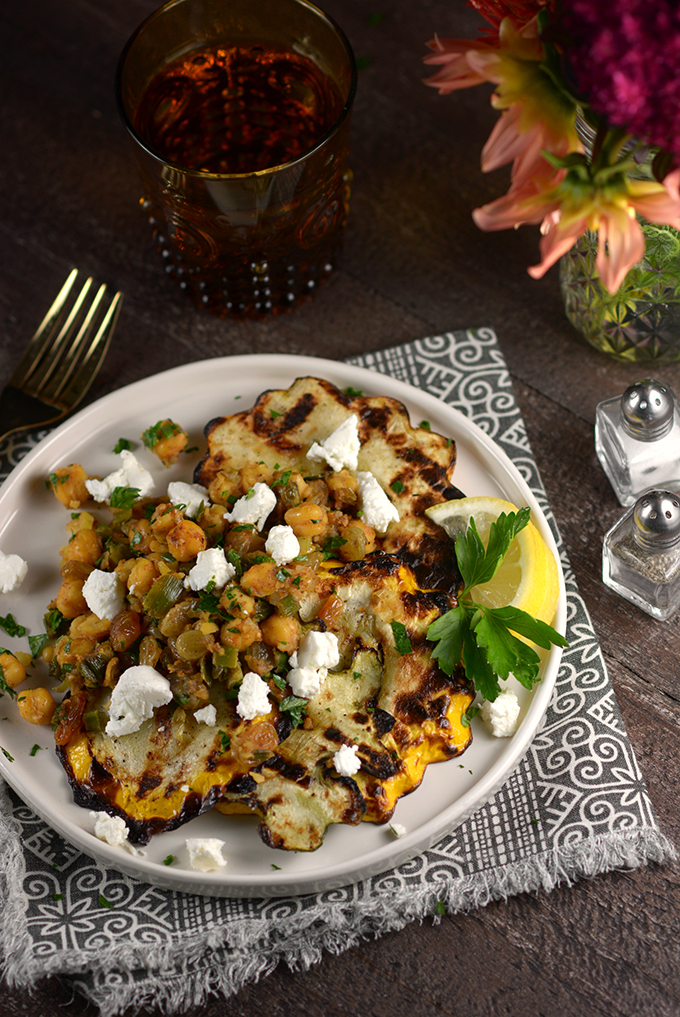 Every summer I seem to struggle with the challenge of what to do with an endless supply of summer squash. I purchase a crop share from a local farm which includes a dependable weekly supply of things like zucchini and this beautiful pattypan squash pictured here.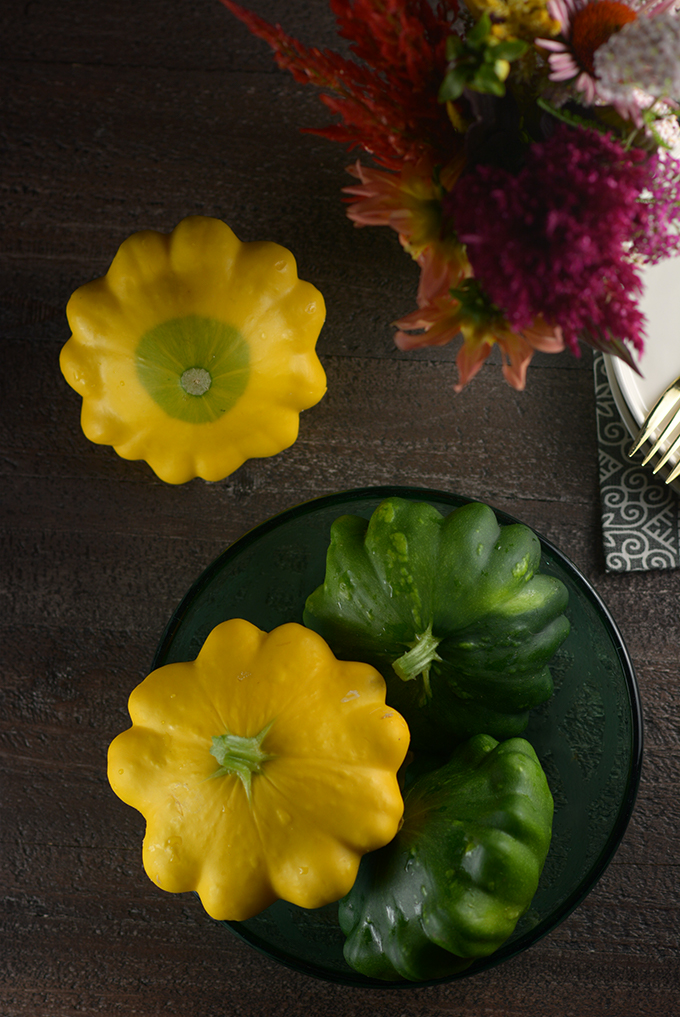 Truth be told, my summer squash problem isn't of the same magnitude of that of home gardeners. If you've ever grown summer squash, you're well acquainted with how prolific it is. As a kid I helped my dad plant summer squash every summer. It would produce so much fruit we would have to pay people to take it off of our hands.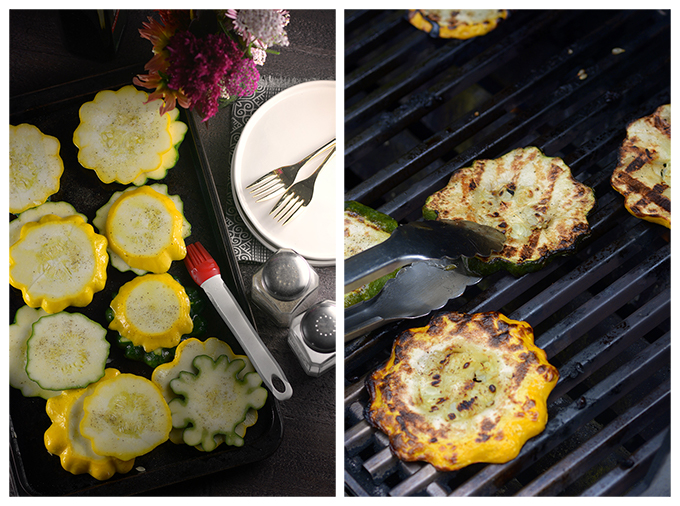 Of course growing up we planted more traditional squash varieties like zucchini and yellow straightneck squash. It's only been since joining a CSA that I've discovered pattypan squash.
Pattypan squash tastes very much the same as other summer squash. What I think makes this squash stand out is it's useful shape. The center can be scooped out and it becomes a pretty bowl for stuffing and baking. When sliced, patty pan squash is also easier to grill because of its large, round shape that prevents if from falling through the grates.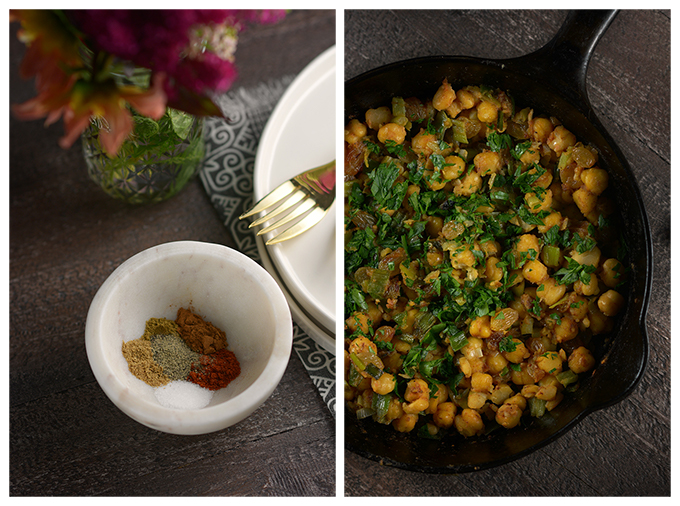 Going back to the excessive summer squash problem… Summer squash is as American as apples, but much less exciting. Like so many across the the US, each week I'm faced with the challenge of keeping pattypan and other summer squash flavorful and interesting. After all, lets face it – summer squash can be a bit "meh."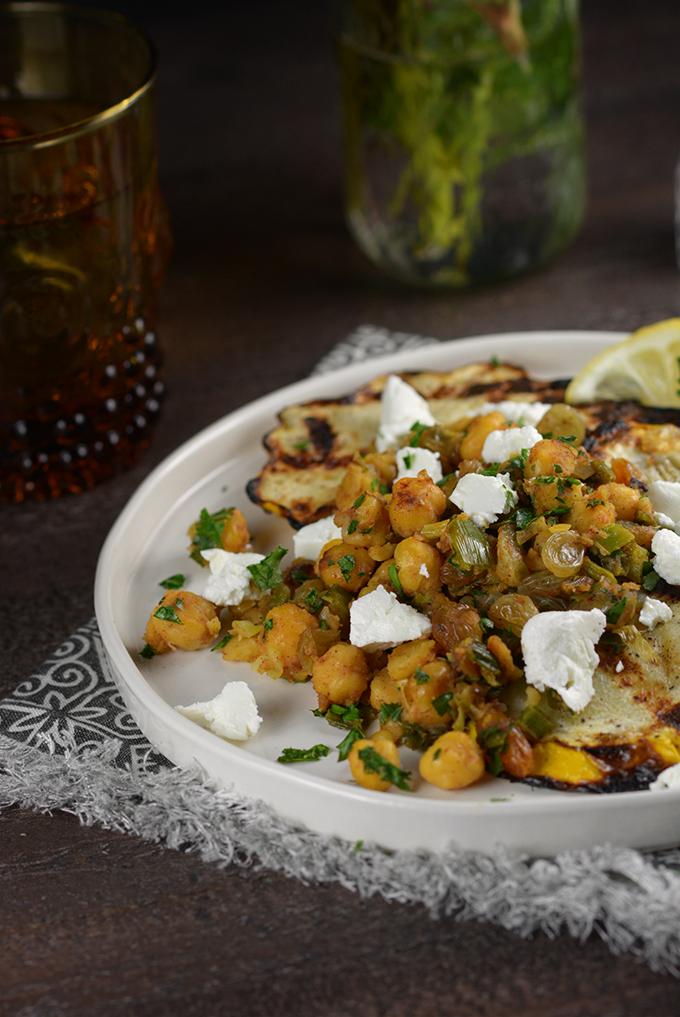 This summer I came up with this recipe for Grilled Pattypan Squash with Spiced Chickpeas. I promise it's not in the least bit boring or predictable. Grilling the pattypan squash sweetens it up, and the chickpeas are popping with spices. When you get a fork full of squash, chickpeas, and creamy goat cheese, it comes together into a surprising American dish with Middle Eastern influences.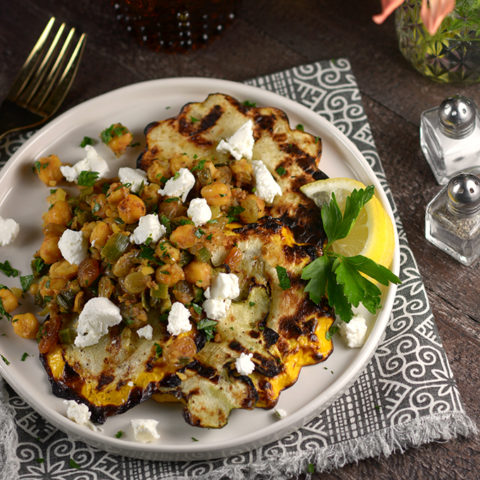 Grilled Pattypan Squash with Spiced Chickpeas
Getting into a summer squash rut? This wonderfully flavorful dish adds a Middle Eastern flair all the best aspects of this prolific American garden staple.
Ingredients
Grilled Summer Squash
4 medium summer squash
2 Tbsp extra virgin olive oil
salt and pepper to taste
Spiced Chickpeas
1 Tbsp olive oil
1 C spring onions, chopped
1 15 oz can chickpeas, drained
2 cloves garlic, minced
1/4 tsp salt
1/4 tsp paprika
1/4 tsp cinnamon
1/8 tsp cumin
1/8 tsp coriander
1/8 tsp black pepper
1/3 C golden raisins
1 tsp honey
1 tsp lemon juice
1 tbsp parsley, finely chopped
goat cheese
Instructions
Cut the ends off of the pattypan squash and then cut into 1/4 inch slices. Brush each slice, front and back, generously with olive oil, and then season with salt and pepper to taste.
Prepare the chickpeas. I usually remove the outer skins from my chickpeas, as this makes them more pleasant to eat. To do this, gently squeeze each chickpea between your thumb and index finger until it pops out of the skin. Discard the skins.
Pre-heat and brush your grill clean as needed.
While the grill is heating, chop the onions and parsley, mince the garlic, and measure out your other ingredients before beginning to cook the chickpeas, as the spiced chickpeas come together quickly.
Grill the pattypan squash over direct medium heat (350-450ºF), flipping as needed, and being sure to produce some nice grill marks.
Once the squash is done grilling, cover it with aluminum foil and make the spiced chickpeas.
To make the chickpeas, sauté the onions over medium-high heat in 1 Tbs of olive oil for 1 minute. Add the chickpeas to the pan and cook for another minute. Next add the raisins, garlic, and dried spices and cook for one more minute.
Remove the chickpeas from the heat. Gently mix in the honey, lemon juice, and parsley.
To serve, arrange one fourth of the grilled pattypan slices on a plate.Top with the spiced chickpeas and fresh goat cheese. Serve immediately.
Notes
This recipe is a satisfying vegetarian entree. It also pairs well with chicken or lamb.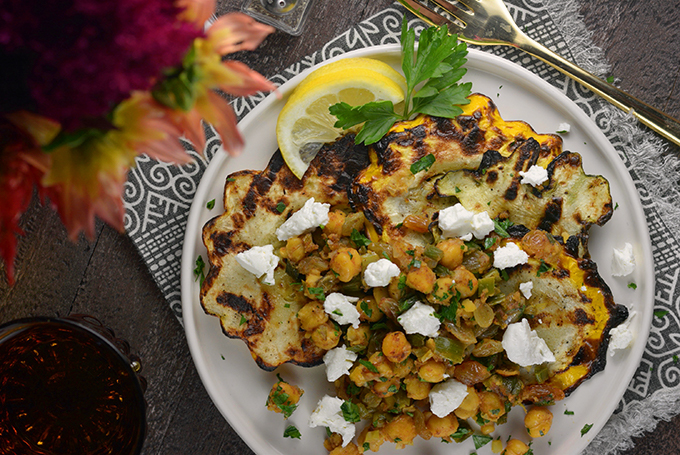 You may also enjoy…