Homemade Thousand Island Dressing – Now you can enjoy the fresh, sweet, and tangy flavor of this classic American dressing FREE from all the chemicals and preservatives of the bottled stuff!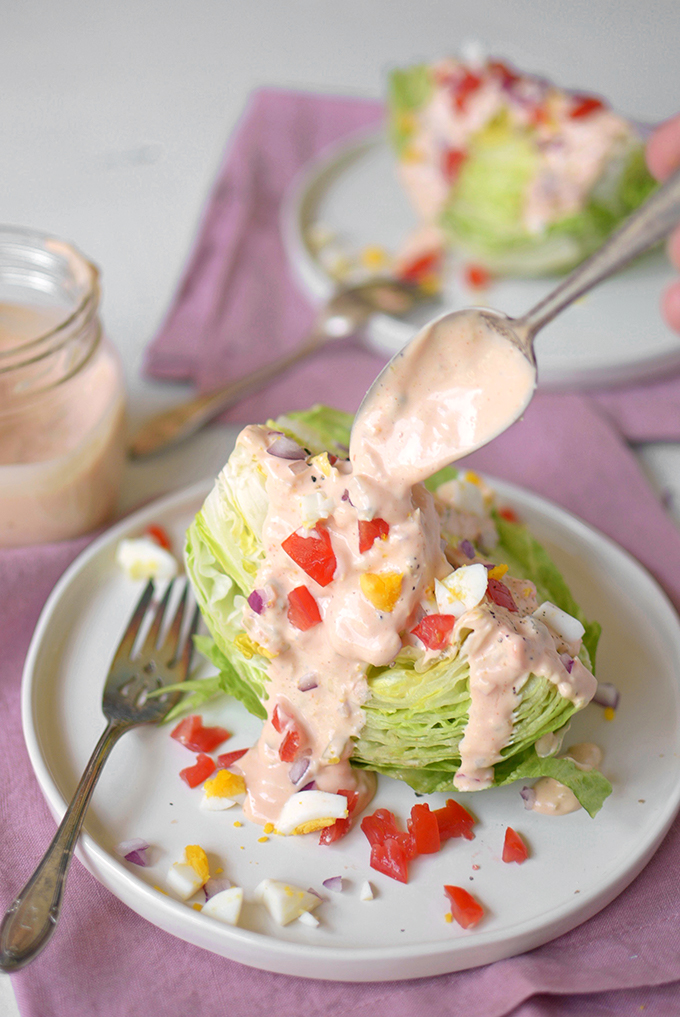 Instead of yammering for the next few paragraphs about how yummy and delicious, and oh-so-good my Thousand Island Dressing is (which is true, by the way), I'm going to nerd out a little bit and talk about the interesting history of the dressing. Many people confuse Thousand Island dressing with Russian dressing. The truth is that they're pretty similar, yet also decidedly different. In fact, chances are that your neighborhood deli may be putting Thousand Island dressing (instead of the traditional Russian dressing) on your reuben. Its mild and sweet flavor appeals more broadly to the American palette. Makes sense, though, as Thousand Island dressing is a product of American ingenuity.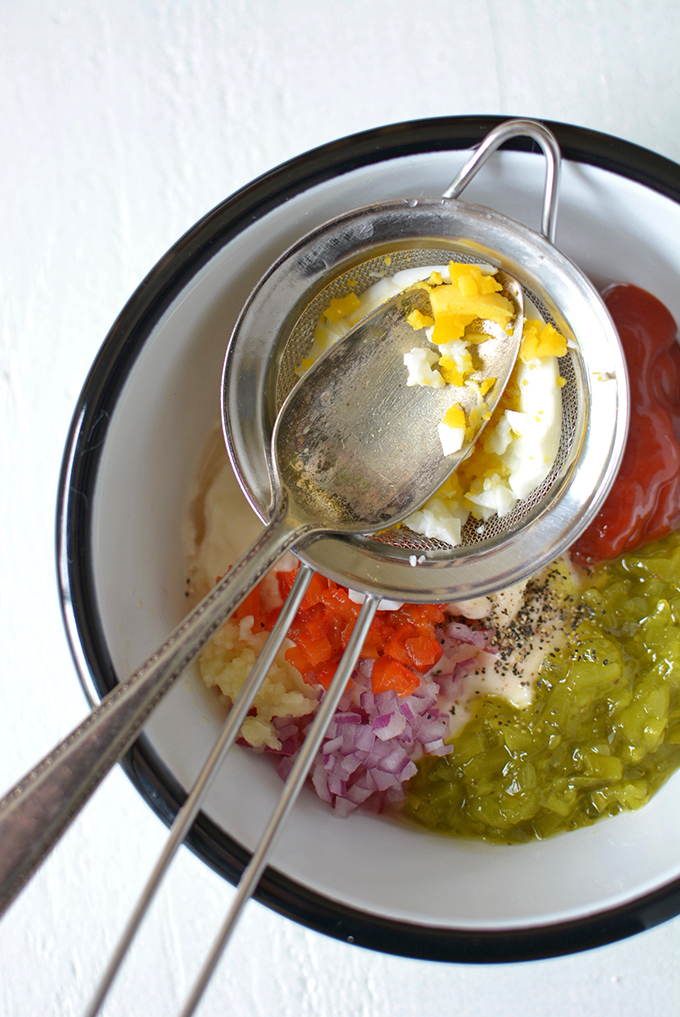 I like both dressings, to be truthful. They find their commonality in their preparation with mayo and ketchup or chili sauce. Also, Russian dressing typically contains some yummy horseradish. Since I'm currently nursing my 4 month old, I'm shying away from horseradish. It has the potential to cause tummy and supply problems for baby and mom. Uniquely, Thousand Island dressing typically contains a sweet pickle relish and egg. I had never considered smashing egg into a dressing before!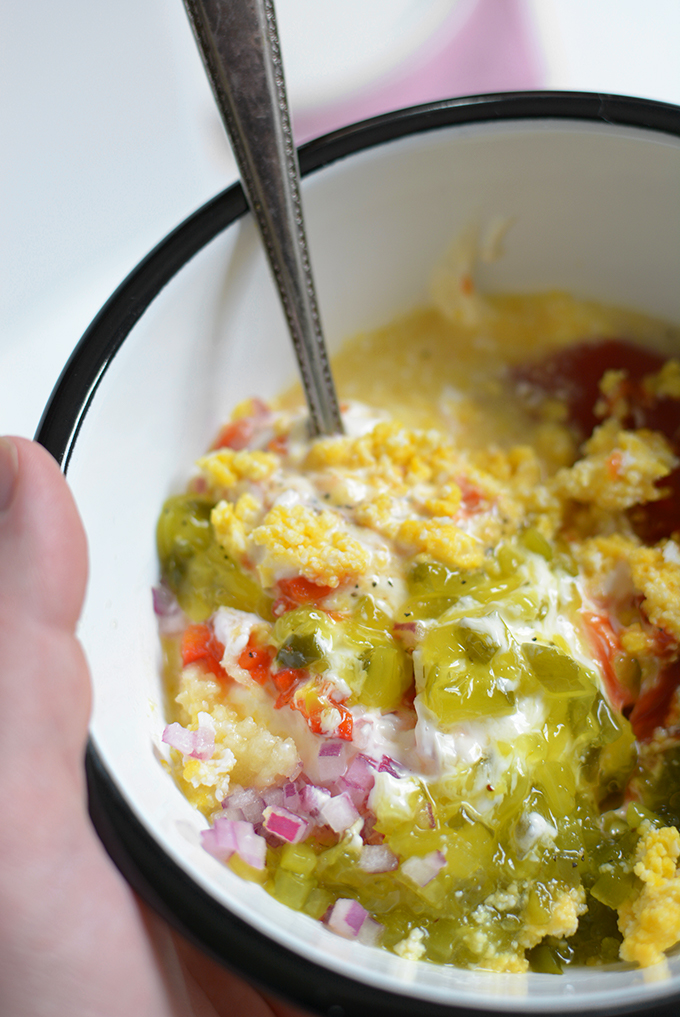 Legend has it that Thousand Island dressing was first invented in the late 19th C. by Sophia LaLonde, the wife of a fishing guide in the Thousand Islands area of northern New York state. Mrs. LaLonde would frequently serve the dressing to her husband's guests. The story goes that actress Mary Irwin, a frequent visitor of the Thousand Islands, was served LaLonde's dressing. She enjoyed it so much that she shared the recipe with George Boldt, the proprietor of the Waldorf Astoria Hotel in New York City. It found its way onto the menu in 1894 and was coined "Thousand Island Dressing."
I drove through the Thousand Islands once on my way to visit family in Canada. It's a magical landscape dotted with islands. I can just imagine tasting this delicious salad dressing for the first time, surrounded by all that beauty. No wonder Mary Irwin felt so inspired!
My affinity for the dressing hasn't always been such. As a child, every Sunday afternoon my dad would make a large salad with iceberg lettuce and pickled red beets. He'd then smother it with Thousand Island dressing. I was skeptical of the pink, salmon-like color. Normally I'm not one for sticking my nose up at trying something new, but it was a full twenty years later until I tried the dressing. I ended up instantly loving it (even with the iceberg lettuce and pickled red beets)… I think you'll love it too!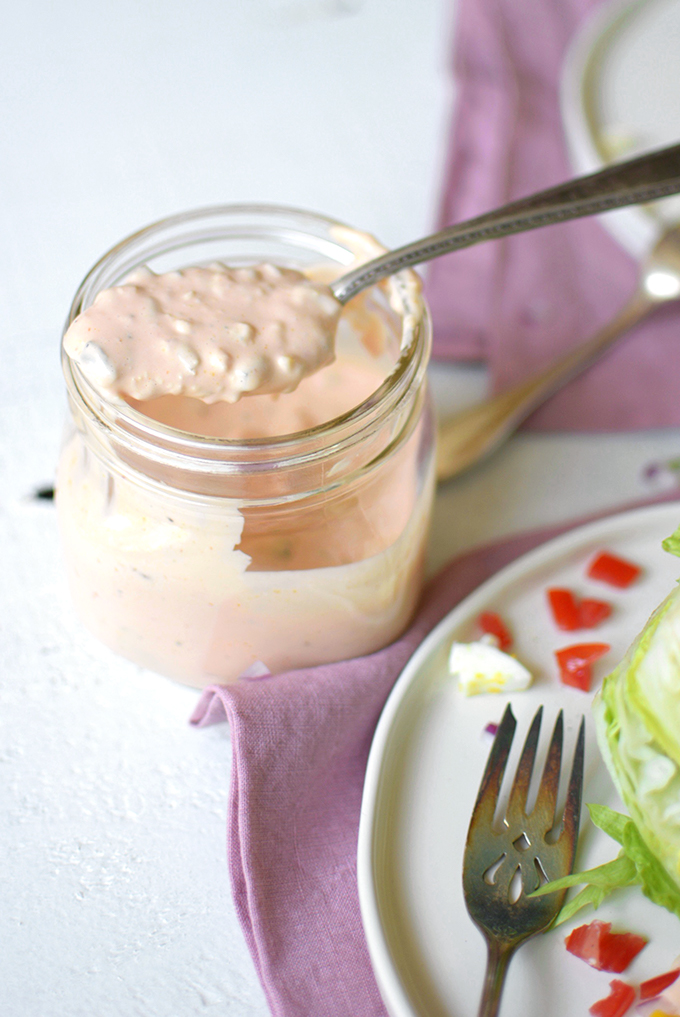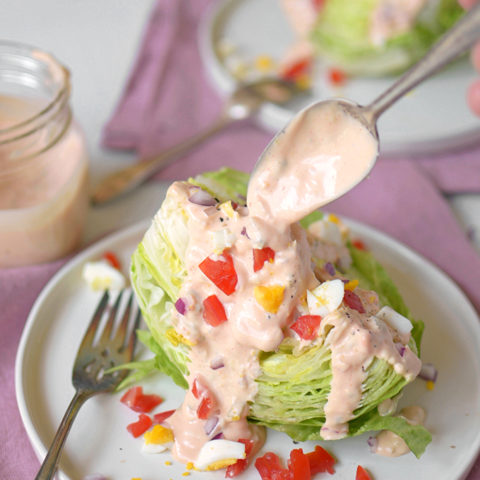 Homemade Thousand Island Dressing
Yield: 8 servings

Prep Time: 10 minutes

Total Time: 10 minutes

Now you can enjoy the fresh, sweet, and tangy flavor of this classic American dressing FREE from all the chemicals and preservatives of the bottled stuff!
Ingredients
3/4 C mayonnaise
1/2 hard boiled egg
1/4 C ketchup
3 Tbsp sweet pickle relish
2 tsp minced red onion
1 tsp minced roasted red peppers
1 clove minced garlic
1 Tbsp white vinegar
1 tsp sugar
1/8 tsp salt
3 dashes black pepper
a few drops of hot sauce, or to taste (optional)
Instructions
Combine all the ingredients together in a bowl. For the hard boiled egg, press it through a fine-mesh sieve so that it is in very tiny pieces. Stir all the ingredients until evenly combined.
Serve the dressing immediately or store in the refrigerator up to 5 days.
Notes
To make the wedge salad pictured, cut a head of iceberg lettuce in quarters. Top with homemade Thousand Island dressing and garnish with diced onions, tomatoes and hard boiled eggs.

If you enjoyed this recipe, you may also enjoy…