Slow Cooker Honey Balsamic Lamb Shanks – Create a delicious, complex, and sophisticated meal with just five minutes of prep time. Seriously!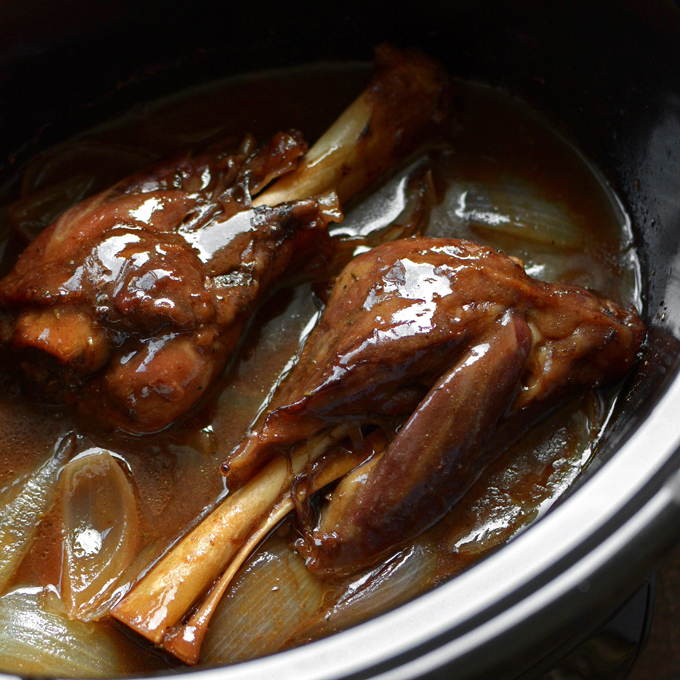 I came across some delicious-looking lamb shanks at the grocery store last week and I just had to buy them.
Have you ever bought something at the grocery store without thinking? After returning home it suddenly hit me that I had no clue what to do with my delicious (and a bit pricey) lamb.
When I think of a good lamb shank, I think of a piece of meat that has been cooked slowly and patiently to perfection. The problem is that I don't have the patience to wait by the oven all day. Not to mention that the idea of keeping my gas stove on for a few hours during the summer sounds dreadful!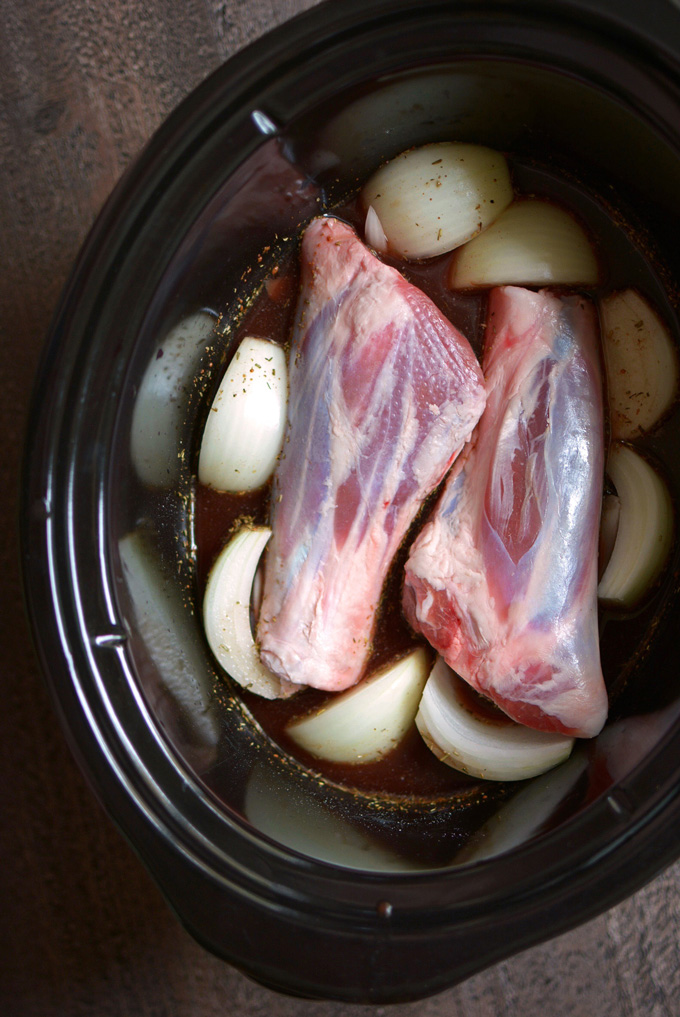 Having brought my lamb home, it then occurred to me that I should just throw it in the slow cooker!
At first glance, the slow cooker seems a little undignified for something like lamb shanks. A cut of meat that can be somewhat hard to find is deserving of a little more TLC than throwing it in the pot and forgetting about it!
This recipe literally takes 5 minutes to prep, but with the addition of red wine, balsamic, honey, and a blend of herbs, no one could guess how easy it is. It's sweet, savory, complex, and just a bit tangy. In other words, deserving of my lamb shanks.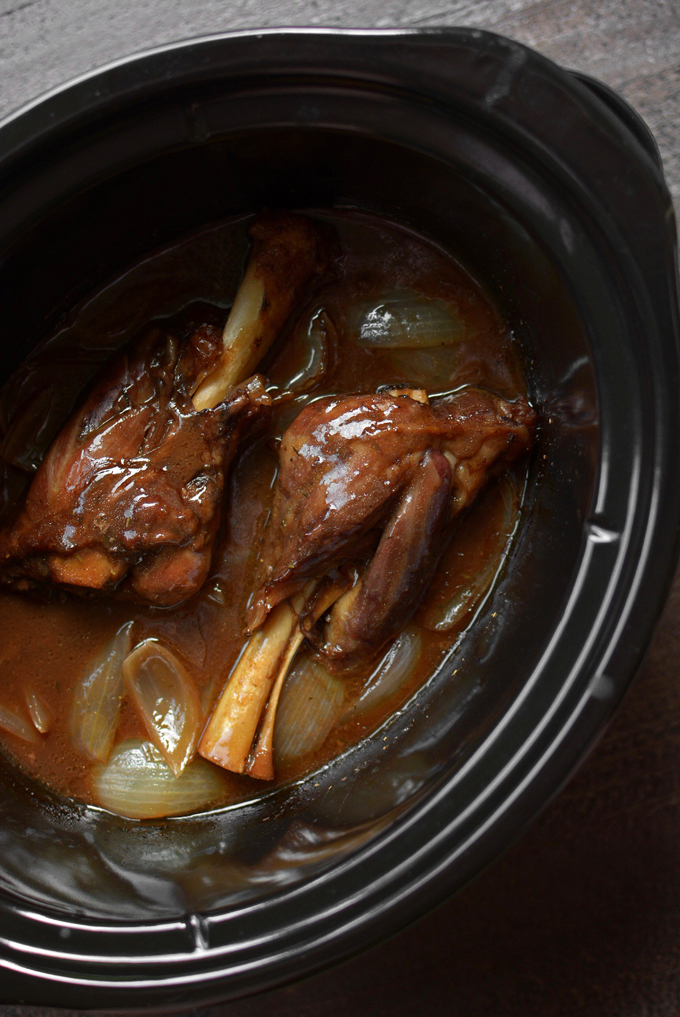 Maybe you're like me and have to deal with the problem of of over-committing to some lamb shanks you just bought without thinking.
Or maybe you're planning a sophisticated dinner party. Whichever the case, this recipe is a win. It's so easy, and it's so delicious!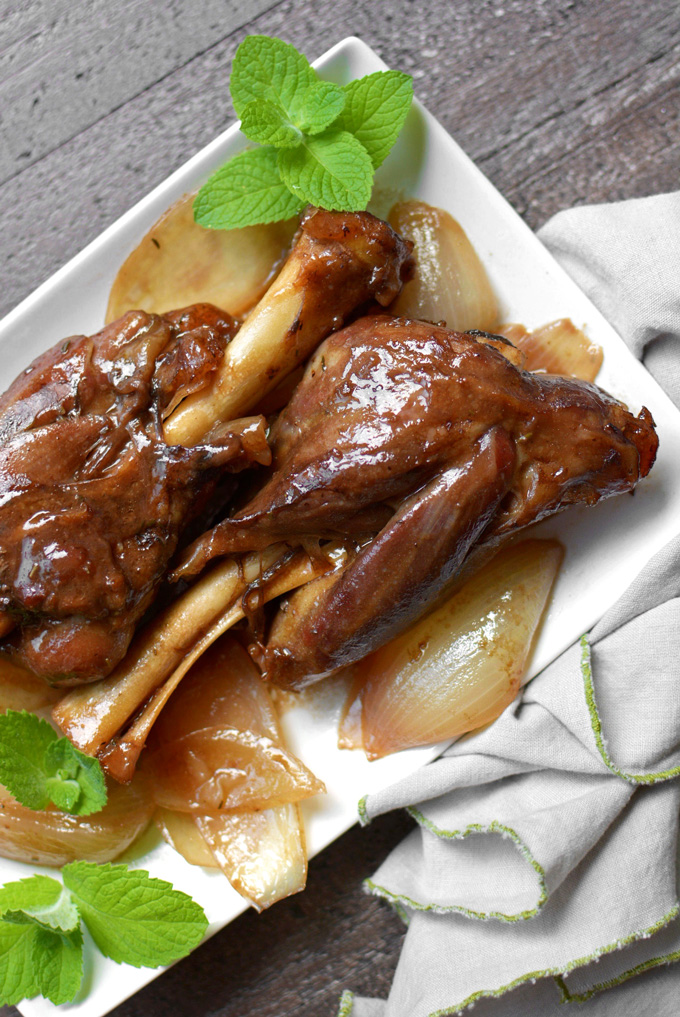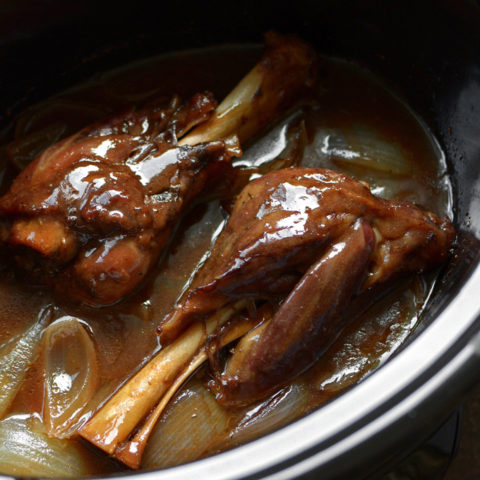 Slow Cooker Honey Balsamic Lamb Shanks
Yield: 2-4 servings

Prep Time: 5 minutes

Cook Time: 4 hours

Total Time: 4 hours 5 minutes

Create a delicious, complex, and sophisticated meal with just five minutes of prep time. Seriously!
Ingredients
2 Tbsp flour
1/8 tsp cumin
1/8 tsp rosemary
1/8 tsp thyme
2 dashes of cinnamon
1/4 tsp salt
1 C chicken broth
1/2 C red wine
1/4 C balsamic vinegar
1 Tbsp honey
2-4 small lamb shanks
1 sweet yellow onion cut into sixths
Instructions
In a cold slow cooker whisk together the flour, spices, red wine, balsamic vinegar, chicken broth and honey.
Next, arrange the lamb shanks and onions at the bottom of the slow cooker. There will be enough sauce in the slow cooker to make 2-4 lamb shanks.
Cover and cook on high for 4-5 hours. The lamb is done cooking when it's falling off the bone and is fork tender. Serve hot.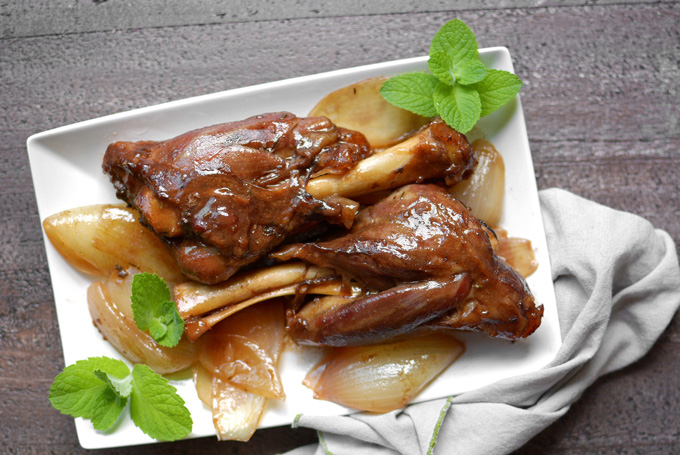 Try these delicious sides with the entree…
NOTE: Nutrition Facts reflect all of the broth in the slow cooker being consumed. It's used for cooking and flavoring the lamb, but it is unlikely that you will consume all of the cooking liquid. Much of the fat cooks off and is left behind in the slow cooker, so the fat and calories are in reality much lower than what is portrayed below. It is included here as a rough guide for those who are interested.