Shaved Brussels Sprouts with Bacon and Pine Nuts – This sweet and savory side dish with bacon and pine nuts will challenge even the most hardened brussels sprout skeptics at your table.
I've long had an obsession with brussels sprouts. It all started back in the 90's when I was visiting my aunt and uncle in the cozy little town of Gambier, Ohio. At the time they owned a pretty little bed and breakfast nestled on the edge of a college campus. It was always bustling with visiting professors and overzealous empty nesters. It was a magical place for an 11 year-old girl to explore, and I loved helping my aunt out around the B&B. In the morning I'd help her in the kitchen making baked grapefruit, candied bacon, and Belgian waffles for the guests. Then, after checkout, I'd help her clean guest rooms and arrange high-end, travel-sized soaps on all the vanities.
At the rear of the property, next to a shaded hammock and a well-trafficked hummingbird feeder, my uncle had a little garden in which, amongst other things, and grew brussels sprouts. Up until my mature age of 11, I still had not tasted brussels sprouts. My mom was always good at making my sisters and I eat our veggies, but somehow they had never made it onto my plate. That all changed when my uncle offered me a taste of the little green treasure from his garden, and I loved them right from the start.
Now, I understand that others may not share in my enthusiasm for brussels. I'm guessing my mom never served them to us kids because they're one of those things that a lot of people, especially kids, just plain don't like. Today's recipe is an attempt to make brussels sprouts approachable to skeptics, and it's a mainstay in my kitchen. Aside from the obvious… bacon… this simple recipe is so delicious because the brussels sprouts are shaved into small pieces and thus cook up evenly, becoming sweet and savory. Top things off with pine nuts for a touch of nuttiness, and they're just plain good. This recipe serves four, but double or triple as desired to make a fantastic Thanksgiving side!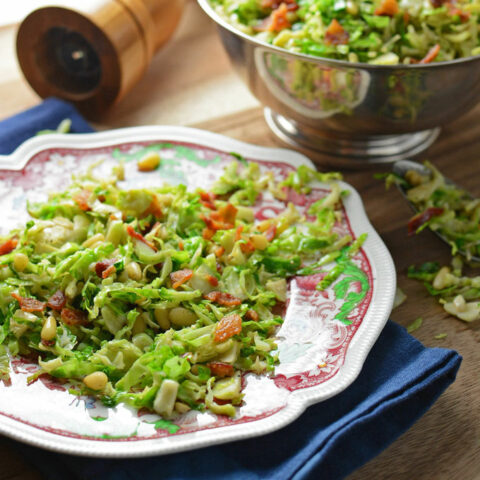 Shaved Brussels Sprouts with Bacon and Pine Nuts
Yield: 4

Prep Time: 10 minutes

Cook Time: 20 minutes

Total Time: 30 minutes

This sweet and savory side dish will challenge even the most hardened brussels sprout skeptics at your table.
Ingredients
4 pieces uncured bacon
1 1/4 lb brussels sprouts
1/4 C raw pine nuts
salt and fresh cracked pepper to taste
Instructions
Cook 4 pieces of bacon over medium-high heat in a large pan until they are crispy and golden brown. Place them on a plate, dab them with a paper towel to remove any excess grease, and set aside.
While the bacon is cooking, rinse the brussels sprouts, cut off the ends, and then cut them into shreds. To do this, it's easiest to cut them in half lengthwise and then slice them as if you're slicing an onion.
Turn the heat down to medium, and reserve approximately 1 Tbsp of bacon grease. Add the shaved brussels sprouts to the pan and sauté until they are tender.
Add the pine nuts to the pan, season with salt and pepper to taste, and cook 1 more minute until the pine nuts are heated through.
Remove the pan from the heat and crumble the bacon over the brussels sprouts before serving.