Maryland Style Blue Crab Cakes – Finally, a crab cake recipe that everyone can get behind. Lots and lots of crab and ZERO pointless filler!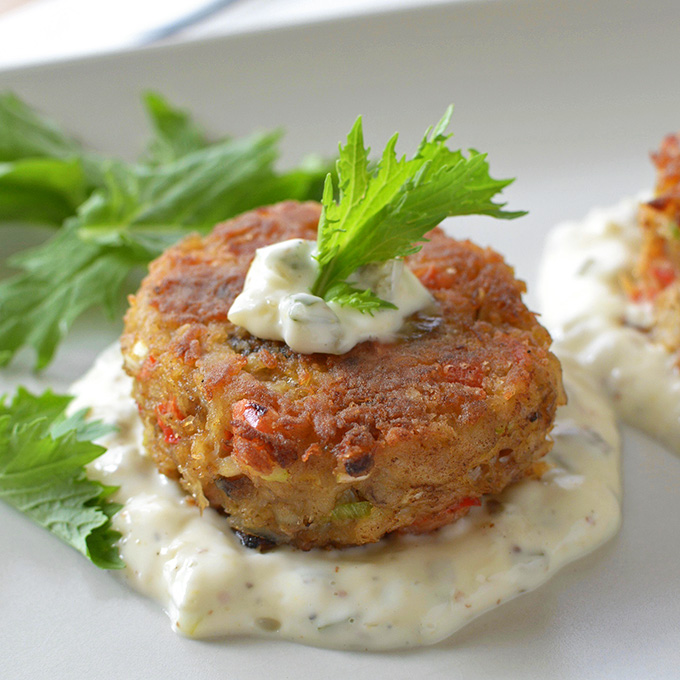 In my family it's universally accepted that a good crab cake is pretty much one of the yummiest things a person can eat.
Every September, my WHOLE family (husband, kids, parents, sisters, grandparents) pack into a caravan of 3 cars and make our journey from Philadelphia down to Ocean City, Maryland for a week of beach bliss.
Our trip involves relaxing on the beach in the beautiful late summer weather, of course, and each night features family meals around a large wooden table with lively conversation. The cooks in my family ensure that it also involves some pretty darn good food!
It's become a tradition for my husband and I to make a crab cake feast on one of those nights. There's nothing more befitting than Maryland Style Blue Crab Cakes while on vacation in O.C. Maryland!
Let me just say, however, that if we were to treat all ten people to a crab cake dinner at a restaurant it would cost a small fortune… And it's soon to be 11 this November, with baby Simple Seasonal on the way! That's where making our own starts to sound more appealing. At about a quarter of the cost, everyone can eat crab cakes with reckless abandon (and without me cringing and running to protect my wallet).
In addition to being kind on a cook's wallet, homemade crab cakes have the promise of no pointless filler. You know what I mean… Bread cakes. Blah! Any filler in my crab cakes is there for the sole purpose of adding flavor. Everything else is crab, crab and more crab.
Beyond the blue crab, the defining characteristic of a Maryland style crab cake is the zesty flavor of Old Bay seasoning. If a crab cake could be iconic, in my humble crab cake-loving opinion, it would be one made with blue crab and Old Bay.
I also add some zest and sweetness to these cake with a little green onion, lemon juice, and red pepper. The end result is sooo good. Seriously though – these are some good crab cakes!
There's no denying that these babies are pretty much one of the yummiest things you could eat, whether you're around a large wooden table with those you love at the shore or around your own kitchen table with your friends on a Saturday night!
Be sure to pair this recipe with my easy-peasy Homemade Tartar Sauce! Everything is better with a good sauce for dipping!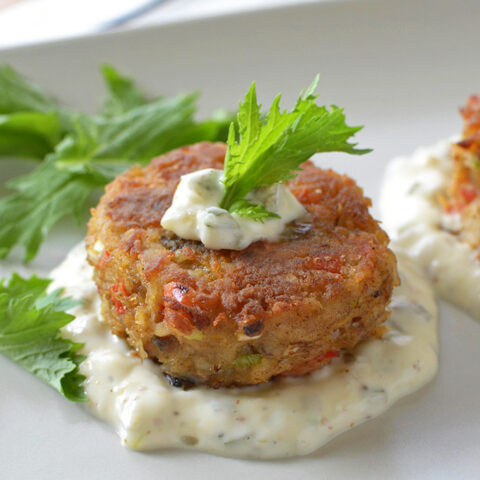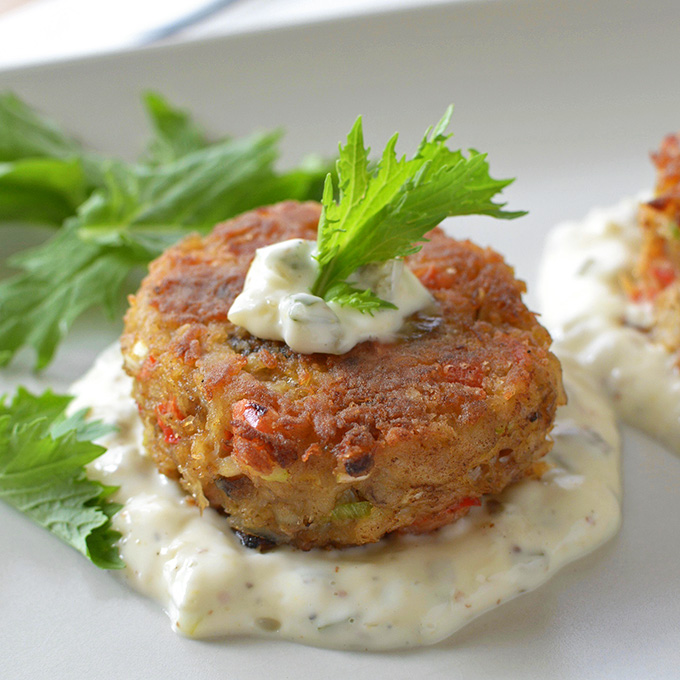 Maryland Style Blue Crab Cakes
Yield: 4 servings

Prep Time: 15 minutes

Cook Time: 15 minutes

Total Time: 30 minutes

Finally, a crab cake recipe that everyone can get behind. Lots and lots of crab and zero pointless filler!
Ingredients
1 lb canned pasteurized blue claw crabmeat from the refrigerator section (if you must, lump crab works if you're unable to find blue)
1/3 C crushed golden round crackers*
1/2 C finely chopped red bell pepper
2 1/2 Tbsp finely chopped green onion
1/4 C mayonnaise*
1 egg lightly beaten
1 Tbsp fresh squeezed lemon juice
1 tsp Worcestershire sauce
1 1/2 tsp Old Bay seasoning
1/4 tsp garlic powder
dash of cayenne or to your heat preference
1/3 C flour for dusting
2 Tbsp safflower oil or other vegetable oil
Instructions
Drain the crab meat and carefully use your fingers to remove any hidden pieces of crab shell, then set aside.
In a mixing bowl combine the crackers, red pepper, green onion, mayo, beaten egg, lemon juice, Worcestershire sauce, Old Bay seasoning, garlic powder, and cayenne. Mix to combine.
Fold the crab meat in with the ingredients in the mixing bowl, taking care not to over work and break up the crab meat.
Over medium-high heat, pre-heat the oil in a large frying pan. Once heated, measure the crab cakes into 1/4 C portions and form them into patties with your hands or a measuring cup. Coat the crab cakes in flour, and then add them to the pan. Cook for about 4 minutes on each side, flipping midway so that both sides of the crab cakes are golden brown. If making a large batch of crab cakes you can place them on a foil-lined baking sheet and keep them warm uncovered in a 200º F oven, but they are best if they are served immediately
Notes
*To make dairy-free, substitute the golden round crackers with panko and the mayonnaise with a dairy-free mayo alternative like Just Mayo.



If you enjoyed this recipe, you may also enjoy…