Sunny Broccoli Salad with Homemade Dressing – Celebrate the freedom of summertime with this fresh broccoli salad that's equal parts healthy and indulgent!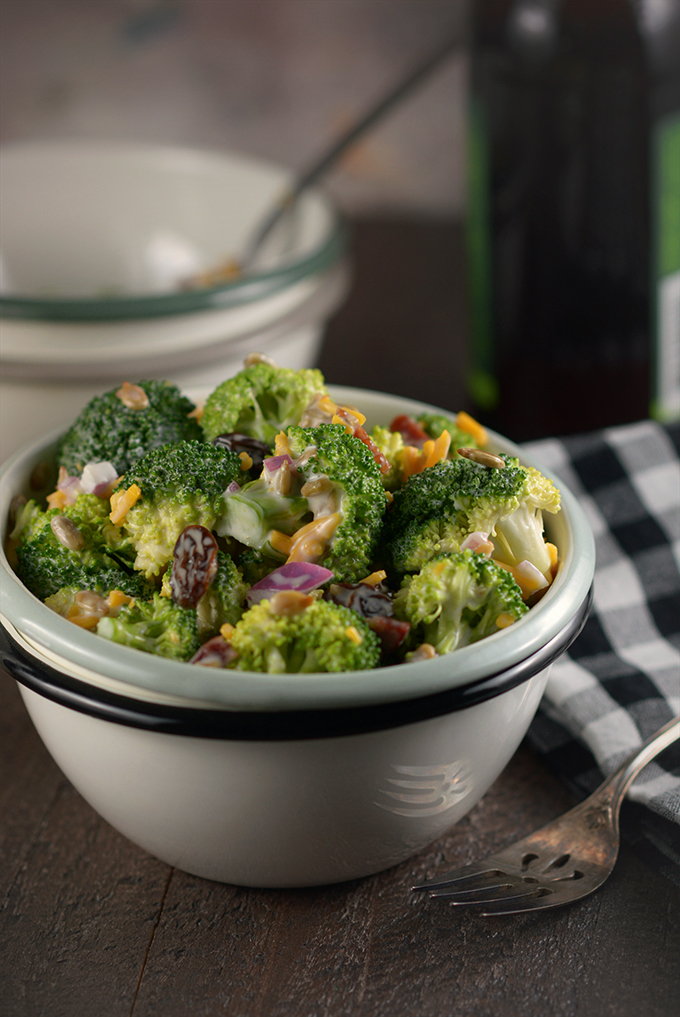 I don't think I've ever been as excited about picnic season as I have been this year. The whole country has been under quarantine in one way or another since March. I live in a community just outside of Philadelphia and it seems like it's NEVER ENDING.
While much of the country is opening up, we're all still "in the red." I get it, I'm a PCU nurse, and it's BAD at work. Being cooped up with kids feels pretty bad, too, though…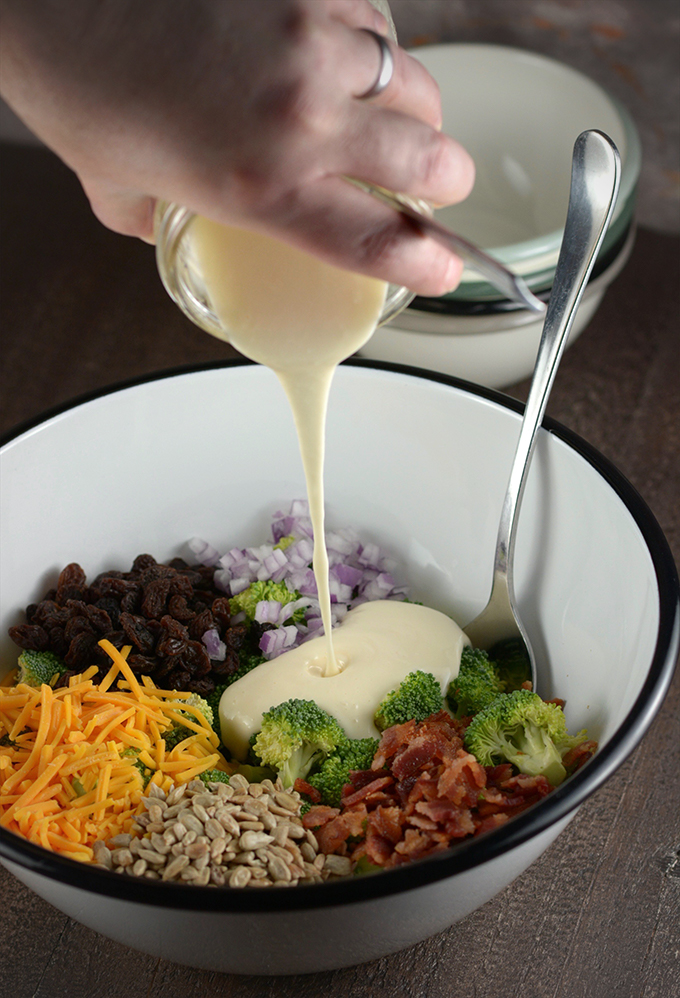 The warmer weather has literally been a breath of fresh air, from the kids running around the yard to firing up the grill! This past weekend we uncovered the grill and started sizzling up some tasty dinners. We made lamb kebabs (coming soon) and a summer classic, hot dogs.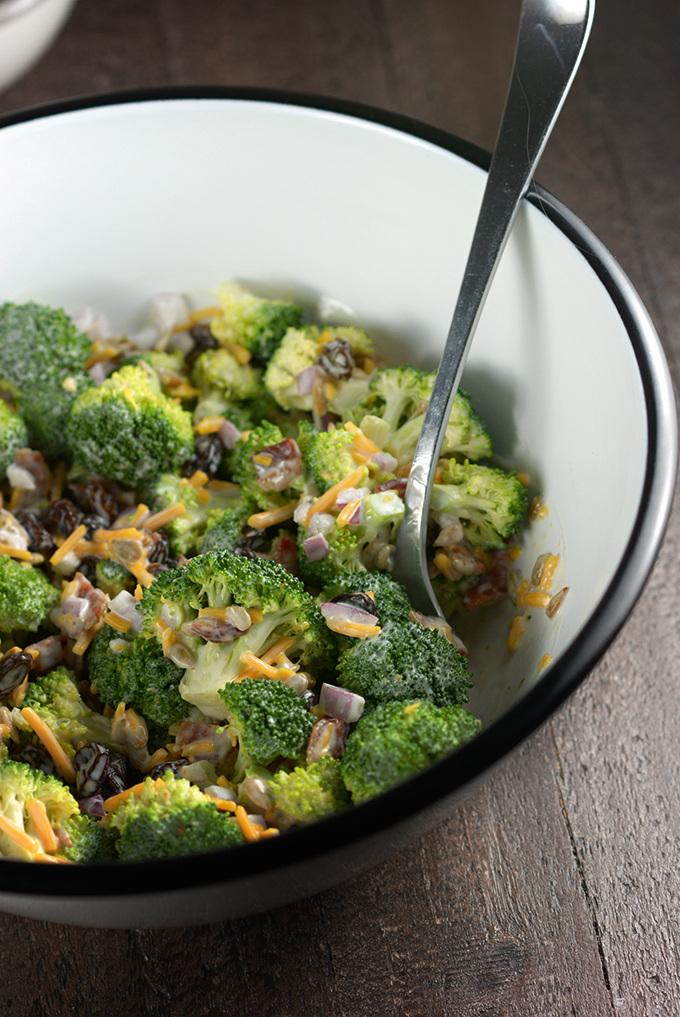 Now that Memorial Day is just a few days away, what's a summer cook out without killer sides? The first salad I made this season is one of my faves, Sunny Broccoli Salad, which I paired with a tasty homemade dressing.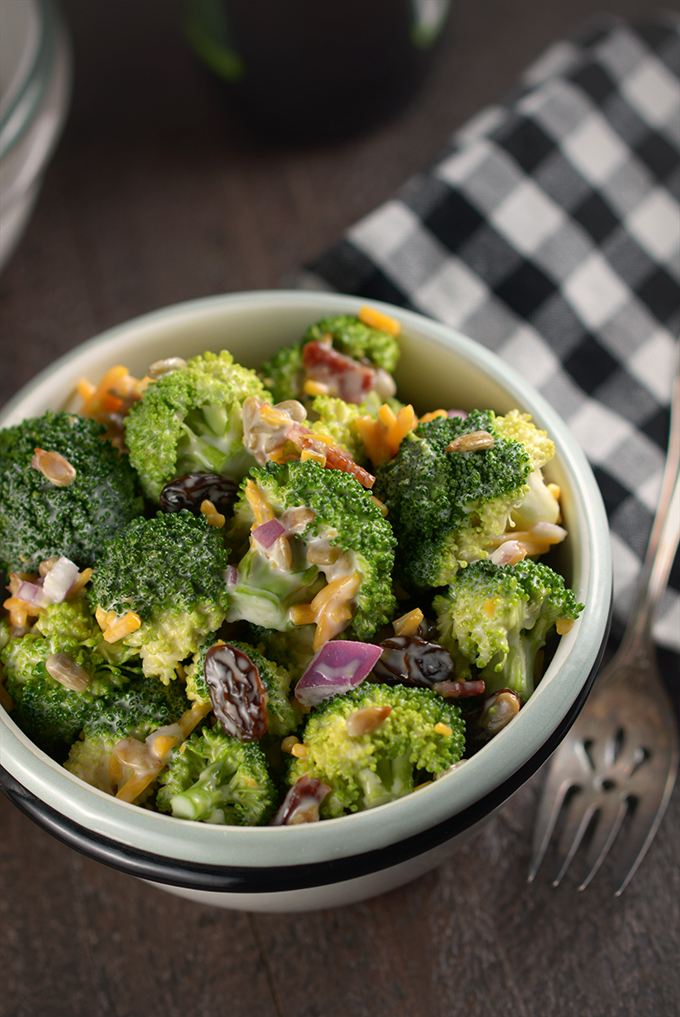 This salad is crunchy, cool, savory, sweet, and tangy. It has healthy ingredients but the creamy dressing, bacon, and cheese is totally indulgent. On a hot summer's day it's a perfect side for hot dogs and hamburgers, as well as other grilled items like chicken and sausage.
Aside from the awesome taste, there are other things I love about this salad. Unlike many picnic salads, it doesn't involve the work of boiling pasta or potatoes. As such, it comes together quickly. To cut out even more time you can consider purchasing pre-cooked bacon and pre-sliced cheese.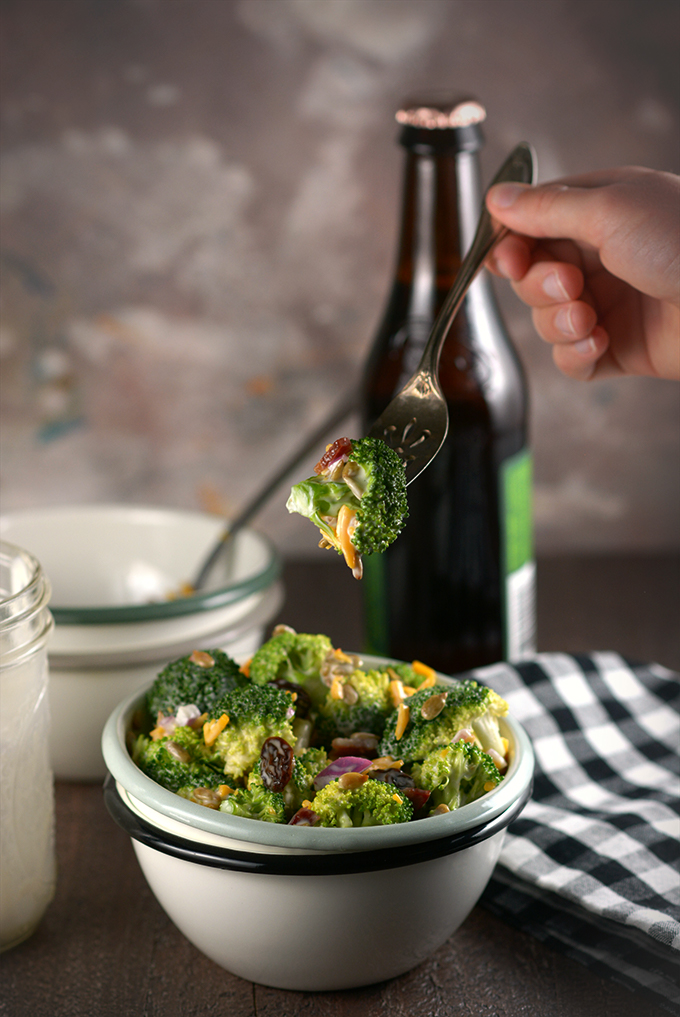 It's the unofficial start to summer, so uncover that grill this Memorial Day if you haven't done so already. Sizzle up some hot dogs and hamburgers, mix up some tasty summer sides, and celebrate the freedom of fresh air!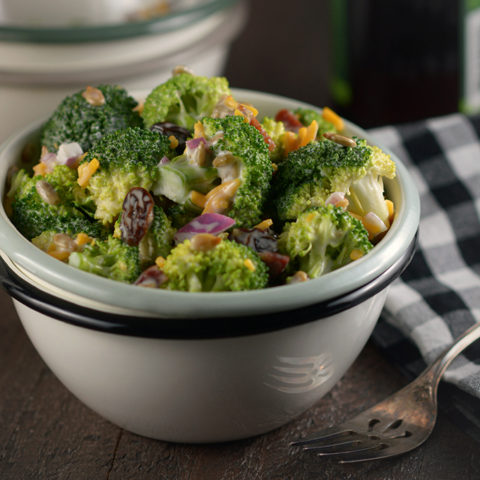 Sunny Broccoli Salad with Homemade Dressing
Total Time:
1 hour
40 minutes
Celebrate the freedom of summertime with this fresh broccoli salad that's equal parts healthy and indulgent!
Ingredients
1/3 C thick-cut bacon, cooked and crumbled
2/3 C mayonnaise
1 1/2 Tbsp sugar
2 Tbsp cider vinegar
1/3 C raisins
4 C broccoli, cut into florets
2 Tbsp red onion, finely chopped
1/2 C cheddar cheese, coarsely shredded
1/4 C sunflower seeds
Instructions
Preheat oven to 400ºF. Line a baking sheet with aluminum foil. Arrange the bacon on the sheet so that the pieces are close, but not touching. Cook the bacon for 15-20 minutes until it's golden-brown and crispy. Due to space limitations, you may have to cook the bacon in two batches. Once the bacon is cool, break it into bite-sized pieces.
Mix together the mayonnaise, sugar, vinegar, and raisins in a large bowl while the bacon is cooking. Allow the dressing to sit for 15 minutes, and then mix together again. This will allow the sugar adequate time to dissolve and will soften the raisins.
Cut the broccoli into florets, chop the red onion, and shred the cheese.
Add the broccoli, red onion, cheddar cheese, crumbled bacon, and sunflower seeds to the large mixing bowl. Fold together until all the ingredients are evenly combined and the salad is coated in dressing.
Chill in the refrigerator for at least 1 hour before serving.*
Notes
*This recipe can be made the night before a picnic. Store in the refrigerator for up to 4 days.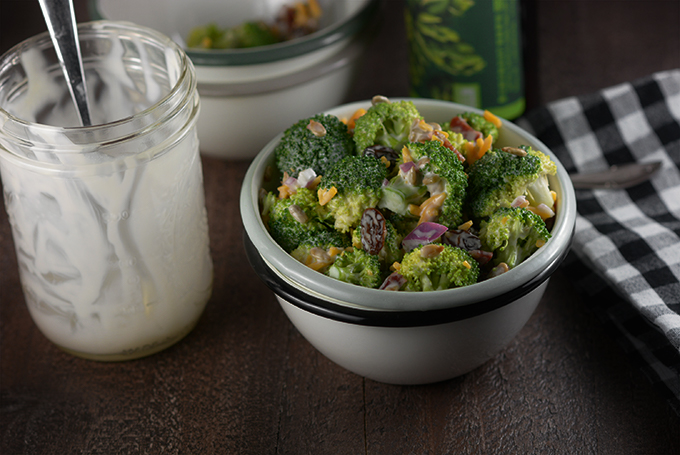 You may also enjoy…