Israeli Couscous Salad – Celebrate the traditional flavors of the Mediterranean (and healthy eating) with this bright and fresh couscous salad!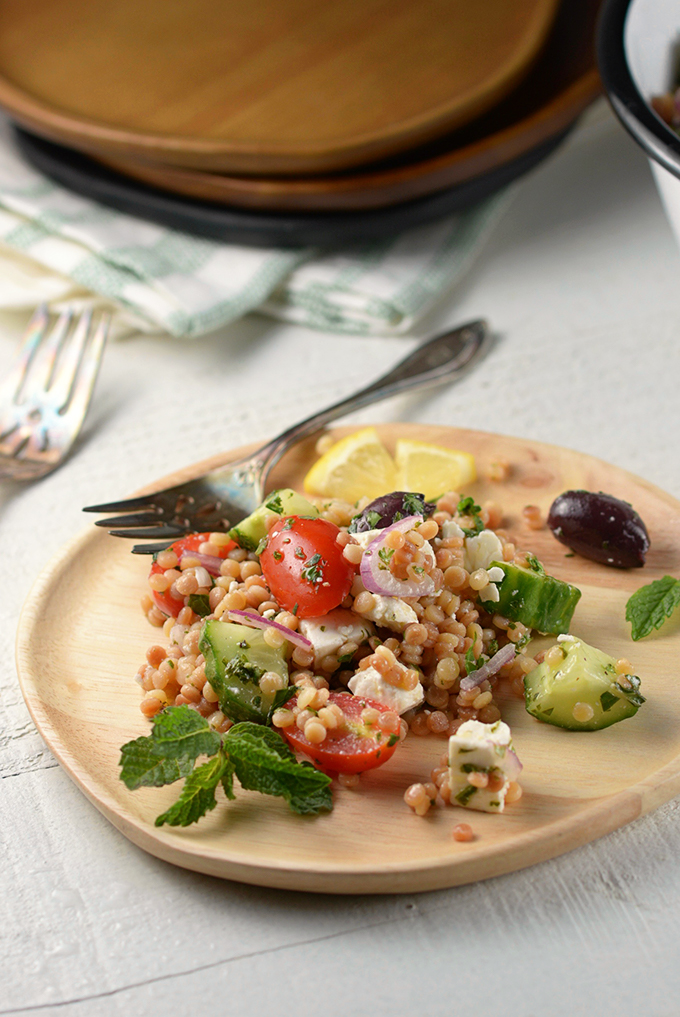 I love couscous, but it's a food I have a hard time taking seriously. I'm incapable of eating it without cracking up just a little inside.
Every September my husband, kids, and I spend a week at the beach with my extended family. Part of this week of beach time family fun is my Mom, sister, and I end up cooking for the whole crew just about every night. (Personally, I'm open to starting an eating out tradition a few nights a week, but I digress…)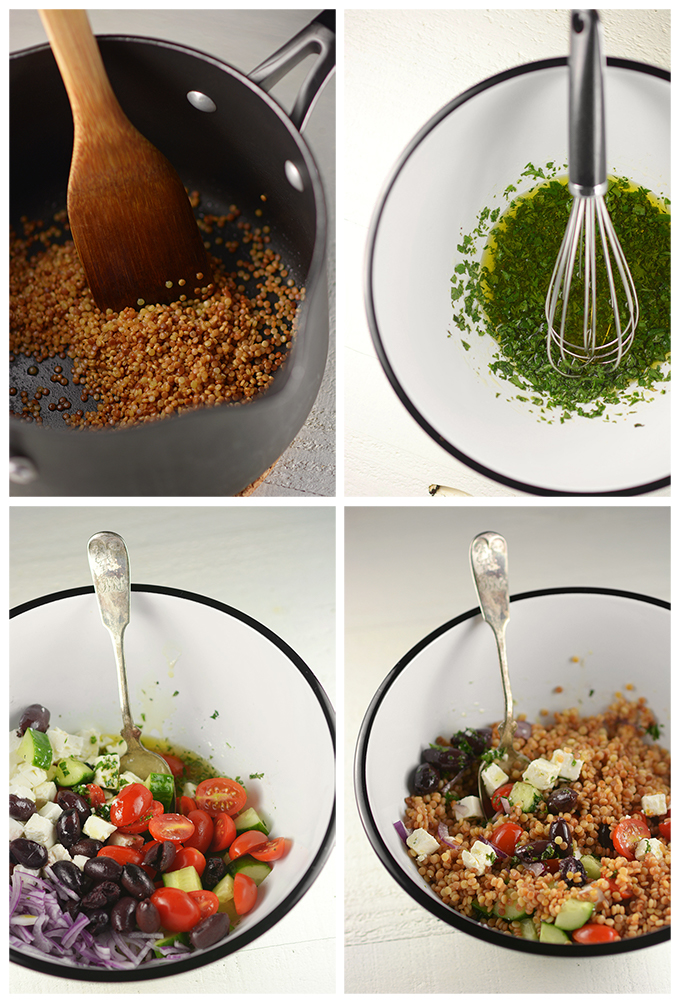 A few years ago my mom started really getting into making couscous. My Pop-Pop, a country guy who grew up on a small family farm in a Pennsylvania Dutch community, is still expanding his international palette. The first time my mom served him couscous he said, "What are we having? What is this, 'coush coush?!"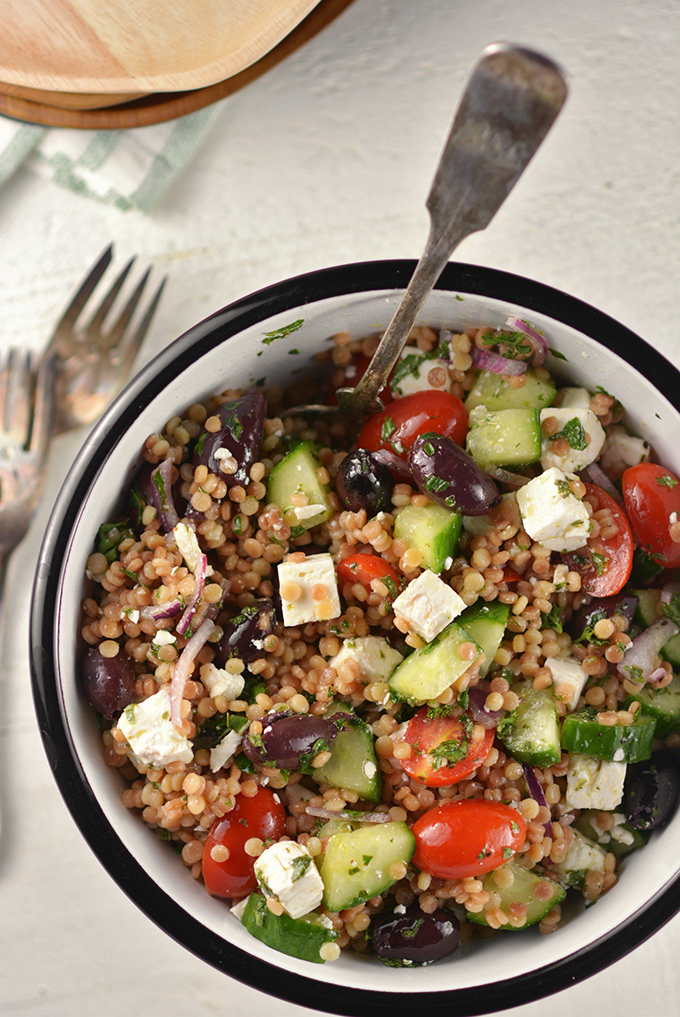 Ten years have gone by now and mom is still making lots of couscous and my Pop-Pop is still calling it "coush coush." I'm fairly certain that at this point he's just trying to be funny… I think… All that to say, we all still love couscous, Pop-Pop included.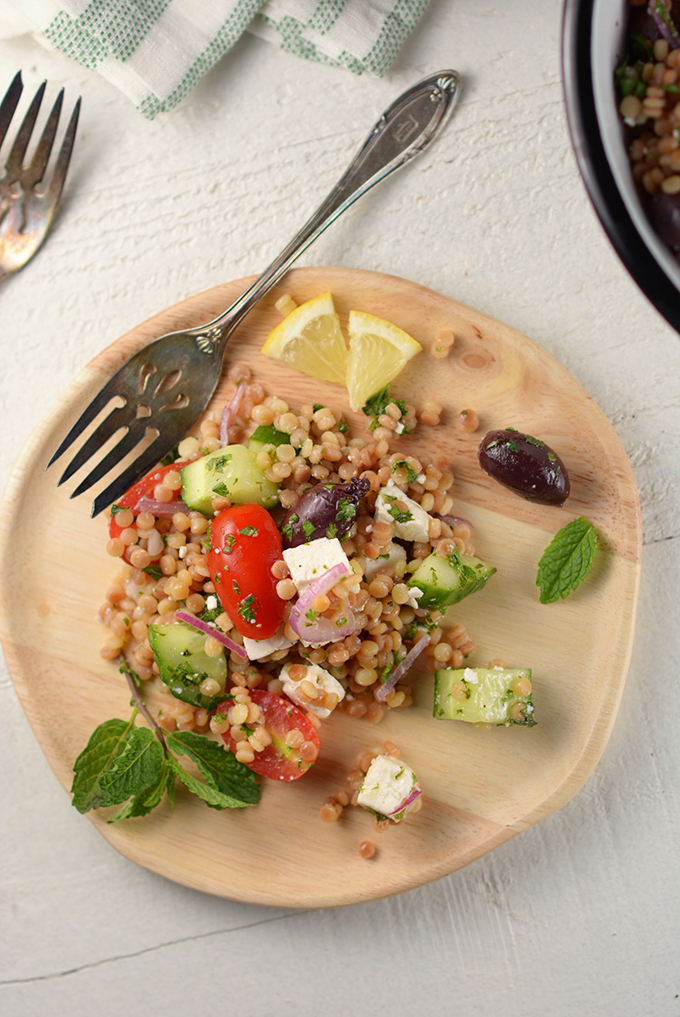 My mom usually serves her couscous hot, but I'm also a big fan of eating it cold in a salad. I was looking back through some of my old blog recipes and realized that I've already written two other couscous salad recipes, including my Strawberry Poppyseed Couscous Salad and my Israeli Couscous and Sugar Snap Pea Salad.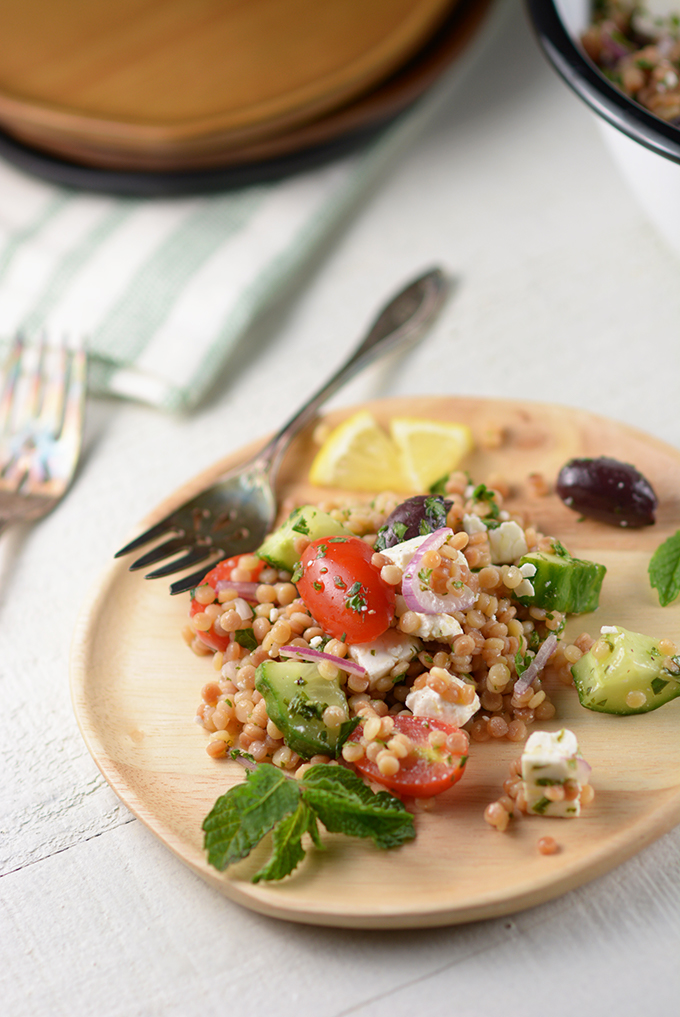 I can't pick a favorite among these recipes, but my latest recipe for Israeli Couscous Salad is definitely a contender. This salad brings together traditional Mediterranean add-ins like cucumbers, tomatoes, feta, and olives. The parsley-mint lemon vinaigrette is absorbed by the Israeli couscous, making the best description for this salad to be, "bright and fresh 'coushcoush!'"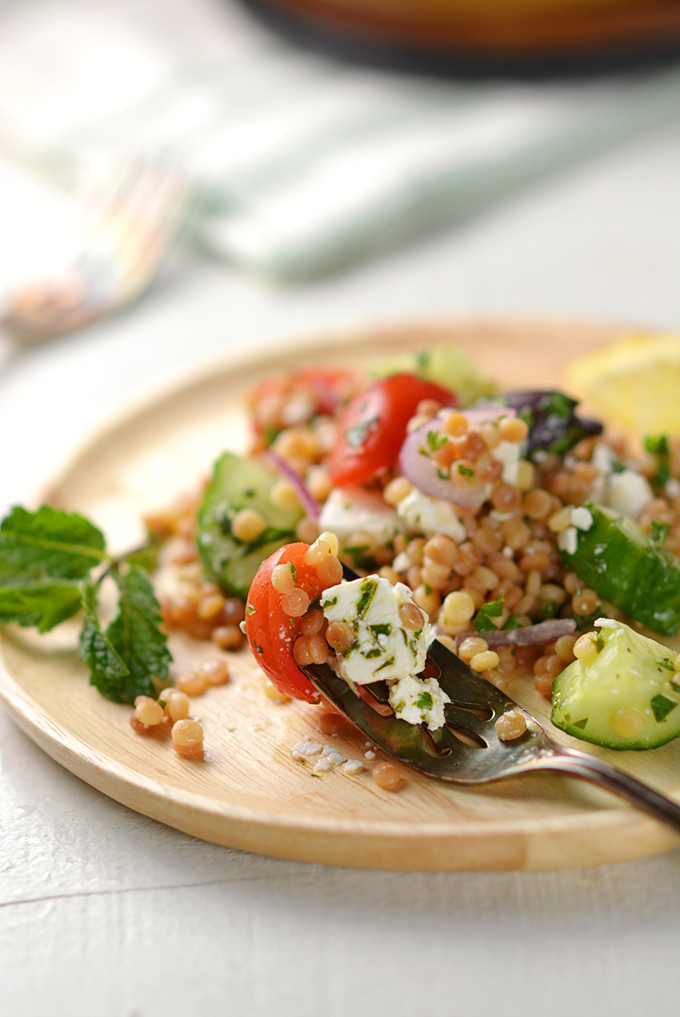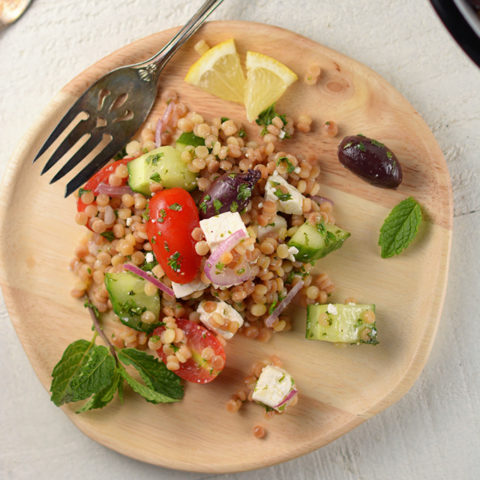 Israeli Couscous Salad
Total Time:
1 hour
30 minutes
Celebrate the traditional flavors of the Mediterranean (and healthy eating) with this bright and fresh couscous salad!
Ingredients
Couscous
1 Tbsp olive oil
3/4 C Israeli or Pearl Couscous
1 1/4 C water
1/4 tsp salt
Dressing
3 Tbsp lemon juice
2 Tbsp white wine vinegar
1 tsp sugar
1/4 C olive oil
1/4 C fresh curly leaf parsley, finely chopped
1 Tbsp fresh mint, finely chopped
1/4 tsp salt
1/8 tsp black pepper
Salad
1 C English cucumber, chopped
1 C grape tomatoes, halved
1/4 C red onion, thinly sliced
1 C feta cheese, chopped
1/2 C kalamata olives, drained
Instructions
Couscous: Heat the oil over medium-high heat in a medium saucepan. Toast the couscous, stirring frequently, until the couscous is golden brown. This will take approximately 4-5 minutes. Add 1 1/4 cups water and the salt to the pot and bring to a boil. Reduce the heat to medium-low to achieve a simmer. Cover and simmer for about 8-10 minutes, or until all the liquid is absorbed. Set aside for at least 30 minutes to cool to room temperature.
Dressing: In a small mixing bowl whisk together all of the ingredients and set aside.
Salad: Chop and slice all the ingredients and combine them in a large mixing bowl. Add the cooked and cooled couscous as well as the dressing to the bowl. Gently toss to combine. Chill for 1 hour prior to serving.
You may also enjoy…