Lamb Meatloaf with Yogurt Sauce – Bursting with Middle Eastern flavor and paired with a yummy yogurt sauce, this isn't your average meatloaf recipe!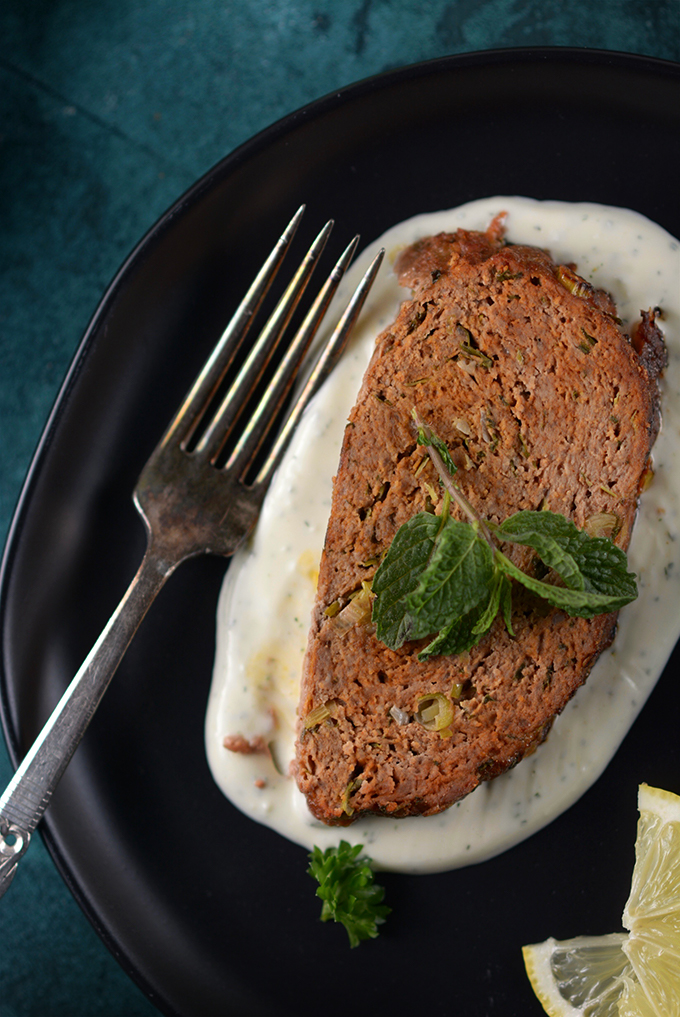 Meatloaf is a traditional favorite in my home, especially during the cold months. I love it mainly because my entire family willingly eats it. With a two-year-old and an even pickier seven-year-old that's really saying something. Meatloaf is also great because it's easy to make ahead and freeze for a busy day.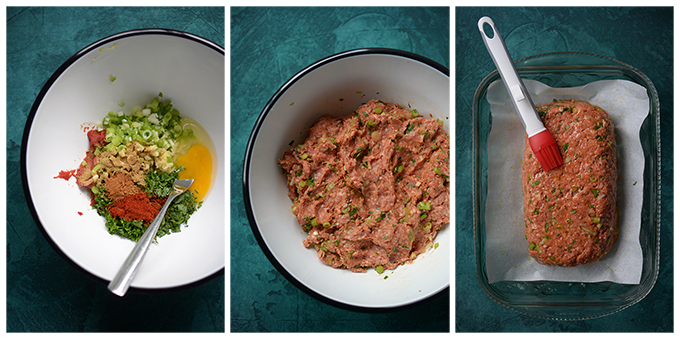 Between the two kids and my day job at the hospital I tend to have a lot of busy days. With that being the case, I depend on a lot of freezer meals and a lot of meatloafs.
I'm not the sort of girl that can eat the same thing week in and week out and be okay with it, no mater how tasty it is. Well, perhaps chocolate's the exception, but we're talking about what to make for dinner here…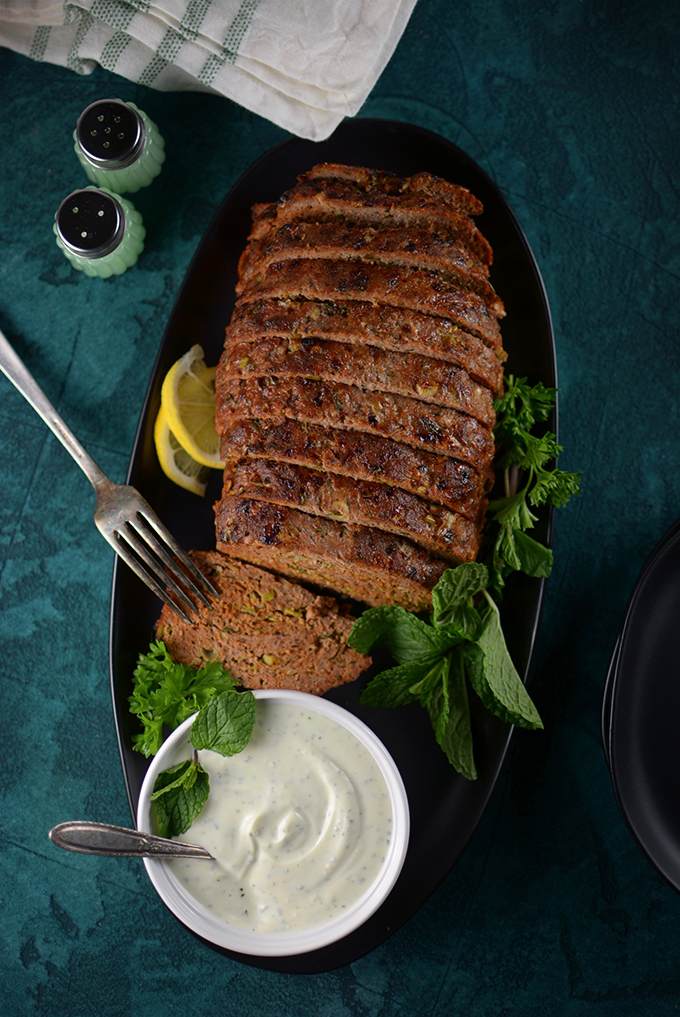 That's why I decided to put a big twist on meatloaf by developing this recipe for Lamb Meatloaf with Yogurt Sauce. It combines ground lamb with Middle Eastern herbs and spices like cilantro, parsley, coriander, and cinnamon to mention a few.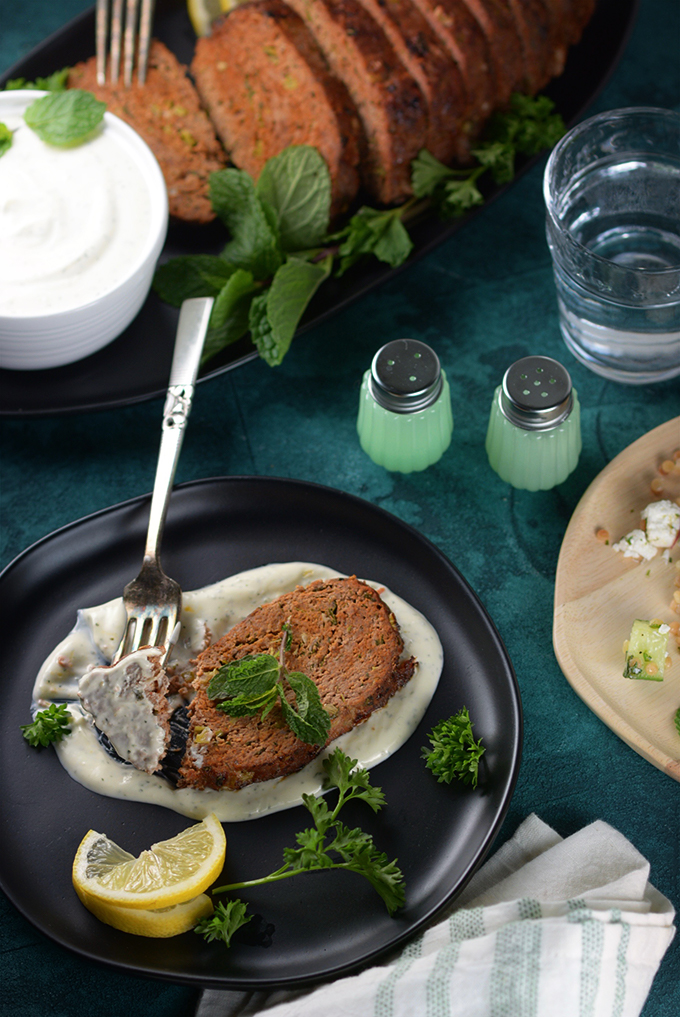 The lemon, garlic, and mint yogurt sauce ties the whole meal together. It's creamy, cool, and bright which balances out the spices and savory flavor of the meatloaf.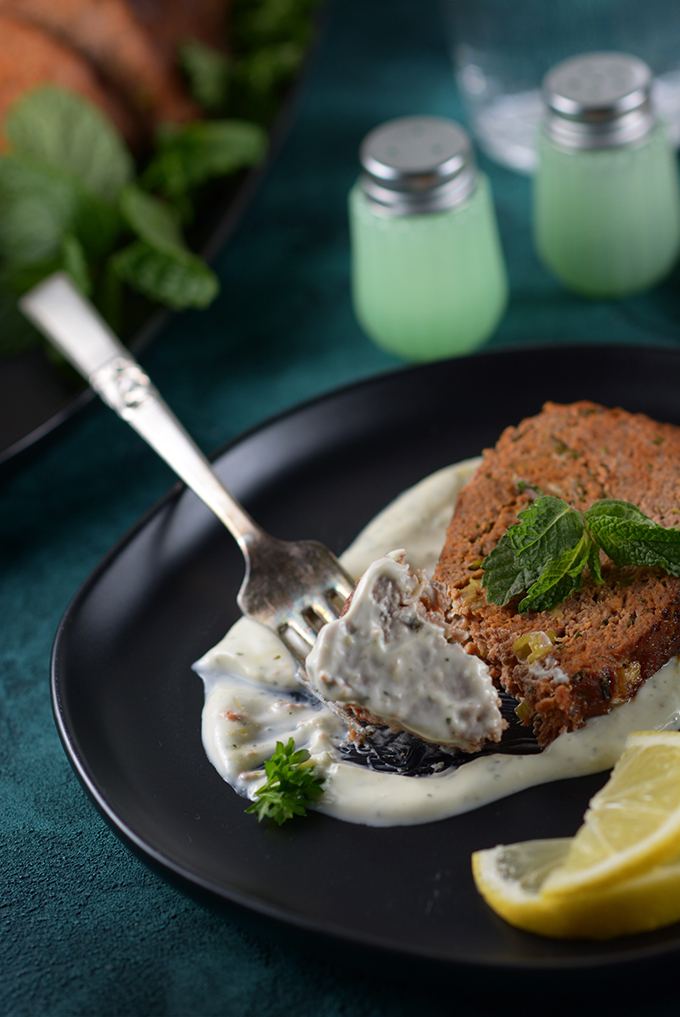 Basically, this lamb meatloaf is a super flavorful way to take your dinner table on a tour of the Middle East. It's perfect for enjoying and refueling around the dinner table with those you love after a busy day! Who says a meal you popped out of the freezer has to be boring and predictable?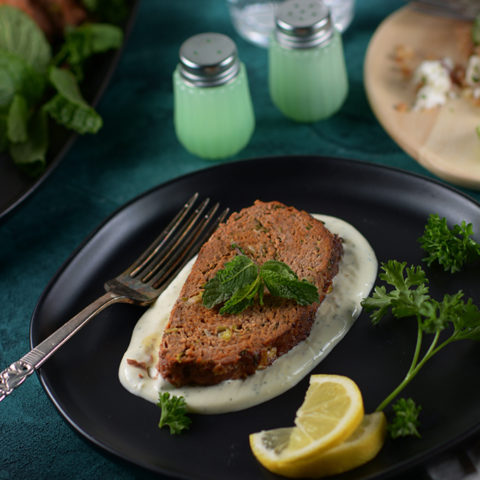 Lamb Meatloaf with Yogurt Sauce
Additional Time:
45 minutes
Total Time:
1 hour
15 minutes
Bursting with Middle Eastern flavor and paired with a yummy yogurt sauce, this isn't your average meatloaf recipe!
Ingredients
Meatloaf
1 large egg, lightly beaten
1 Tbsp lemon juice
2 Tbsp fresh chopped cilantro
2 Tbsp fresh chopped curly parsley
7 scallions, finely chopped
2 cloves minced garlic
3 Tbsp tomato paste
1 tsp coriander
1 tsp cumin
1 tsp paprika
1/2 tsp cinnamon
2 lbs ground lamb
1 Tbsp olive oil (to drizzle pan)
Yogurt Sauce
2 C plain whole milk greek yogurt
1 Tbsp packed fresh mint leaves
1 clove minced garlic
3 Tbsp fresh lemon juice
3 Tbsp honey
3 Tbsp olive oil
1/8 tsp salt
Instructions
Meatloaf
Preheat oven to 350ºF. Place a piece of parchment paper at the bottom of a baking dish and drizzle with olive oil.
In a large bowl mix to evenly combine everything except for the ground lamb and olive oil.
Add the ground lamb to the bowl. Using your hands mix together the meat and seasoning until just combined. Take care not to over-work.
Form the lamb meatloaf mix into a loaf and place it on the parchment paper, then lightly drizzle the meatloaf with olive oil.
Bake for 40-45 minutes, or until the meatloaf reaches an internal temperature of 140ºF. Increase the oven temperature to 500ºF and cook for an additional 5 minutes or until the meatloaf begins to brown.
Allow the meatloaf to rest for 10 minutes before slicing and serving. Serve with yogurt sauce.
Yogurt Sauce
Prepare the yogurt sauce while the meatloaf is cooking. Place all of the ingredients into a hand mixer cup or a food processor. Blend until smooth.
Transfer the sauce to a serving dish. Keep chilled in the refrigerator until you're ready to serve.
Notes
FREEZER DIRECTIONS: Mix together the meatloaf ingredients as instructed above. Form the meatloaf and place it on a baking sheet. Freeze uncooked. Once frozen, wrap in aluminum foil and place in a freezer-safe bag. Store in the freezer for up to 4 months. Bake in a 350ºF oven for 1 hour 15 minutes to 1 hour and 30 minutes.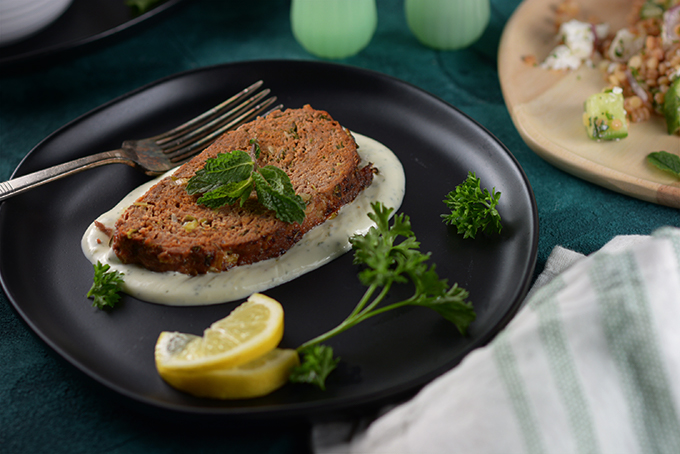 You may also enjoy…