Peanut Chicken Lettuce Wraps – Our take on this popular Asian recipe adds a simple but important twist that packs big flavor into these little wraps!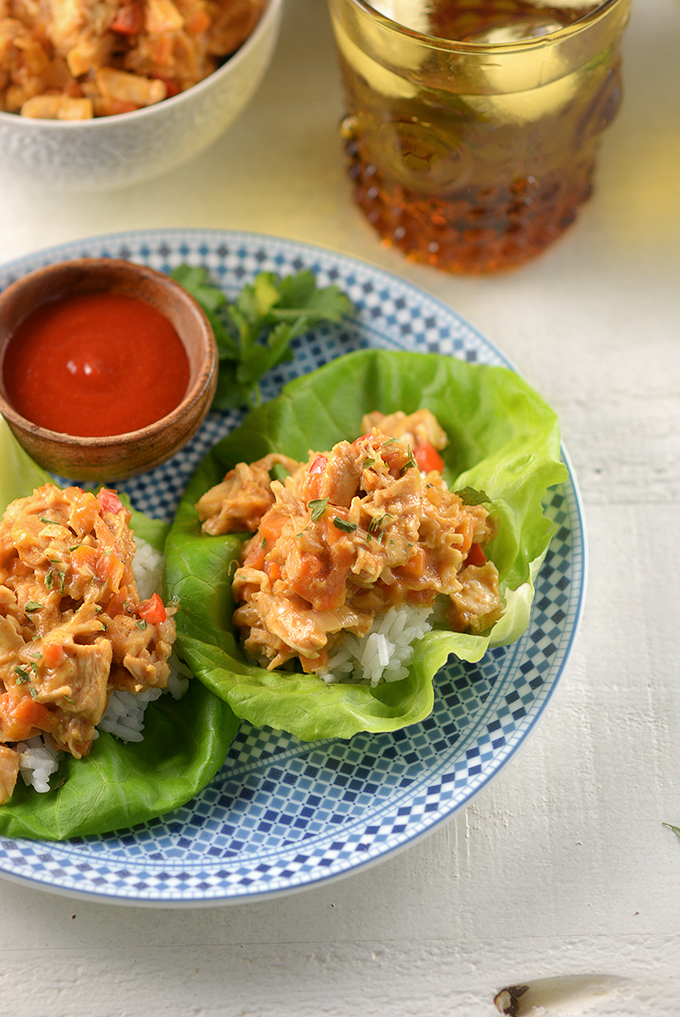 It's a rainy and cold Sunday afternoon and I'm relaxing on my cozy red couch, feet up, with my kid. He's an energetic and fun loving 2nd grader and a lover of all things Pokémon and Minecraft.
I decided to let him play Minecraft while I try to figure out what in the world to write about. You know, to "babysit" him. (Yes, I know… That doesn't win me mother-of-the-year.) Unfortunately, the only things I can think of right now are creepers, zombies, and "why the heck is my kid is building a house under the water?"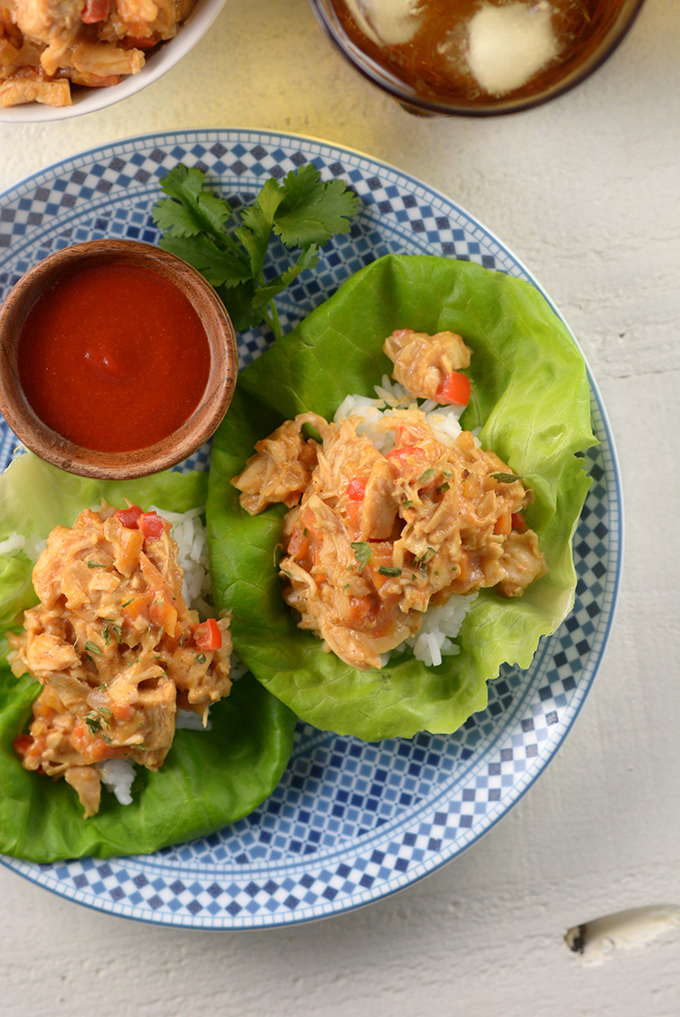 The problem is, my kid is an excessive talker. You know, he's one of those kids that assumes you want to be privy to their constant stream of consciousness from the time they wake up until the time they go to bed… 😱
So instead of thinking of anything interesting to say, "creepers" is all I've got for today.
Fortunately this recipe for Peanut Chicken Lettuce Wraps is fantastic, and can pretty much speak for itself. There are endless choices online when it comes to this recipe, but this one has a twist that sets it apart.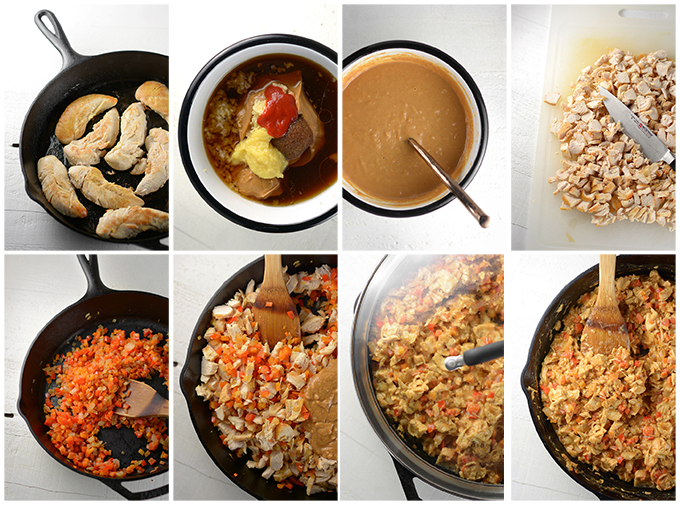 This recipe is normally made with ground chicken, but I decided to be different and make it with chicken tenderloins. The meat is more tender and flavorful, making this already-delicious dish even better!
Perhaps my twist isn't quite as creative and out of the box as, say, my son's underwater Minecraft house, but this is one creation you can eat!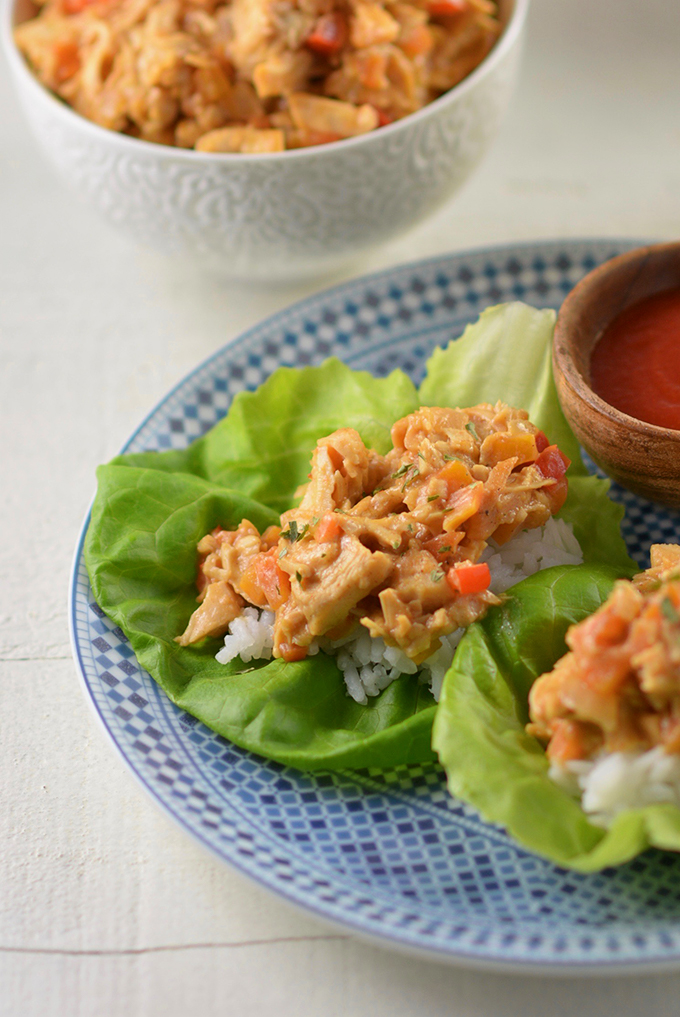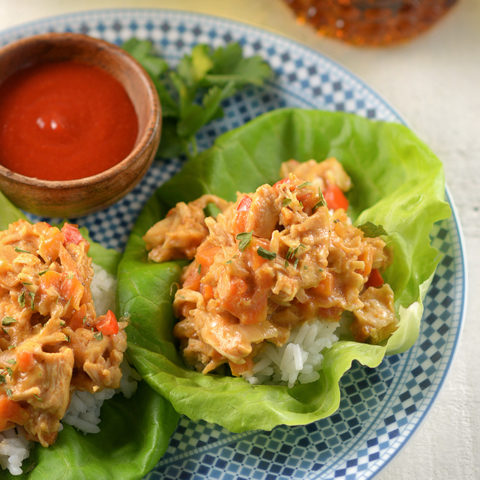 Peanut Chicken Lettuce Wraps
Our take on this popular Asian recipe adds a simple but important twist that packs big flavor into these little wraps!
Ingredients
Rice
1 C jasmine rice
2 C water
Chicken and Vegetables:
2 lbs chicken tenderloins
1 Tbsp vegetable oil
1 C yellow onion, diced
1 C carrot, diced
1 C red pepper, diced
Sauce
2/3 C peanut butter
1 C warm water
2 Tbsp rice vinegar
2 Tbsp lime juice
3 Tbsp soy sauce
1 tsp-2 Tbsp sriracha sauce (depending on your heat preference)
1 Tbsp packed dark brown sugar (optional)
2 tsp sesame oil
2 tsp fresh garlic, minced
2 tsp fresh ginger, minced
To Assemble
1 head bib lettuce
cilantro for garnish
sriracha sauce
Instructions
Begin by making the rice. Rinse the rice well and place it in a saucepan with 2 C water. Cook on high until it begins to boil and then reduce to a low simmer. Simmer until all the liquid is absorbed.
While the rice is cooking chop all of the vegetables and set them aside. Also rinse and separate each leaf from the head of bib lettuce and lay them on a dish towel to dry.
Next, heat 1 Tbsp of vegetable oil in a skillet over medium-high heat. Add 2 lbs of chicken tenderloin to the skillet. Cook for about 4 minutes on each side, or until the chicken is lightly browned. Transfer to a cutting board to cool for 5 minutes. Once cooled, chop the tenderloin.
While the chicken is cooking, prep the sauce by combining all of the sauce ingredients in a small mixing bowl and then whisk it together until smooth. Set aside.
Add the vegetables to the skillet. Cook on medium-low heat for 10 minutes, stirring frequently.
Next add the chopped chicken and the sauce to the skillet. Stir to combine and simmer covered for 10 minutes.
Serve by layering lettuce, rice, then chicken. Garnish with fresh cilantro and sriracha. Serve immediately.
More Asian-inspired meals…