Irish Nachos – Transform that leftover corned beef into this amazingly fun and delicious Irish-themed party appetizer!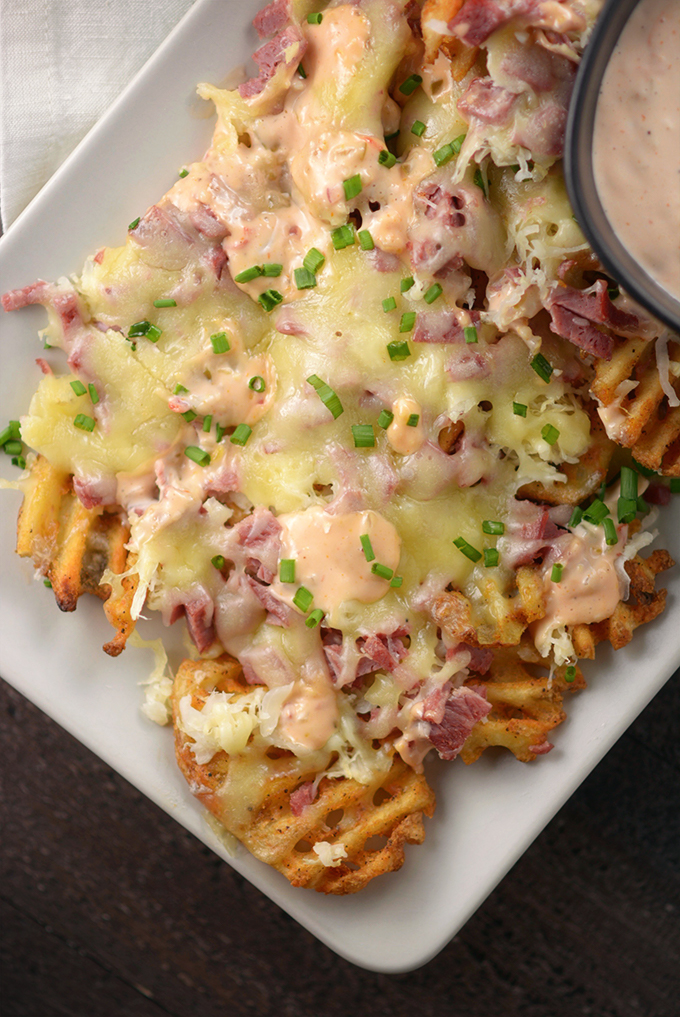 It's about that time when I make my yearly meal of corned beef and cabbage. I only make it once a year because the kids hate it and my husband could take or leave it. Me, I love the stuff. Maybe it has something to do with my maiden name being Kilian! 🍀
Since my family isn't completely sold on this traditional St. Patrick's Day meal, I always end up with a ton of leftover corned beef. Fortunately, my family has been more enthusiastic about the creations that can be made from its leftovers…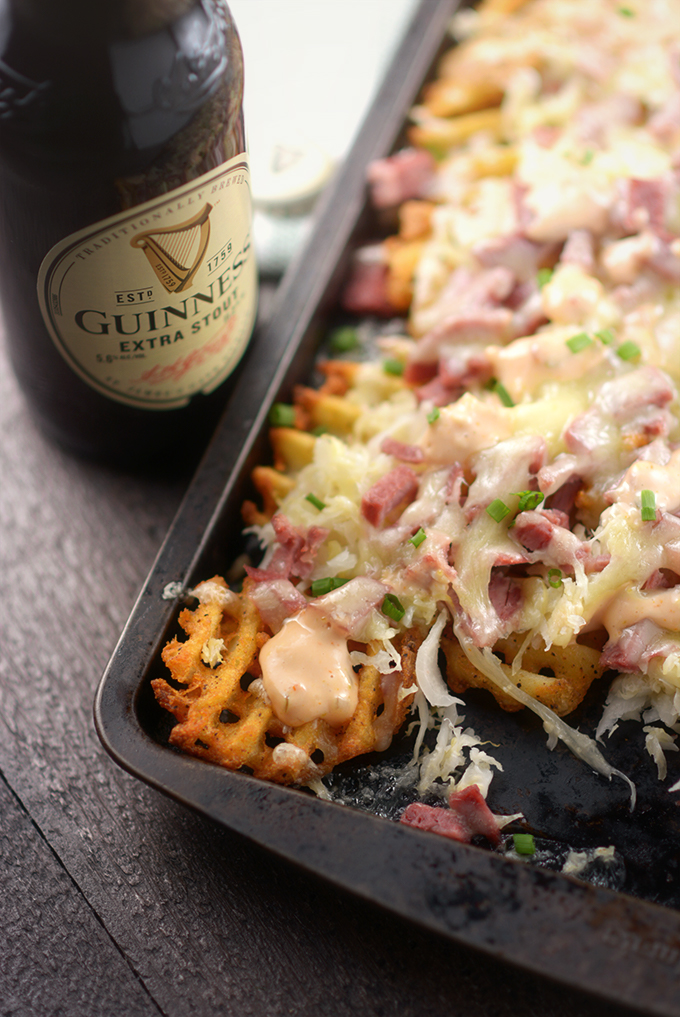 There's always the traditional and delicious reuben. Being a food blogger, however, I can't help but add a little more creativity to the themes of leftover corned beef and reubens. A couple of years ago I made Baked Reuben Egg Rolls and they were devoured in a matter of minutes. This year I decided to toss things up again and make Irish Nachos.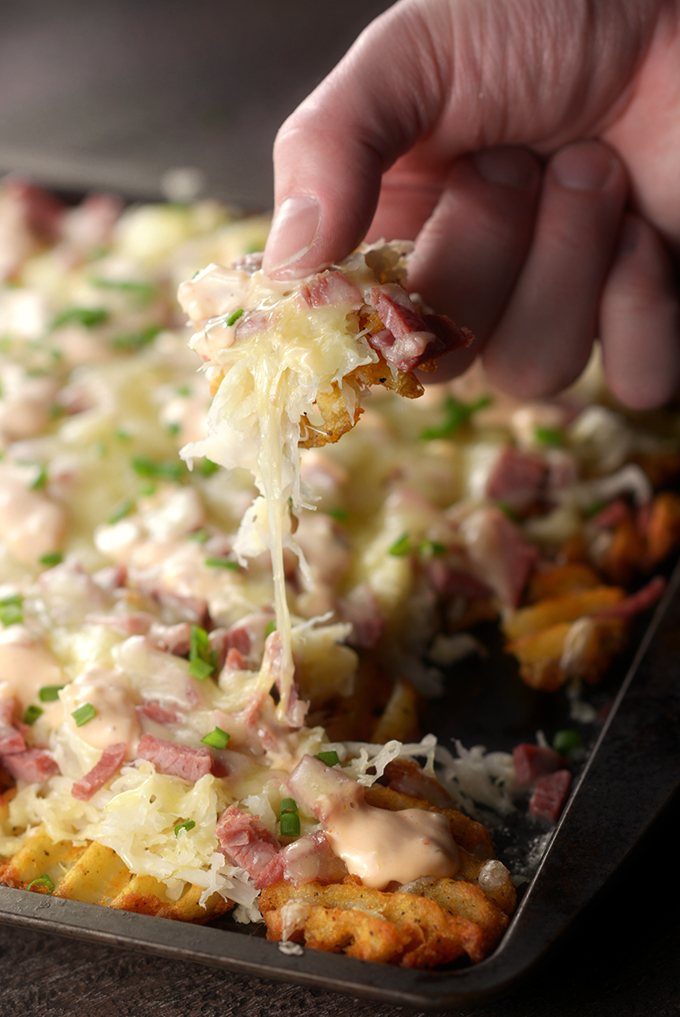 Like a nacho, this recipe has a pile of flat crisps that are loaded with flavor and melted cheese and are easily picked up and enjoyed at a party. Otherwise, this recipe completely diverts from the norm.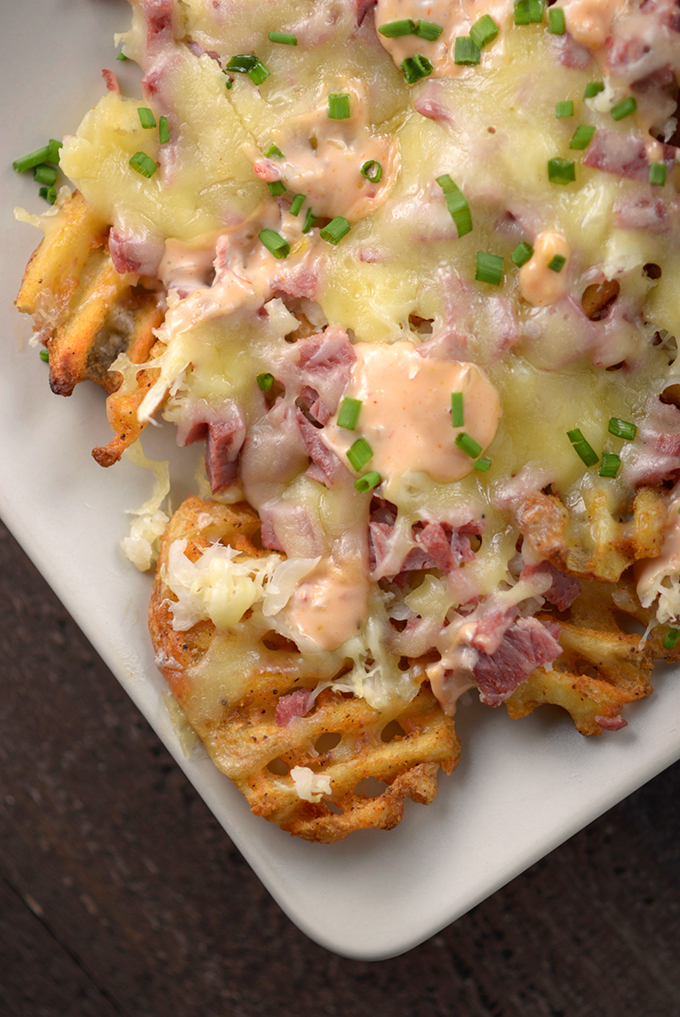 Instead of tortilla chips, Irish Nachos use waffle fries. The salsa is replaced with corned beef and sauerkraut, and I selected Emmental Swiss cheese for melting. And of course, the whole this is tied together with my Homemade Thousand Island Dressing. It's like a reuben decided to have a party in your mouth!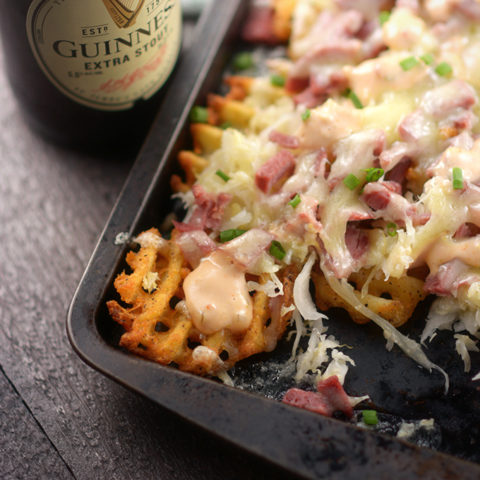 Irish Nachos
Transform that leftover corned beef into this amazingly fun and delicious Irish-themed party appetizer!
Ingredients
1 20 oz bag frozen seasoned waffle fries*
1 C sauerkraut, drained and squeezed dry
1 1/2 C cooked corn beef, roughly chopped
2 1/2 C Emmental** Swiss cheese, shredded
1/2 C Thousand Island dressing, plus more for dipping***
1/3 C fresh chives, finely chopped
Instructions
Bake the fries according to the package instructions.
Preheat your broiler.
Sprinkle (in order) sauerkraut, corned beef, and Swiss cheese on top of the cooked fries.
Cook under a broiler set on "high" for 4-5 minutes or until the cheese is melted and bubbling.
Drizzle with Thousand Island Dressing and sprinkle with fresh chopped chives. Place additional dressing in a bowl for dipping. Serve immediately.
Notes
*I used Alexia brand.
**Emmental is the preferred Swiss for this recipe as it melts well and has a mild, buttery flavor.
***Try my Homemade Thousand Island Dressing for the best results!
More St. Patrick's Day Recipes…