Sticky Chipotle Cauliflower Wings – FINALLY, an appetizer that lets you stuff your face without the guilt! This recipe shows you the healthy, low-fat way to cure your junk food cravings!
Most of us have moments when all we want to do is be a couch potato, which inevitably leads to symptoms of junk food junkie-itis… Personally, my weakness is late Saturday night movies with my husband after the little one has been tucked in for the night. And if I were to pick a junk food, it would be wings of all kinds with a creamy, fattening dipping sauce. From where I sit, along the American East Coast, the months after the winter holidays until the time the first spring robin appears mean lots of chilly days, cabin fever, and heightened cases of couch potato syndrome. It gets dark at 5 o'clock and it's stinking cold outside! If you're reading this and you don't think you're ever susceptible to this kind of unhealthy behavior, are you sure you're being honest with yourself? It's okay, I won't tell! Plus, it just makes you pretty normal.
Lazy movie nights and game days aren't a bad thing from time to time. In fact, a little relaxation is healthy. Stuffing my face with 700 calories of saucy wings and blue cheese dip, on the other hand, isn't healthy. I looked up a well-known U.S. restaurant chain's nutritional information for their wings and blue cheese sauce. An 8-count "side" of chicken wings will run you 490 calories, 26 grams of fat, and 2,720 milligrams of sodium. And then, of course, a person needs dipping sauce… One serving of blue cheese has 240 calories, 25 grams of fat, and 310 milligrams of sodium. That's a total of over FIFTY grams of fat in one sitting. And I won't even go into how bad consuming that much sodium is. BLAH!
That's where my decision to develop this Sticky Chipotle Cauliflower Wing recipe came into play. Don't be thrown by the "meatless" part of this appetizer. These babies are sweet, savory, and spicy (minus all that fat and sodium, of course). Smother them in my rich Avocado Lime Yogurt Dipping Dressing and you'll treat that junk food junkie-itis without feeling like you've been gypped. Go ahead and keep popping them. They're vegetables!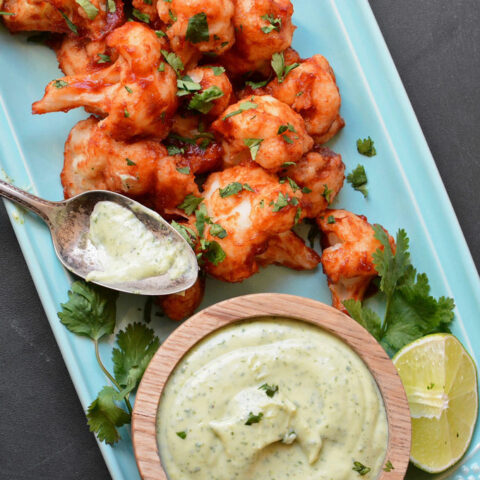 Sticky Chipotle Cauliflower Wings
Yield: 4

Prep Time: 20 minutes

Cook Time: 20 minutes

Total Time: 40 minutes

Finally, an appetizer that lets you stuff your face without the guilt! These sticky chipotle cauliflower wings are the healthy, low-fat way to cure your junk food cravings!
Ingredients
Baked Cauliflower
1 head cauliflower
1/2 C flour
1/2 C water
1 Tbsp vegetable oil
Sticky Chipotle Sauce
1/2 C water
1/4 C tomato paste
1/4 C honey*
1/2 tsp apple cider vinegar
3/4 tsp chipotle chili powder
1/2 tsp garlic powder
1/4 tsp paprika
1/8 tsp onion powder
1/2 tsp salt
1/2 tsp corn starch
Instructions
Preheat oven to 450º F. Cut up cauliflower into bite-sized pieces then blanch them. Do this by adding them to a pot of cold water. Over high heat bring the water up to a boil and then immediately drain the cauliflower and run them under very cold water. If your tap water doesn't get painfully cold, place the hot cauliflower into a large bowl of ice water. Once cooled, place your cauliflower onto an absorbent paper towel or dish towel to dry.
In a medium-sized bowl, mix together flour, water, and oil and then toss the cauliflower into the bowl until all of the pieces are coated. Place the cauliflower onto a parchment-lined baking sheet and bake at 450º F for 18-20 minutes, or until the batter begins to turn golden brown.
While the cauliflower is baking, combine all of the sticky chipotle sauce ingredients, except for the apple cider vinegar, together in a sauce pan. Bring the sauce to a simmer over medium-high heat and then simmer for 1 minute while stirring frequently. Then remove from the heat and mix in the apple cider vinegar. Set aside until the cauliflower is done baking.
Once the cauliflower is done, keep it on the parchment-lined cookie sheet, coat it in the sticky chipotle sauce, and then place it back into the oven and bake for another 2-3 minutes until the sauce is hot, bubbling, and sticky. Serve immediately. I recommend serving with my Avocado Lime Yogurt Dipping Dressing.
Notes
*VEGAN OPTION: Make this recipe vegan by substituting 1/4 C light agave nectar for the honey.