Middle Eastern Grilled Lamb Kebabs with Cucumber Yogurt Salad – Bring some romance to your dinner table with this savory, spicy, and aromatic dish that will transport you to faraway lands.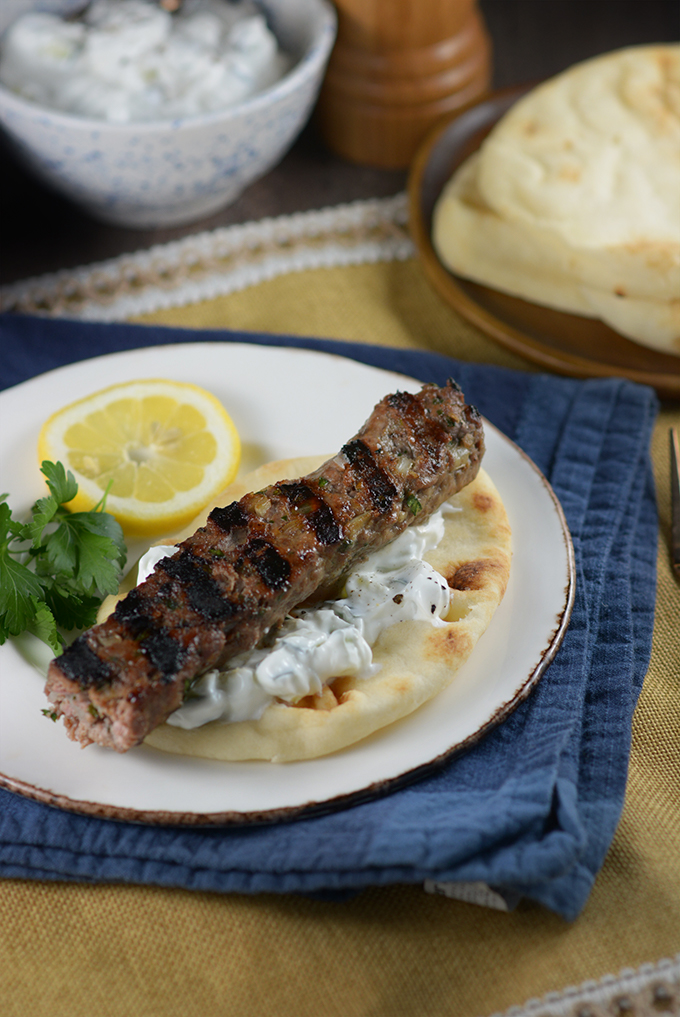 This past week Mr. Simple Seasonal and I celebrated our 12th wedding anniversary! For better or worse, we've both changed quite a bit over the last 12 years. Like any marriage that's in it for the long haul, we've had good times and bad times.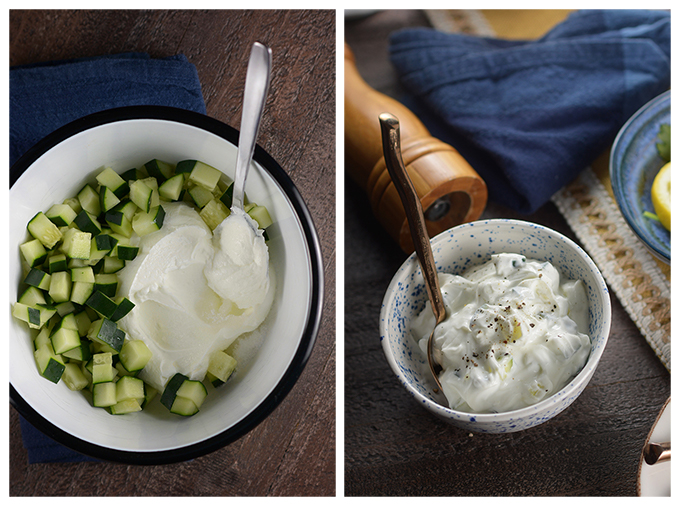 Between busy careers, the life-altering experience of becoming parents, and every other little thing that life throws your way, in marriage it's important to find things to enjoy together, separate from all that other noise. One thing that has always brought us together is that we're both total foodies.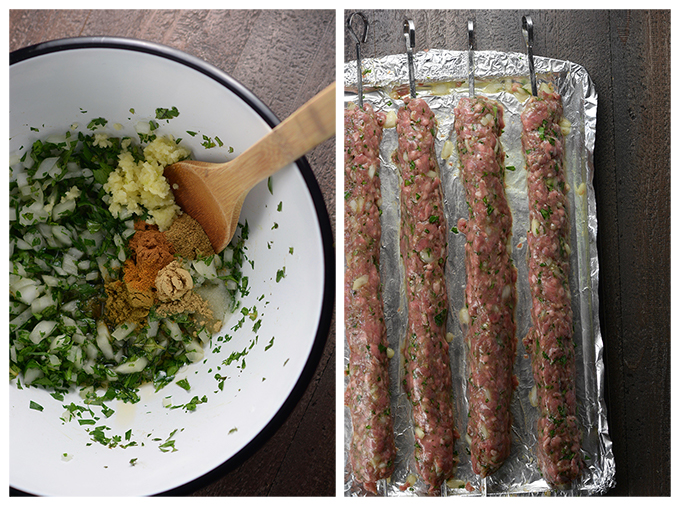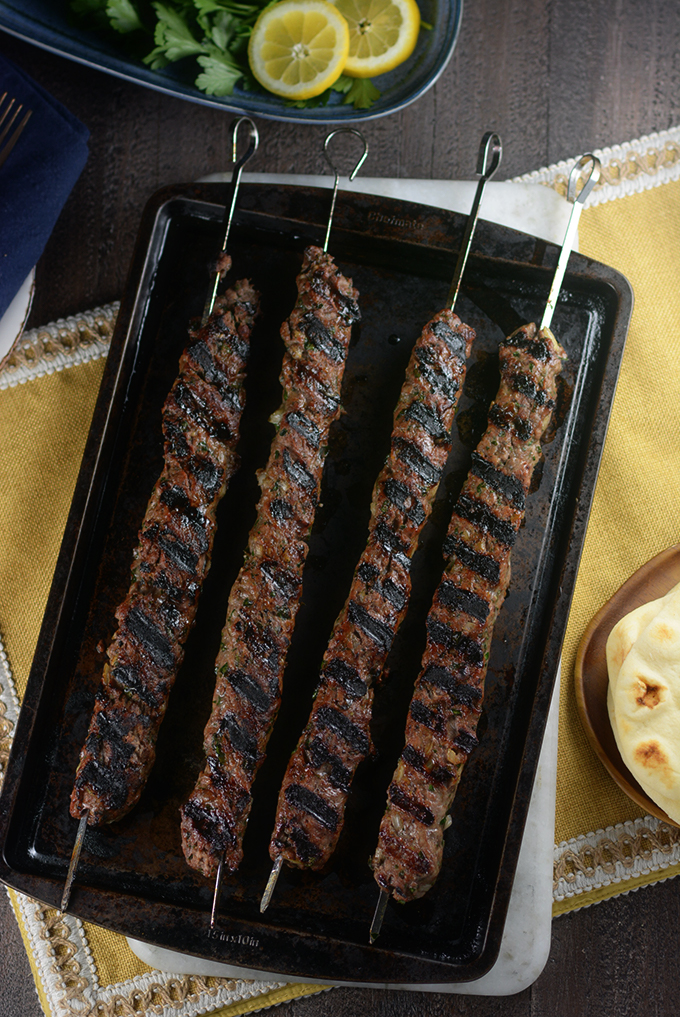 When we were dating, the second date that Dan ever took me on was to a little hole-in-the-wall place in West Philly called Kabobeesh. Hole-in-the-wall is probably the wrong descriptor, because I find its lackluster appearance (by Western standards) to be part of its charm. It's a Pakistani BBQ that serves arguably some of the best kebabs in Philadelphia.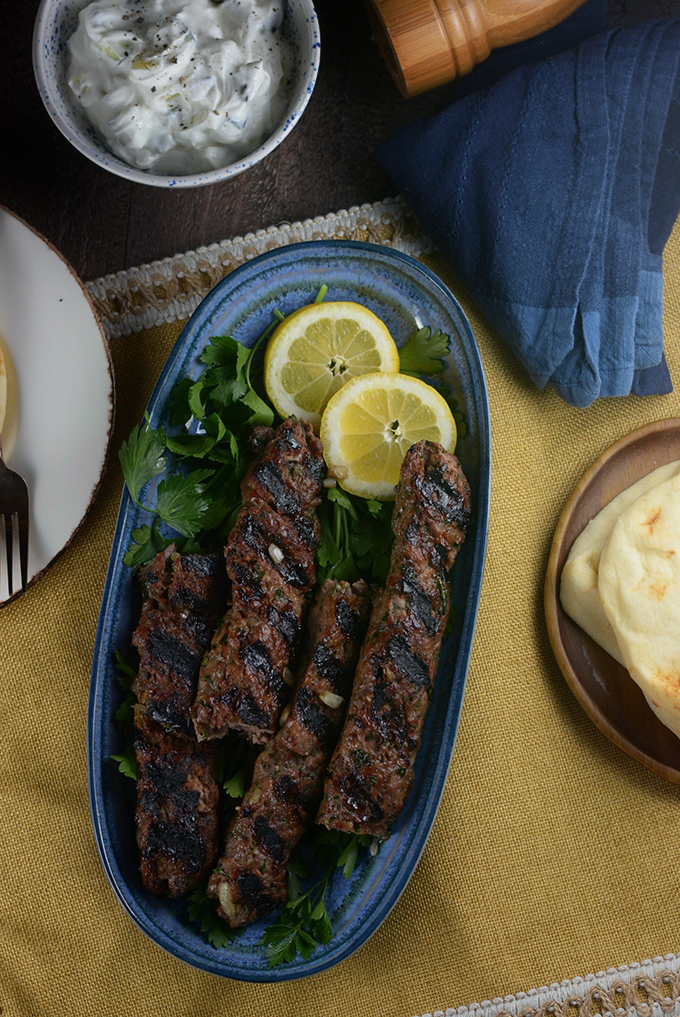 Looking across a poorly lit table with peeling laminate, surrounded by people speaking a combination of Arabic and Urdu, I thought that a guy who takes a girl on a second date off the beaten path to a place with amazing lamb kebabs has to be worth getting to know!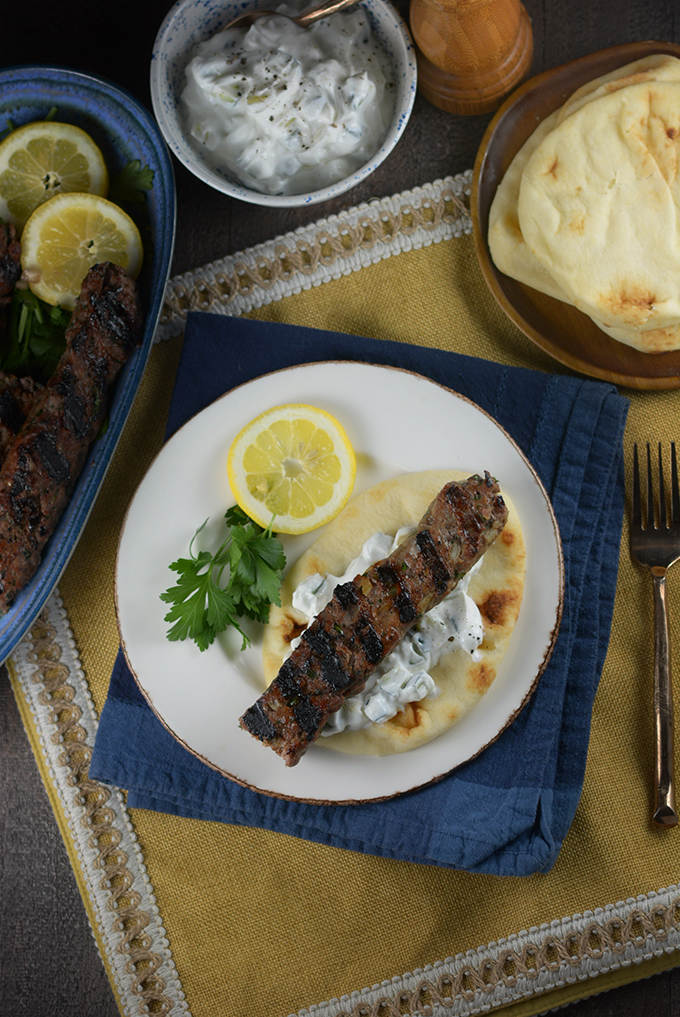 Fast forward 12 years later, with two kids, and a pandemic going on, we're not doing so much dining all over Philly. Instead I'm enjoying a sunset while looking across my patio table with a red and white checkered table cloth. Mr. Simple Seasonal is at the grill, tongs in hand, and we're about to enjoy, together with our two boys, these juicy and flavorful lamb kebabs!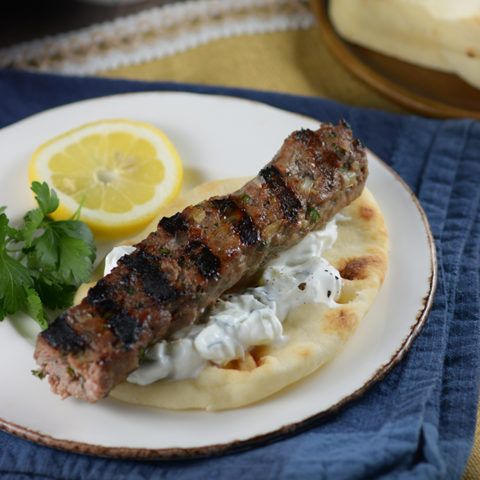 Middle Eastern Grilled Lamb Kebabs with Cucumber Yogurt Salad
Bring some romance to your dinner table with this savory, spicy, and aromatic dish that will transport you to faraway lands.
Ingredients
Lamb Kebabs
2 lbs ground lamb
1 C yellow onion, small chopped
1/4 C honey
1/4 C parsley, finely chopped
2 Tbsp mint, finely chopped
2 tsp garlic, minced
1 tsp salt
1/2 tsp ground ginger
1/2 tsp ground cinnamon
1/2 tsp ground cumin
1/2 tsp ground coriander
1/8 tsp cayenne pepper
4 large metal grill skewers or 12 small wooden skewers
4 pieces of store bought flat bread*
Cucumber Yogurt Salad
1 C 2% or 5% greek yogurt
1 C diced cucumbers
1 tsp lemon juice
1 tsp granulated sugar
1/8 tsp salt
pepper to taste
Instructions
If you're planning on using wooden skewers, place them in a ziplock bag with water several hours before you begin cooking so that they don't burn on the grill. You'll need 12 skewers for this recipe. Soak a few extra skewers in case some break or become splintered.
Combine the cucumber salad ingredients in a small mixing bowl until the mixture is evenly combined. Refrigerate until the kebabs are ready.
Preheat and clean your grill. While the grill is heating prepare your meat mix and skewers.
Combine the ground lamb meat, honey, onion, and your herbs and spices in a bowl until the mixture is evenly combined. Don't over mix.
If you're using wooden skewers, place your skewers and ½ Tbsp of olive oil on an old cookie sheet and evenly coat the pan and skewers. Don't forget this step, otherwise your lamb will stick to the skewers. If you're using metal skewers lightly oil them or spray them with cooking spray. Most metal skewers are larger in size and will make less kebabs.
Divide the meat evenly among the skewers and wrap it around each skewer. Place the kebabs on a baking sheet until you're ready to grill.
Grill the kebabs over direct high heat until they reach an internal temperature of 160º as measured with a meat thermometer, turning once. Don't turn the kebabs until they begin to release from the grates, about 3-4 minutes. Remove the kebabs from the grill and slide the meat off the skewers using a fork, being careful if handling metal skewers.
Serve the kebabs with your cucumber yogurt salad, and a store bought flat bread as desired.
Notes
*Serve with your favorite store bought flatbread. Items labeled "flatbread," "Lavash," or even "Naan" work well with this recipe. If you're feeling extra adventurous, you can try my recipe for Homemade Spelt Flat Bread.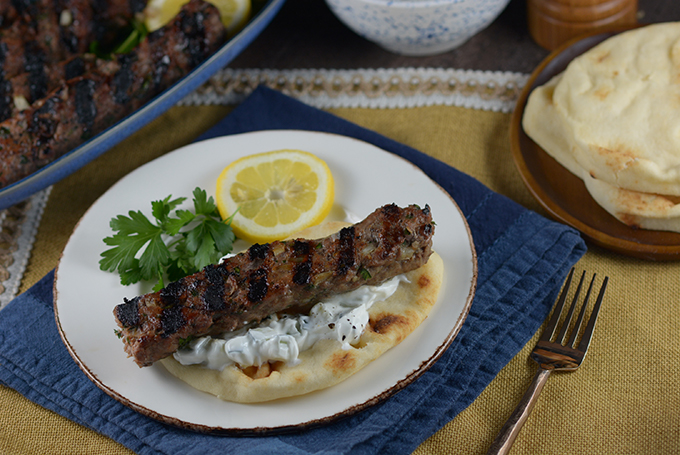 You may also enjoy…