Garlic Scape Aioli – Are you the type that likes to put mayo on everything? If so, this tasty, well-balanced aioli will add a creamy and delicious flavor delight to your next meal!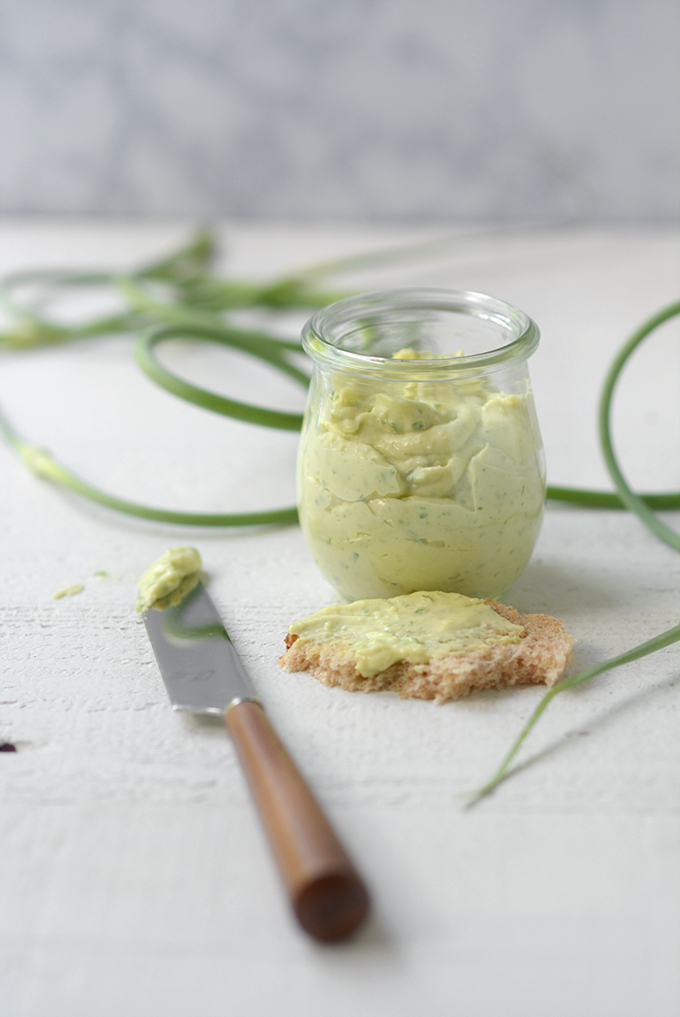 Confession time: I love mayonnaises and aiolis more than one ought to. I don't do anything weird with the stuff, like slather it on my chocolate cake or anything like that… I just like to use a LOT of it in normal ways, like on my sandwiches or in creamy sauces and dressings.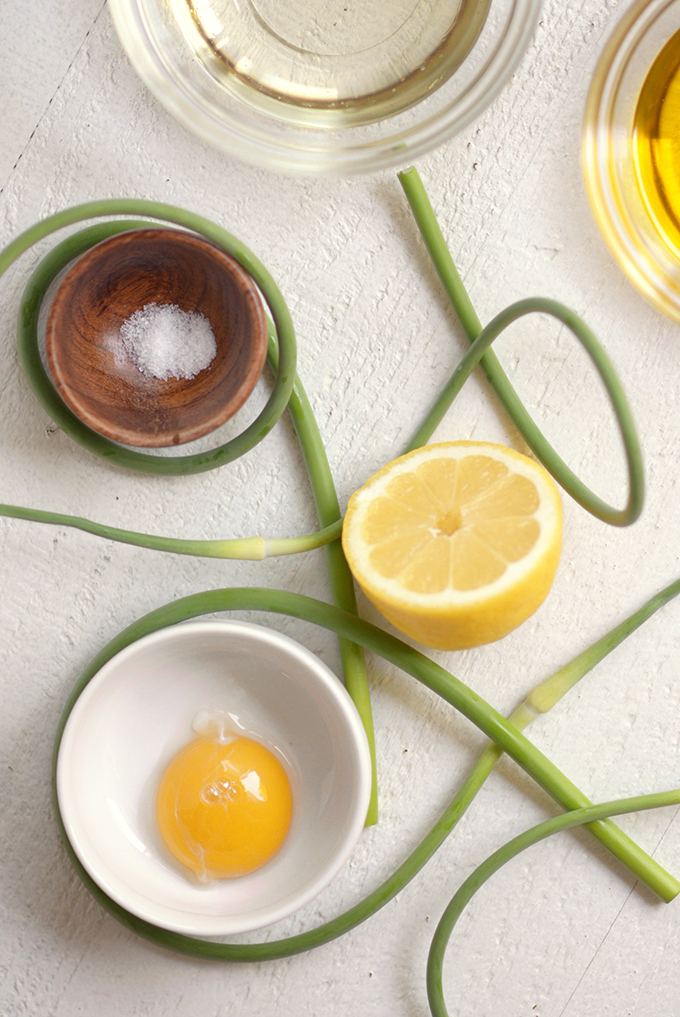 Now, you may be wondering "What's the difference between mayonnaise and aioli?" In short, mayonnaise typically contains vinegar, lemon juice, and canola oil. Aioli is typically made with garlic, olive oil and just lemon juice (no vinegar). The end result of both is creamy, fattening dollops of yum.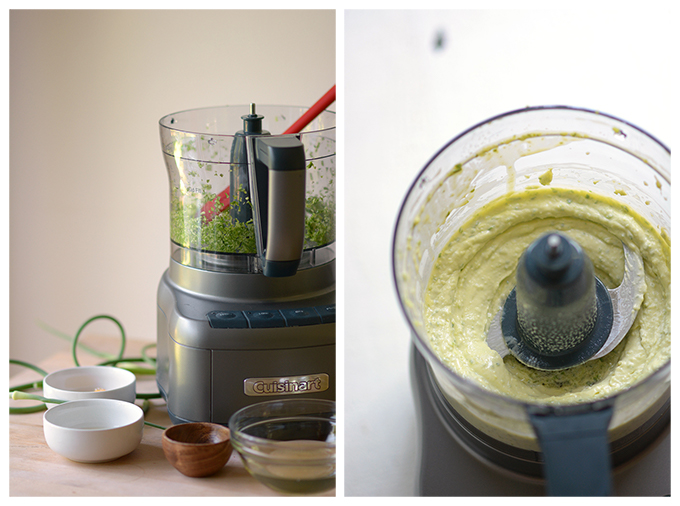 Going back to confession time… The thing is, when I say I "use a LOT" you may not realize what a big problem I have. What I mean to say is I like to put mayo or aioli on my sandwich roll and then I like to slop a ton of it onto the side of my plate. You know, for dipping…
And if nobody is looking I'll typically lick the knife I used to get it out of the jar. You'd think it was a jar of frosting I was dealing with and not a sandwich spread! Any other closet mayo lovers willing to confess to doing the same thing?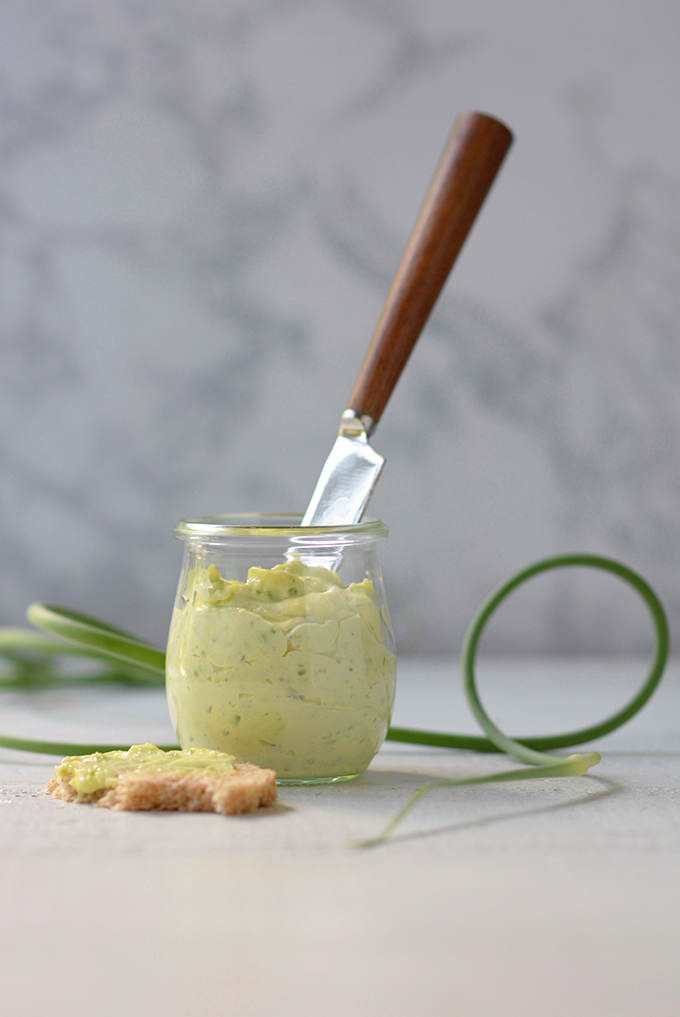 I really do try to eat healthy.
Anyway…
I recently started making my own mayonnaise aioli for the most special sandwiches that grace my plate. For a long time I avoided giving it a try thinking it required advanced culinary techniques and abilities. I would argue that, as long as you have a food processor, making your own mayonnaise or aioli is almost as easy as pushing a button!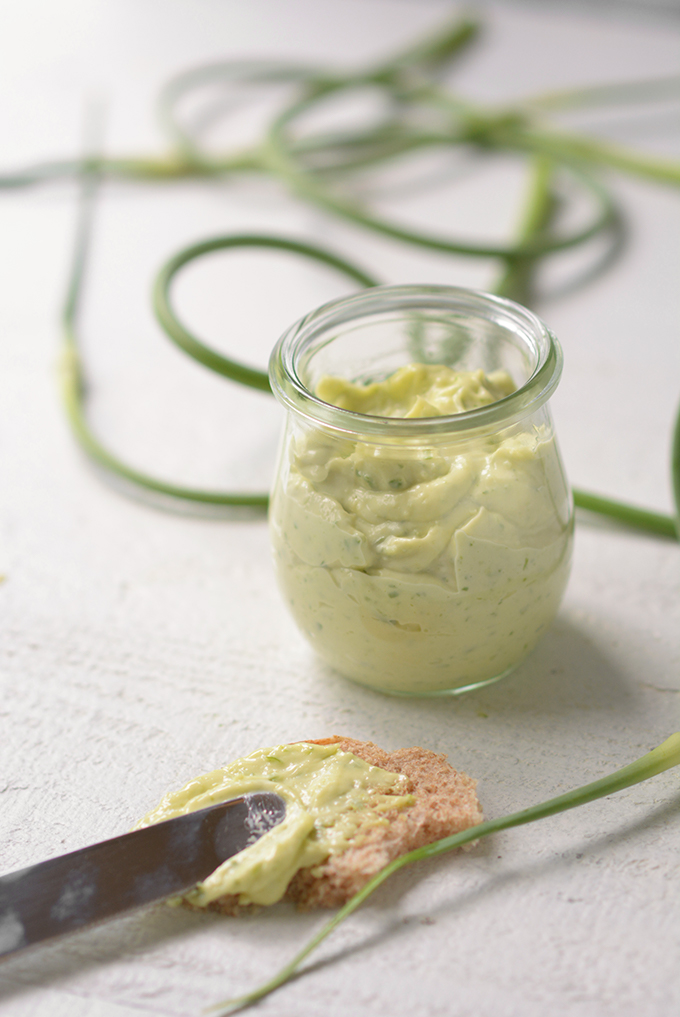 For today's blog post I put a twist on the classic garlic aioli by substituting the garlic with garlic scapes. Garlic scapes are the tender stem and flower bud of a garlic plant. It's seasonally available in the late spring and early summer. They're milder and sweeter than a bulb of garlic.
The less-stringent flavor incorporates wonderfully into aioli as it doesn't overpower the complimentary flavors of lemon and the umami of the egg.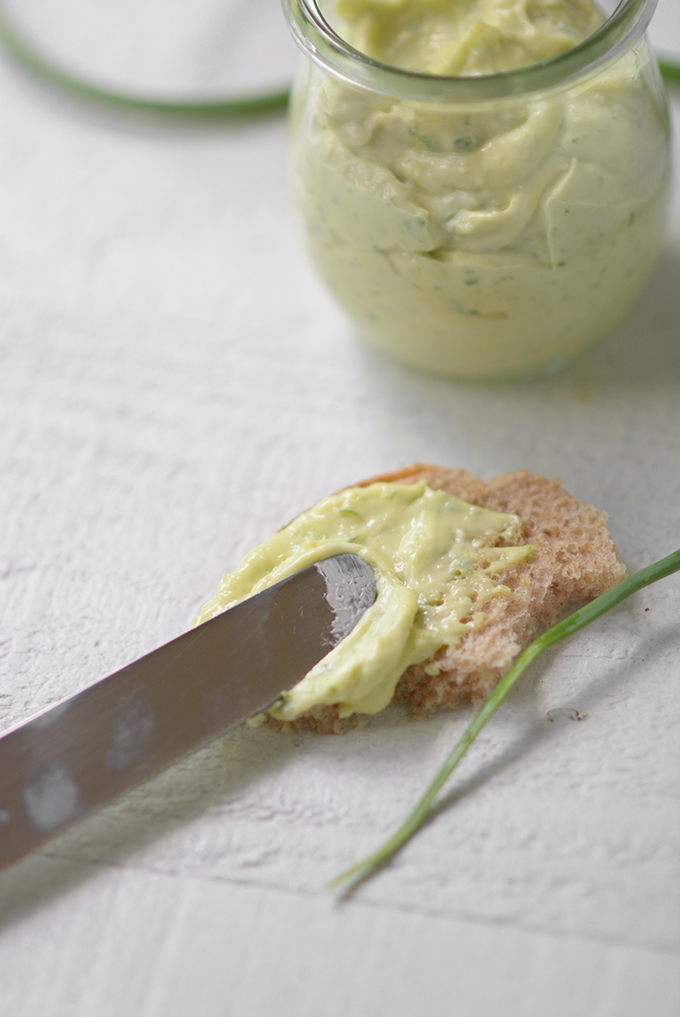 Want to make your own aioli process as easy as pushing a button? I've included a few process photos above to help you out. When you're done, you too can slather your garlic scape aioli all over your sandwich, burger, chicken, fish, steak or chocolate cake! 😝

Garlic Scape Aioli (Mayo)
Are you the type that likes to put mayo on everything? If so, this tasty, well-balanced aioli will add a creamy and delicious flavor delight to your next meal!
Ingredients
4 roughly chopped garlic scapes
⅛ tsp sea salt
1 egg yolk
½ lemon, juiced (about 1 Tbsp)
⅓ C olive oil
⅓ C vegetable oil
Instructions
Wash and roughly chop the garlic scapes. Trim off and discard the flower bud. In a food processor finely mince the garlic scapes with the salt.
Add the egg yolk and lemon juice to the food processor and pulse until fully incorporated.
Next, with the food processor running, very, very slowly pour in both of the oils. It's important to add them slowly so that it emulsifies with the egg. Continue to process until the oil is fully incorporated and the aioli is creamy like mayo.
Serve immediately or store in the refrigerator for up to one week.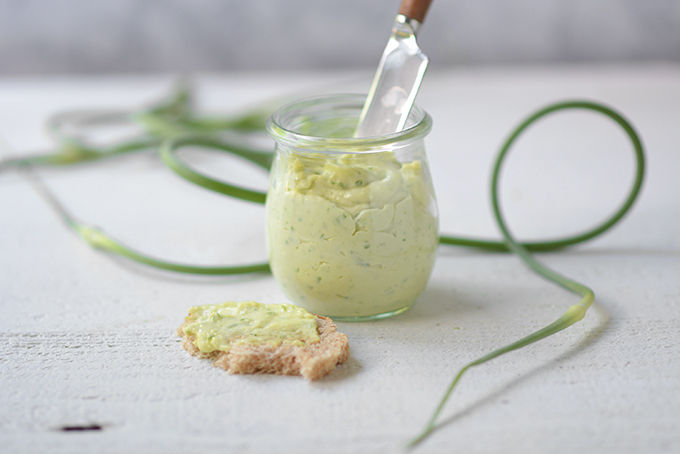 More Garlic Scape Recipes…