All About Garlic Scapes – Garlic isn't JUST about the bulb anymore! This useful guide contains all you need to know about selecting, preparing, and storing this tender and fragrant delicacy.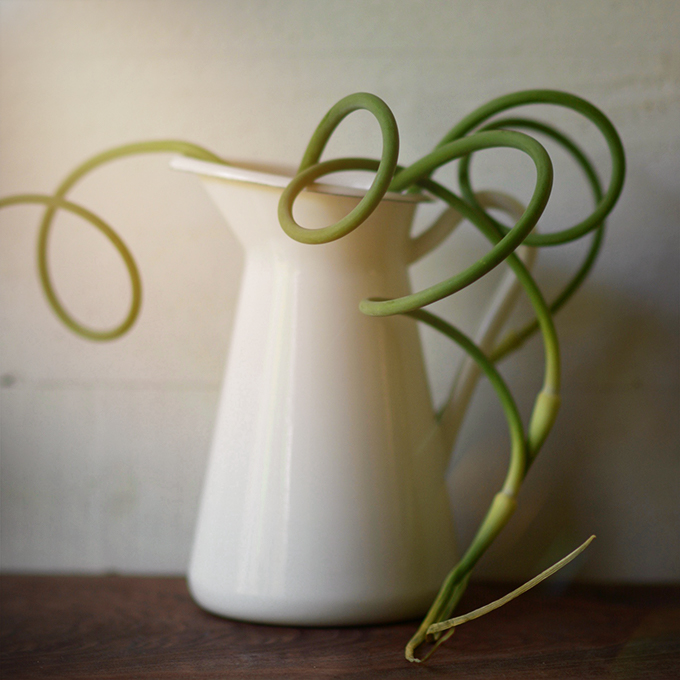 Here on Simple Seasonal I'm all about incorporating a wide variety of seasonal vegetables (especially the strange ones) into my cooking. Today's blog post about Garlic Scapes is the third in a series of posts All About Strange Vegetables.
In my opinion garlic scapes strongly qualify as a strange vegetable. First of all, they look like some kind of alien antennae. They're also not exactly commonplace in most kitchens. Despite their strangeness, however, they're totally approachable with their mild garlic flavor, shelf stability, and ease of preparation.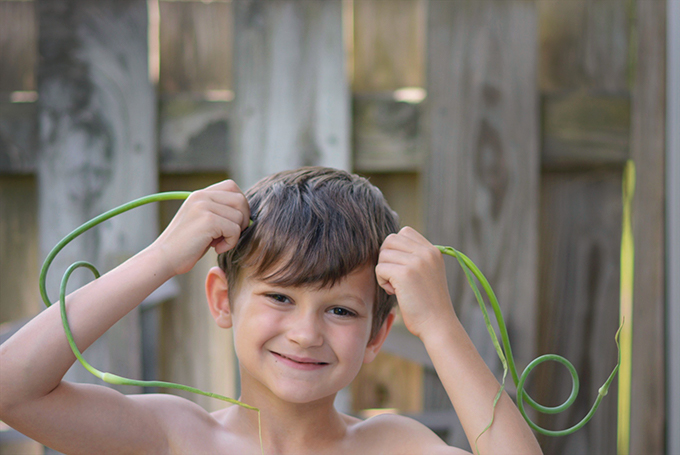 In this article, you'll find all you need to know to get started preparing (and even growing) your own garlic scapes. If you're already a garlic scape master please share your experience and recipes in the comment section at the end of the article for all to enjoy and learn from!
Also, check out some of my other strange vegetable guides:
Facts
Name:
Garlic Scapes – allium sativum
Origin:
Garlic is originally native to Central Asia and Iran. It has been consumed by humans for thousands of years and has long been disseminated across the globe for use medicinally and in culinary traditions. Garlic scapes are simply the tender shoots of the garlic plant.
Garlic scapes grow up from the woody stock of the plant into green, curly tendrils with a bud, or the umbel, on the end. If allowed to continue growing, the bud will produce a cluster of small white or purple flowers that will eventually seed.
The scapes are harvested above the woody stock while the bud is small and tender. Whether they are consumed or not, Garlic scapes are generally removed from the plant so that, as it matures, it's energy can be focused on growing the bulb instead of the flower. As such, it makes sense to use this tasty garden gem.
Taste:
A milder, sweeter form of garlic. Some say it tastes like a cross between garlic and chives.
Uses:
Substitute in most recipes that call for garlic, scallions, or chives. Garlic scapes can be sautéed, braised, roasted, and grilled. Enjoy them raw as a pesto, infused with oil, in an aioli, or in butter. Preserve them for later by freezing, canning, or fermenting them.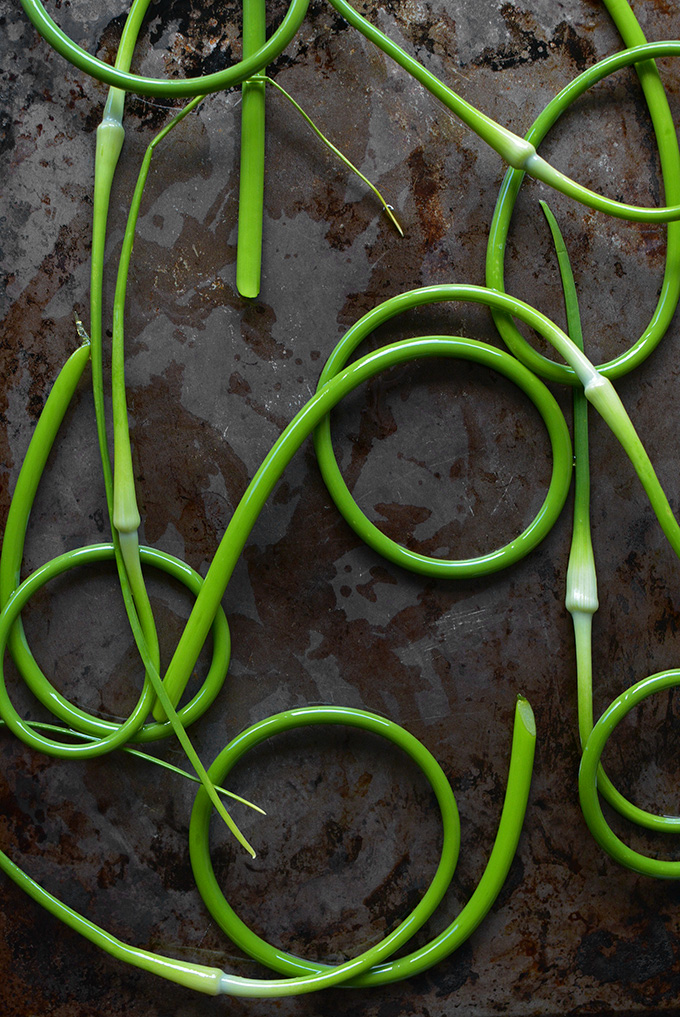 Nutrition:
Garlic scapes are a good source of Vitamins A and C as well as fiber. They boast many of the nutritional benefits of garlic cloves, including being high in antioxidants, which, as part of a healthy diet, decrease inflammation in the body and are protective against things like arthritis, heart disease, and cancer.
To Harvest and Prep For Cooking:
If harvesting them from your own garden, cut above the woody part of the stem so that you are only harvesting the tender tendril and flower (refer to the illustration above).
Wash with cool water before use, being sure to remove any dirt leftover from the garden. As their season winds down, the tip, or beak, will yellow. Trim off and discard the beak as needed.
The tendril and the bud are edible. Consume the entire scape, or you can discard the bud depending on your preference. Cook the scape whole, chopped, or minced depending on your intended use.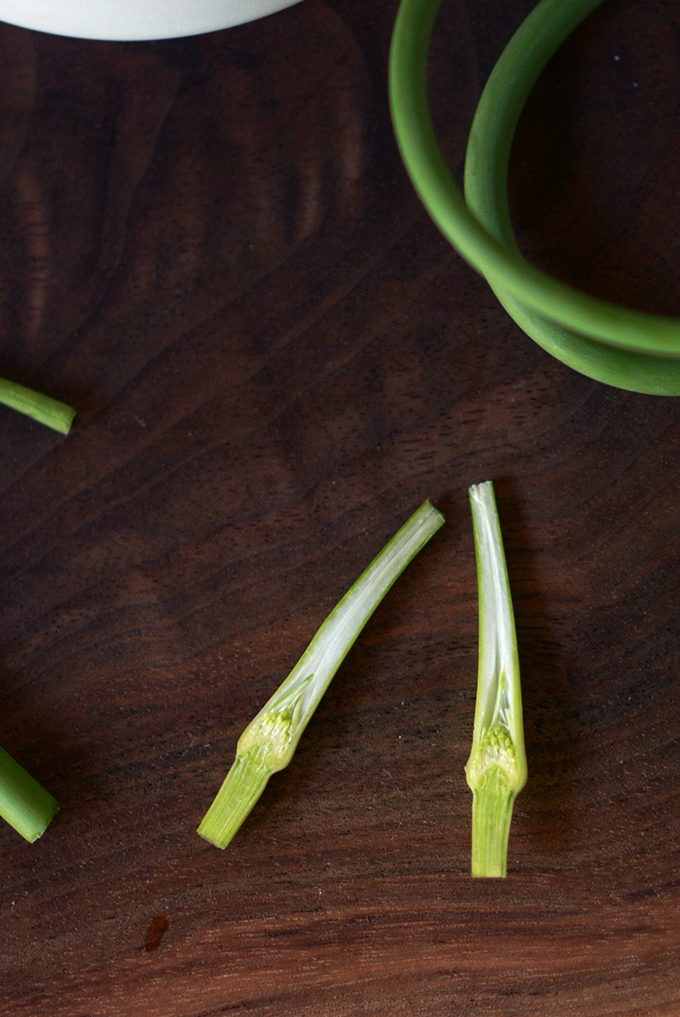 Size:
Generally 12 to 18 inches long with a quarter-inch diameter. Note that the smaller specimens are more tender and enjoyable to eat.
Where To Get It:
Seasonally available from the end of May to early July, but you're unlikely to find these at your local grocery store… Find it at your local farmer's market or CSA. Of course, you can also grow your own garlic and harvest your own scapes!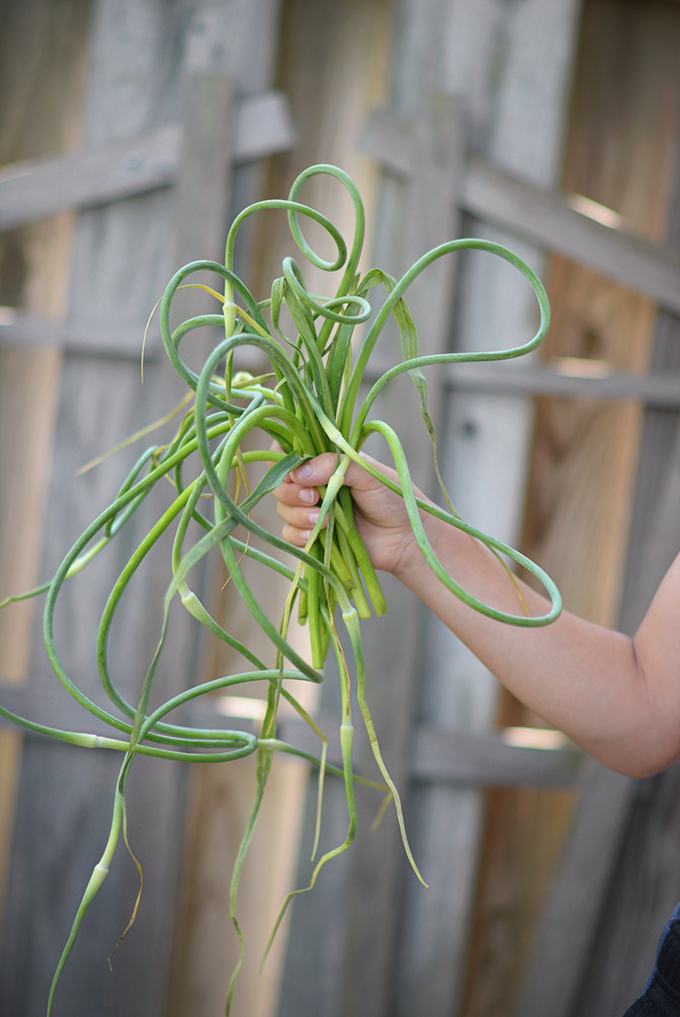 Grow:
Simply put, plant garlic.
The easiest way to grow garlic is from reserved garlic cloves. Plant the cloves in mid-autumn in a well draining area that gets full sun.
If you live in a cold region, then plant about 4-6 weeks before hard frost. Plant the cloves root-side-down and 4 to 6 inches apart in rows that are 1.5 to 2 feet apart. Cover the cloves with 1 to 2 inches of soil.
If you live in a colder region that experiences a hard frost, then also cover with 4 to 6 inches of mulch, straw, leaves, or grass clippings.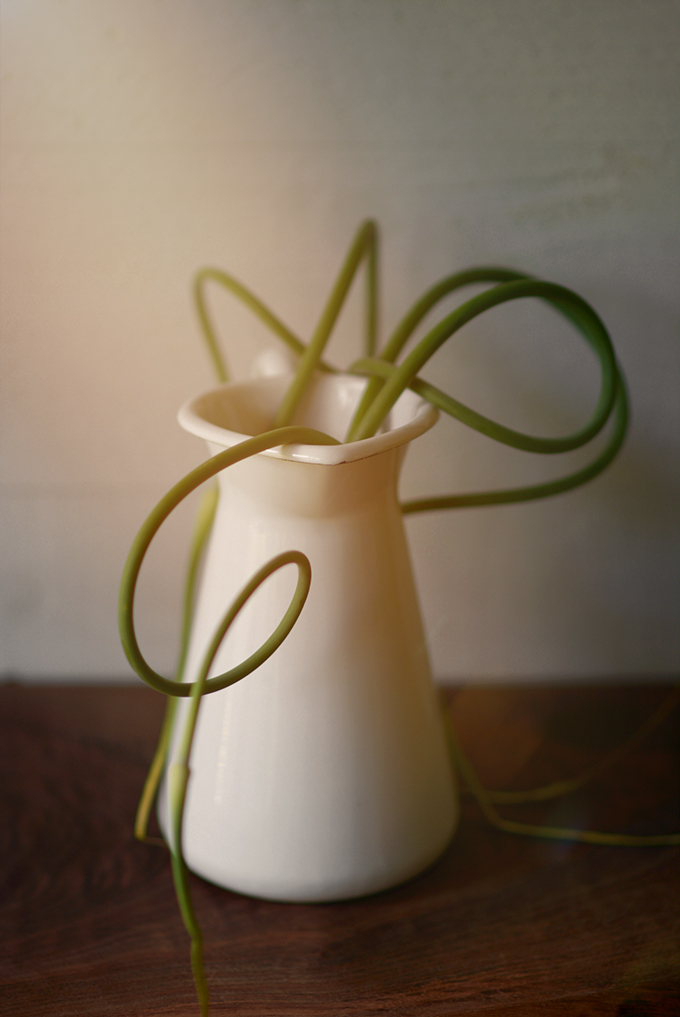 In the spring a stem and leaves will appear. The stem will continue to grow upward, and by late spring into early summer it will curl 1 time at the top, which means the scapes are ready to be harvested.
As mentioned above, to harvest the scape cut above the woody area of the stem to enjoy the tender and flavorful garlic scape.
Garlic can also be planted from seed in the same way as the garlic cloves. The only difference is you don't need to worry about putting the seed root-side-down. It should be noted that seeds are more temperamental to grow and difficult to find.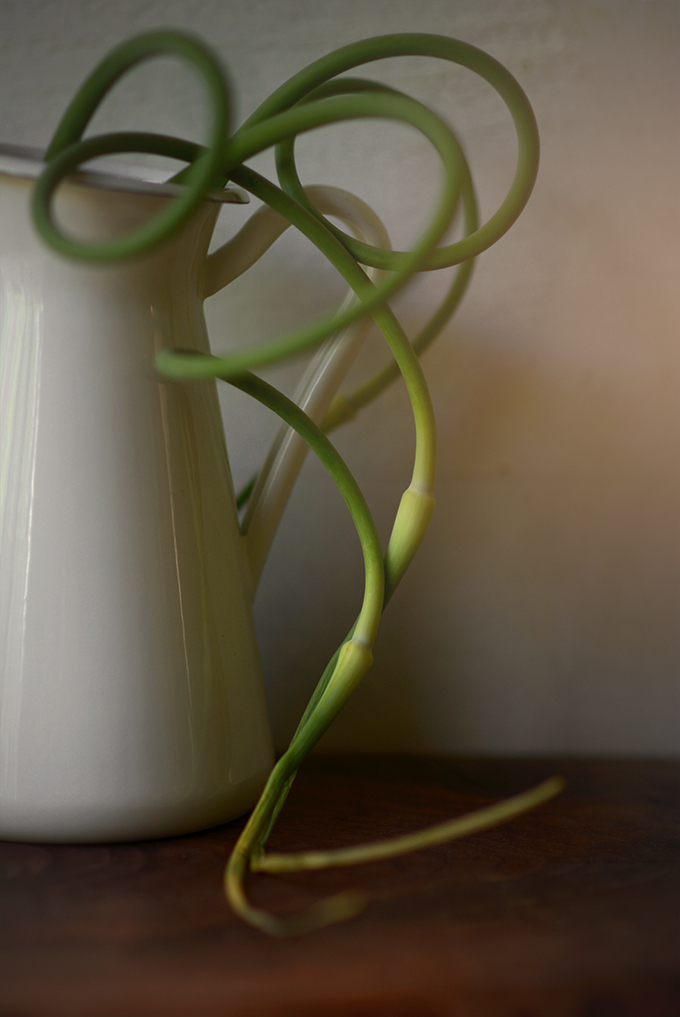 Seeds:
Storage:
Bundle together with a rubber band and store in an airtight gallon-sized ziplock bag for up to 3 weeks.
Garlic scapes can also be chopped, placed in a freezer-safe ziplock bag, and stored frozen for up to one year. Simply remove the desired amount of frozen scapes and then reseal the bag as you like throughout the year.
Garlic scapes can also be pickled and fermented. See the recipe section below for more info.
Recipes: