On occasion my husband and I will take turns watching our son so that the other can go out and run errands alone and kid-free. Typically, my husband ends up shopping for craft beers to enjoy while he's grilling. In the past, I would most often spend my time shopping for clothes, but more recently I find myself in kitchen supply and home good stores on the endless hunt to find food photo props (children and china do not mix). On one of my more recent adventures I found myself in Pier 1 talking to the cashier who ended up being a superfan of food blogs and who had recently joined a CSA. During the conversation she mentioned that she was going to be getting some garlic scapes from her CSA and was unsure about what to do with them, and I was like, "I am so posting a few garlic scape recipes on my blog this week!"
I tell this story to say that I love hearing and interacting with people that visit this blog! Although I have a way of seeing how many people are visiting this website, it's not just about the numbers. It's about real people enjoying good, whole foods, in their real kitchens. This is what keeps me obsessively developing and writing about recipes in my free time. Food is integral to our health, enjoyment, and sense of cultural belonging. Good cooking belongs just as much in our own kitchens as it does at the expensive restaurant down the street!
To continue on with my obsession with garlic scapes, today's recipe for Garlic Scape Pesto Crostini uses my Garlic Scape Pesto recipe from earlier in the week with a French baguette, a little mozzarella, and some chopped tomatoes. What I did was make a double batch of garlic scape pesto early in the week to enjoy over some pasta for a weeknight dinner, and then I refrigerated the other half of the batch for this crostini recipe. It ended up being a quick and easy appetizer for part of our weekend fun!
Most of my ingredients are locally sourced. The garlic scapes are from my CSA, Living Hope Farm, in Harleysville, PA. The fresh and crunchy French baguette is from The Bread Box and Bakery in Perkasie, PA. And the out of this world mozzarella is made by Necessity Farms in Telford, PA.
If you're part of a CSA, or if you're a frequenter of farmer's markets and you want a recipe for some troubling produce be sure to let me know!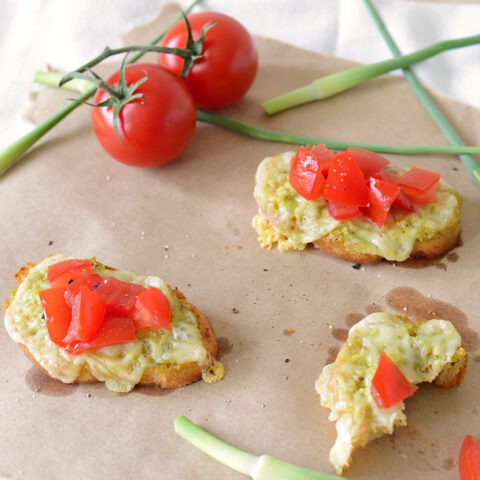 Garlic Scape Pesto Crostini
Yield: 8

Prep Time: 30 minutes

Cook Time: 10 minutes

Total Time: 40 minutes

Become your family & friends' surrogate Italian grandmother and serve these crunchy, cheesy, garlic-y bites of summer goodness!
Ingredients
GARLIC SCAPE PESTO
2/3 C diced garlic scapes
1/3 C extra virgin olive oil
1/3 C freshly grated parmesan-reggiano
1/4 C raw pistachios
2 Tbsp fresh lemon juice
2-4 Tbsp water
salt and pepper to taste
CROSTINI
1 batch of Garlic Scape Pesto
1 French baguette
3 Tbsp extra virgin olive oil
1 C freshly grated low-moisture mozzarella
3/4 C seeded and diced tomatoes
salt and pepper to taste
Instructions
Preheat your oven to 350º F.
To make the garlic scape pesto, combine your garlic scapes, parmesan-reggiano, pistachios and lemon juice in a food processor and process at a medium speed until they are roughly chopped. Continue to run the food processor and slowly pour your olive oil in through the opening of the lid on the food processor. Process until all of the ingredients are very finely chopped and beginning to become smooth. If the pesto seems a little thick add 2-4 Tbsp of water until the desired thickness is achieved. Finally stir in salt and pepper to taste.
Cut your baguette into 1/4" thick pieces and lightly brush 1 side with olive oil. Place this olive oil side down on a baking sheet.
Using a butter knife, evenly spread approximately 2 tsp of garlic scape pesto on each crostini and then sprinkle with grated mozzarella.
Bake your crostini in a 350º F oven for 8-10 minutes, or until the bottoms are golden brown and the cheese is bubbling on top. While the crostini is baking, dice and seed your tomatoes.
After removing the crostini from the oven, immediately top with diced tomatoes and serve with salt and fresh cracked pepper to taste.