Dairy-Free Hot Spinach Artichoke Dip – "Just one more" isn't so bad with this lightened up version of the classic spinach artichoke dip!
I escaped! Not that I was being held hostage in some horrible place or anything. It's just that I've been trying to write this blog post since the week before Christmas… Dan has been so good to take the kids for a couple of hours while I sneak out to Panera to blog and enjoy my green goddess salad in peace and quiet. Somewhere amongst toys wrapped in brightly-colored paper, New Year's toasts, Monkey Bread slathered in Cream Cheese Frosting, dirty diapers, and a fussing baby, I just couldn't get it done. It's all been wonderfully exhausting and I feel so blessed. Check out my little Christmas blessings below. My youngest is like, "holy cow, I must have been a good boy this year." And my oldest is forever adorable no mater how big he gets. 😊 ❤️
I originally developed this Dairy-Free Hot Spinach Artichoke Dip with the holiday season in mind, but it's also a good one for the New Year with all it's resolutions for healthier eating. This recipe is a much lighter version of traditional artichoke dip. Instead of being made with a combination of mayo and cheese, this recipe takes on its richness with a much healthier cashew cream. But I promise that there is no sacrifice on flavor, as notes of garlic and sun dried tomatoes shine through this hot, creamy dip.
I hope you enjoy this dip and a year of good health and happiness. Now it's time for me to dash home and help Dan with the adorable fussy baby before he develops a facial twitch and my oldest son starts mumbling angry complaints to his stuffed animals in the corner. 😱😭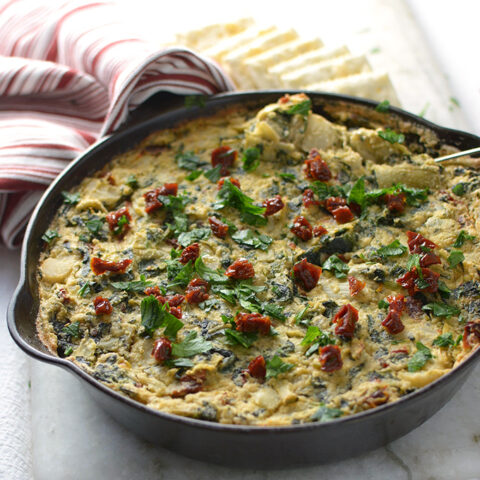 Dairy-Free Hot Spinach Artichoke Dip
Yield: 6 servings

Cook Time: 25 minutes

Total Time: 25 minutes

"Just one more" isn't so bad with this lightened up version of the classic spinach artichoke dip!
Ingredients
1 C raw cashews soaked overnight
1 Tbsp lemon juice
5-8 Tbsp almond milk
1 Tbsp olive oil
1/2 C diced white onion
6 cloves minced garlic
1 C chopped artichoke hearts (1 14.1 oz can)
3/4 C frozen spinach, defrosted and drained
1/4 C diced sun dried tomatoes
1 5 oz can diced water chestnuts
1/4 tsp salt
1/8 tsp pepper
Instructions
Soak 1 C of raw cashews in water overnight. Be sure that there is about an inch of water over them in the bowl so that they will remain submerged as they expand.
The next day purée the soaked cashews in a food processor with lemon juice and almond milk. Purée until smooth. Set aside.
In an 8 inch cast iron pan* sauté white onion in 1 Tbsp of olive oil for 3-4 minutes until soft and beginning to become translucent. Add the garlic and season with salt and pepper. Sauté 1 more minute and remove from the heat.
Stir in the artichoke hearts, spinach, sun dried tomatoes, and water chestnuts. Next, fold in the cashew sauce until evenly combined.
Bake in a 400ºF oven for 20 to 25 minutes. Serve hot with crackers or a baguette.
Notes
If you don't have a cast iron pan, bake the dip in a 1.5-2 quart glass casserole dish.