All-Natural Funfetti Cake – Celebrate Simple Seasonal's first year with this delicious, all-natural dessert! Just be sure to make a wish before you blow out the candle…
Today is Simple Seasonal's 1st birthday. Like most 1st birthday's it's a huge deal to everyone behind this blog – Rachel (that's me), Dan (the hubs and technology extraordinaire), David (4 year-old and professional photo bomber), and Tumney (the cat, buttercream licker, and general food thief).
When we first started this blog, none of us knew what we were getting ourselves into. Our content from the early days is pretty, well, embarrassing. Check out my last post for Apple Cider Pork Chops in which I remade and rephotographed one of the recipes from our first month of blogging. I left one of the old photos in the post, so you can see just how BAD we were!
Today I've decided to keep my jibber jabber short and sweet, so that we can get the party started with nothing less than a rather large birthday cake. It's actually the first cake to make an appearance on Simple Seasonal. After all, this blog is all about making the most of local, seasonal foods. Today, for us, there's nothing more seasonal than birthday cake. Over the course of the year we've held true to using natural ingredients and every recipe has had at least one local element. Today's local element is some lovely organic flour from Daisy Organic Flours of Lancaster, PA. To make funfetti cake a little more natural, I swapped conventional sugar for organic. I also opted for some all-natural, vegetable-dyed sprinkles by Pepper Creek Farms rather than the Red#50-infused chemical garbage found in processed sprinkles. They made for a less dramatic cake than the artificial stuff, but was it ever so tasty!
I added some twists to this recipe that harken back to the version I ate growing up. The first – there is almond extract in the batter. You haven't had funfetti until you've had it with almond extract. I'm serious. The second is chocolate buttercream, because… well… chocolate is better, and it's our birthday darn it!
There is one thing I learned while making this cake, and that is the value of owning an icing spatula. This was such a headache to frost with a butter knife! I just bought this one on Amazon for next time!
After baking up a storm all morning, it's time for the party to begin!
One candle for one incredible year of food blogging!
Time to make a wish for another great year!
Here's to hoping that year two is even more awesome than year one!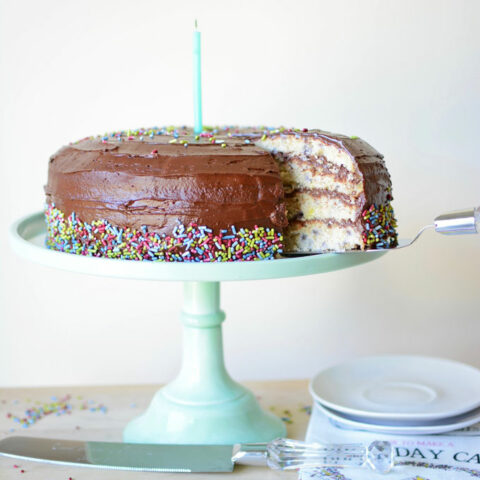 All-Natural Funfetti Cake- 1ST BLOGIVERSARY!
Yield: 12

Prep Time: 1 hour

Cook Time: 30 minutes

Total Time: 1 hour 30 minutes

Celebrate Simple Seasonal's first year with this delicious All-Natural Funfetti Cake! Just be sure to make a wish before you blow out the candle...
Ingredients
Funfetti Cake
8 Tbsp softened butter
1 1/2 C organic cane sugar
1 1/2 tsp vanilla extract
3/4 tsp almond extract
4 1/2 C all-purpose organic flour
2 Tbsp baking powder
1 tsp salt
6 egg whites from large eggs
1 1/2 C milk, divided
2/3 C all-natural sprinkles plus more for decorating
Chocolate Frosting*
2 sticks butter
1 1/2 tsp vanilla extract
1 2/3 C organic cocoa
4 1/2 C powdered sugar
1/2 C Milk
Instructions
Preheat oven to 350ºF. Butter and flour two 9-10 1/2 cake pans.
Cream together the butter, sugar, vanilla and almond extracts in a large mixing bowl and set aside.
Sift together the flour, baking powder and salt into a small mixing bowl and set aside.
In a medium sized bowl, beat together 6 egg whites and a half cup of milk until it quadruples in size, and then set aside.
Beat together the butter with the flour mixture and the remaining cup of milk by alternating between the two.
Gently mix the egg white mixture into the batter.
Fold the the sprinkles into the batter.
Evenly divide the batter between the two cake pans and bake at 350ºF for 30-35 minutes, or until golden brown.
After baking, allow the cake to cool on cooling racks and then remove from the cake pan. Allow to cool on cooling racks for at least an hour before beginning to assemble your cake.
Make the chocolate frosting while the cake is cooling. Melt the butter in the microwave on 30% power in thirty second increments until completely melted. In a large mixing bowl, beat together the melted butter and cocoa powder until smooth. Beat in the vanilla. Then beat in the powdered sugar and milk while alternating between the two, until the frosting is smooth and creamy.
Before assembling the cake, decide whether you will be making 2 or 4 layers. If you chose a 4 layer cake, carefully cut each layer in half with a sharp, non-serrated knife. Add a dollop of icing to the center of your cake plate to prevent the cake from sliding. Place the first cake layer on the plate, and then add a layer of icing. Next, add your next cake layer, and add more icing if you are doing 4 layers. Once all the layers are in place, spread a thin layer of icing all over your cake and then place it in the fridge for 30 minutes. This will make it easier to get a pretty outer layer of icing. After thirty minutes have passed, generously ice the cake.
For a finishing touch, decorate with sprinkles and light a candle!
Notes
This chocolate frosting recipe is based on the one found on the back of the Hershey's cocoa container. I just increased the amount of cocoa... What can I say? I have a chocolate problem. 🙂



Yeah, that's right, it's our birthday!!