Potluck-Perfect Baked Bean Casserole – Keep 'em coming back for more with this sweet, savory, tangy, and amazingly flavorful American potluck favorite!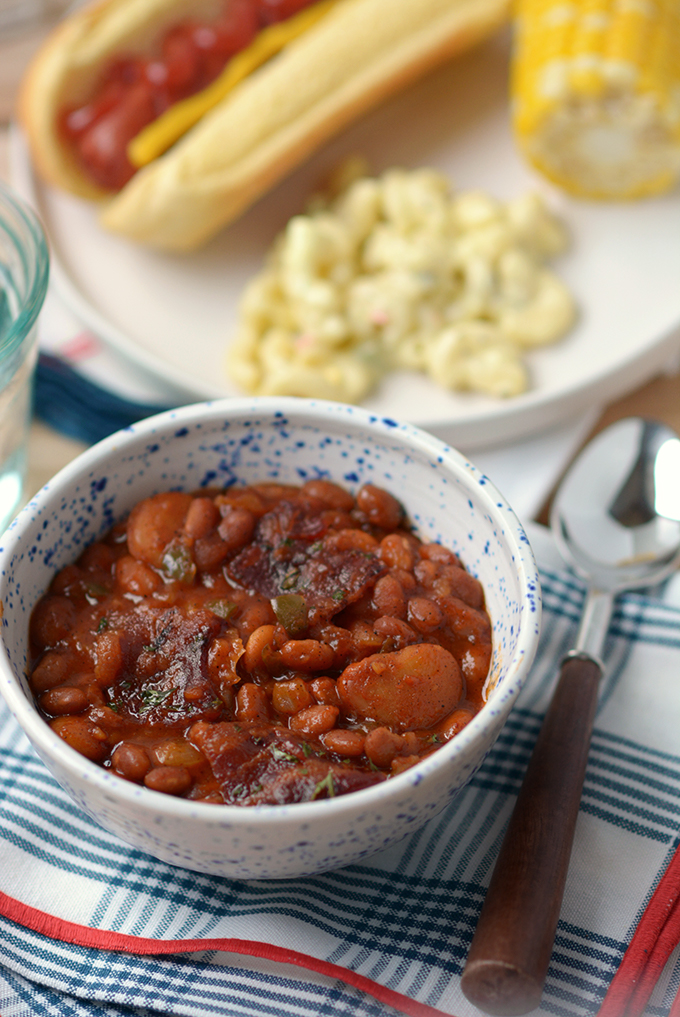 I few years ago I decided to make a baked bean casserole for a party. I was planning on making my mom's recipe because her baked beans are awesome! Unfortunately, I had lost the recipe and couldn't get hold of her in time.
I ended up using the elements of her recipe that I could remember and then tried to fill in the blanks myself. The end product was today's recipe for what I'm calling Potluck-Perfect Baked Bean Casserole. As luck would have it, the beans were A-M-A-Z-I-N-G!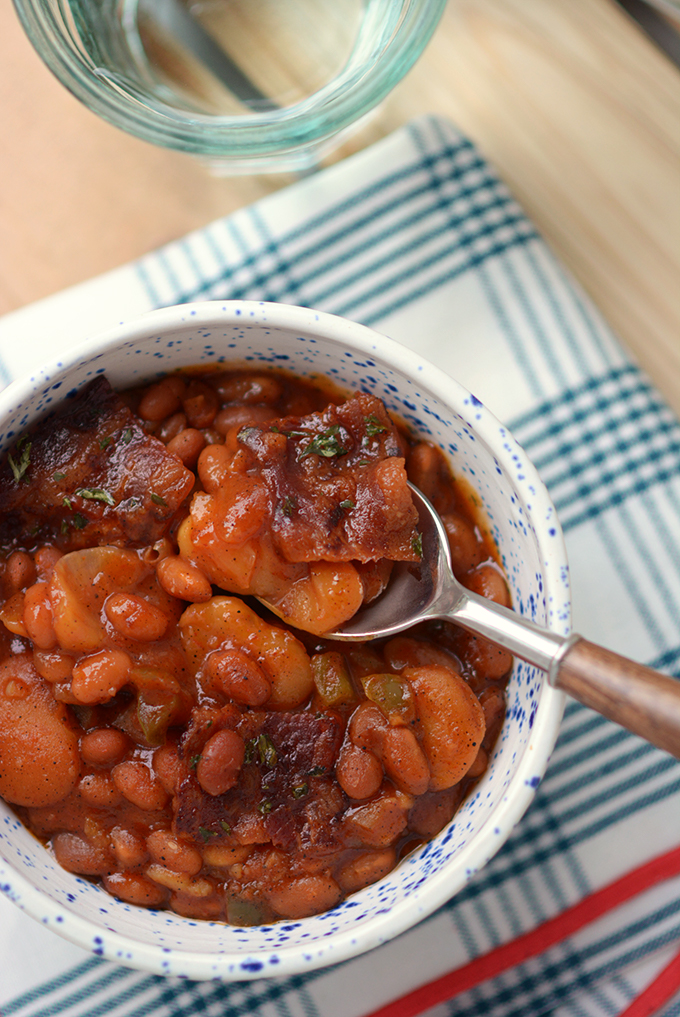 These beans are sweet, spicy, and savory, with a slight tang. Not to mention they're topped off with crunchy bacon! Every time I make these I'm always surprised that it's the baked beans – not the pasta salad, hot dogs, or the dessert – that people are taking seconds of! 🤷‍♀️They're just that tasty!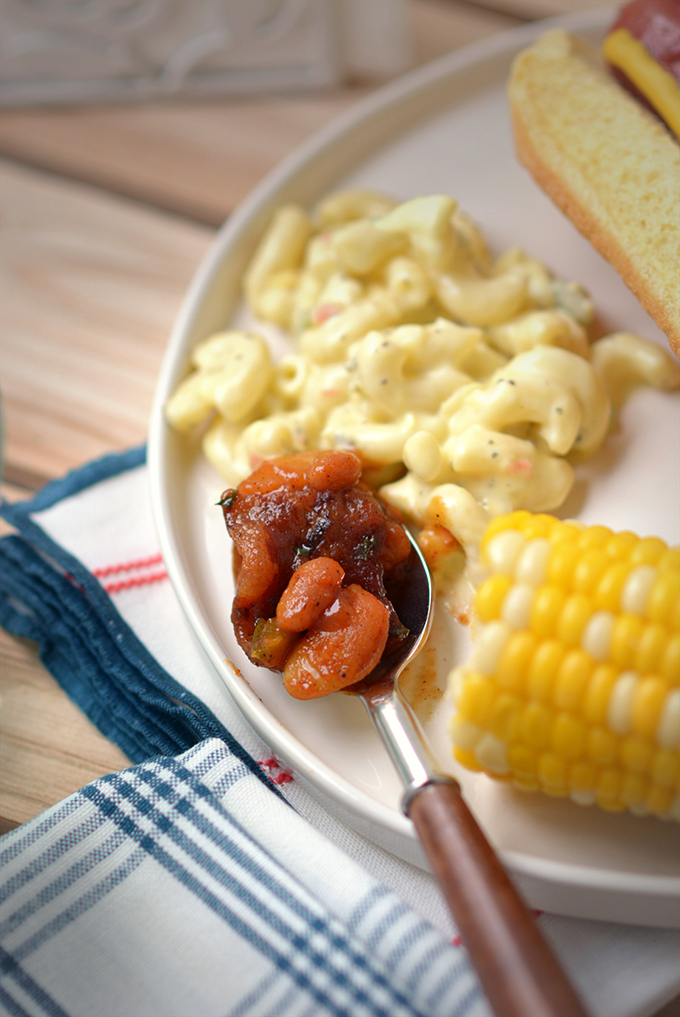 ---
Check out my secrets to amazing baked beans here. Continue through the blog post to find step-by-step photo directions, and go to the bottom of the post to get the complete recipe.
Secrets to Perfect Baked Bean Casserole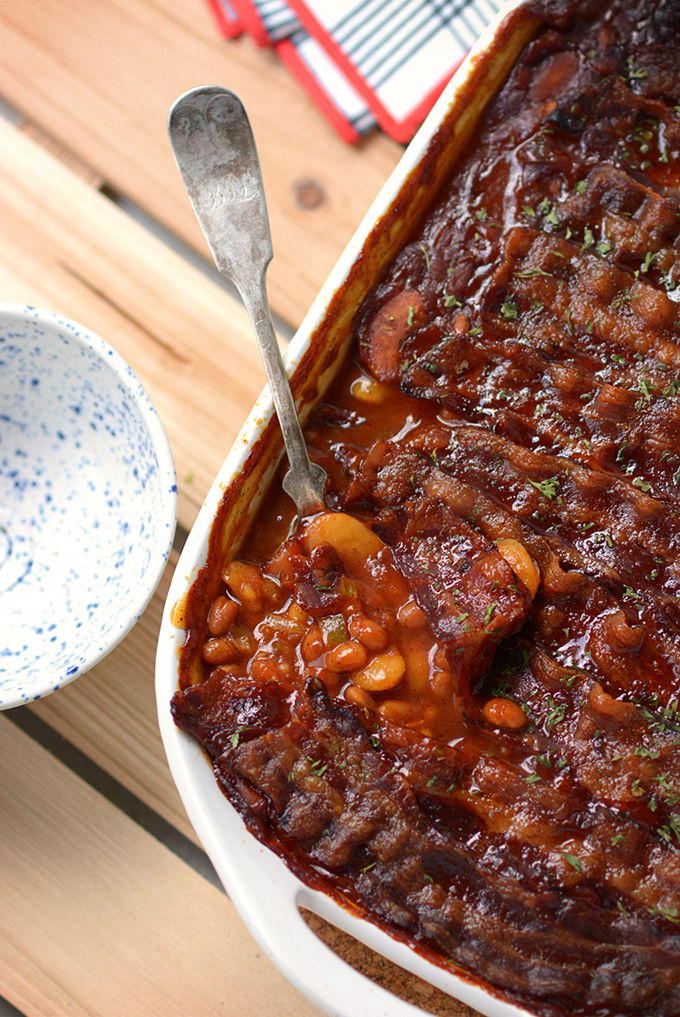 Pre-cook the bacon – A lot of recipes recommend laying raw bacon on top of your casserole. Doing this ends up adding an excessive amount of fat to the dish, and the bacon becomes rubbery. Yuck!
Use fresh peppers, onions, and garlic – They add great texture and flavor that just can't be captured in a can.
Add butter beans (a.k.a., lima beans) – They add contrasting texture and color, adding to the overall visual appeal of the dish.
Spice things up – The addition of chili powder and cayenne bring some heat to this dish. Once you taste it you'll wonder why it wasn't there in the first place.
Apple cider vinegar – For a touch of tang that brings the sweet, spicy, and savory elements of these baked beans together.
Cook for a really long time – Runny baked beans are lame. Cook your baked beans for 1 1/2 to 2 hours and the sauce will be thick and full-flavored with a touch of caramelization.
Step-by-Step Photo Directions for Baked Bean Casserole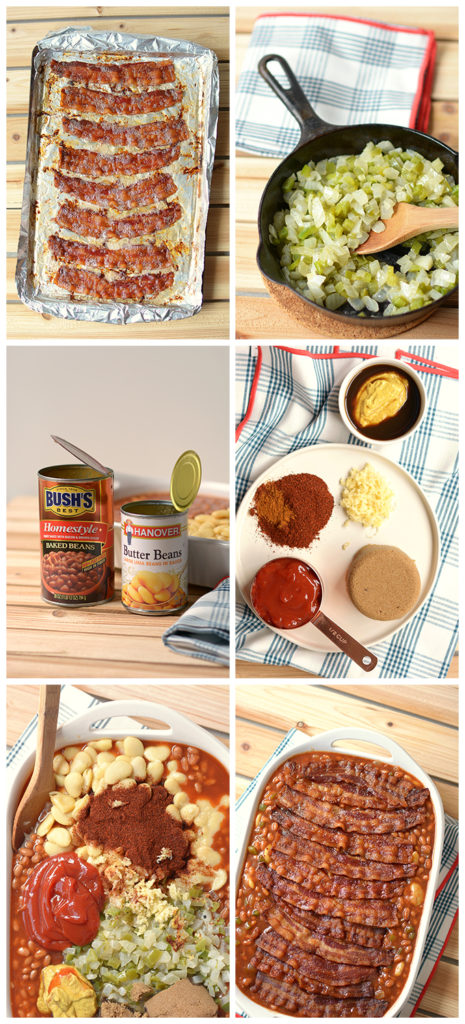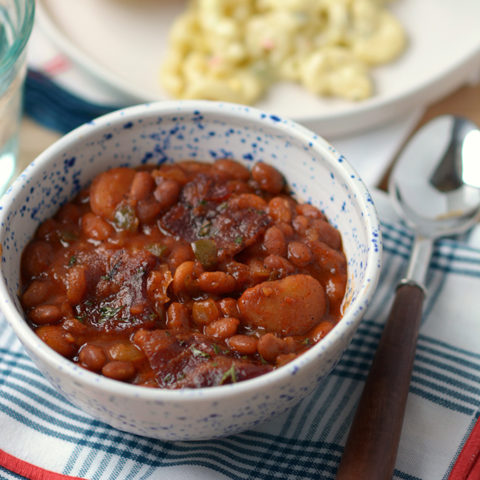 Potluck-Perfect Baked Bean Casserole
Total Time:
2 hours
35 minutes
Keep 'em coming back for more with this sweet, savory, tangy, and amazingly flavorful American potluck favorite!
Ingredients
1 lb bacon
2 Tbsp butter
2 cups sweet onion, chopped
1 cup green pepper, chopped
3 cloves garlic, minced
2 Tbsp chili powder
1/8 tsp cayenne pepper (optional)
3 (28 oz) cans Bush's Homestyle Baked beans
2 (15.5 oz) cans butter beans, drained but not rinsed
3/4 C dark brown sugar
1/2 C ketchup
2 Tbsp spicy brown mustard
2 tsp Worcestershire sauce
1 tsp apple cider vinegar
Instructions
Preheat oven to 350ºF. Line a baking sheet with aluminum foil. Arrange the bacon on the sheet so that the pieces are close, but not touching. Cook the bacon for 15-20 minutes until it's golden-brown and slightly crispy. Due to space limitations, you may have to cook the bacon in two batches.
Meanwhile, chop the sweet onion and the green pepper. Combine them in a skillet with 2 Tbsp of butter. Cook over medium-high heat for about 4-5 minutes, or until the onions are beginning to turn translucent. Once cooked, set aside.
In a 3 quart stoneware dish* combine the remainder of your ingredients plus the cooked pepper and onions. Gently stir until evenly combined. Evenly arrange the cooked bacon across the top of the baked beans. Cover a large baking sheet with aluminum foil and place the dish of beans on top of it to catch any drips while baking.
Bake in a 350ºF oven for 1 1/2 to 2 hours. Part way through the baking process the beans will begin bubbling and you may think they are done, but if you allow them to cook for the recommended time they will have a better texture and flavor. Allow to cool 5-10 minutes before serving.
Notes
Note: You can prepare this recipe the night before. The only changes are store the bacon separately and arrange it over the casserole right before baking. Also, if you are pulling the dish right from the refrigerator into the oven, plan on cooking for the full 2 hours.
*Aim to use a long, rectangular shaped 3 quart stoneware dish (mine measures 9.3 x 13.3 inches). The beans cook up better in a long dish and it allows more space for bacon.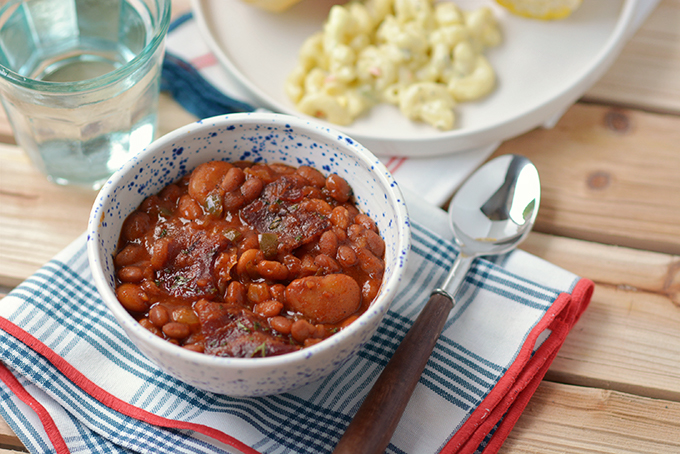 You may also enjoy…