Curried Chicken Salad – Bring the creamy, sweet, and savory flavors of curried chicken salad into your own kitchen with this easy and super tasty recipe!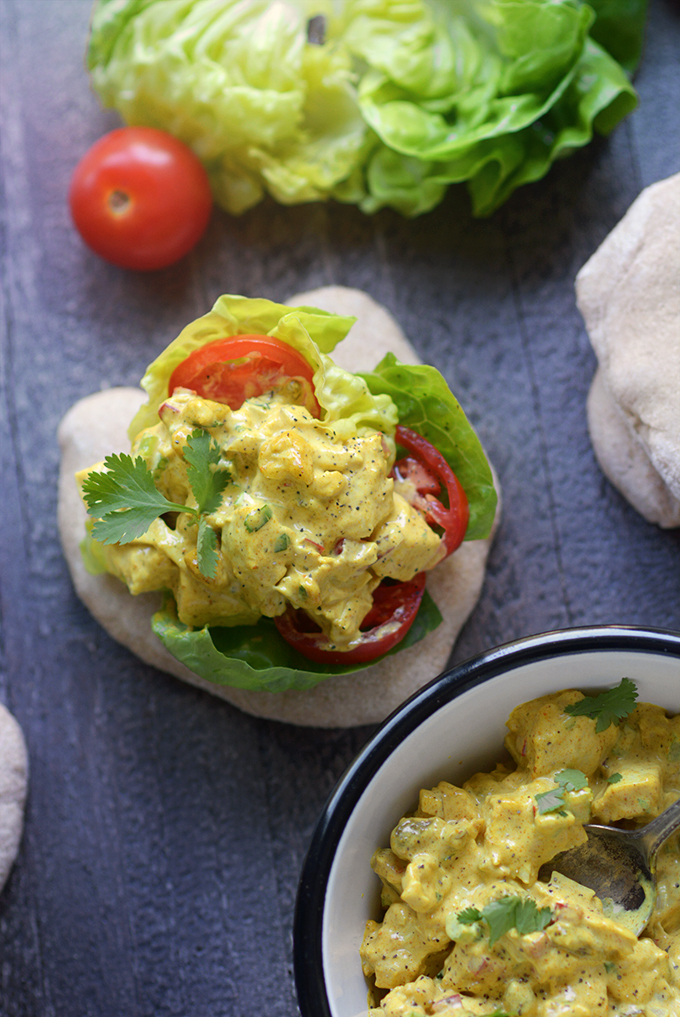 A few years ago there was a local cafe that sold my favorite lunch ever – a curried chicken salad sandwich. This sandwich was so good that I often had to tell myself "I'll eat half of this and save the rest for tomorrow's lunch, so as not to be a piggy." Inevitably I'd eat the whole thing… And then I'd lick the plate.
The cafe where I got my sandwich fix had great food and a funky atmosphere, but terrible service. Since then they've sadly gone out of business. With it's closing that awesome sandwich disappeared from my lunch hour forever.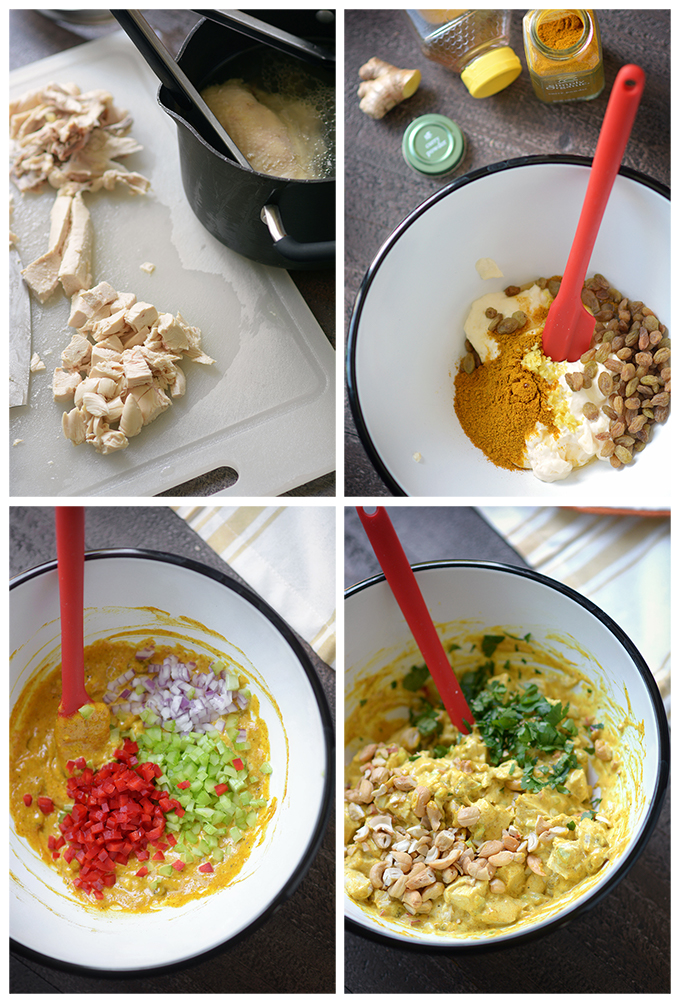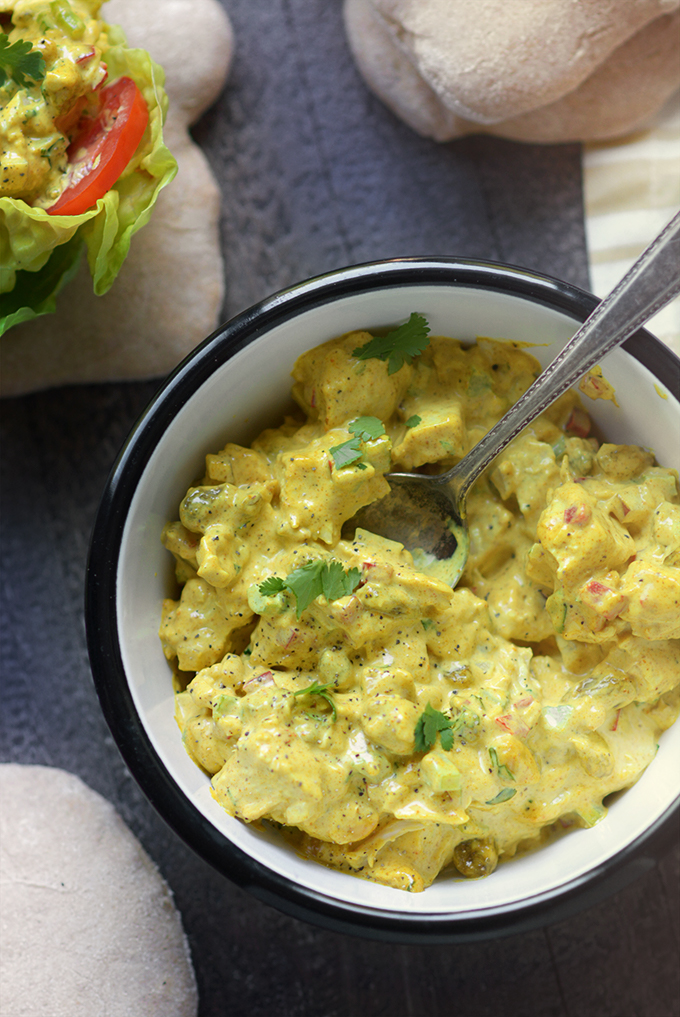 This savory, sweet, creamy, and spicy sandwich had nearly faded from my memory. Fortunately my little sister has recently discovered a love for curried chicken salad as well. She's the one in the family that I can depend on getting all foodie with me. Naturally she had to tell me all about her delicious chicken salad, which freshly imprinted in my mind is the NEED to make curried chicken salad.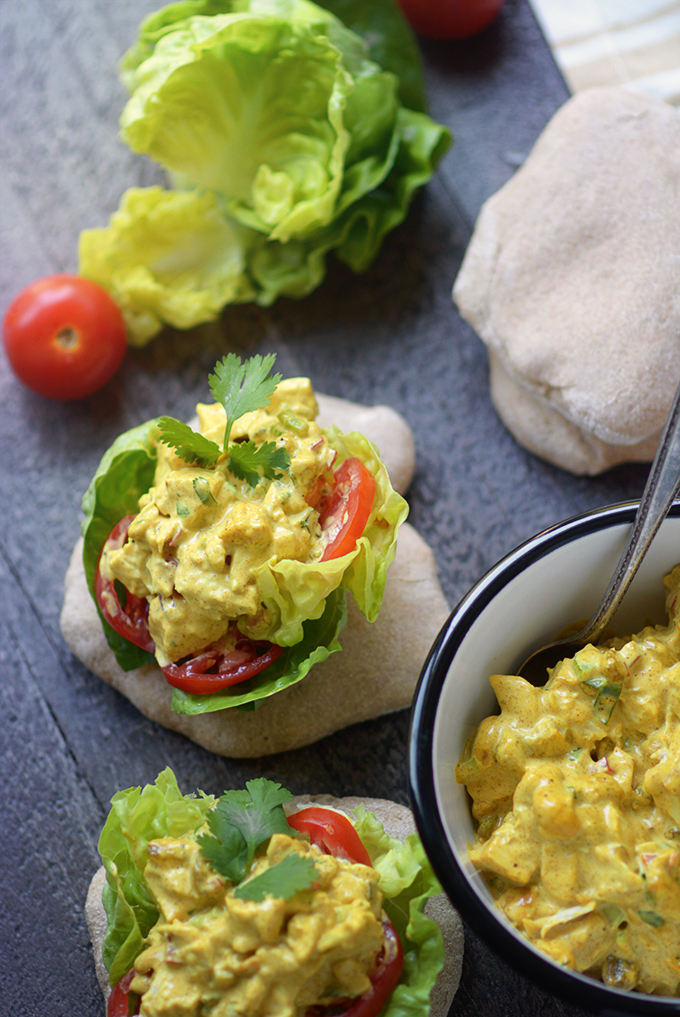 When developing this recipe I didn't want to just throw some chicken, mayo, and curry in a bowl and call it Curried Chicken Salad. Instead, the recipe is truly a salad with the addition of red onion, celery, red peppers, cilantro, golden raisins, and cashews. It's popping with incredible flavor! Trust me. If you make a big sandwich with this stuff you won't be able to eat just half!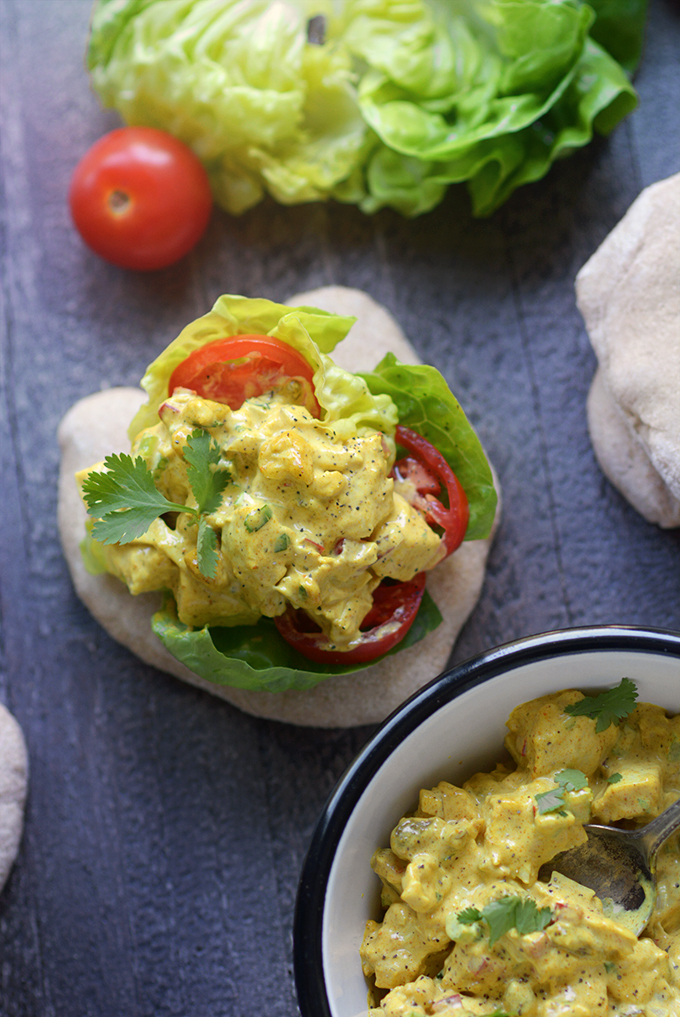 My Curried Chicken Salad is pictured with Homemade Spelt Flat Breads, bib lettuce, and tomatoes. To bake your own fresh and nutritious flat bread be sure to check out my Flat Bread Blog Post!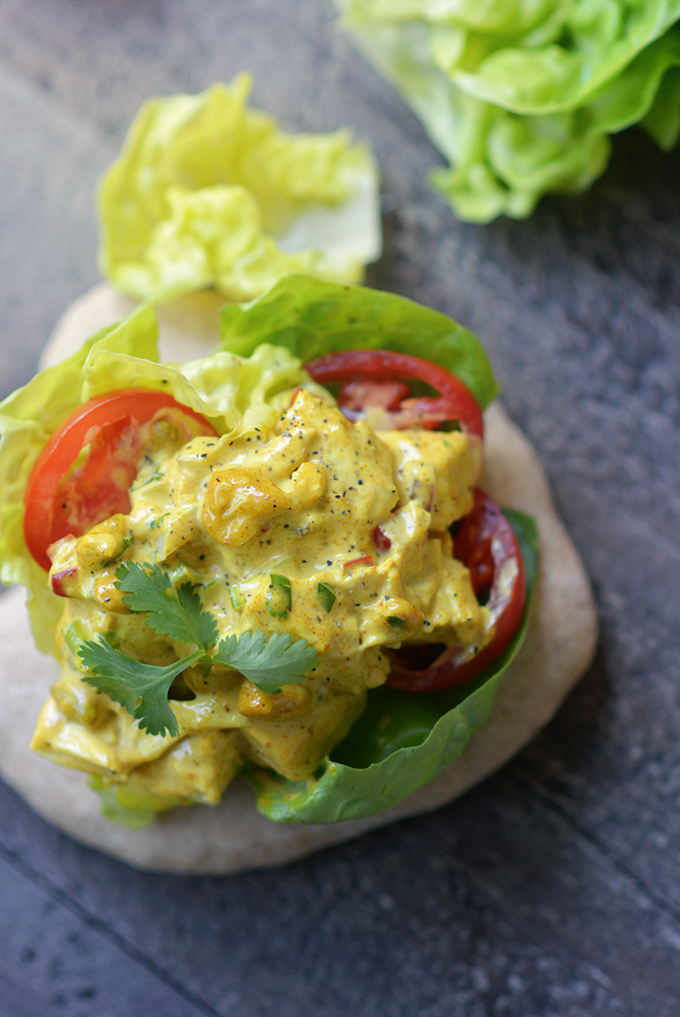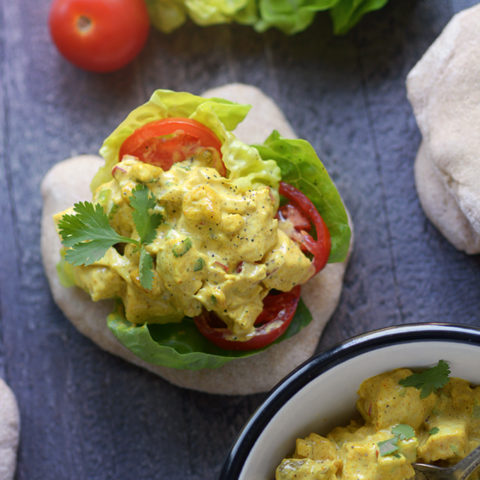 Curried Chicken Salad
Ingredients
2 bone-in chicken breasts
1 tsp salt
1 1/4 C mayonaise
1 Tbsp honey
1 tsp minced ginger
2 1/2 Tbsp yellow curry powder
1/3 C golden raisins
1/8 C finely diced red onion
1/4 C finely diced celery
1/4 C finely diced red pepper
1/2 C roughly chopped salted roasted cashews
1 Tbsp fresh chopped cilantro
salt and pepper to taste
Instructions
Place two bone-in chicken breasts in a large pot and fill the pot with water until the chicken is submerged. Add 1 tsp of salt to the pot. Removing the skin from the chicken is optional. I prefer to leave it in place for flavor. Over high heat bring the chicken to a boil and then reduce the heat to medium and continue to cook at a gentle boil for 5 minutes. Next remove the pot from the heat and allow it to sit for 10-15 minutes or until the thickest part of the chicken reaches an internal temperature of 160ºF.*
Allow the chicken to rest on a cutting board until it is cool enough to handle. Remove the skin and the bone. Cut the chicken into bite-sized cubes and set aside.
While the chicken is boiling mix together the mayonnaise, honey, minced garlic, curry powder and golden raisin until well combined.
Next cut the red onion, celery, red pepper and then add them to the bowl of dressing.
Once the chicken is room temperature fold it in as well as the cashews and cilantro.
Chill for at least 1 hour and then serve chilled.* The Curried Chicken Salad will stay fresh in the refrigerator for 3 days.
Notes
*The leftover chicken stock can be reserved to use in other recipes.
**This Curried Chicken salad is delicious served on a bed of lettuce or in sandwiches.
You may also enjoy…