How to Make a Balsamic Glaze (Reduction) – Find all of the answers you need to make a perfect balsamic reduction – including the ever-important question: Which vinegar do I choose?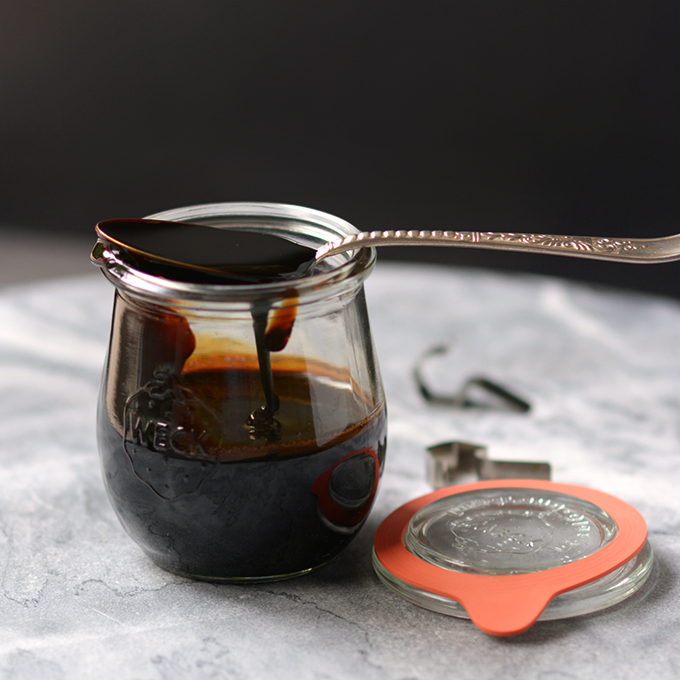 One of my favorite condiments is a balsamic glaze, a.k.a. a balsamic reduction. It's sweet, tangy, and sticky, too… I don't know about you, but I'm a pretty big fan of sweet and sticky food!
A balsamic reduction can seem like a highbrow, gourmet food. The truth is, however, it's SO simple to make. You only need one to three ingredients.
Have you ever wondered what type of balsamic vinegar to select for a reduction? That choice is the biggest challenge most people face when attempting to make a fine balsamic reduction (along with knowing how long to cook it, of course). You may be surprised at the answer…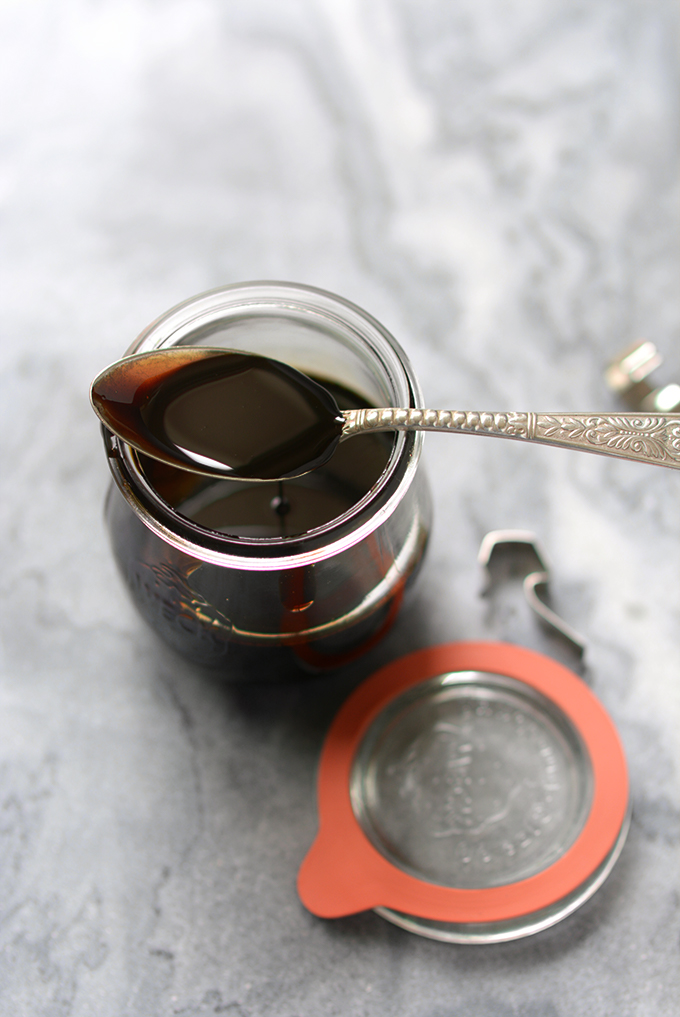 How to Select the Perfect Vinegar for a Balsamic Reduction:
When it comes to making a balsamic reduction there is no need to be a vinegar snob. Using a $100 or ever a $50 bottle of traditional or condimento balsamico would be a shame, as you'll end up cooking out the complexities that are created in those vinegars through the aging and fermentation process. Save the good stuff for your freshly picked strawberries and your fine cheeses!
Instead, reach for your grocery store balsamic vinegar of Modena with an I.G.P label. The only caution I have is avoid products that have additives like thickeners and caramel coloring. A good cheap balsamic vinegar simply contains grape must and wine vinegar. Generally, the thicker the texture, the higher the grape must content. Traditional balsamic vinegar is made from grape must, so this is a higher quality and better tasting "cheap" product.
Yes, the vinegar with the I.G.P label is basically only part balsamic and it's essentially "unfinished" as it's only aged for about two months, and the fermentation process is skipped altogether. Even so, it will still make a fantastic-tasting balsamic reduction– sticky, sweet, and tangy. The best thing is that, since you're not paying a hefty price for specialty vinegars, you can afford to make a batch every week if you like!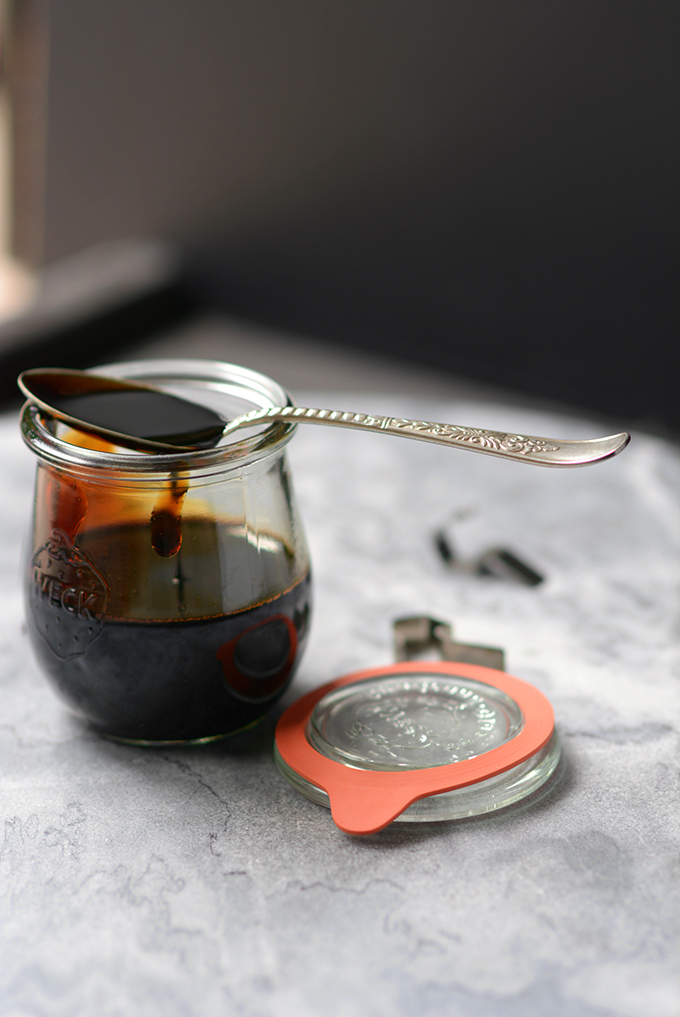 About Adding Sugar and Salt to a Balsamic Reduction:
Adding sugar and salt to your reduction is completely optional. When making this decision, first consider what you'll be using it for.
For example, added sweetness is nice with fruits, sharp cheeses, and with chicken. On the other hand, you may want to forego that added sugar if you will be drizzling it over tomatoes, eggplant, or mozzarella.
I add just a touch of salt to my balsamic reduction, as it enhances the flavor. The flavor is also amazing without the salt, so if you're watching your salt intake omitting it won't break this recipe.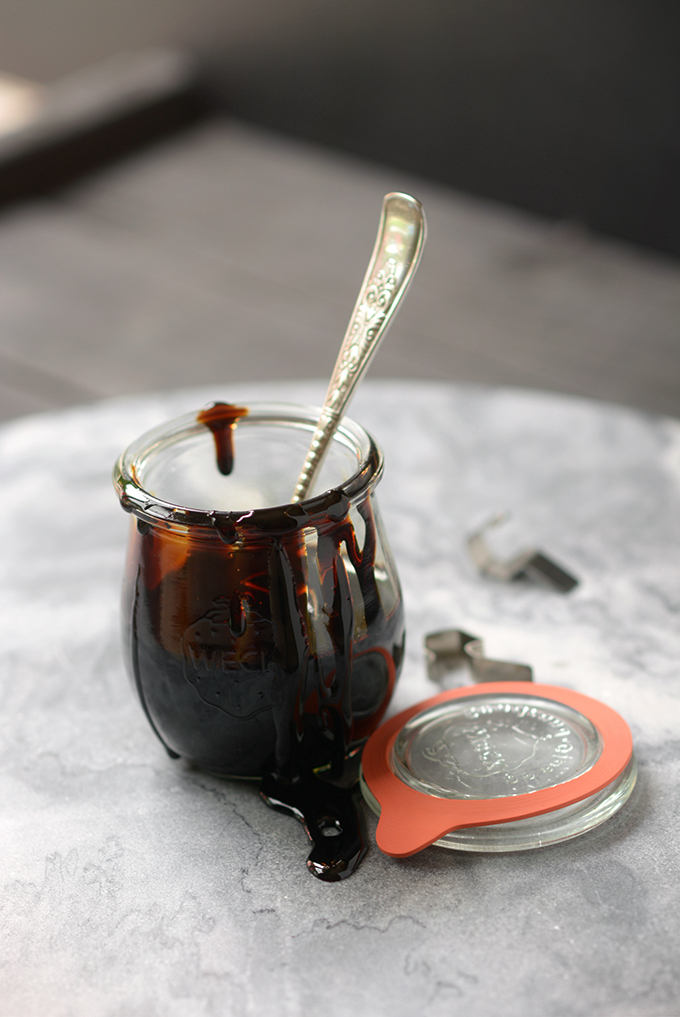 How Long to Cook a Balsamic Reduction:
I have a bone to pick with so many of the balsamic reduction recipes I've read online. Many of them make the blanket statement that you should always reduce your vinegar by half. The problem is, how much you need to reduce your vinegar will vary based on the the thickness of the product you start with, as well as how thick you personally want your end product to be.
Think about how you'll be using it and what texture will compliment your dish. If you're going to be drizzling it over greens, you'll want a thinner reduction. I personally like it thicker over things like tomatoes and cheese. If I'm spreading it over hot chicken, I want a very thick, glaze-like quality.
Instead of focusing on reducing your balsamic vinegar by half, focus on the look, feel, and taste of your reduction. The reduction should coat your cooking spoon and drip off as a slow, viscous stream as opposed to dripping off quickly like water (see the picture below). When you touch it, it should feel sticky (Careful! Don't burn yourself!), and it should have a sweet flavor.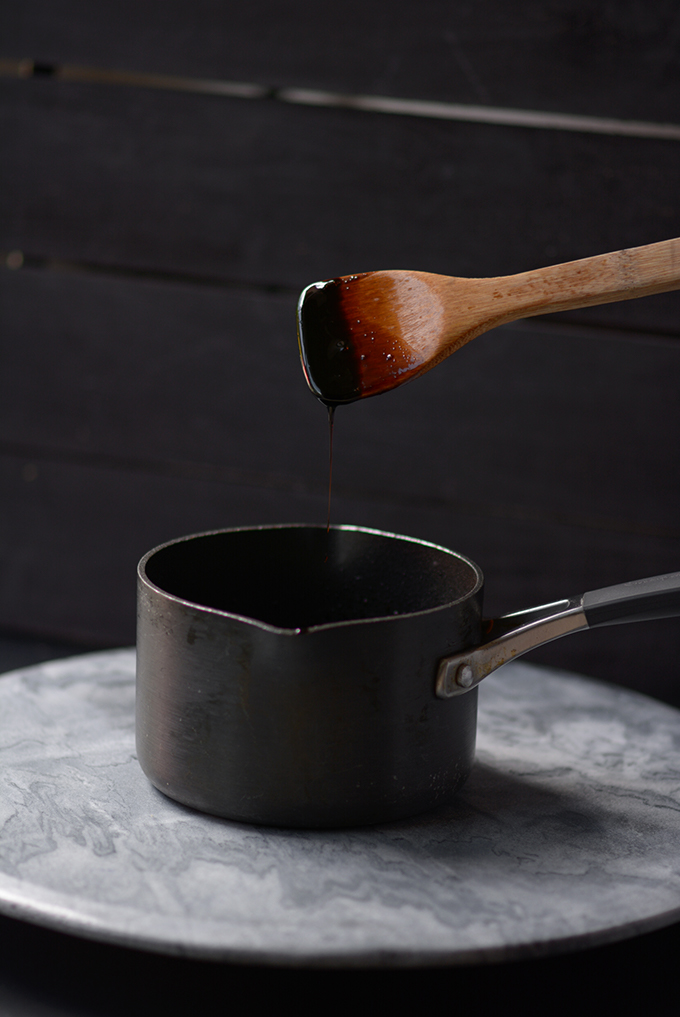 I hope that you've found this information helpful. Now it's time for you to get reducing. Check out and print the recipe card bellow to make your own heavenly balsamic reduction!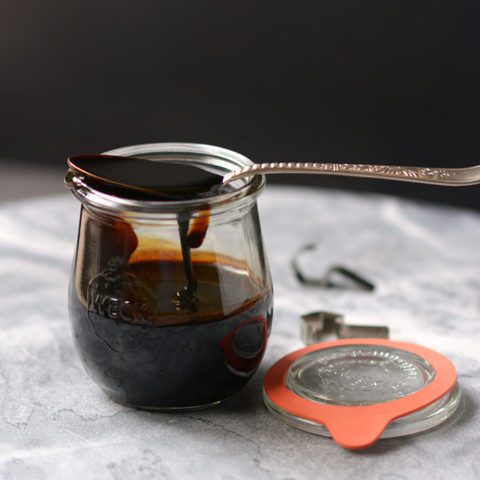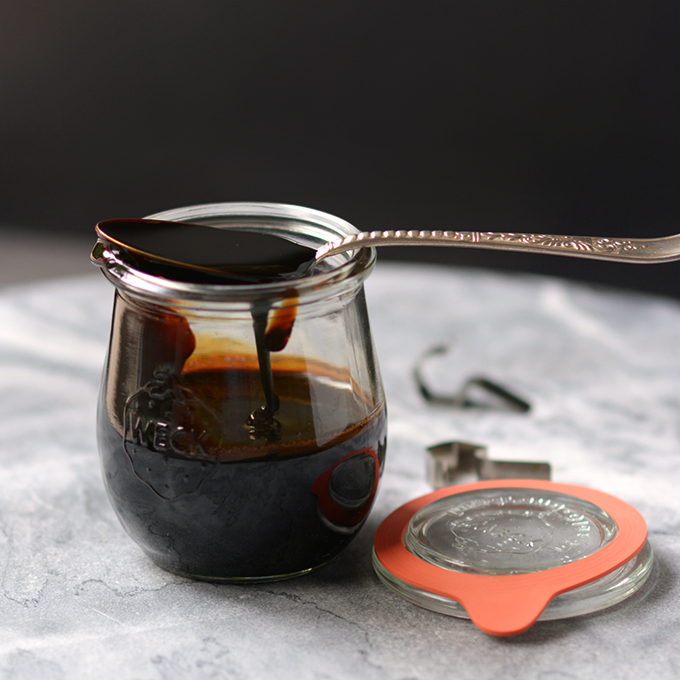 How to Make a Balsamic Glaze (Reduction)
Find all of the answers you need to make a perfect balsamic reduction - including the ever-important question: Which vinegar do I choose?
Ingredients
2 C balsamic vinegar
1/4 C light brown sugar (optional)
1/8 tsp salt (optional)
Instructions
Add the balsamic vinegar, brown sugar, and salt to a sauce pan. Gently mix to combine, then bring to a boil over medium-high heat.
Next, reduce to medium-low heat and simmer for 15-20 minutes, stirring occasionally, until the vinegar lightly coats the spoon and is reduced to about 2/3 to 1/2 cup.
Remove from the burner, set aside and allow to cool to room temperature before serving.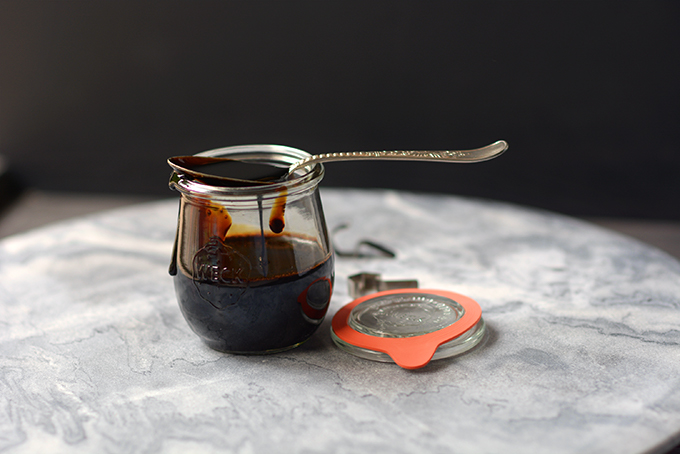 You may also enjoy…