Broccoli Rabe and Chicken Pasta Bowl – Learn the secret of perfectly cooked pasta and take your simple pasta bowls from ordinary to extraordinary. Hint: it's more than just cooking it al dente.
Today's recipe is one of those ridiculously easy recipes that's made in variations in so many kitchens, but I'm guessing that many home cooks out there aren't enjoying pasta bowls that are as amazing as they could be.
You see, the secret to a pasta bowl that has you coming back for irresistible seconds lies in the care of the pasta, and not all of the extras (not even the cheese).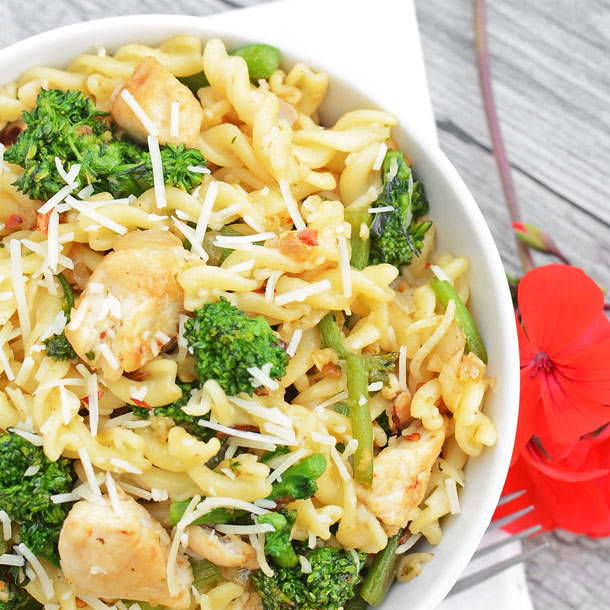 A few years ago I discovered an adorable gourmet Italian shop called Casa Casale in Lahaska, PA, of which I've come to frequent. I try to sneak a trip there at least once a year kid-free, because it's one of those shops that as you step in the front door you're immediately transported to another part of the world. For me it's like a mini vacation from all the drama of mommyhood.
Some women like the salon, but I've always been a bit of a tomboy, so I opt for culture and something I can eat. Overwhelmed by dozens of varieties of premium pastas, olive oil, and cheeses, you're encouraged by warm and welcoming shop keepers to taste your way through the store.
Nestled in the right hand corner of the shop, behind a couple of warm burners, there is always someone with a grandmotherly presence tending to a warm pasta dish, at the ready, to tease hungry customers with tastes of what they could be cooking in their own kitchens.
As a food blogger I spend a lot of time tasting and thinking about food, and I can't begin to describe how good this pasta is. And it's consistently good. It doesn't seem to mater what they put on it.
Then one day I realized that it does matter what they put on their pasta. Casually, as the cook was fussing with her pasta, she ladled a white, milky looking liquid onto her pasta before adding a few finishing touches, which I later realized was pasta water.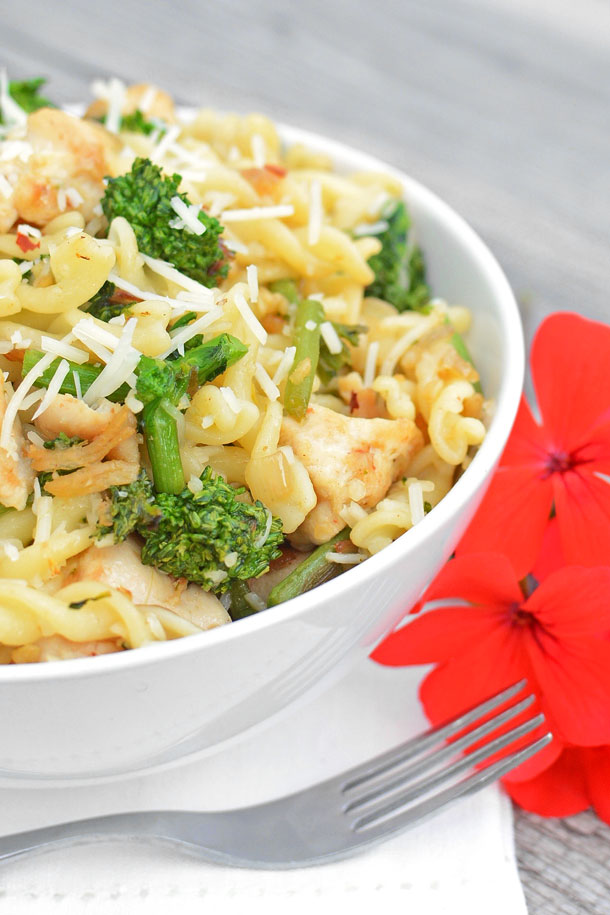 Since this pasta epiphany (pastapiphany?) I've spent some time poking around for information about cooking perfect pasta and this is what I've learned:
Bring about 2 1/2 quarts of water and 1 Tbsp of salt to a boil per 8 oz of pasta. In general, 2 oz of dry pasta is one serving.
After adding your pasta to the water, immediately stir it so that the pasta pieces don't stick together, and then cover the pot with a lid until it returns to a rolling boil.
Make pasta per box instructions. Usually there is a span of time listed, for example 7-9 minutes. I usually cook for the lower time to get an "al dente," or a "to the tooth" pasta. You may have to check the pasta for doneness a few times before it's perfect. You'll know the pasta is done cooking when you bite into the pasta and it's tender, but you feel a small amount of resistance in the center; crunchy means it's underdone, if it's soft, it's overdone. When you bite into underdone pasta there is a white area in the center, but when you look at pasta that's been cooked al dante the white will have disappeared, but the center will look slightly different in color than the rest of the pasta. If the pasta is uniform in color, it's over cooked. There is a bit of an art to this, and you may need to cook pasta a few times before you master the technique, and that's okay. You know, learning curve…
As soon as the pasta is done cooking reserve about 1 C of pasta water for every 8 oz of pasta you cooked, and then strain your pasta through a colander, but don't shake or over strain, and especially DON'T RINSE YOUR PASTA! If you leave some of the starchy water on your pasta you'll end up with smoother pasta that will better absorb your sauce or butter and spice. The only exception to this would be for a cold salad.
Once drained, immediately add your cooked pasta to your sauce, or oiled pan. If it appears a little dry, or if it's sticking add pasta water to the pasta 1-2 Tbsp at a time until you're happy with it's consistency. Serve immediately after combining with a sauce or seasoning.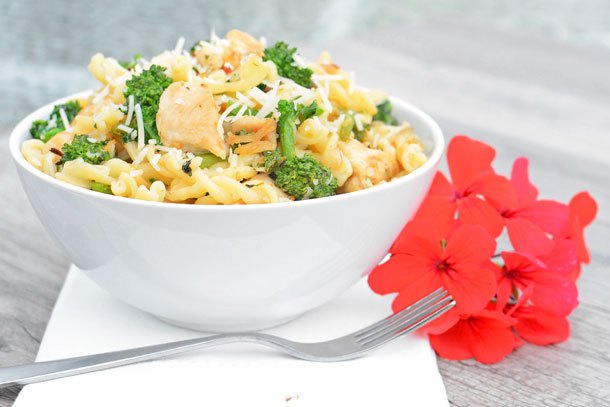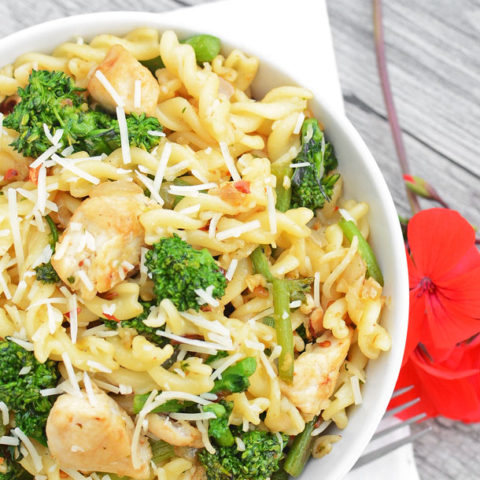 Broccoli Rabe and Chicken Pasta Bowl
Yield: 4

Prep Time: 10 minutes

Cook Time: 20 minutes

Total Time: 30 minutes

Learn the secret of perfectly cooked pasta and take your simple pasta bowls from ordinary to extraordinary. Hint: it's more than just cooking it al dente.
Ingredients
8 oz dry 100% durum wheat fusilli
1 large pot of water (about 2 1/2 quarts)
1 Tbsp salt
1 1/2 lbs broccoli rabe
3 Tbsp olive oil, divided
1 lb chicken tenderloins
1/2 C diced shallots
2 Tbsp garlic
1/2 tsp hot pepper flakes
1 C freshly grated parmesan cheese
Instructions
Peel and cut the broccoli rabe. Remove the leaves by pulling them downward, away from the head of the vegetable. This should remove with it some of the tough skin. If, when you're done, some of the tough skin remains, peel it off using a vegetable peeler. Cut the broccoli rabe and stems into bite-sized pieces. Add it to a pot of room temperature water and bring it to a boil over high heat. Once boiling, immediately drain and then set aside.
Cook the fusilli in 2 1/2 quarts of water and 1 Tbsp of salt until al dente. For cooking time, refer to the cooking instructions on the box. Mine, for example, took about 12 minutes of boiling. For more tips on making amazing pasta, refer to the body of my blog post.
While the pasta is boiling away, trim the tendons off of your chicken tenderloins and cut them into bite-sized pieces. In a large pan, heat 1 Tbsp of olive oil over medium high heat and add your chicken to the pan, evenly browning on two sides. This will take about 4 minutes total. Turn the heat down to medium and add an additional 2 Tbsp of olive oil to the pan. Once it's heated add the shallots and cook for 2 minutes. Next, add the garlic and pepper flakes and cook for an additional minute. Remove from the heat until the pasta is done cooking.
Once the pasta has cooked to the point of being al dente, remove it from the heat. Reserve 1 C of pasta water and then drain the pasta without rinsing.
Return the pan with the chicken up to medium high heat. Toss in the broccoli rabe and sauté for 2 minutes to reheat. Next, toss in the pasta and gently stir to coat in olive oil. If it seems dry add 2 Tbsp of the reserved pasta water to the pan at a time until it's silky.
Remove from the heat and garnish with freshly grated parmesan.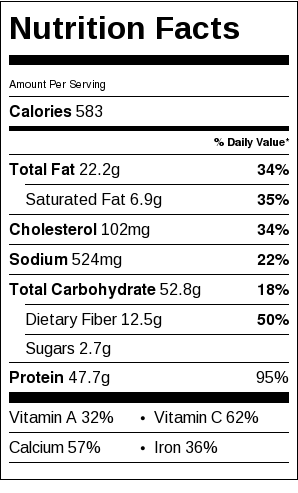 More amazing pasta recipes…