Blue Hubbard Torchetti with Pancetta and Sage – Sweet, savory blue hubbard squash steals the show in this quick and easy pasta dish. It's the perfect balance of elegance and winter comfort food.
Blue hubbard squash is one of those oddities that I never thought would get much traction on the web. When I was new to blogging, which I dare say was not all that long ago, I wrote a recipe for Chipotle Chicken Blue Hubbard Squash Soup. My husband and I both agree that it's one of our favorite soups, but my photos from those very early days are generally appalling. Go ahead and check it out. It's so embarrassing! I think we both have been surprised that it's been a pretty popular post, giving us a number of hits to our blog every day. It has subsequently occurred to me that if something so ugly could be so popular then there is a need out there for blue hubbard recipes!
Now, if you're wondering what a blue hubbard squash is, well, it's this…
I'm not going to say much about this gentle veggie giant today other than that it's sweet and savory. Like a kicked-up butternut. I have plans for a whole blog post devoted to the discussion of blue hubbard later this week, so stayed tuned. In the meantime, if you want some veggie inspiration check out my recent post All About North Georgia Candy Roaster Squash. It's part of my series about the strange, unusual, and sometimes ugly vegetables of the world.
I decided to keep todays recipe simple and sweet. After all, if you've never cut into a blue hubbard squash before, you're about to find out that it takes a bit of effort. Hint: I find dropping it on a concrete floor is usually effective. Seriously… It works like a charm!
For this dish you're basically going to roast up some blue hubbard with red onion. This will make the hubbard sweet, savory, creamy, and perfect for coating some lovely Italian pasta. Next you'll boil some water and cook up some pasta with it (you got this!). While the roasting and boiling are happening, brown a little pancetta in a large skillet and deglaze with some white wine (don't forget to pour the cook a glass). Toss everything together and garnish with fontina and fresh sage. A simple and elegant dinner is served! It's hard to believe it came from something so ugly as a hubbard!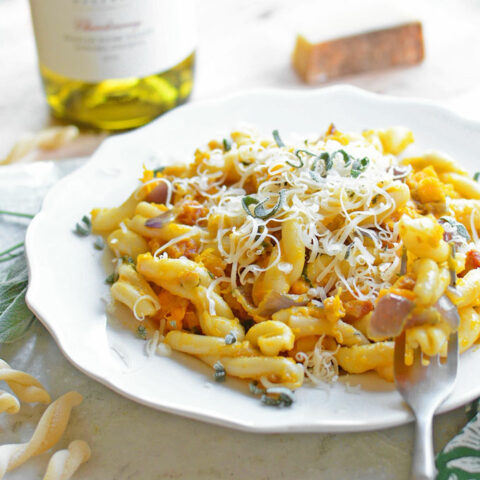 Blue Hubbard Torchetti with Pancetta and Sage
Yield: 5

Prep Time: 15 minutes

Cook Time: 20 minutes

Total Time: 35 minutes

Sweet, savory blue hubbard squash steals the show in this quick and easy pasta dish. It's the perfect balance of elegance and winter comfort food.
Ingredients
4 C small-cubed blue hubbard squash
4 tsp olive oil
1 1/2 C small chopped red onion
3/4 lb dry torchetti pasta
large pot with 6 quarts of water plus 2 tsp of salt
4 oz small-cubed uncured pancetta
1/4 C white wine
1 C fresh grated fontina cheese
1/8 C fresh chopped sage
Instructions
Preheat oven to 425º F. Toss together 4 C of blue hubbard squash cut into small cubes with 4 tsp of olive oil. Bake for 10 minutes.
While the squash is baking chop the red onion and set aside. Also bring a large pot with 6 quarts of water and 2 tsp of salt to a boil.
After the squash has cooked for 10 minutes add the red onion to the pan and coat the onion with olive oil from the pan while flipping with the squash pieces. Return the vegetables to the oven and cook for an additional 10 minutes. Add your torchetti to the pot of boiling water and boil for 10 minutes, or until al dente.
While the vegetables and pasta are cooking, add 4 oz of small-cubed uncured pancetta to a large skillet and brown over medium-high heat. Once brown, add 1/4 C of white wine and cook for an additional minute. Remove from the heat and set aside.
When the pasta is al dente, drain the torchetti, making sure to reserve 1 C of the pasta water. Remove the vegetables from the oven. Fold the torchetti, roasted vegetables, and pancetta together in the large skillet until the pasta is coated with the creamy, cooked blue hubbard squash. If the pasta seems dry, add some reserved pasta water to the skillet as needed.
Garnish with freshly-grated fontina and sage. Serve immediately.
If you enjoyed this recipe, you may also enjoy…