All About North Georgia Candy Roaster Squash – Make the most of this big, sweet, delicious squash with this handy guide full of facts and tips on how to prepare it.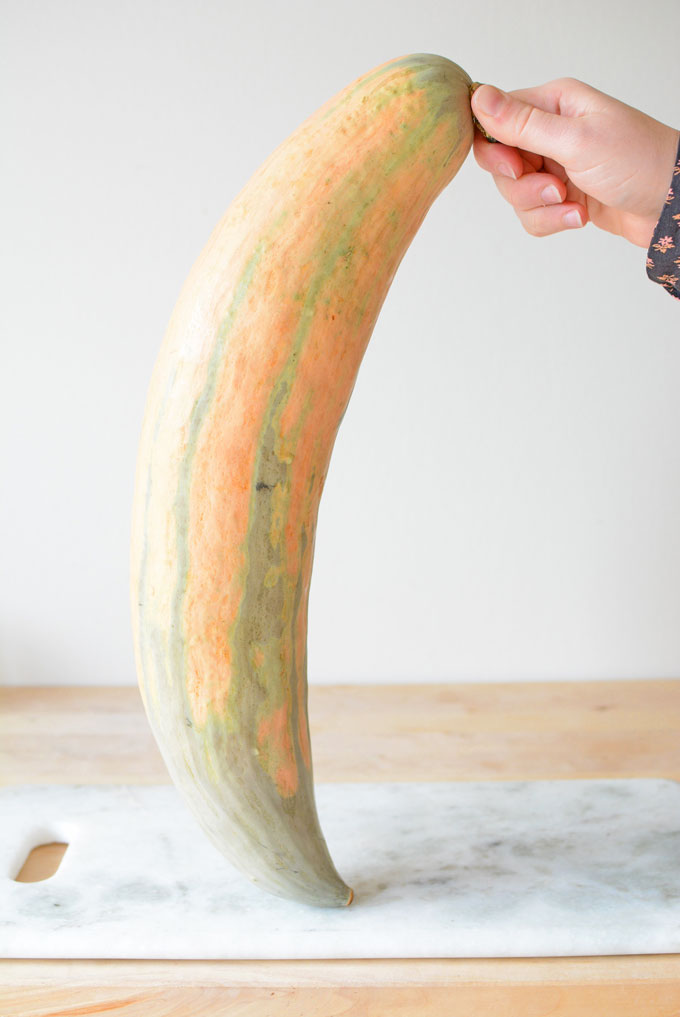 A North Georgia candy roaster squash is one of the recent strange and unusual items I acquired from my local farm.
My kitty helped model the squash (no, I don't usually let him on the counter), so that you can get a sense of it's large size. After taking the photos it occurred to me that I have a rather large, part Maine Coon cat, so objects may be larger than they appear!
The squash was new to me so I read up on this rather large, tubular thing and found out some pretty interesting stuff. I compiled some facts for you and tried to keep them short and sweet, so if you are also faced with the dilemma of "what do I do with this thing?!" you'll have some answers.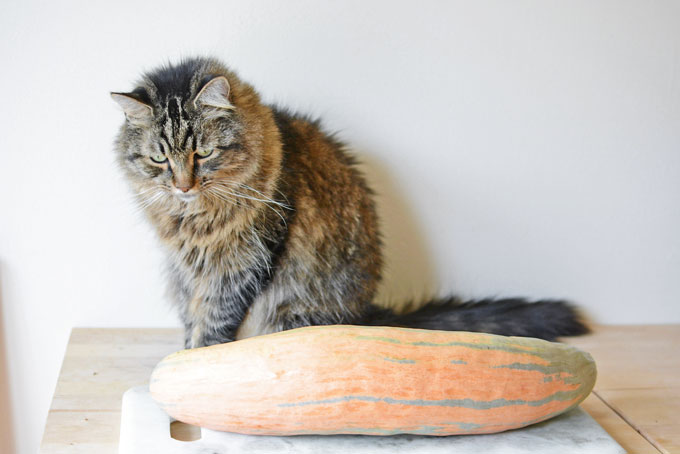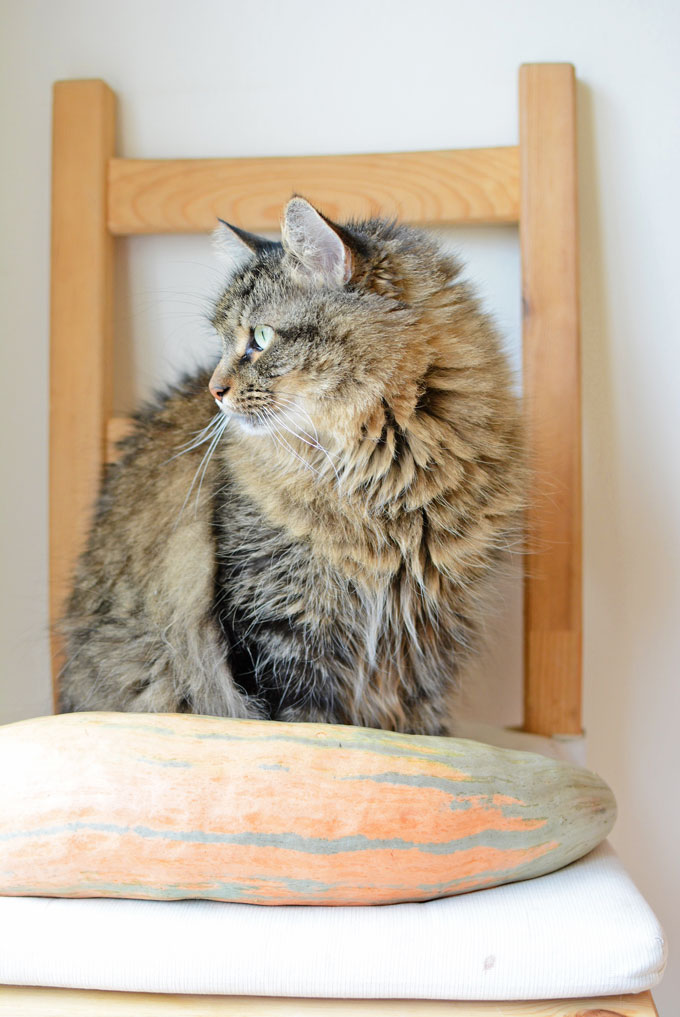 Facts
Name:
North Georgia Candy Roaster – Cucurbia Maxima
Origin:
Rare heirloom variety. Originally cultivated by the Cherokee Indians in the Appalachian Mountains of the southeastern portion of the United States. It is still most often grown in parts of northern Georgia, North Carolina, and Tennessee.
Like many of the winter squashes enjoyed in America, this one continues to be cultivated because of seeds provided by Native Americans. The North Georgia Candy Roaster Squash is part of a group of candy roaster squashes that were all cultivated by the Cherokee and vary in shape from oblong to round.
Taste:
Smooth and sweet. Becomes sweeter with time.
Uses:
Substitute in recipes that use winter squash or sweet potato. This squash can be fried, baked, or roasted. Make into a purée and use like you would puréed pumpkin in breads, pies, or pasta dishes.
It's also a delicious addition to soups, stews, or casseroles. Pairs well with flavors like chipotle, chili, cinnamon, nutmeg, and curry.
To Prep For Cooking:
Cut lengthwise and remove seeds with a spoon. This squash can be roasted with the skin on and then the flesh can be scooped out and the skin discarded once cooked.
If planning on cubing or cutting the squash, I find it's easiest to remove the skin by cutting the squash in half width-wise so that it will fit in my microwave. Microwave each half on high for 3 minutes before peeling. Peel downward with squash upright on the table (see photos below).
Recipes:
"Candied" North Georgia Candy Roaster Squash by Simple Seasonal
Candy Roaster Squash, Ginger, and White Bean Soup by Sage Trifle
Candy Roaster Squash Pie by Foodista
Size:
8-15 pounds, with an average of 10 pounds. Up to 18 inches long and 6 inches wide.
Where To Get It:
This one you are unlikely to find at your local grocery store. Seasonally available in the late fall and early winter from small farms, farmer's markets, and CSAs. And, of course, you can always grow it yourself!
Grow:
Plant after the last frost and harvest before the first frost.
When planting, space 6 inches apart and plant at a soil depth of 1 inch. Plan on about 100 days for the fruit to reach maturity.
Considered generally hearty and easy to grow. This plant can cross-pollinate at a distance of up to 1 mile with other cucurbita maxima (think blue hubbard, kabocha, and banana squash, for example), making the preservation of it's seeds and biodiversity a concern.
Seeds:
Storage:
This squash is valued for it's ability to winter well and it's intensely sweet flavor. Store up to 5 months in cool, dark conditions.
The flavor actually improves through the winter. It's the end of December and I've had one squirreled away for a couple of months now!