Smoked Mozzarella and Spinach Pasta Salad – Bring something new and different to your summer holiday picnics with this cheesy, zesty, and smoky pasta salad that's sure to be a crowd pleaser!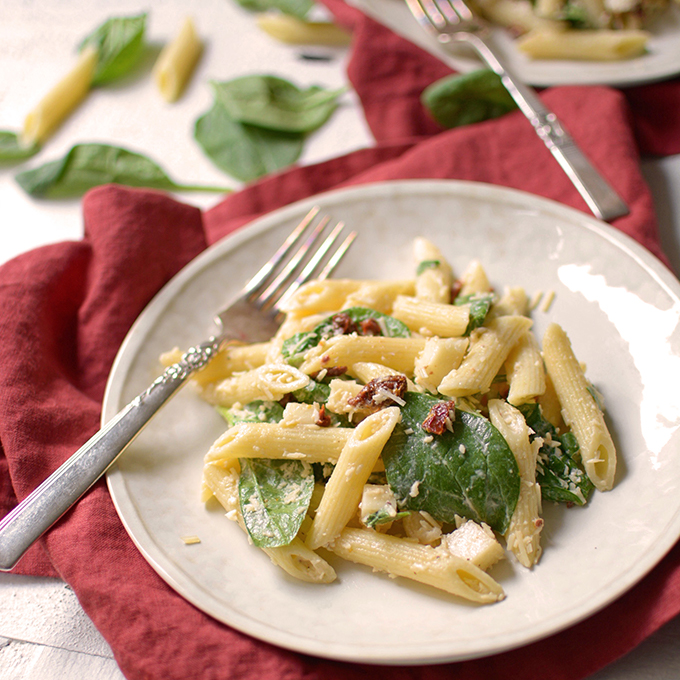 The 4th of July is one of my favorite summer holidays because of all of the fun that surrounds it and because of its meaning. For those readers who aren't American, way back in 1776 all thirteen of the American colonies stood behind the Declaration of Independence on July 4th. The Revolutionary War, which was fought to establish the United States as an independent nation, actually had not been won yet. What's worth celebrating on July 4th is the significance of all thirteen colonies coming together and standing behind a great ideal. It became the foundation that helped to build America into the pretty great place I live in today.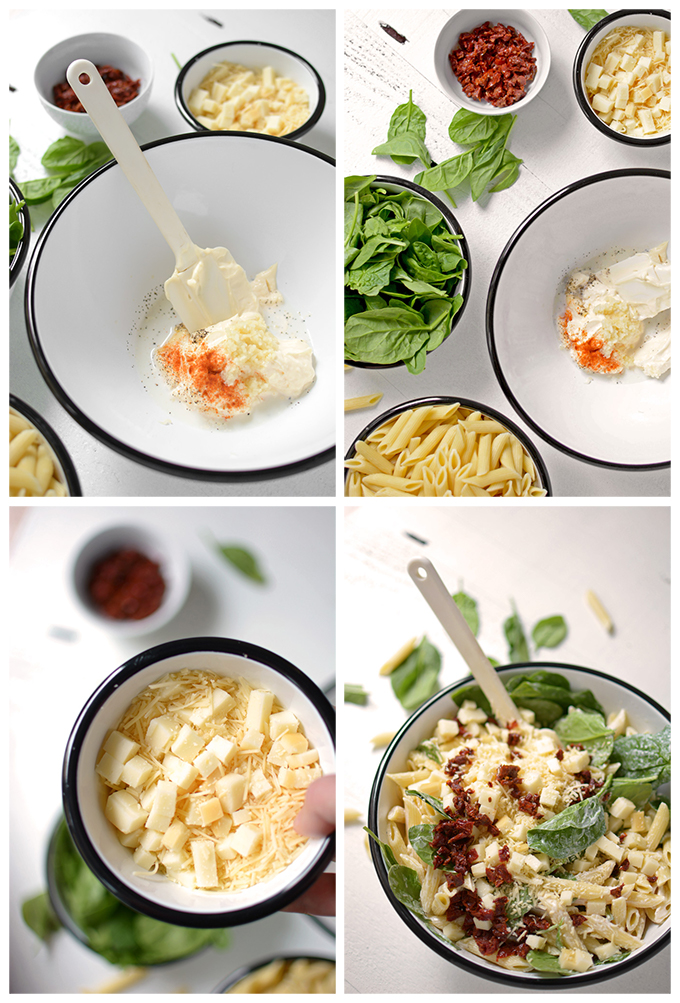 Now, more than a couple hundred years later, on July 4th people all over America will being having picnics, donning their red, white, and blue, and setting off fireworks in celebration of those ideals and the rights and freedoms Americans enjoy today. In my home I've made it a point to talk to my kids about their country's history. The hope is that these ideals that so many people risked and lost their lives for will continue to be a part of the American fabric in the next generation.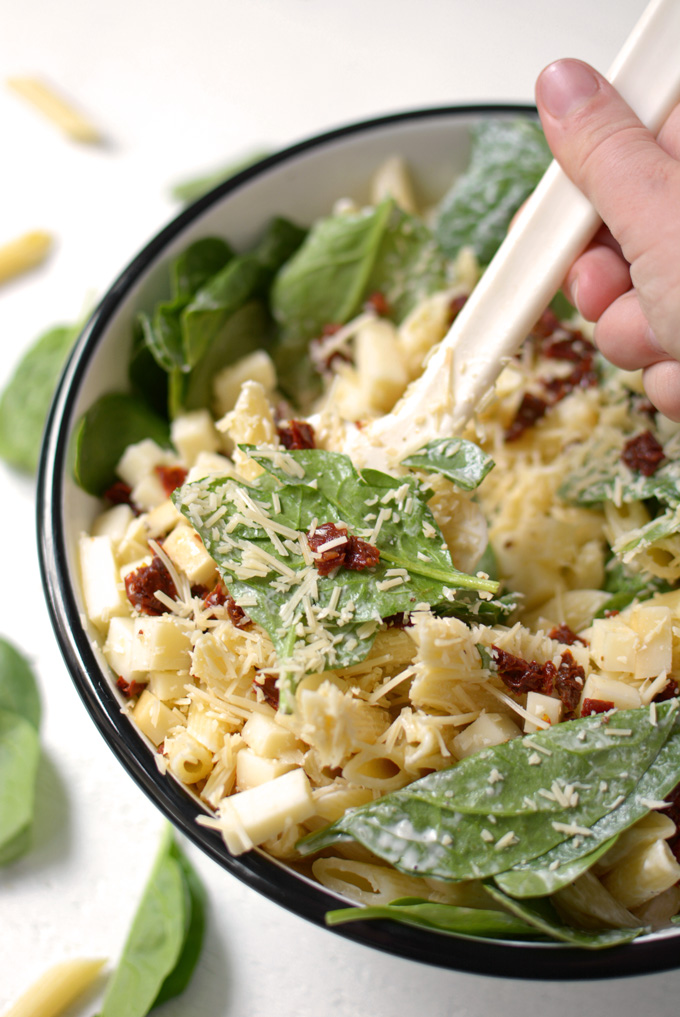 Now, in addition to fireworks, at every good 4th of July picnic there's always a good pasta salad. That's why I made this tasty Smoked Mozzarella and Spinach Pasta Salad just in time for the holiday. It's creamy and it has a savory and salty thing going on with the Italian cheeses and sun-dried tomatoes that's super tasty. It's also a little different than the pasta salads found at most picnics, so it's a delicious way to bring some new flavors to the gathering.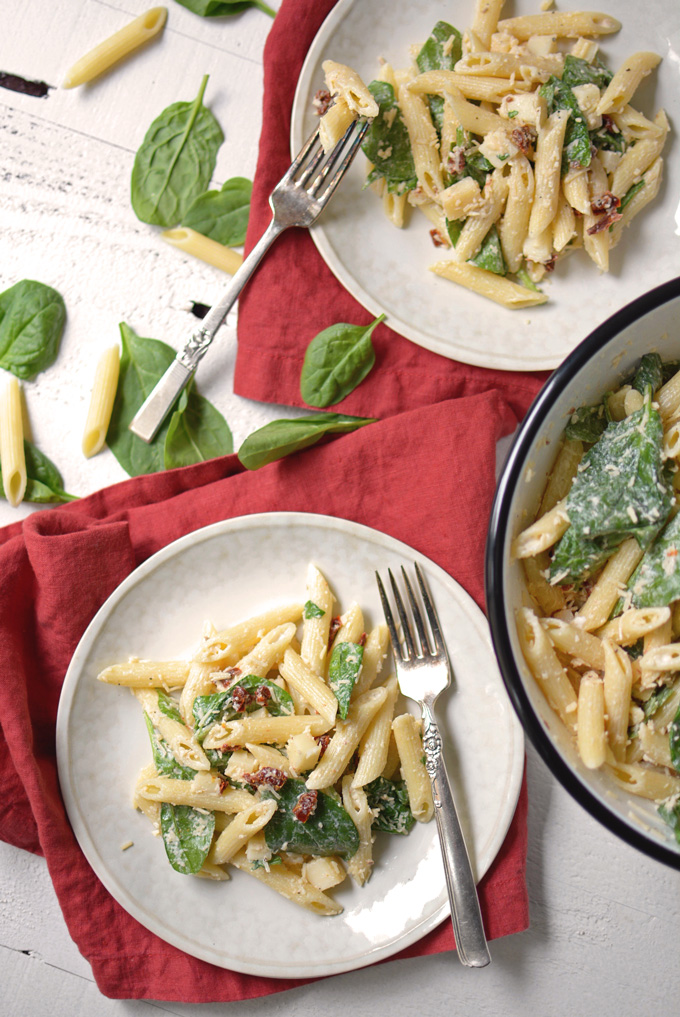 Happy picnicking and happy 4th of July from all of us at Simple Seasonal!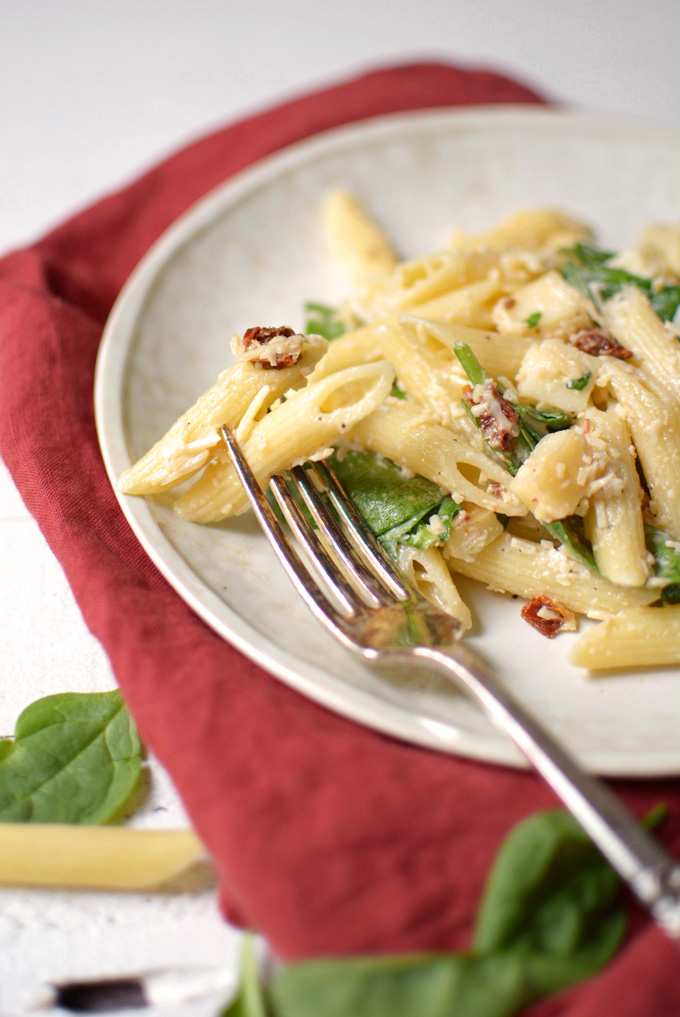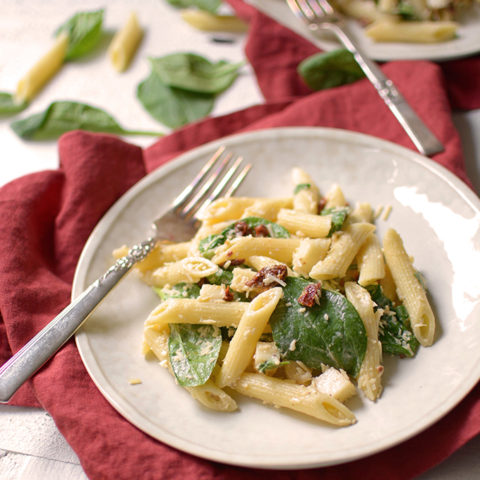 Smoked Mozzarella and Spinach Pasta Salad
Yield: 8 servings

Prep Time: 20 minutes

Cook Time: 12 minutes

Total Time: 32 minutes

Bring something new and different to your summer holiday picnics with this cheesy, zesty, and smoky pasta salad that's sure to be a crowd pleaser!
Ingredients
Salad
1 lb box penne pasta
5 oz baby spinach*
1/2 C sun-dried tomatoes, finely chopped
1 C smoked mozzarella cut into small cubes
1 C shredded fresh parmesan cheese
Dressing
3/4 C mayo
1/2 Tbsp champagne wine or white wine vinegar
2 cloves minced garlic
2 pinches cayenne pepper
1/8 tsp salt
1/2 tsp sugar
1/8 tsp black pepper
2 Tbsp milk
Instructions
Cook 1 box of penne per the package directions. As far as cook time goes for this salad, I cook it between the "cooking time" and the "al dente" package recommendations. For the best pasta, I bring my water to a boil and then add about 1 Tbsp of salt to the pot before adding the pasta. Once the pasta is cooked, drain it and rinse it with cold running water.
While the pasta is cooking, whisk together the dressing ingredients in a large mixing bowl until smooth.
Add the cooked pasta, baby spinach, sun-dried tomatoes, smoked mozzarella, and parmesan to the bowl. Fold the ingredients together until they are evenly coated in dressing. Chill before serving.
Notes
*5 oz of baby spinach is the typical size of a prewashed bag sold at the grocery store.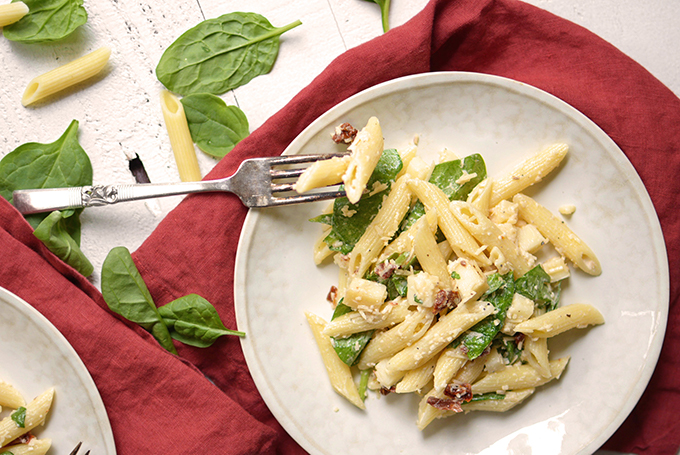 Looking for more summer salad recipes???