Summer Ricotta Toast 5 Ways – Protein-packed ricotta + seasonal produce = pure breakfast bliss with this collection of tasty ricotta toasts – a delicious sampling of fresh summer flavors!
This summer has totally been the summer of ricotta toast. The funny thing is that I never tried the stuff until this June. My husband got the idea from a nutritionist he was meeting with. He came home and was all like "hey, we should try some ricotta toast!" And I was like, "YES! That's an ingenious idea!" And so I made him some ricotta toast – plus a few more pieces – and thus, today's blog post!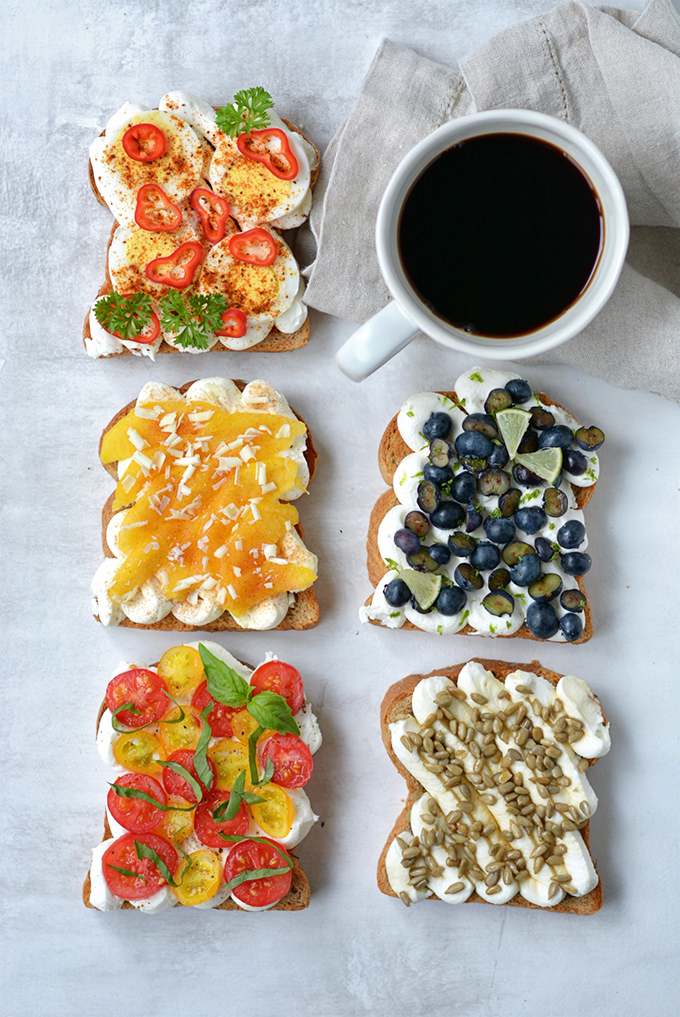 Is Ricotta Toast Healthy?
The great thing about ricotta toast is that the ricotta is an excellent source of protein. It boasts just under 10 grams of protein in the 3 ounces used on each piece. A high protein breakfast is the perfect way to start the day because it will keep you feeling full and satisfied all morning long! Ricotta toast has some other benefits, too. Three ounces of ricotta contains 18% of your daily value of calcium. Paired with hearty whole grain bread there's also some added iron. My slice of toast contained 6% of my daily value of iron. The final touch of fresh summer produce adds healthy vitamins and minerals like vitamins A and C. This natural breakfast really has your morning covered!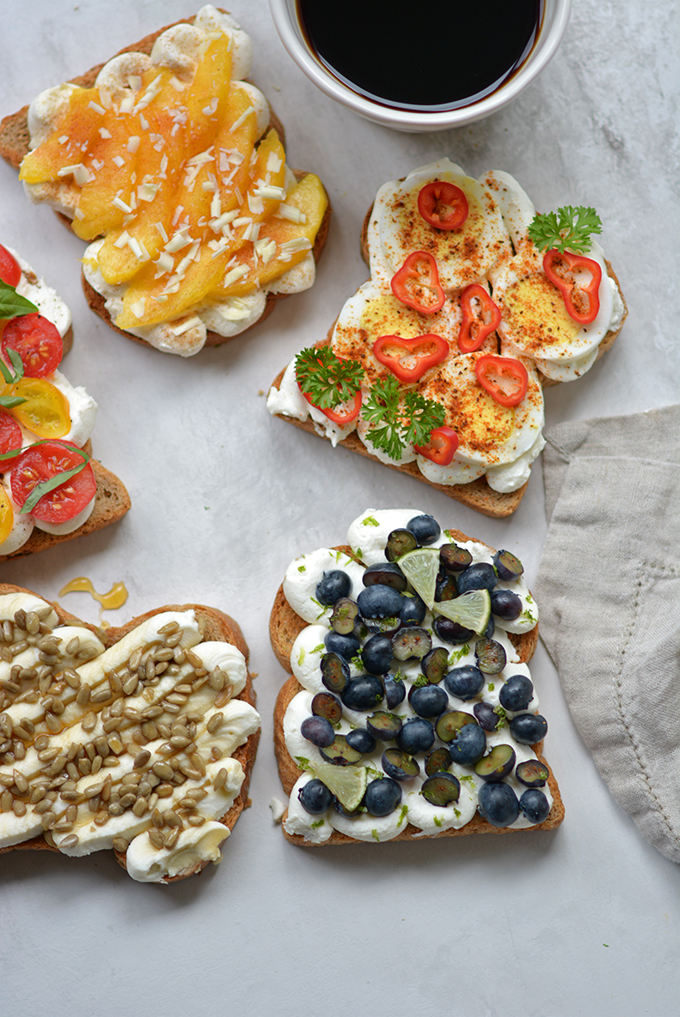 How to make pretty ricotta toast
When you go to make your toast you can just spread your ricotta over it like a normal person. On the other hand, I recommend making your toast look extra pretty by piping your ricotta onto the toast.
Fill a plastic sandwich bag with 3 ounces of ricotta cheese.
Using a pair of clean scissors, clip one corner off of the bag.
Squeeze the ricotta onto the toast from one diagonal corner to the next while making a zigzag pattern.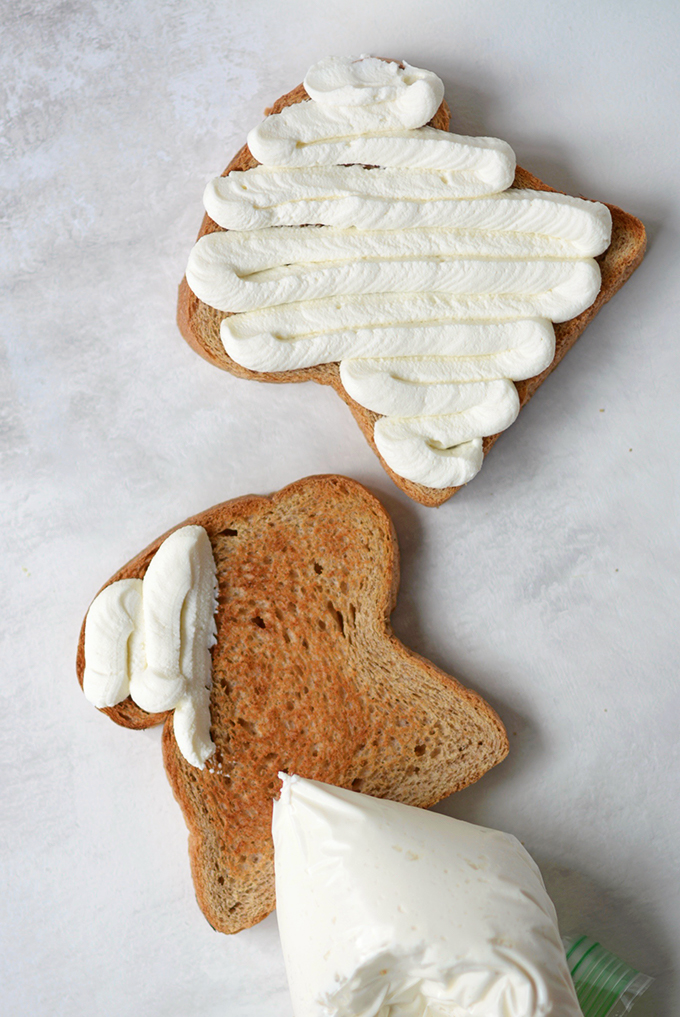 Summer Ricotta Toast 5 Ways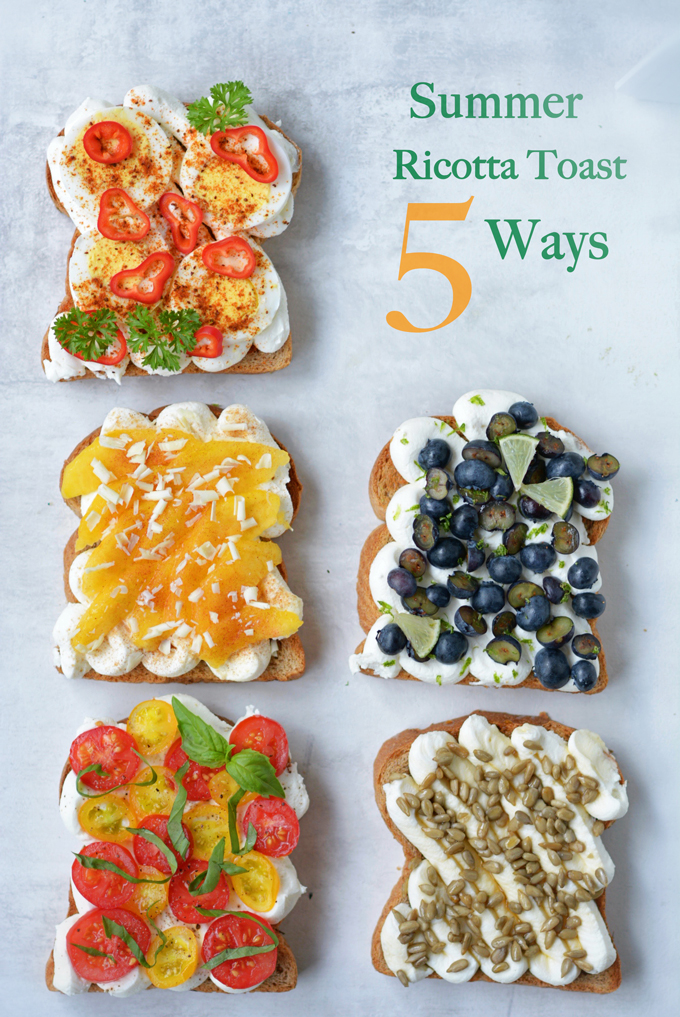 Obviously it's not
just
about the ricotta. It's also about all the delicious toppings. I have 5 different summer ricotta toasts for you check out. Just click the links below to get the recipes. Happy healthy eating!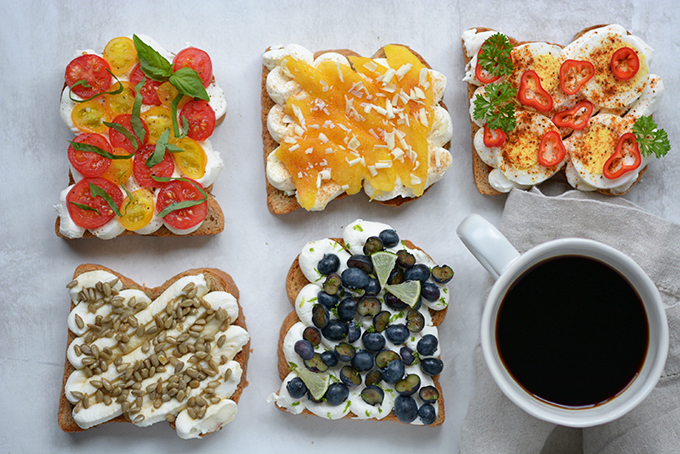 Stay tuned, fall is coming!
Fall is right around the corner and I can't help myself. I've been toasting up some fall ricotta toast ideas. Just as a teaser, the one includes some pumpkin and some spice and it's especially nice!
If you enjoyed these healthy ideas, you may also enjoy…