Philly Style Italian Sausage and Pepper Sandwiches – Celebrate Father's Day with this Philly favorite that's perfect for summer grilling. Plus, enter to win $75 towards a unique Father's Day gift – a beautiful wooden wrist watch by JORD!
Every year on Father's Day, my husband gets to choose what's for dinner and it's my job to make it happen. I always suggest we celebrate by going out to eat, but every year he wants to grill, chill, and sip on craft beer. He does this while playing with our rambunctious 5-year-old out on the patio. It's like his Father's Day wish is to revel in fatherhood. What a good daddy!
This year his Father's Day dinner of choice is Philly Style Italian Sausage and Pepper Sandwiches. Now, if you're visiting Philadelphia for the first time (or even the 10th time), chances are you're planning on stuffing your face with one of the city's famous Philly Cheesesteaks. But did you know that the other Philly signature sandwich is an Italian sausage and pepper sandwich topped with broccoli rabe and some sharp provolone? Yes! You read that right. Broccoli rabe! Cooking it until tender in white wine with a little garlic and hot pepper flakes knocks the bitterness out of the green vegetable and turns it into something delightfully sweet, tangy, and spicy. This broccoli rabe pairs perfectly with sweet Italian sausage and sautéed peppers and onions. Try it for yourself… I think you'll be pleasantly surprised!
In addition to making my husband's favorite sandwich happen this Father's Day, my son and I also decided to give him a unique gift. I can list so many ways that he is such a good father and husband, from being my equal partner in life, to being an excellent provider, and taking the time to teach my son about being a man and shepherding his little heart.
My husband has been needing a new wrist watch, and this one made of Zebrawood and Maple from the Fieldcrest Series by JORD is perfect. He loves its simple and rugged design and the fact that it's lighter than a metal watch, making it cool and comfortable for the summer season.
These are perfect gifts for men (and let's face it – unique gift ideas for men are hard to come up with sometimes…). If there's a Dad in your life who would look good sporting this or another cool wooden watch by JORD, be sure to check out their men's line. Oh, and ladies – they have a women's line as well. 😉
Win $75 Off Any JORD Wooden Wrist Watch + an Extra Bonus!
Now here's the best part… To help celebrate Father's Day, JORD has teamed up with Simple Seasonal to offer our readers a chance to win $75 off any product, as well as $20 off just for signing up! The winner will be notified by email on 6/10/16, so hurry and enter before it's too late! Good luck!
Finally, this note. For all the good daddies out there, thanks for all your love and commitment to your families. You make your homes, and this world, a better place!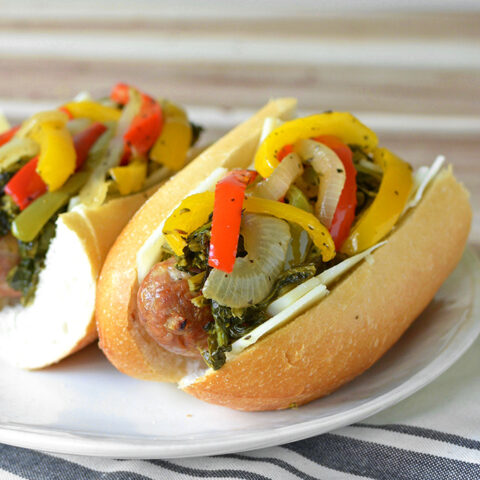 Philly Style Italian Sausage and Pepper Sandwiches
Yield: 4 servings

Prep Time: 25 minutes

Cook Time: 35 minutes

Total Time: 1 hour

Celebrate the spirit of Philly with this unique sandwich that's perfect for summer grilling.
Ingredients
Broccoli Rabe
1 bunch broccoli rabe (about 1 pound)
1-2 Tbsp olive oil*
1/2 C white Italian wine divided
1 clove minced garlic
hot pepper flakes to taste
1/4 tsp salt
Sweet Peppers and Onions
1 red pepper sliced
1 yellow pepper sliced
1 green pepper sliced
1 large sweet onion sliced
1 Tbsp olive oil*
1/2 tsp dry basil
1/4 tsp dry oregano
1/4 tsp salt
Sandwiches
4-8 sweet Italian sausages (depending on the size of the sausage)
4 steak or hoagie rolls
1/4 lb block sharp provolone cheese, thinly sliced
Instructions
To prepare the broccoli rabe, wash it and then remove the leaves from the stems and set them aside. Trim the tough ends off of the stems (an inch or two) and then roughy chop. Place in a covered pan with the olive oil, hot pepper flakes, salt and 1/4 C of white wine. Cook covered over medium heat for 12-15 minutes or until the stems become soft. Next, roughly chop the leaves and add them to the pan with the garlic and another 1/4 cup of white wine. Cook uncovered over medium heat until the leaves are wilted and all of the liquid is evaporated. Note that while the broccoli rabe is cooking, this is a good time to preheat and clean your grill.
For the sweet peppers and onions, slice them up and cook in a skillet over medium-low heat with olive oil, dry basil, dry oregano, and salt for about 15 minutes, or until they become tender.
While the peppers are cooking, grill the sausages over direct medium heat until they reach an internal temperature of 165º, turning once or twice.
To assemble the Philly Style Italian Sausage and Pepper Sandwiches, line a hoagie roll with sliced sharp provolone cheese, add the cooked sweet Italian sausage, and top with broccoli rabe, peppers, and onions. Be sure to get the sharp provolone instead of regular provolone as it really does make a difference in flavor. Serve immediately.
Notes
*Less olive oil can be used to cook the peppers and broccoli rabe to cut on fat. I used a larger amount in this recipe to make it more authentic.



If you enjoyed this recipe, you may also enjoy…