Zucchini and Peppadew Pepper Salad – Think beyond the "zoodle" with this fresh summer salad that's bursting with bright, zesty flavors!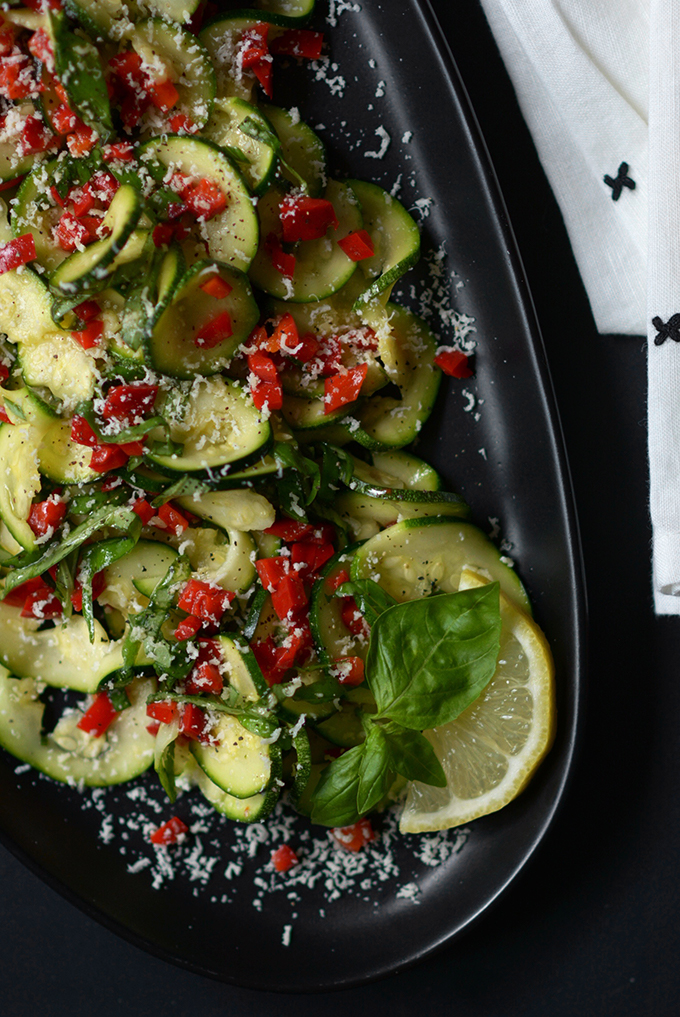 I've got to be honest. Over the last few years I've grown weary of zoodles (i.e., zucchini noodles). Seriously, I don't care what anyone tries to claim – zucchini noodles are not even close to being a 1-to-1 replacement of satisfying, carbo-licious pasta.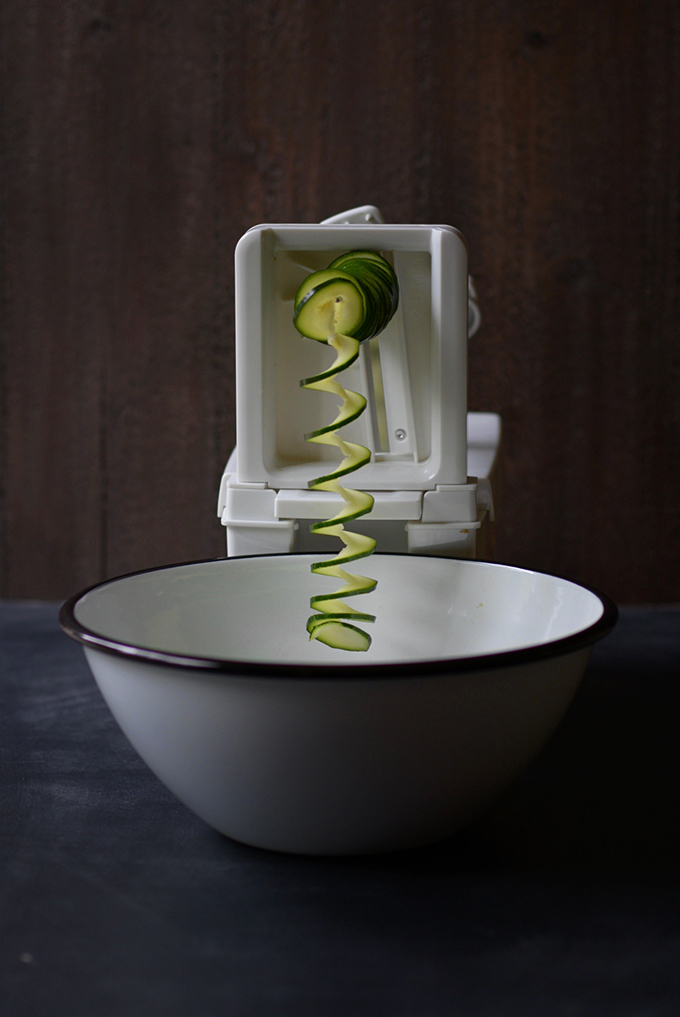 Despite my disparaging of the zoodle, I'm still excited about my new spiralized zucchini recipe. It's a Zucchini and Peppadew Pepper Salad. The key to this recipe is that the zucchini isn't trying to be a noodle. It's just trying to be itself – zucchini!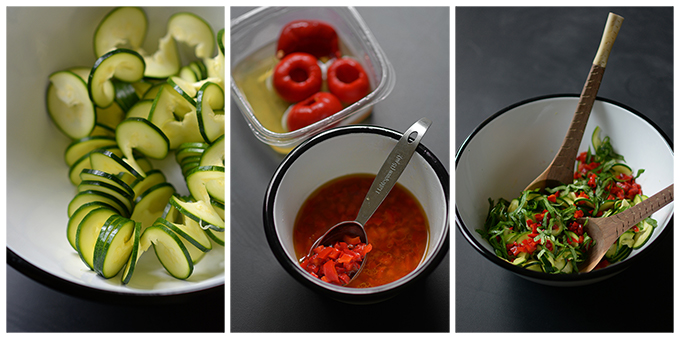 In this salad the light lemon dressing with fresh, sweet basil brings forward the delicate flavor of the zucchini. Lest this salad become boring, with each bite there are little zings of heat and a touch of sweetness from tiny bits of peppadew peppers. Finish this pretty and simple salad with a sprinkling of parmesan cheese and it's not just pretty to look at, but it's delicious to crunch into!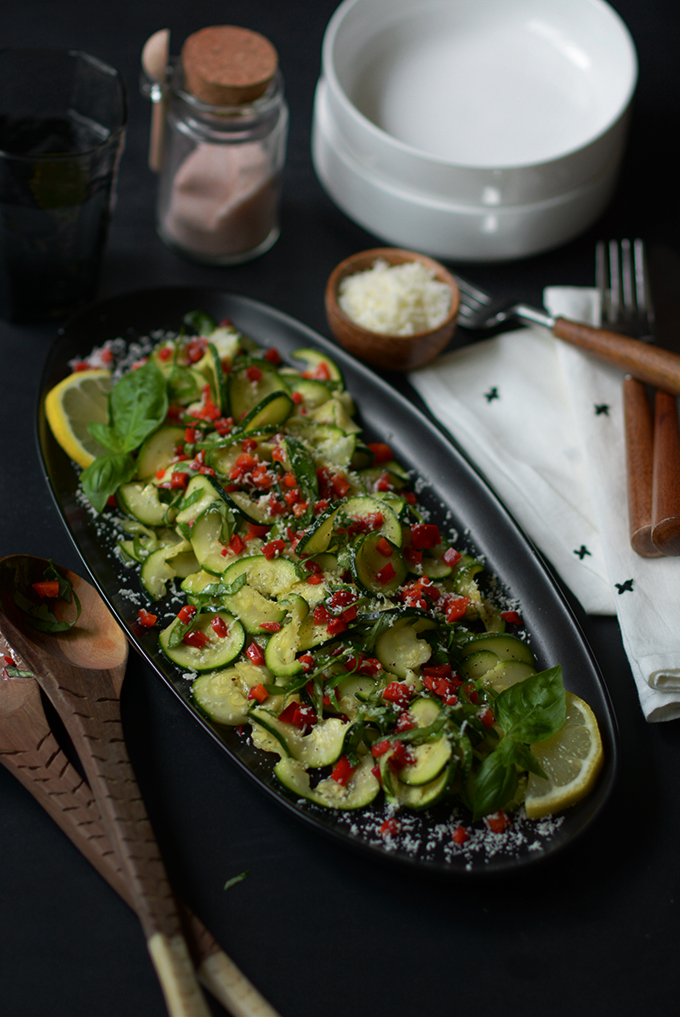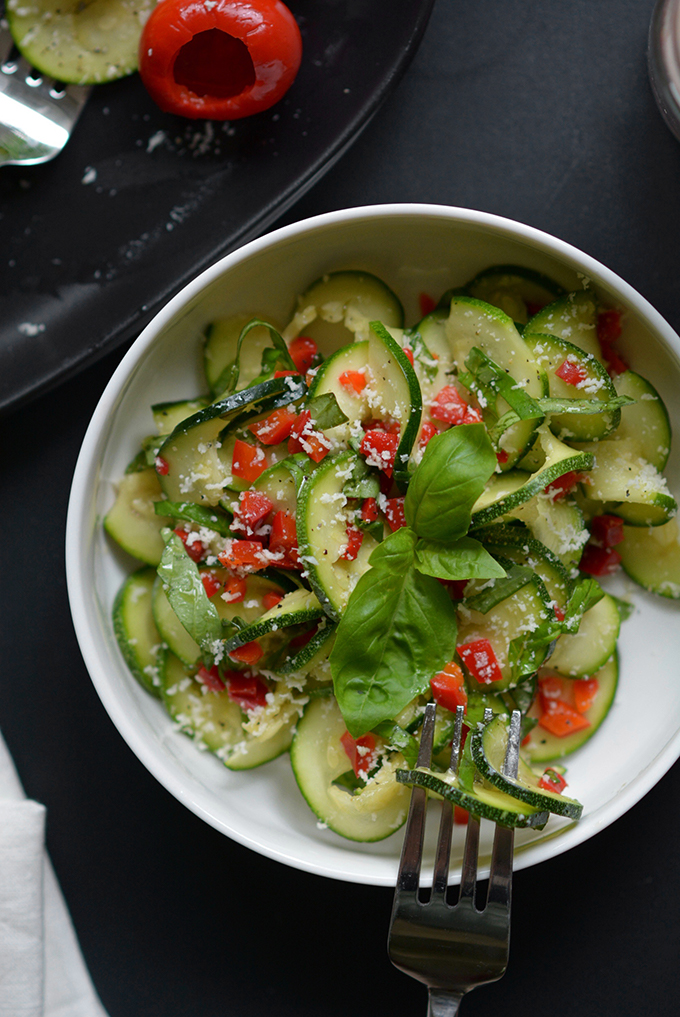 Perhaps one day after January 1st but before February 14th I'll rekindle my passion for zucchini "pasta." Until then, however, you can find me twirling long semolina noodles on my fork after crunching into this tasty side of Zucchini and Peppadew Pepper Salad!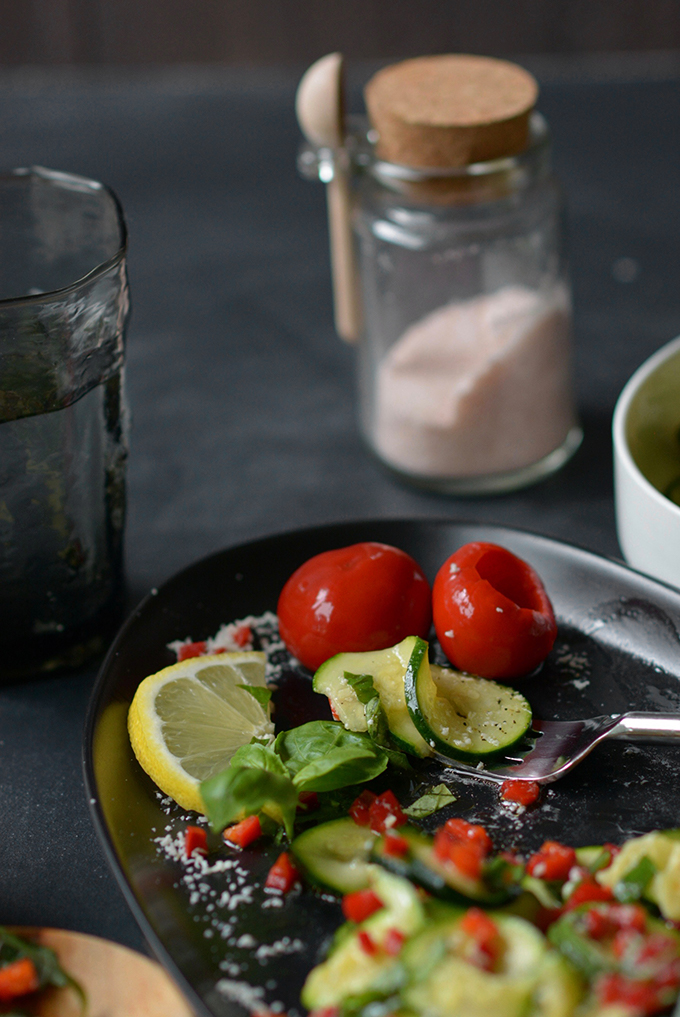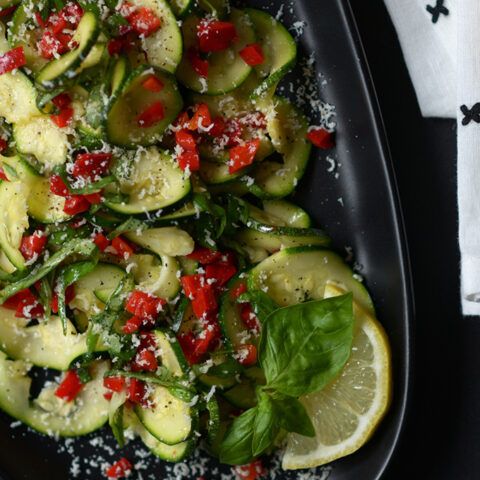 Zucchini and Peppadew Pepper Salad
Yield: 4 servings

Prep Time: 40 minutes

Total Time: 40 minutes

Think beyond the "zoodle" with this fresh summer salad that's bursting with bright, zesty flavors!
Ingredients
3 medium-sized zucchinis (about 1 lb)
1/2 tsp salt
1-3 peppadew peppers,* finely chopped
3 Tbsp fresh squeezed lemon juice
2 Tbsp olive oil
1/2 C fresh basil, cut into ribbons and loosely packed
4 Tbsp freshly grated parmesan cheese
salt and pepper to taste
Instructions
Cut the zucchini into thin noodles. This can be done by slicing lengthwise with a vegetable peeler. If you have a spiralizer you can cut the zucchini into dramatic ribbons as shown in my blog post. If using the spiralizer, snip the log spirals into 3 inch segments.
Sprinkle 1/2 tsp of salt over the zucchini and toss to coat. Allow the zucchini to sit for 30 minutes and then drain off any excess liquid.
While you're pulling the water off of your zucchini prep your other ingredients. First, cut the peppeadew peppers into small pieces and place them in a small bowl. In the same bowl gently whisk in the olive oil and lemon juice and then set aside. Cut the basil into ribbons by rolling up a stack of leaves and then slicing. Much like a cake roll, except with basil.
Once the zucchini is drained, pour the dressing over the top of it and toss to combine. Sprinkle with fresh basil as well as fresh cracked pepper to taste. Garnish with freshly grated parmesan cheese.
Notes
*Peppadew Peppers (the proprietary name) also known as the piquanté peppers, are sweet and mildly spicy peppers that have been pickled. They can be found in the jarred section at the grocery store and they are also available on some olive bars.



You May Also Enjoy…