Baked Rutabaga Fries – When you love junk food but you're trying to make healthier choices, these hot, crispy baked rutabaga fries really hit the spot!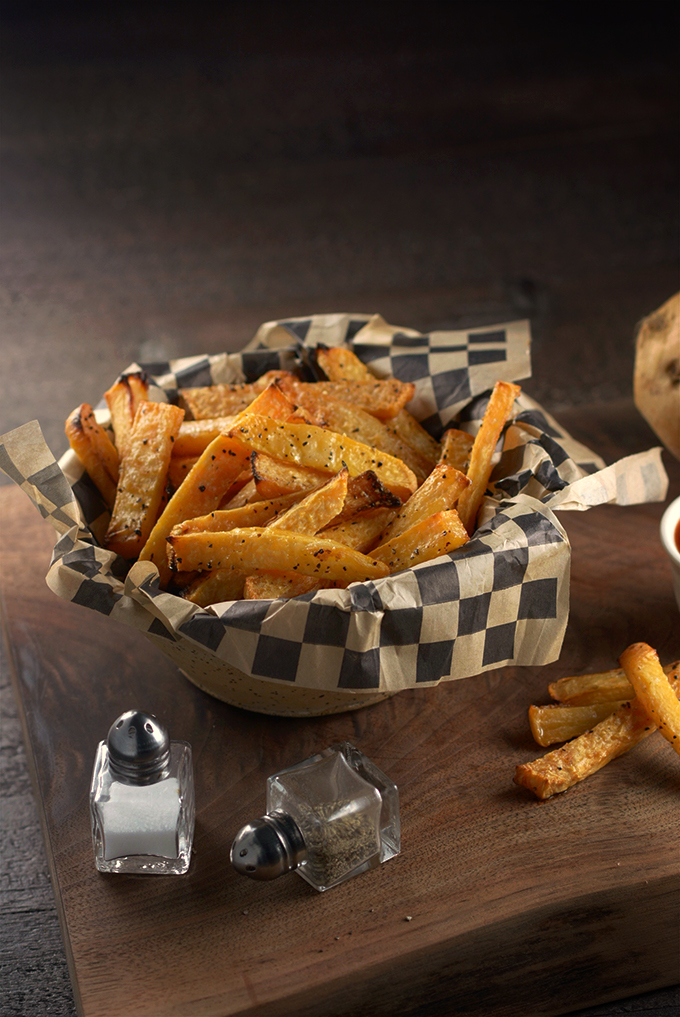 So, last winter I lost 30 pounds! Then the summer came along… When I wasn't working at the hospital I had both kids at home with me ALL THE TIME. And I gained back 25 lbs…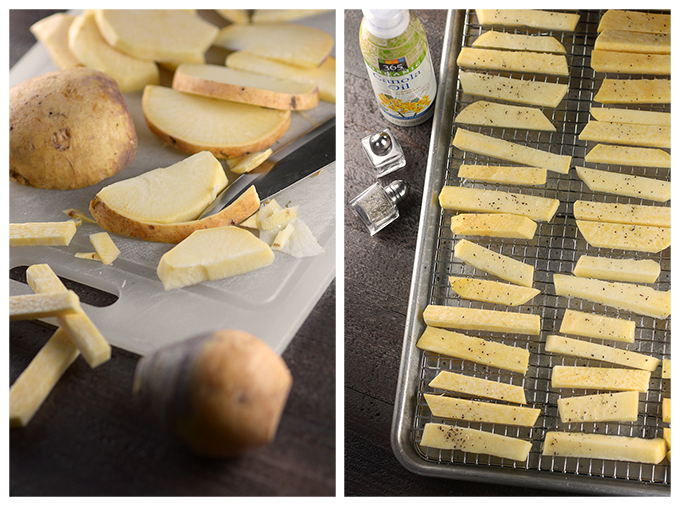 Not to brag, but when I'm with my patients I have the patience of a saint. When it comes to kids, however, I'm a mess. The constant whining, bickering, and the need to be entertained and fed continuously stresses me out. I try not to let it manifest itself by yelling at my kids, but that kind of stress comes out one way or another.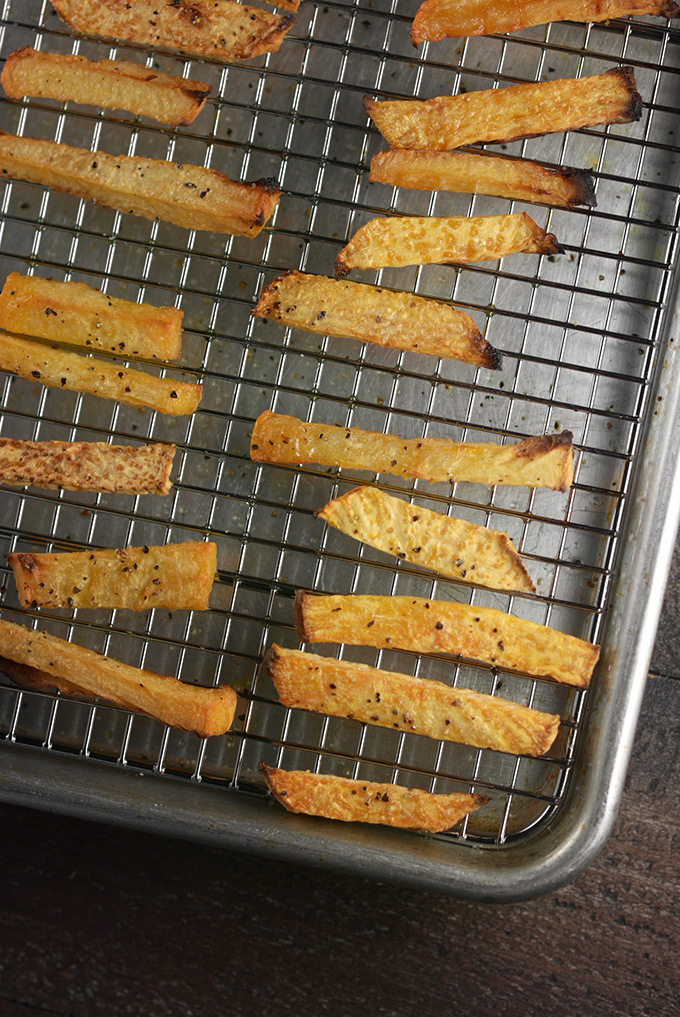 This past summer I discovered something about myself. I deal with the stress of motherhood by baking cookies, going to Chick-Fil-A (they have a playground after all), and by taking my kids to our local creamery for ice cream. I pretty much sabotaged myself over the summer.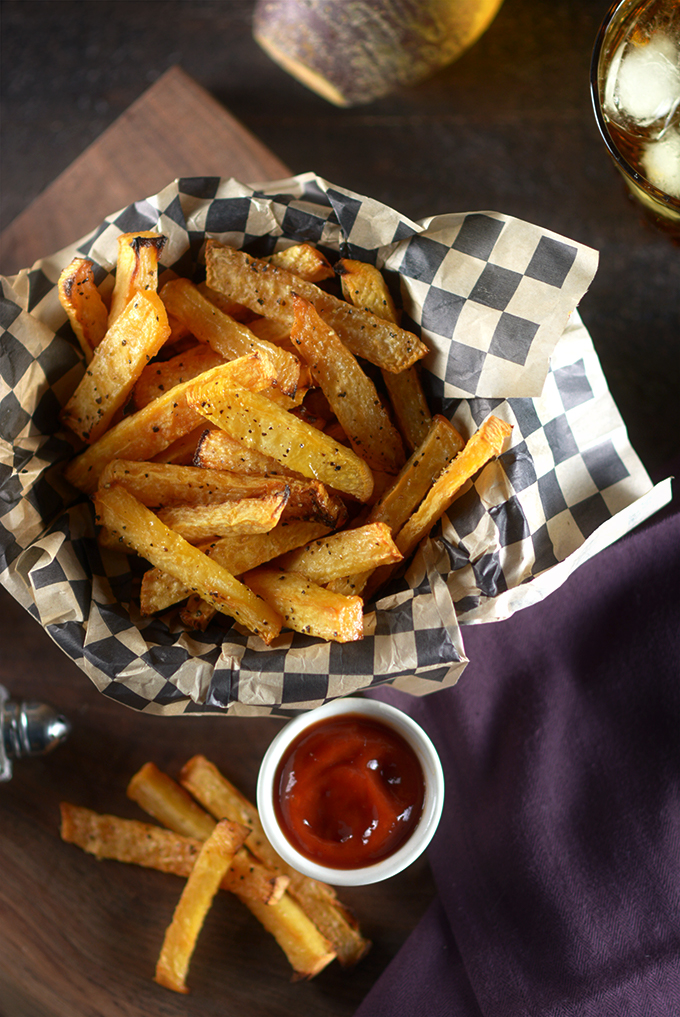 Now it's a new year and I've gotta lose those 25 lbs AGAIN.
One of my favorite stress eating comfort foods happens to be french fries. At least once a week, after working a 12+ hour shift, I buy a healthy salad and a large fries. I'm not proud of the latter. Last winter I owed some of my success to reducing my carb intake (sugar, bread, and potatoes).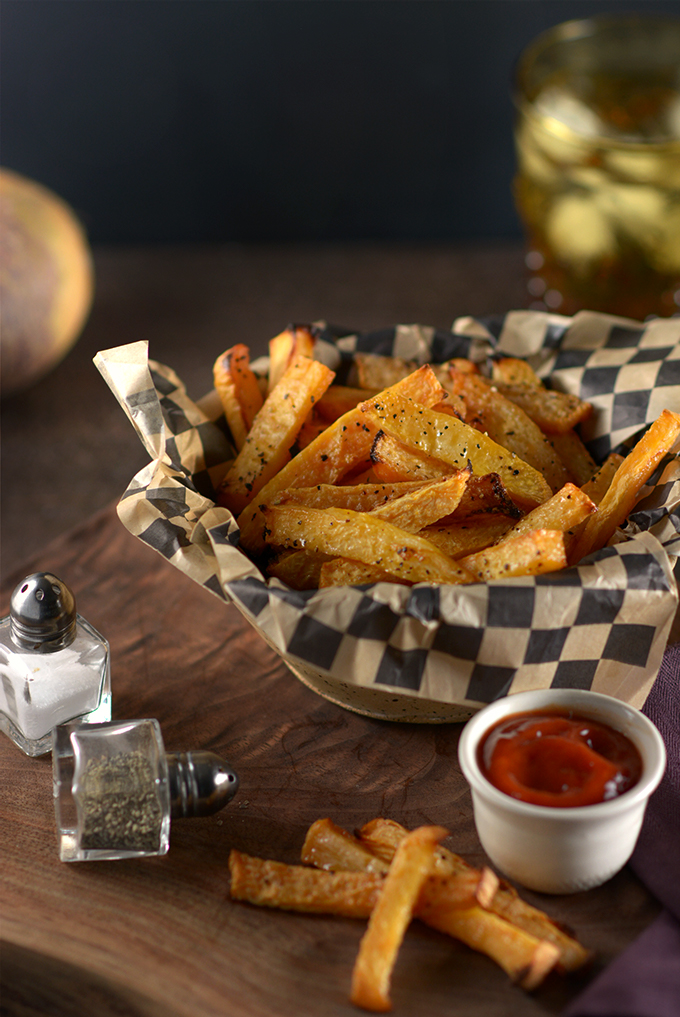 My love for comforting, delicious fries spurred me on to experiment with rutabaga fries. I've decided that they're pretty awesome and they totally hit the spot. I like mine peppery, but the kids even love them if I hold the pepper.
Part of what makes this recipe so good is that I bake the rutabaga fries on a baking rack, making their texture more fry-like. Other than that, the recipe is super simple and super easy.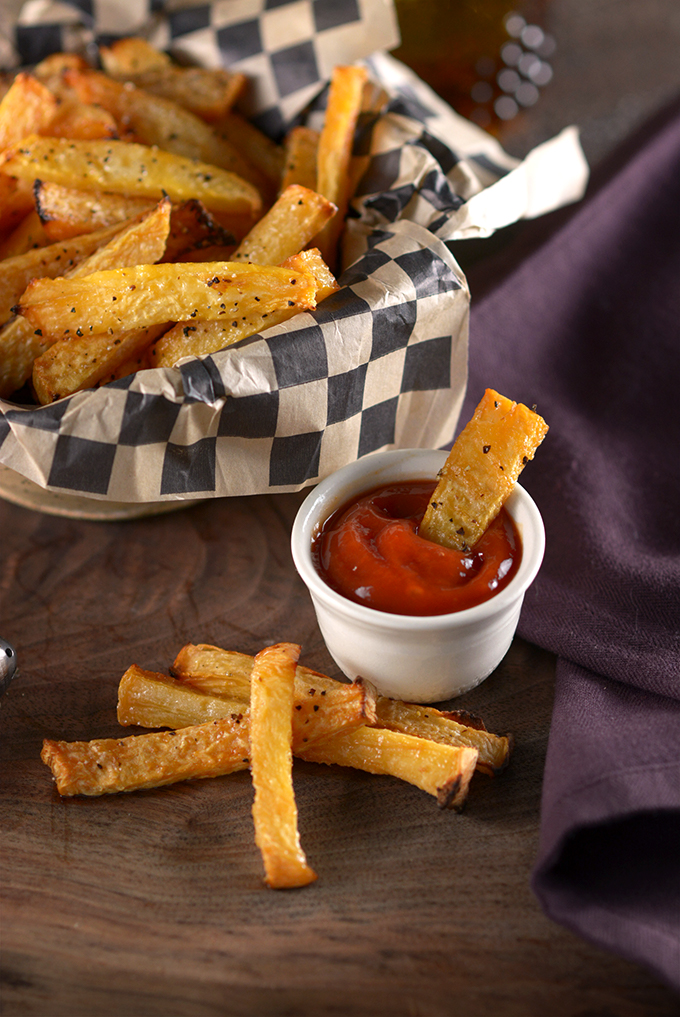 If you're like me and love your junk food, but you're trying to make healthier choices, then I think you'll love this recipe! Stress eat away! Well, at least on these rutabaga fries…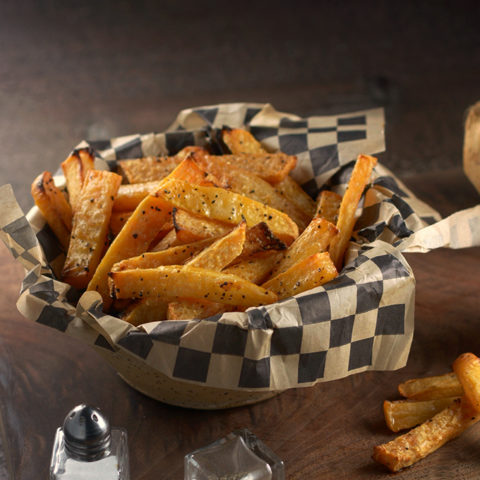 Baked Rutabaga Fries
Total Time:
1 hour
5 minutes
When you love junk food but you're trying to make healthier choices, these hot, crispy baked rutabaga fries really hit the spot!
Ingredients
3 lbs rutabagas (1.5 lbs per person)*
canola cooking spray with no additives
1/2 tsp fine sea salt
1/4 tsp black pepper (more or less to taste)
wire baking rack
Instructions
Preheat oven to 425ºF.
Cut the ends off of the rutabagas, peel them, and cut them into 1/4 inch thick fries. Some rutabagas come coated in wax. To remove the waxy peel cut the rutabaga in half and then into slices. Finally, remove the peel by cutting it away from the slice with a sharp knife. Do this much like you would cut the peel away from a sliced apple (see picture in blog post). Finally rinse off any remaining wax particles and pat dry with a towel.
Place an oven safe baking rack on a large baking sheet. The wire rack is important. The moisture content of rutabagas is higher, and the starch content is lower when compared to potatoes. Using the wire rack keeps them from becoming soggy.
Arrange the rutabaga fries on the wire rack. Lightly coat them with a high heat cooking spray. I used canola oil. Flip the fries over and evenly season with salt and pepper. Evenly and lightly coat again with the high heat cooking oil spray.
Place in your preheated oven and bake for 40-50 minutes. There is no need to flip as you are using a baking rack. The rutabaga fries are done cooking once they are soft in the center and golden brown and crunchy on the outside. Serve immediately.
Notes
*This recipe makes enough for 2 people. If you're planning on making rutabaga fries for a larger crowd, plan on using 1.5 lbs of rutabagas and 1/4 tsp of sea salt per person. Season with black pepper to taste. When you put your fries on a baking rack it will seem like a lot, but the rutabagas shrink as you cook them.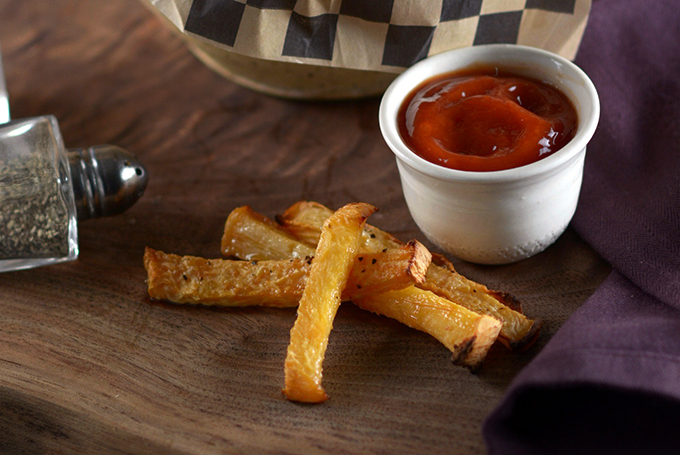 You may also enjoy…