Oven Roasted Fennel – Get to know the oft-misunderstood fennel plant with this easy, savory, and totally accessible side dish!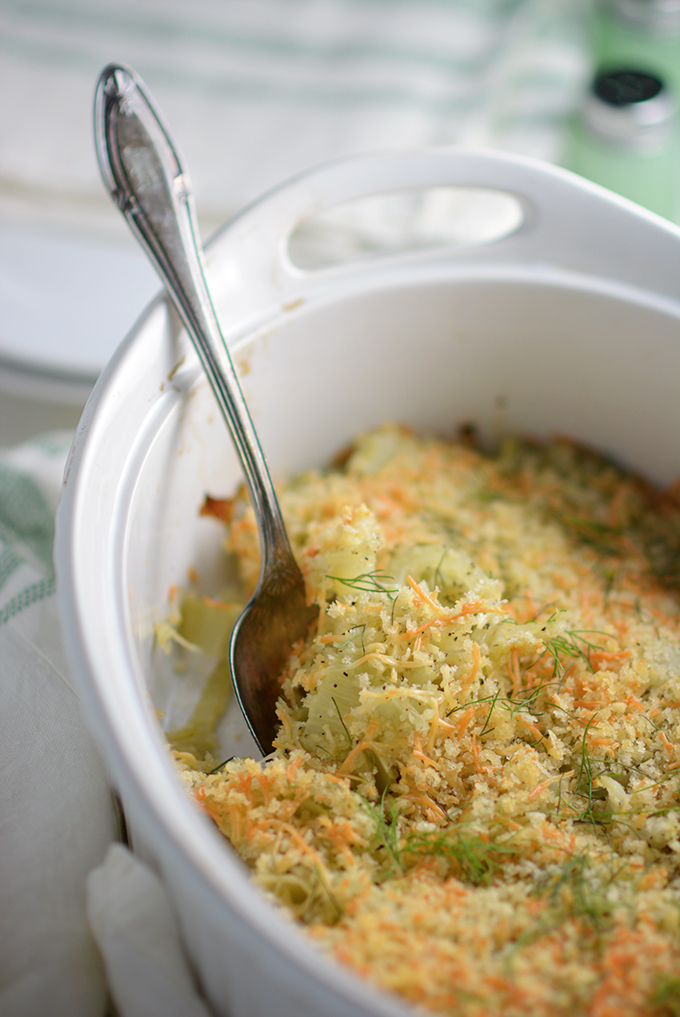 Fennel is one of those vegetables that I pass in the grocery store and wonder, "Who actually buys that crazy looking thing?" Being a food blogger, I like to imagine what sort of home the fennel ends up in and what they do with it. The truth is, I can't recall a time when someone told me that they were making fennel, so it's all purely theoretical.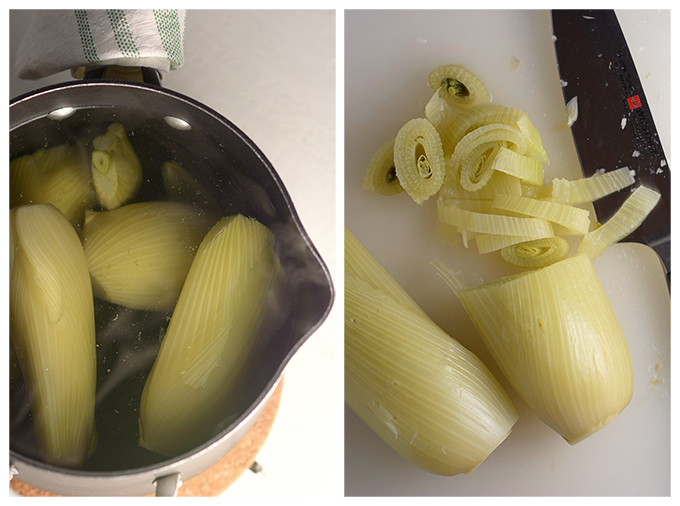 The truth is, most normal people don't know what to do with the stuff. It's kind of like trying to cook a miniature tree in your kitchen – and no one wants to eat a tree. It's awkward, with fronds poking out here and there, and then there's that tough stalk. Black licorice isn't doing fennel any favors, either. I can't help but associate the smell with accidentally eating the licorice-flavored Jelly Beans at Easter.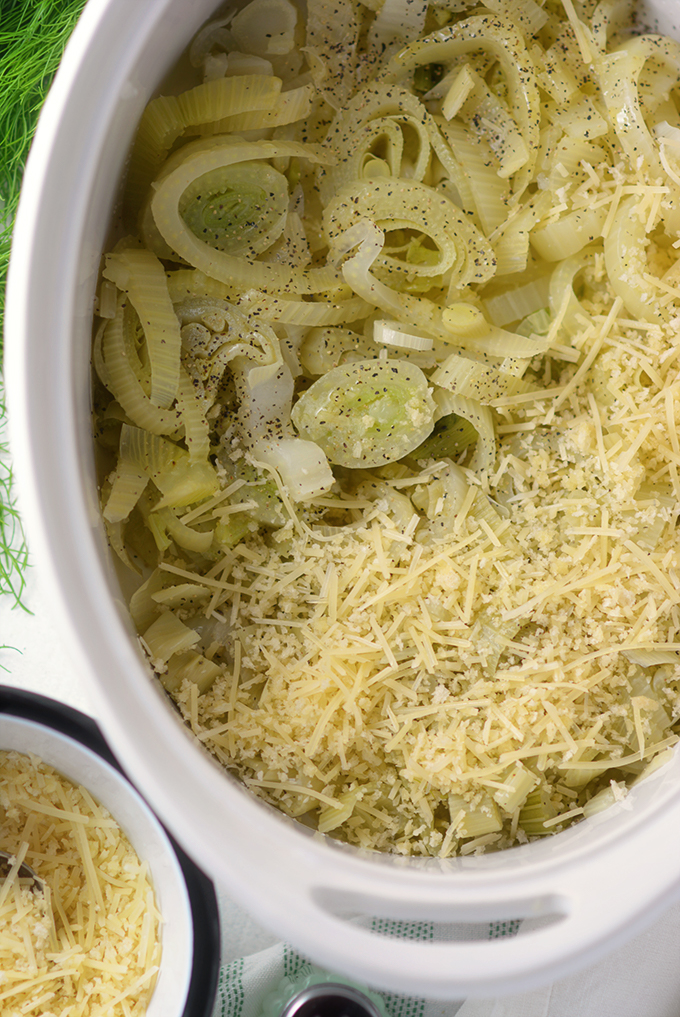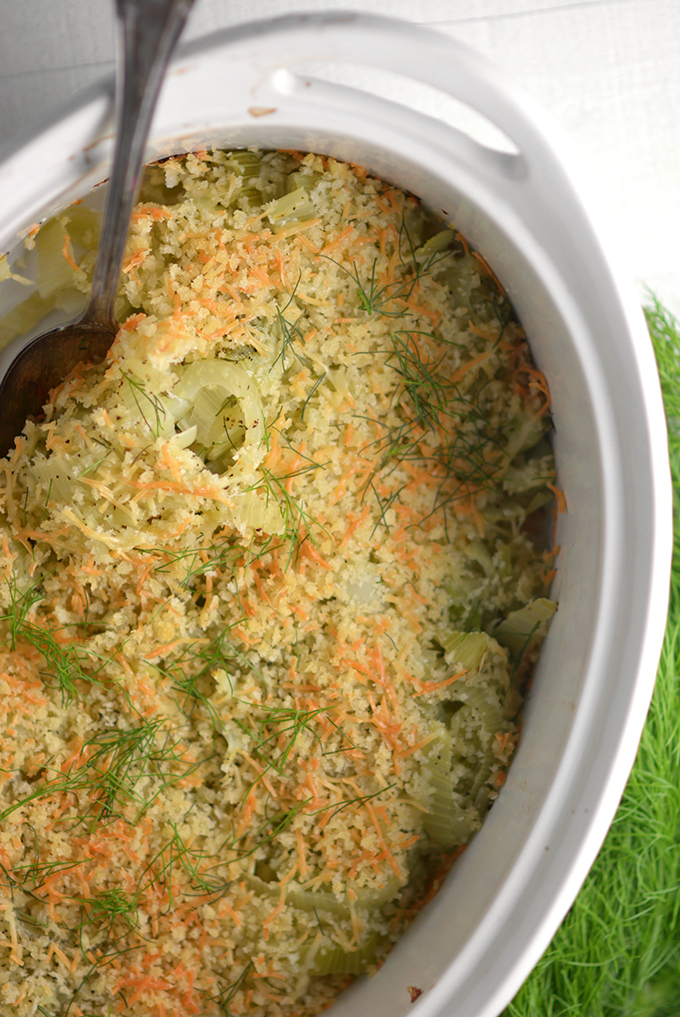 The truth is that fresh fennel isn't black licorice. What doesn't seem to work in a candy totally works in savory dishes. My recipe for Oven Roasted Fennel is a great place to start exploring the wonderful and under-appreciated fennel plant. This recipe is so simple. This dish makes the fennel the star of the show while also making it tender and mild in flavor.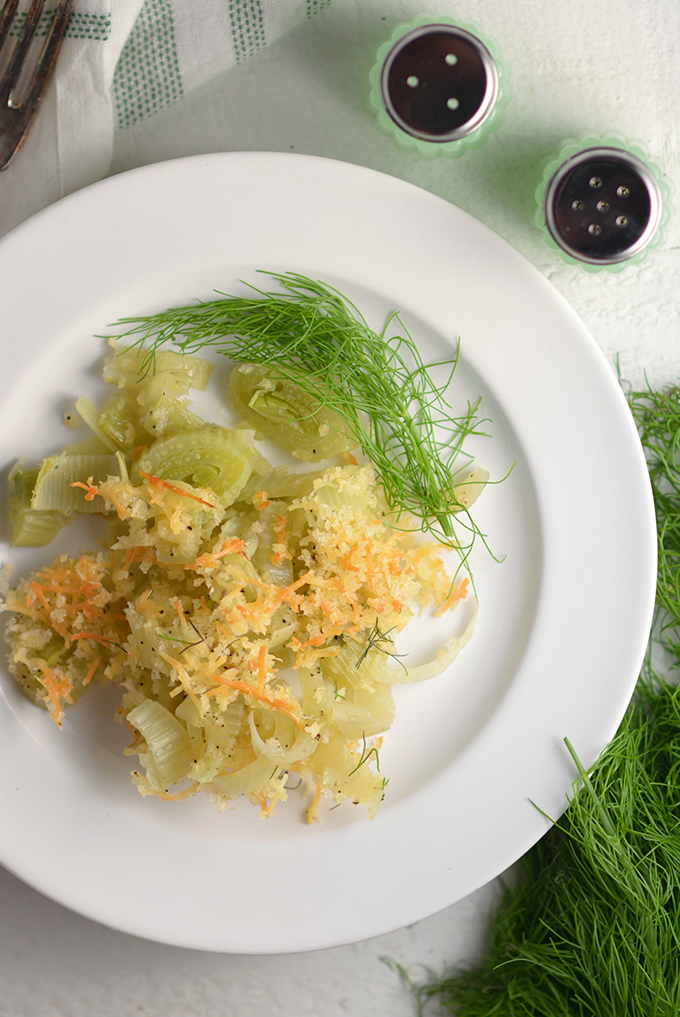 In the end I'd like to think the grocery store fennel goes to a good home with a bright kitchen where both its bulb and fronds will be enjoyed. If you're trying to figure out what to do with your fennel, I hope this simple recipe helps!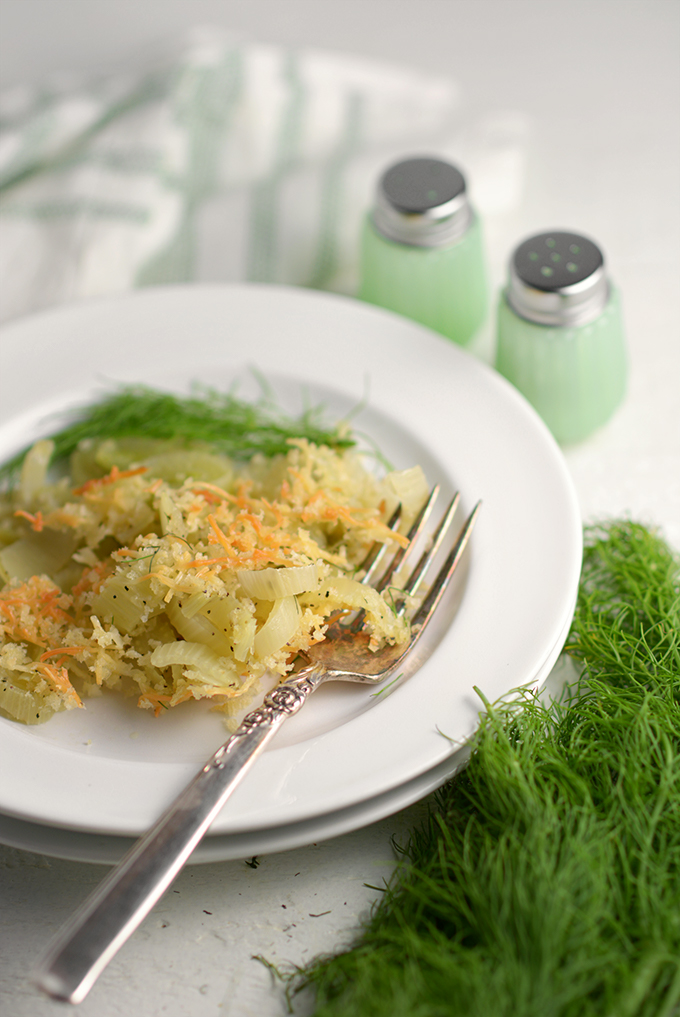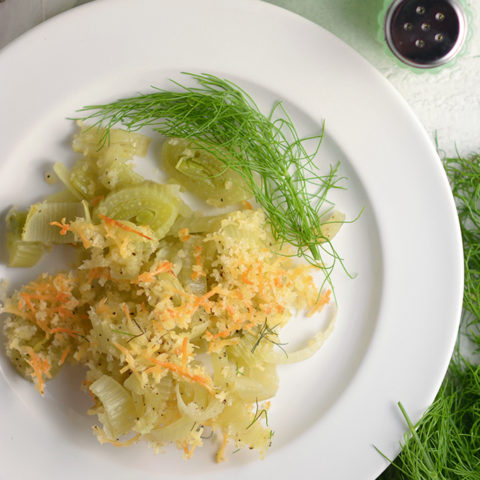 Oven Roasted Fennel
Yield: 4 servings

Prep Time: 20 minutes

Cook Time: 35 minutes

Total Time: 55 minutes

Get to know the oft-misunderstood fennel plant with this easy, savory, and totally accessible side dish!
Ingredients
1 lb fennel bulbs
2 Tbsp melted butter, divided*
1/2 C grated parmesan
1/2 C panko bread crumbs
1/2 C coarsely chopped fennel fronds
salt and pepper to taste
Instructions
Preheat oven to 375º F. Fill a medium-sized pot three quarters full with water and bring to a boil.
Clean the fennel bulbs and remove the stems, as well as the tough outer layer as needed. Place the fennel bulbs in the pot of boiling water. Boil for approximately 10-15 minutes. The fennel is done cooking when it's fork tender. Drain the water from the pot and allow the fennel to cool for 5 minutes or until it's cool enough to handle.
While the fennel is cooling, melt the butter in the microwave using a microwave-safe dish. Place approximately 1 Tbsp of the melted butter into a small mixing bowl with the parmesan cheese and panko bread crumbs. Gently mix to evenly combine and then set aside.
Slice the cooked fennel bulbs on the horizontal, so that the slices have the appearance of 1/4 inch rings. Once sliced, pat the fennel dry with a paper towel.
Evenly spread out the sliced fennel on the bottom of a 2.5 quart casserole dish. Drizzle the remaining melted butter over the fennel. Last, evenly sprinkle the panko/parmesan mixture over the fennel.
Roast in a 375º F oven for 20-25 minutes. The dish is done when the bread crumb topping is golden brown. Garnish with coarsely chopped fresh fennel fronds. Serve immediately as a side dish. It's also delicious mixed into pasta.
Notes
*2 Tbsp of butter makes for a light dish with a mild butter flavor. Melt up to 4 Tbsp butter if you desire a richer dish.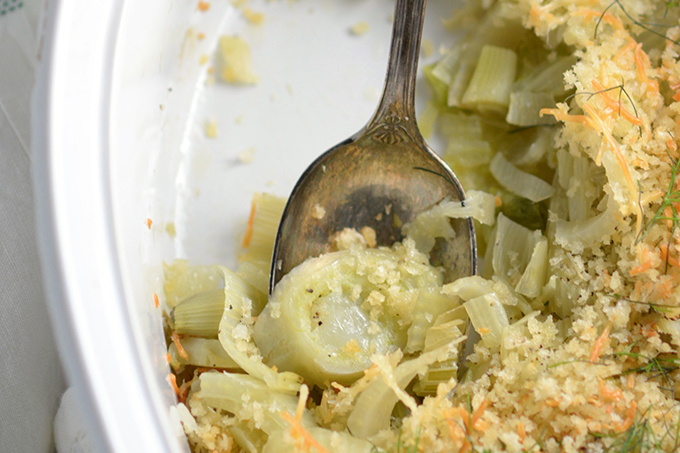 You may also enjoy…