Fennel and Carrot Purée – Not sure how to incorporate fennel into your kitchen? This rich, creamy purée is about to change all that!
I mentioned a couple of posts ago that I'm a dipper. Instead of a dip today, however, I have a purée. A purée is basically like a dipping sauce for food snobs, though… Think vegetables that have been cooked in herbs until they're sweet and tender, and puréed until smooth with heavy cream or crème fraîche (or in this case, both)! The result is rich, yet fresh, adding complexity and general deliciousness to whatever you dip in it.
Now, I understand that this dish has fennel in it, and, well… Fennel is one of those strange and unusual vegetables that doesn't regularly find its way into the average kitchen. When I was newly married and first embarked on my adventure to be master of my kitchen, all I knew was that fennel was used for making black licorice… Yuk! I have since learned that, when not the sole ingredient, it actually has a lot to add to a dish. When cooked, it takes on a mild herbal quality and adds another layer of flavor to a dish that doesn't suggest black licorice in the least. So I encourage you to give fennel a second chance – outside the licorice category, that is…
Even if you're not a food snob, but you are a dipper, I think you'll find this Fennel and Carrot Purée pretty fabulous. It's creamy and tart and perfect for serving with scallops or white fish. If you're the beefy type, omit the lemon and unashamedly smother your steak or lamb in this stuff. Sure, this purée isn't particularly low in fat, but with all the carrots and fennel that go into it, you'll be getting a generous dose of vitamins A and C. Let's just say it's a heck of a lot better for you than tartar or steak sauce, and I would argue a heck of a lot tastier!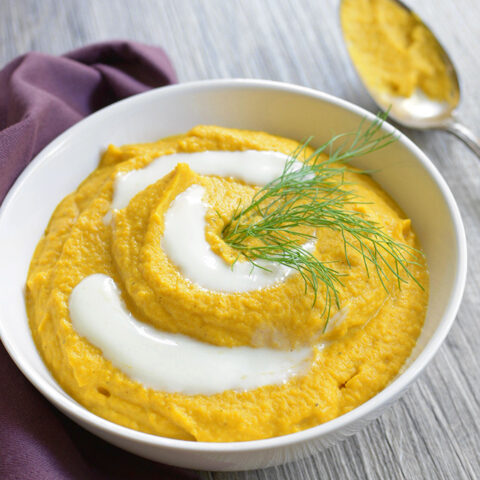 Fennel and Carrot Puree
Yield: 4 servings

Prep Time: 15 minutes

Cook Time: 45 minutes

Total Time: 1 hour

Not sure how to incorporate fennel into your kitchen? This rich, creamy purée is about to change all that!
Ingredients
3 C chopped carrots
1 1/2 C chopped fennel bulb
1/2 C diced yellow onion
2 sprigs thyme
2 Tbsp olive oil
3 C low sodium vegetable or chicken broth
1/2 C crème fraîche
1/4 C heavy cream
zest of 1 lemon plus 1 Tbsp lemon juice
1/2 tsp salt
pepper to taste
Instructions
Combine the carrots, fennel, yellow onion, thyme and olive oil in a pan and cook over medium heat until the carrots are tender (about 30 minutes). Next, season with salt and pepper and remove the thyme sprigs. Add 3 C of chicken broth to the pan and cook down by three fourths over medium-high heat (about 10 minutes). The vegetables are done cooking once the carrots fall apart when squished with a fork.
Ladle the contents of the pan into a medium-sized sauce pan. Purée with a hand blender until smooth and then reheat. Remove from the heat and blend in the crème fraîche, heavy cream, and lemon. Heat on low prior to serving, taking care to not let the purée start to bubble so that the dairy doesn't curdle.
If you enjoyed this recipe, you may also enjoy…