Chicken and Waffle Sliders with Spicy Maple Spread – Enjoy the big game with this truly unique appetizer that's bound to be the most talked about dish at the party!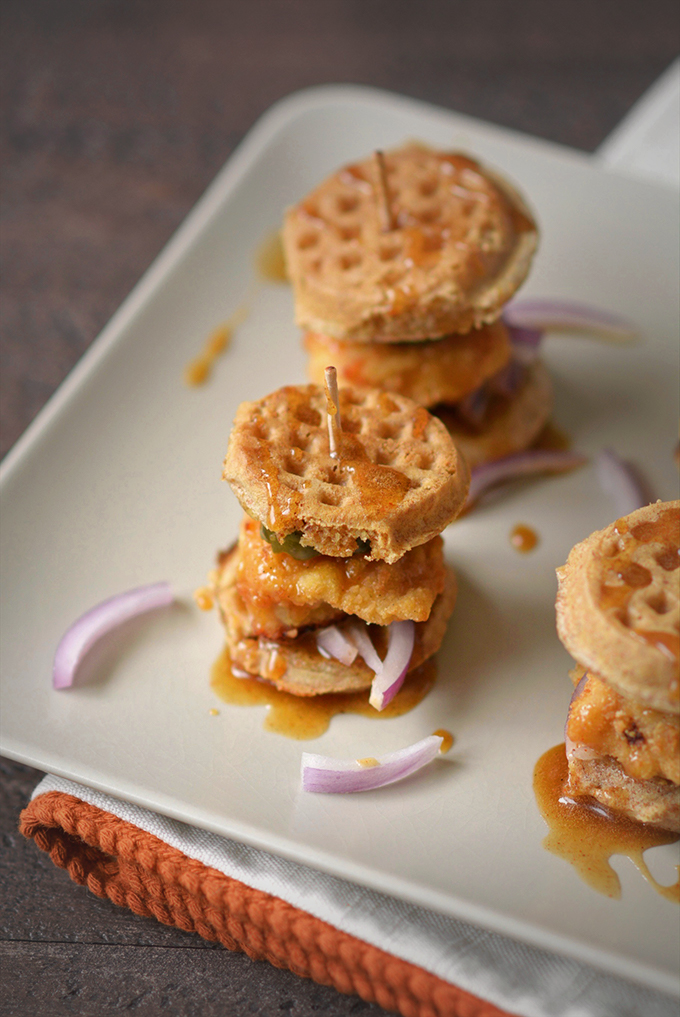 The Super Bowl is just a few weeks away. Being the most-watched American TV event of the year, it's like the national holiday for couch potatoes.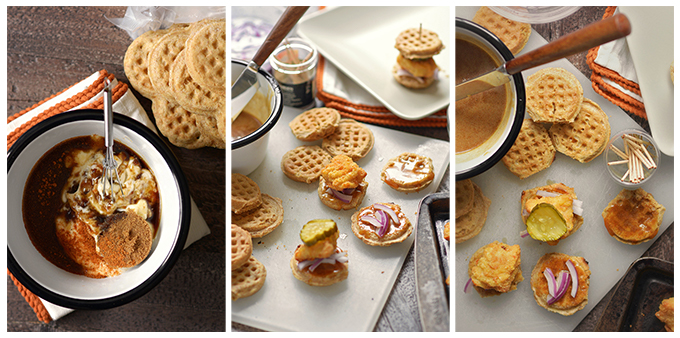 Normally I enjoy Super Bowl Sunday at my parent's house and typically my mom, sisters, and I feign interest in the game, only popping our heads into the living room to check the score and watch the really funny commercials. Instead of cheering for some team from another city, we spend most of our time in the kitchen making yummy apps while we gab about everything but football.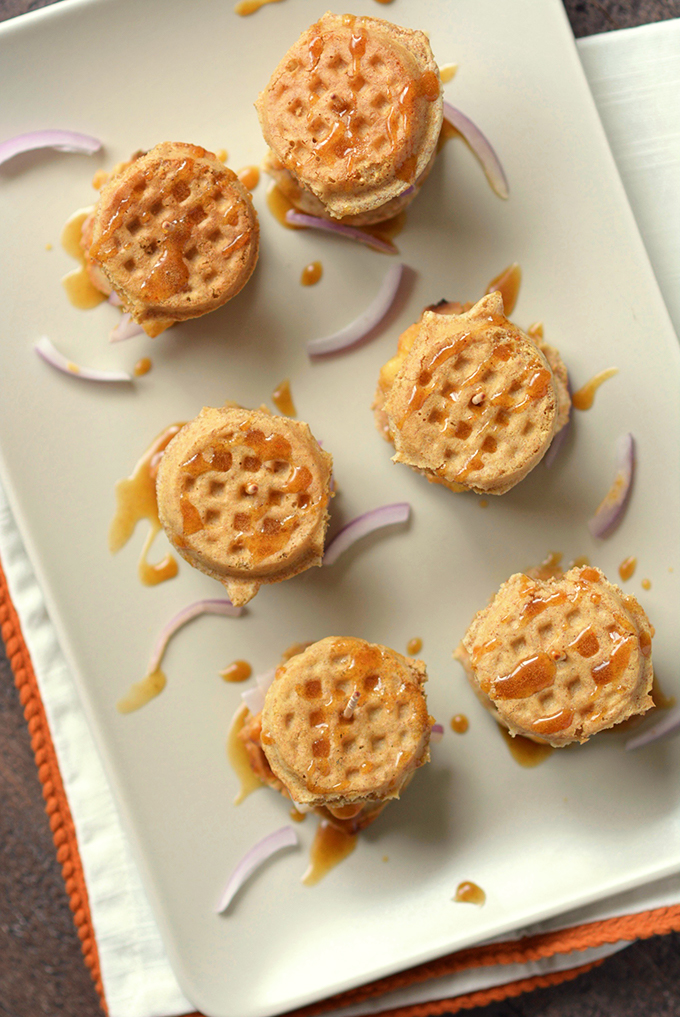 This year's going to be different, however, because the Eagles are going to the Super Bowl! It's kind of a big deal in the Philadelphia area (and in my family), so it's time to think about throwing an awesome Super Bowl Party!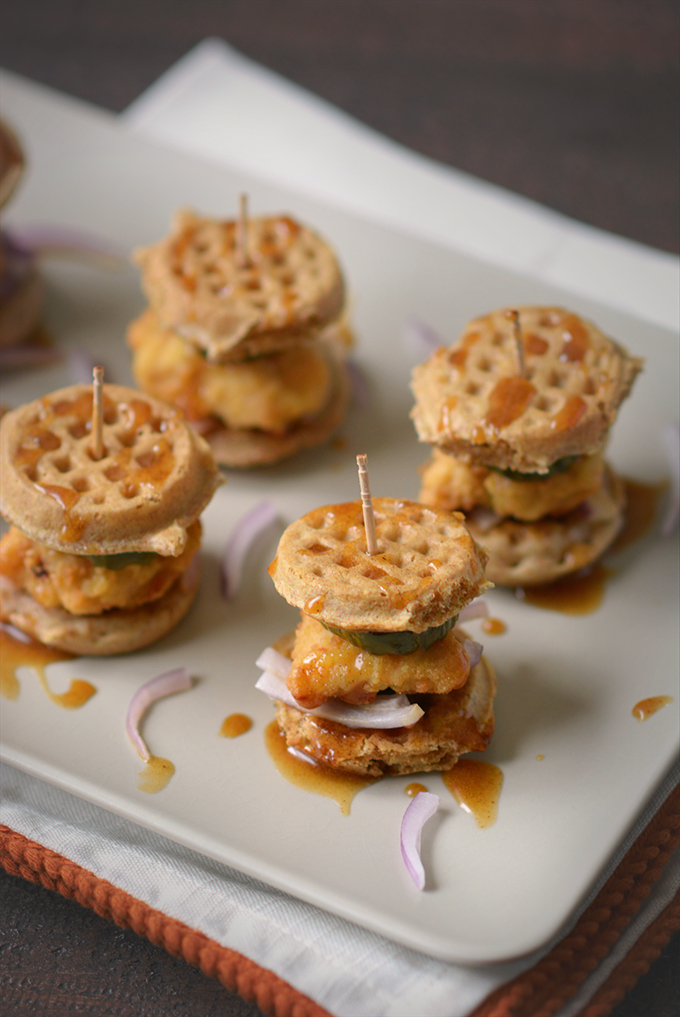 One of my favorite game day snacks are sliders. I decided this year's game deserved some extra creativity and yumminess, and that's where I came up with Chicken and Waffle Sliders with Spicy Maple Spread. They're sweet and savory and this recipe goes beyond the predictable with a kick of cayenne and the added crunch of pickles and onions. It sounds like it shouldn't work, yet it's perfectly balanced and delicious. They're sure to be the most surprising, and I dare say tasty, appetizer at your party!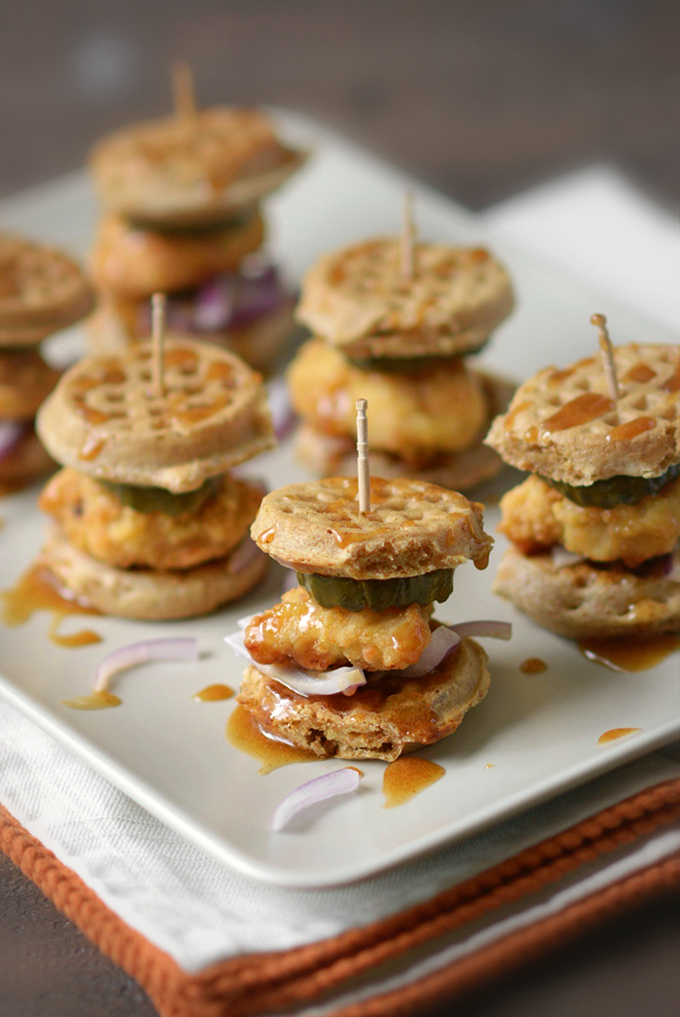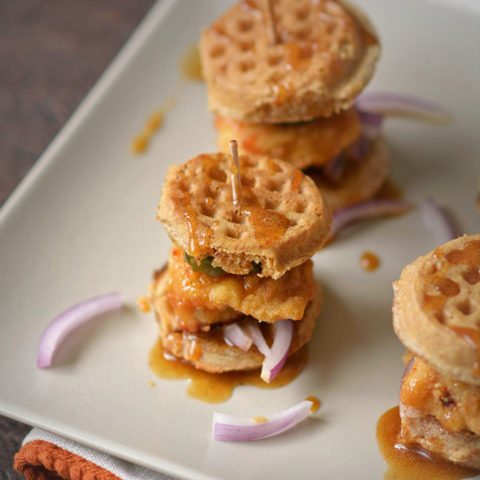 Chicken and Waffle Sliders with Spicy Maple Spread
Yield: 8 servings

Prep Time: 15 minutes

Cook Time: 15 minutes

Total Time: 30 minutes

Enjoy the big game with this truly unique appetizer that's bound to be the most talked about dish at the party!
Ingredients
Sliders
16 breaded chicken nuggets
1 box of toaster frozen mini waffles*
16 bread and butter pickle slices
1/4 C thinly sliced red onion
1 C cold water
Spicy Maple Spread
1/3 C mayo
1/8 C extra dark pure maple syrup
4 tsp dark brown sugar
1/8 tsp salt
cayenne powder to taste**
Instructions
Bake 16 breaded chicken nuggets in the oven per package instructions.
While the chicken nuggets are cooking make the Spicy Maple Spread by whisking all of the ingredients together in a small bowl and then setting aside.** Also cut the red onion into 1 inch thin slices and place them in the cold water for 10 minutes. After the onions have soaked, drain them and pat them dry with a towel. This will make the onion flavor more subtle so that it complements the sliders, rather than overpowering them.
About five minutes before the chicken is ready to come out of the oven begin toasting the frozen toaster mini waffles per package instructions. Then cut them into their individual mini waffles once toasted.
To assemble the Chicken and Waffle Sliders, spread a layer of Spicy Maple Spread on one side of two mini waffles. Then make a sandwich of waffle, onion, chicken nugget, pickle, and waffle. For the final touch, hold the slider together with a toothpick. Continue doing this until all 16 sliders are made. Plate the sliders and then garnish by drizzling the Chicken Sliders with the remainder of the Spicy Maple Spread. Serve immediately.
Notes
* Frozen mini waffles typically come in boxes of 32 mini waffles or 8 sets of 4 waffles, which means you will make 16 sliders.
** I used just under 1/8 tsp of cayenne and the sauce had a nice heat that stuck with you. Carefully add your cayenne a little at a time until the heat meets your preference.

Note: I used organic chicken nuggets and Earth's Best Organic Mini Waffles to make this recipe less processed for my family and we all thought they were great!



More game day appetizers…