Skirt Steak and Radish Salsa Fajitas – Bring the spice this Cinco de Mayo with this fresh, delicious, and zesty Mexican-inspired meal!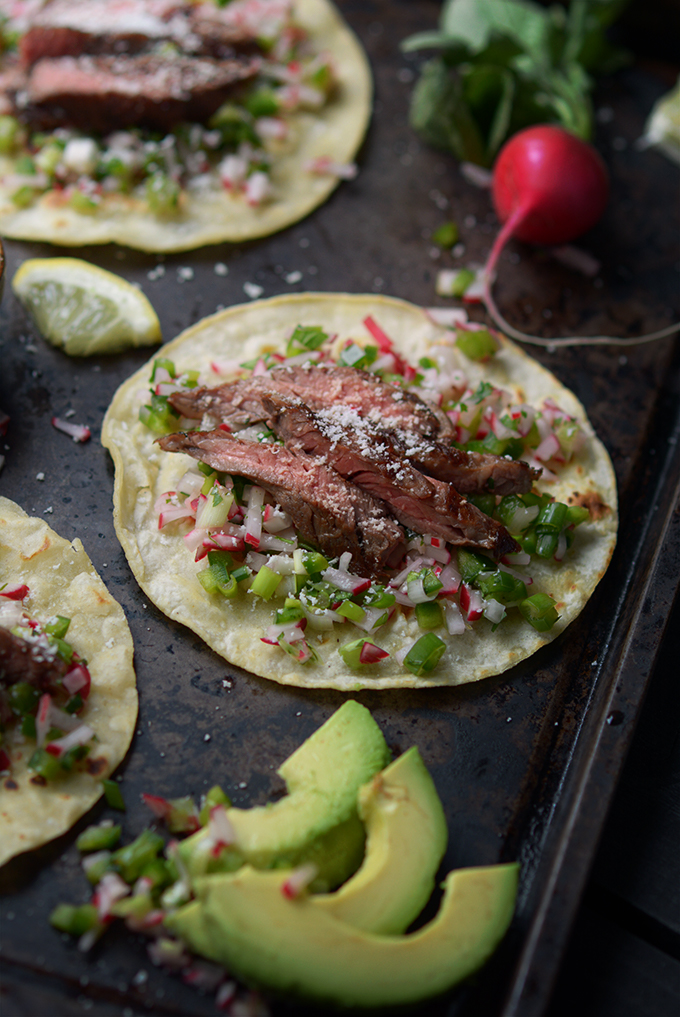 I love Cinco de Mayo! It's pretty much a chance for my husband, Dan, and I to get the kids tucked into their beds early. We then party in our pj's on the living room couch with spicy food and margaritas.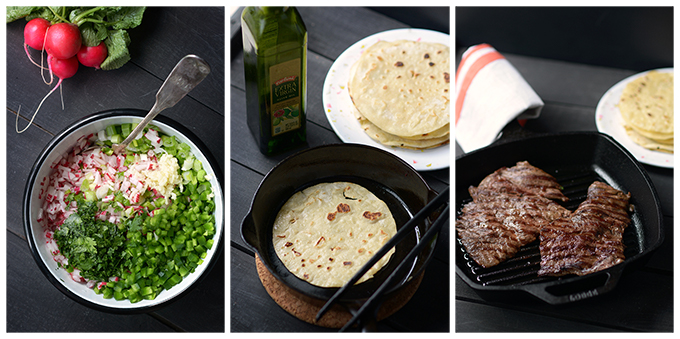 As a nurse I am required to work sooo sooo many holidays. Normally it's a real drag, but oddly enough, this Cinco de Mayo I'm kind of torn between Dan time and partying in my scrubs. Cinco falls over the weekend and the evening staff has big plans.
I'm talking fajitas, chips and salsa, and virgin margaritas around the nurse's station with a bunch of sassy women in scrubs (and maybe a couple of guys who want in on the free food).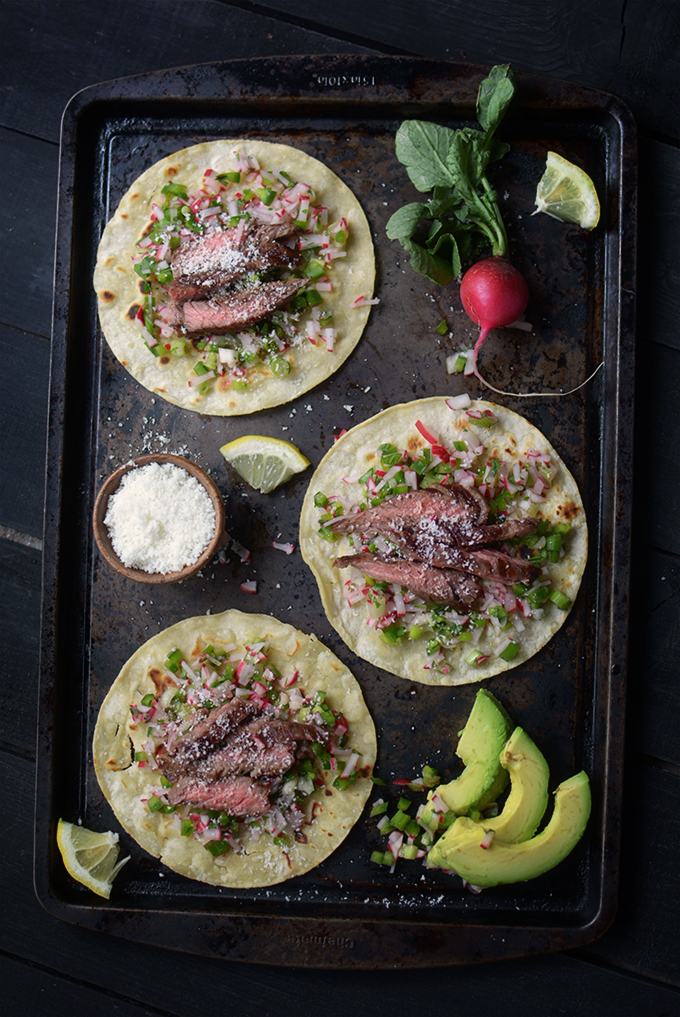 Don't get me wrong, it's not all fun and games at my work. I normally work long 12 hour shifts. Some days are so busy that lunch consists of taking 5 minutes to shove a Wawa (it's like 7-eleven for non-East Coasters) sandwich down my throat while simultaneously gulping coffee, trying to pee, and silencing my phone at the same time. Even a virgin margarita could only improve this situation!
I guess a real margarita with my husband is an even better situation, but Dan's not sassy!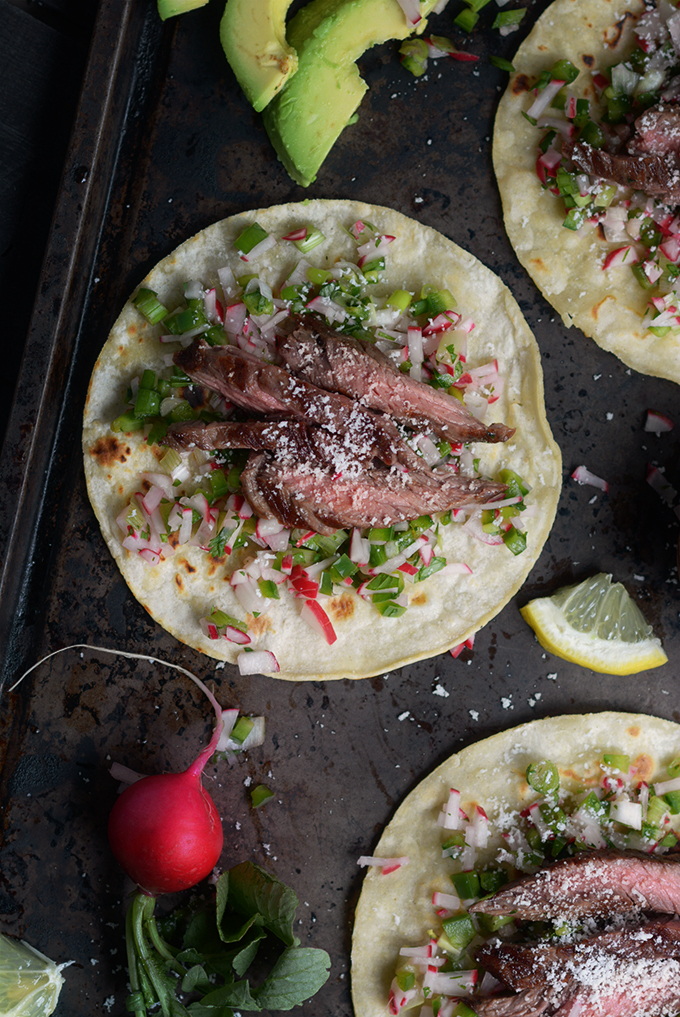 Since I'm off and will be drinking real margaritas this Cinco, I decided that I had better make something spicy to go with my drinks. Instead of trying to make things happen with out-of-season tomatoes, I chose radishes as my magic ingredient for these Skirt Steak and Radish Fajitas.
The radish salsa makes these skirt steak fajitas spicy and peppery. Topped with cojita cheese, they're just plain awesome! They might not be bringing the sass, but they're sure brining the spice!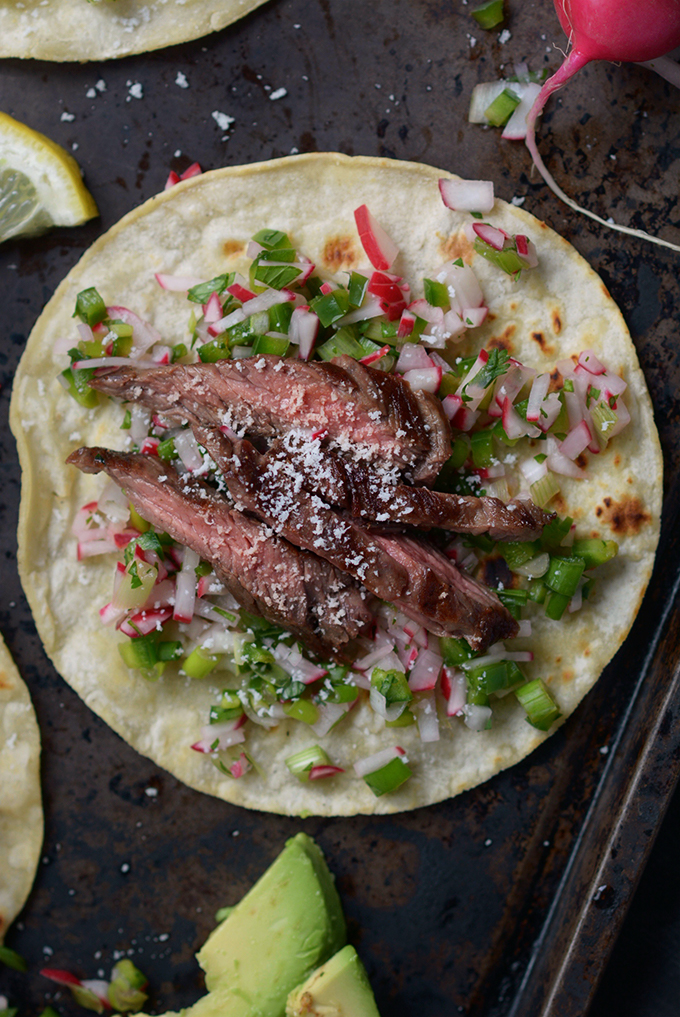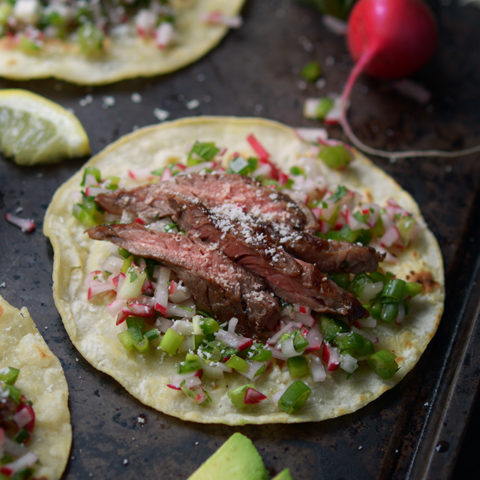 Skirt Steak and Radish Salsa Fajitas
Yield:
4 servings (3 fajitas per serving)
Bring the spice this Cinco de Mayo with this fresh, delicious, and zesty Mexican-inspired meal!
Ingredients
Radish Salsa
2 C radishes, finely chopped
3/4 C jalapeños, seeded and small-diced
6 green onions, finely chopped
2 garlic cloves, minced
2 Tbsp cilantro, finely chopped
2 Tbsp lemon juice, freshly squeezed
1/4 tsp salt
Skirt Steak Fajitas
1 C cojita cheese, finely grated
12 corn tortillas, toasted
1 3/4 lb. skirt steak
2 Tbsp olive oil, divided
salt and pepper to taste
1 avocado, sliced (optional)
Instructions
Radish Salsa
Prepare the salsa ingredients and place them in a medium-sized bowl. Mix until evenly combined.
Store in the refrigerator until you are ready to serve. Note: the salsa tastes best if it sits 1-2 hours before serving, so that the flavors can combine.
Skirt Steak Fajitas
Heat a skillet over medium heat. Drizzle with a little olive oil and then, one-at-a-time, toast the tortillas on both sides. The tortillas are done once they have golden-brown spots on each side. Between heating each tortilla, drizzle a little more olive oil into the skillet. Once cooked, set aside until you're ready to serve.
Lightly drizzle the skirt steak with olive oil and season with salt and pepper to taste.
Heat a grill or stove top griddle over high heat. Grill the steak for 2-5 minutes on each side, depending on the thickness of your cut. The steak is done when the center reaches an internal temperature of 135-145ºF. Take care not to over cook so that your meat isn't tough.
Allow the skirt steak to rest for 10 minutes before cutting. Thinly slice the steak against the grain to prevent chewiness.
Assemble the Skirt Steak and Radish Salsa Fajitas by arranging the radish salsa and the sliced skirt steak over the tortilla. Garnish with a slice of avocado and grated cojita cheese as desired. Much like a taco, fold the tortilla in half to eat.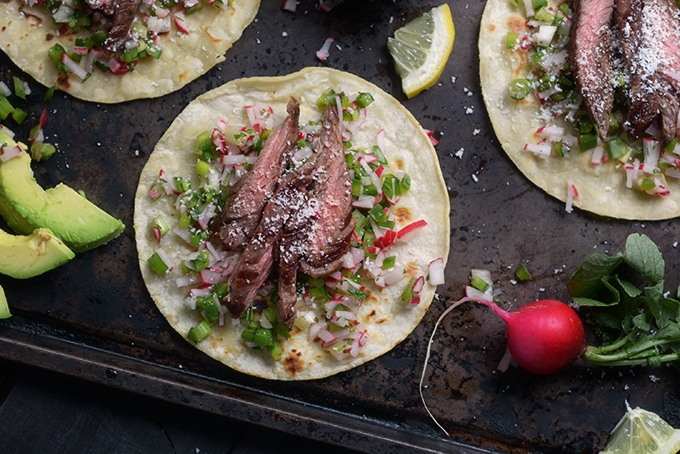 You May Also Enjoy…