Fiesta Chopped Chipotle Kale Salad – Give yourself a cold-and-flu-fighting power-up with this deliciously fresh, filling, and kicked-up salad!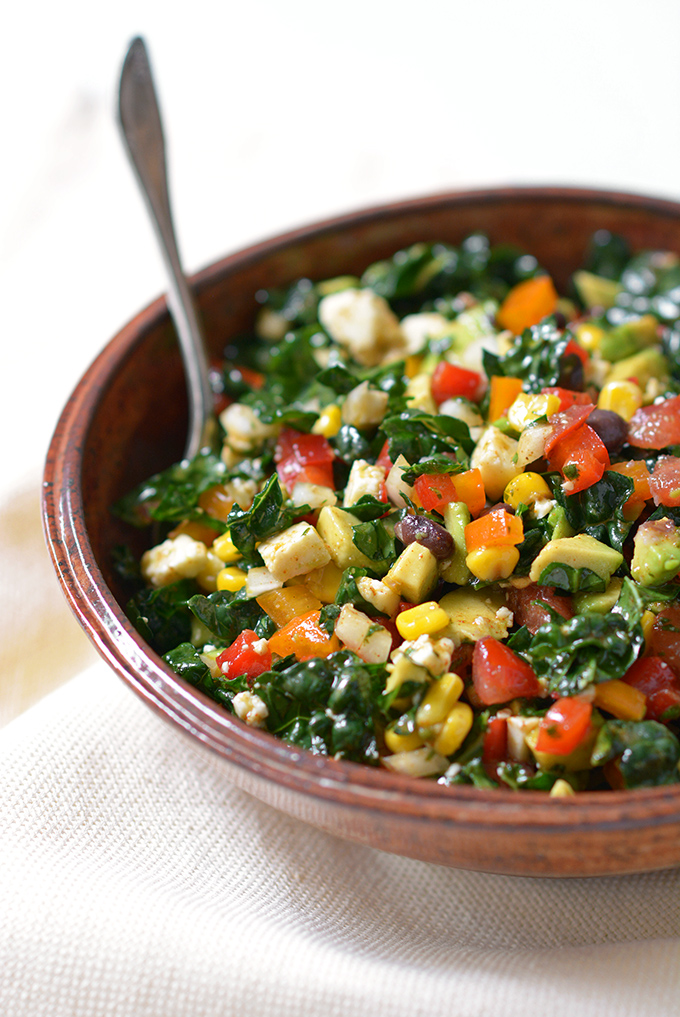 Sniff… sniff… I really hope I'm not getting yet another cold! With two little kids, one in school and the other a drooly, teething baby, my immune system has already been maxed out for the year. It's only October, so this is not looking good! I guess Mama needs to take part in some serious self care this fall.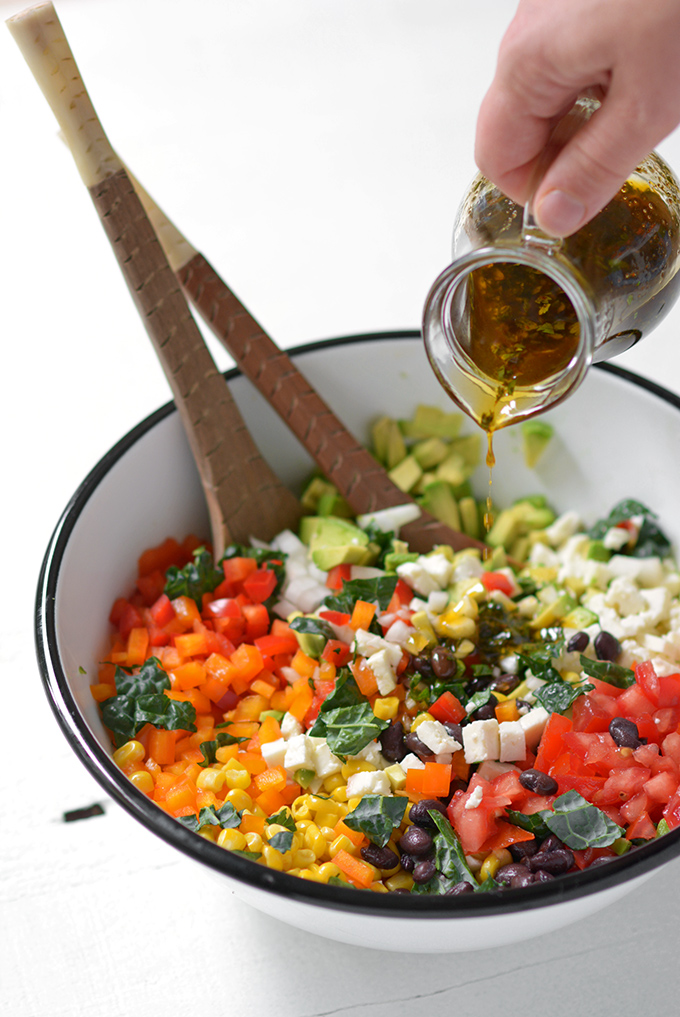 As a Home Health Nurse I have a good idea about what I need to do to stay healthy this fall and winter. It goes without saying that it's all pretty common sense.
How to stay healthy during cold and flu season:
Avoid exposure to sickness, when possible
Wash your hands regularly
Get plenty of sleep
Eat healthy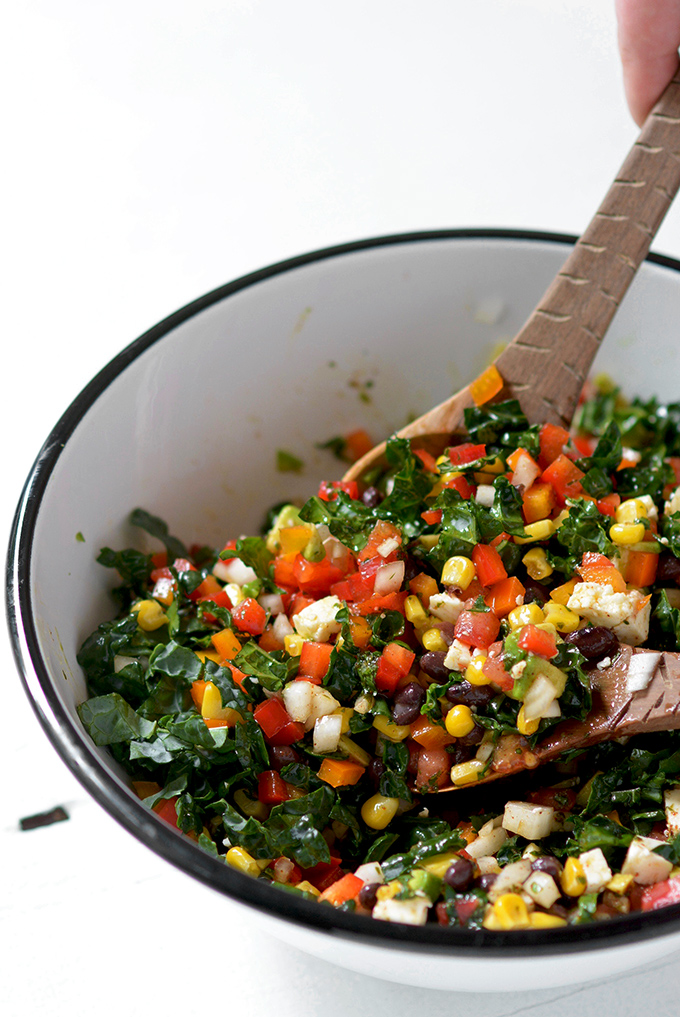 All of those things are more easily said than done for just about every parent everywhere. The idea of avoiding exposure is laughable. Despite their little red snotty noses, who can withhold snuggles from their sick kids? They're just too cute and lovable, and sick kids need lots of love no matter what. And even if you try to keep your distance, someone will inevitably come up to you and sneeze in your face when you least expect it. It's a fact. Then, when it comes to getting plenty of sleep… Well… Seriously – with kids?!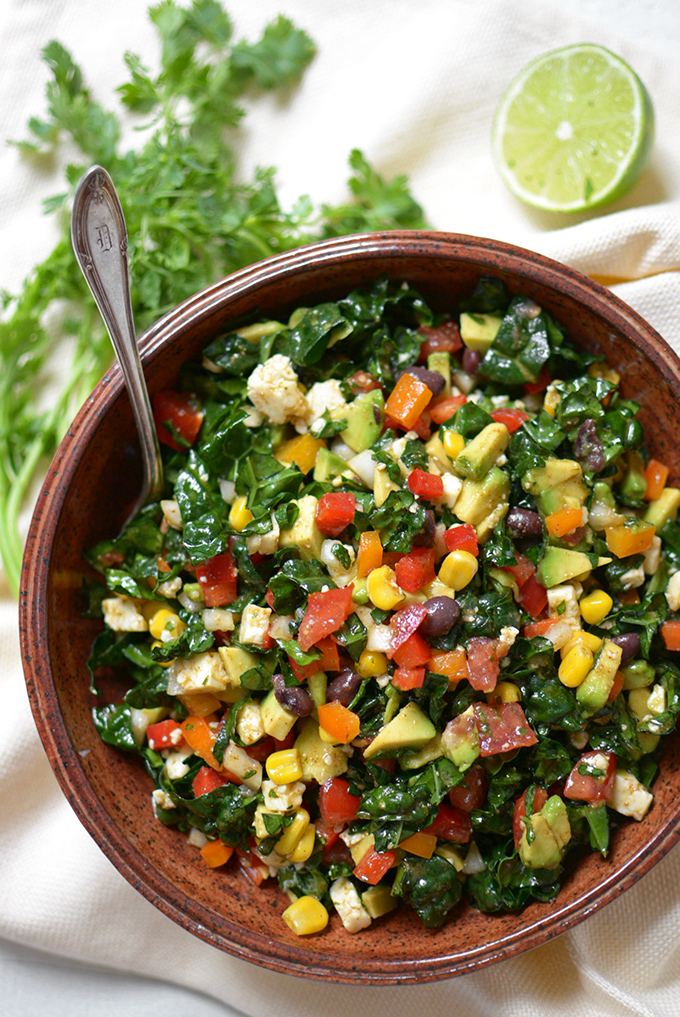 Fortunately, eating healthy is something the most harried, overtired, and sneezed-upon parents can do. And this is something that this mom, nurse, and food blogger is doing her best to do!
Today's recipe for Fiesta Chopped Chipotle Kale Salad is a "power salad" of sorts. Kale is a nutrition powerhouse and the peppers and tomatoes add lots of vitamin C to the mix. Finally, a bit of protein and healthy fat from the beans, cheese, and avocado make this a bowl full of tasty nutrition!
About the tasty part of this recipe… This salad is full of spicy chipotle flavor with the zing of lime and a touch of sweetness from the honey. The best thing is that if your kids do give you that cold, you'll still be able to taste the chipotle chili in this parent power salad!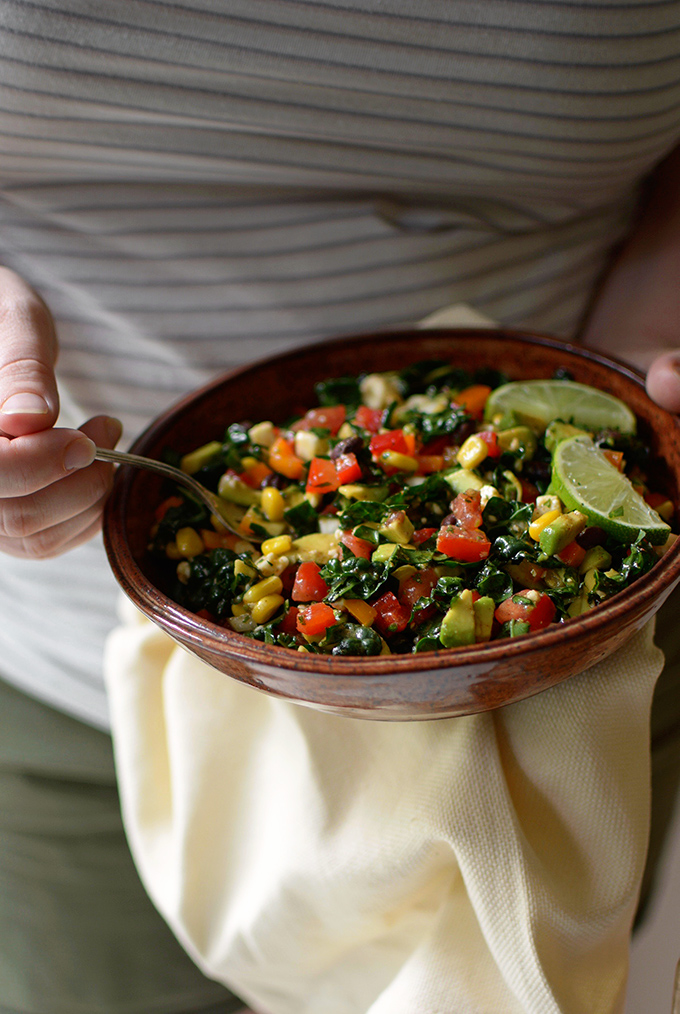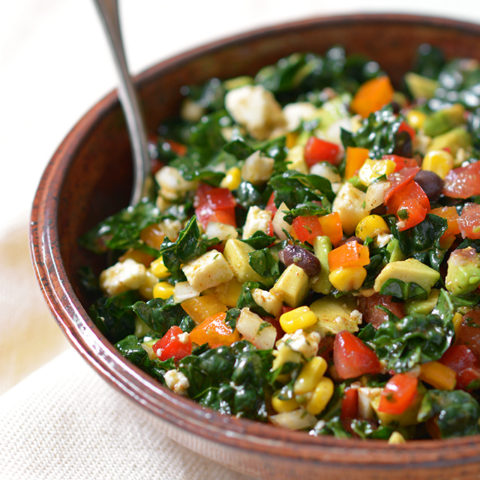 Fiesta Chopped Chipotle Kale Salad
Yield: 4 servings

Prep Time: 20 minutes

Total Time: 20 minutes
Ingredients
Fiesta Chopped Kale Salad
3 C chopped lacinato (a.k.a. "dinosaur") kale
1 C fresh or frozen sweet corn
2/3 C canned black beans that have been drained and rinsed
1/2 C diced and seeded red tomato
1/2 C finely diced sweet yellow onion
1/2 C chopped queso fresco*
1 finely diced red pepper
1 finely diced orange pepper
2 finely chopped avocados
Chipotle Chili Cilantro Lime Dressing
1/3 C olive oil
1/4 C fresh lime juice
1 1/2 Tbsp honey
3 Tbsp fresh minced cilantro
1 tsp chipotle chili powder
1/8 tsp garlic powder
1/4 tsp salt
Instructions
Chop all of the vegetables and add them to a large bowl with the sweet corn, black beans, and queso fresco.
Whisk together the dressing ingredients.
Pour the dressing over the salad and toss the salad and dressing together to evenly combine. Serve immediately.
Notes
*If you can't find queso fresco, a Mexican soft cheese, then substitute with shredded colby jack.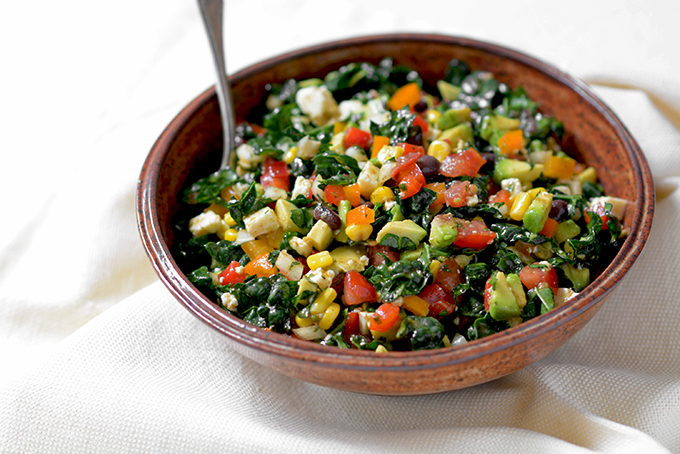 Some More Tasty Salads…