Old Bay Eggs Ricotta Toast – Power through your morning with this tasty, high-protein breakfast packed with calcium, Vitamin C, and Vitamin A!
Before I met my husband, Dan, he subsisted on a diet of cheerios, milk of a questionable expiration date, rice, and Old Bay Seasoning. I thinking that marrying me must have turned his food lifestyle upside down.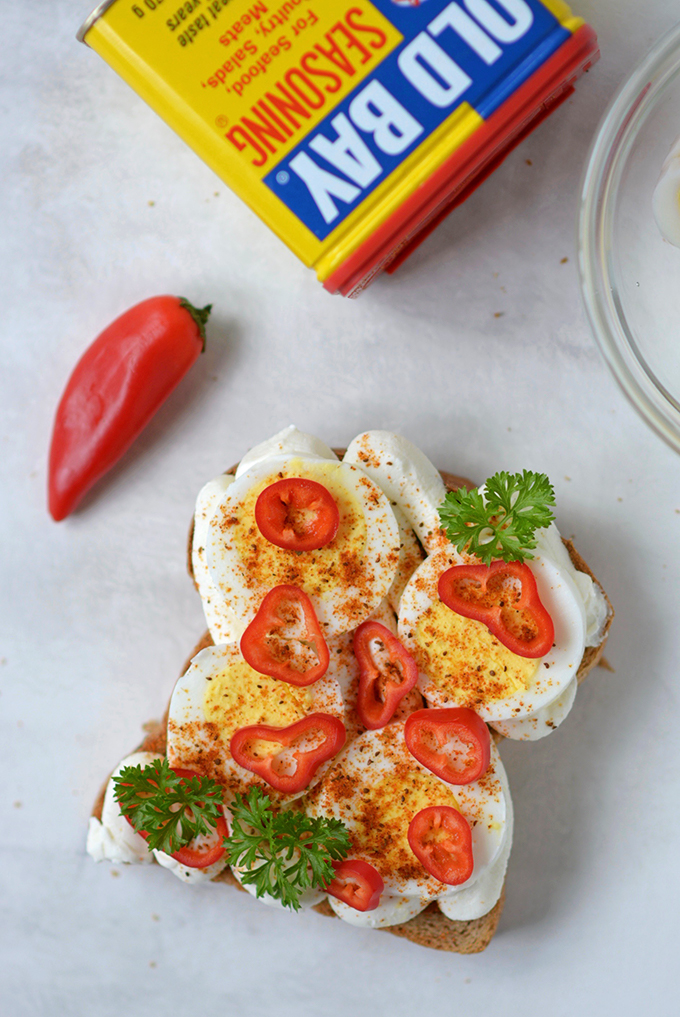 He since seems to have happily accepted his life of living with a total foodie. Maybe he's even turned into a bit of a foodie himself. Seriously, you have to check out his latest Fresh Peach Mezcal Cocktail! All that to say, I like to think that rescuing him from boring food (and potentially food poisoning) is one of the things he loves about me!
Thousands of home-cooked meals later, however, Dan's love for Old Bay Seasoning has not waned. Now he's just a more sophisticated Old Bay sprinkler.
In honor of Dan and our upcoming TEN YEAR WEDDING ANNIVERSARY (Woohoo! We made it, you guys!) I decided to develop Dan this recipe for Old Bay and Egg Ricotta Toast! Dan's been into starting his day with a high-protein breakfast, so this toast is just what he's looking for.
It's as simple as hard boiling an egg! In my home we usually hard boil a bunch of eggs at the beginning of the week, so it took me less than 5 minutes to throw this together.
This breakfast has double the protein, with both ricotta and egg together, and is also packed with calcium, vitamin A, and vitamin C. Put it all on whole grain toast and you'll be powering through your day!
I hope you enjoy this yummy, healthy throwback to some of my husband's early culinary Old Bay genius! 😂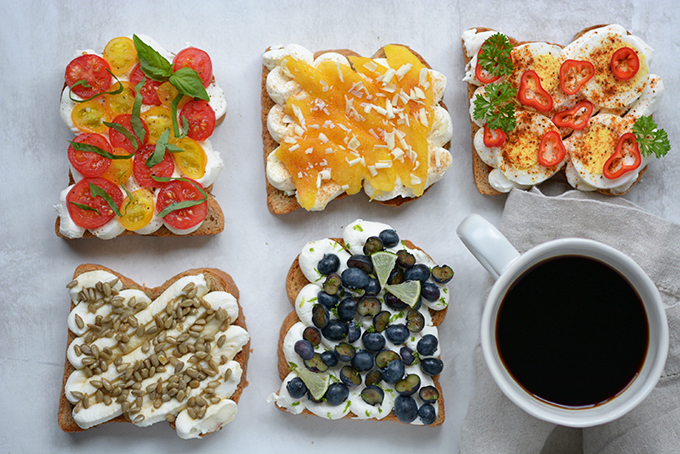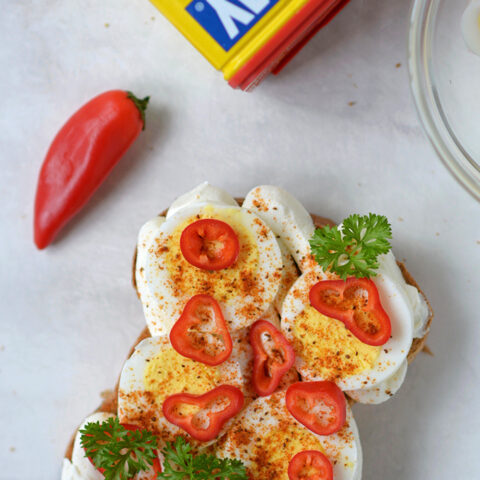 Old Bay Eggs Ricotta Toast
Yield: 1 serving

Prep Time: 5 minutes

Cook Time: 15 minutes

Total Time: 20 minutes

Power through your morning with this tasty, high-protein breakfast packed with calcium, Vitamin C, and Vitamin A!
Ingredients
1 piece toast
3 oz ricotta cheese
1 hard boiled egg, cut into thin slices
1 Tbsp white vinegar
1/4 tsp old bay seasoning
1 red lunchbox pepper cut into thin slices
3 small fresh parsley sprigs for garnish
Instructions
Toast 1 piece of bread.
To hard boil an egg, place it in a small saucepan with the white vinegar and enough water to submerge the eggs by an inch. Cook over high heat until it reaches a hard boil. Then remove from the heat and allow it to sit for 11 minutes. After 11 minutes have passed drain the hot water. Add cold water and a few ice cubes to the pot to quickly cool the egg.*
Measure the ricotta cheese into a ziplock bag. Clip one end of the ziplock bag and squeeze the ricotta onto your toast in a zigzag pattern as if using a frosting bag.
Slice the egg and arrange it on the ricotta toast. Season with Old Bay Seasoning. Garnish with peppers and fresh parsley. Serve immediately.
Notes
*If you decide to cook 6 to a dozen hardboiled eggs in advance, follow the same directions, but use 1/4 C white vinegar.
You May Also Enjoy…