Surf and Turf Cheese Fondue – Want to add some romance to your dinner table? This fondue feast is the perfect rich and unique meal to share with someone special!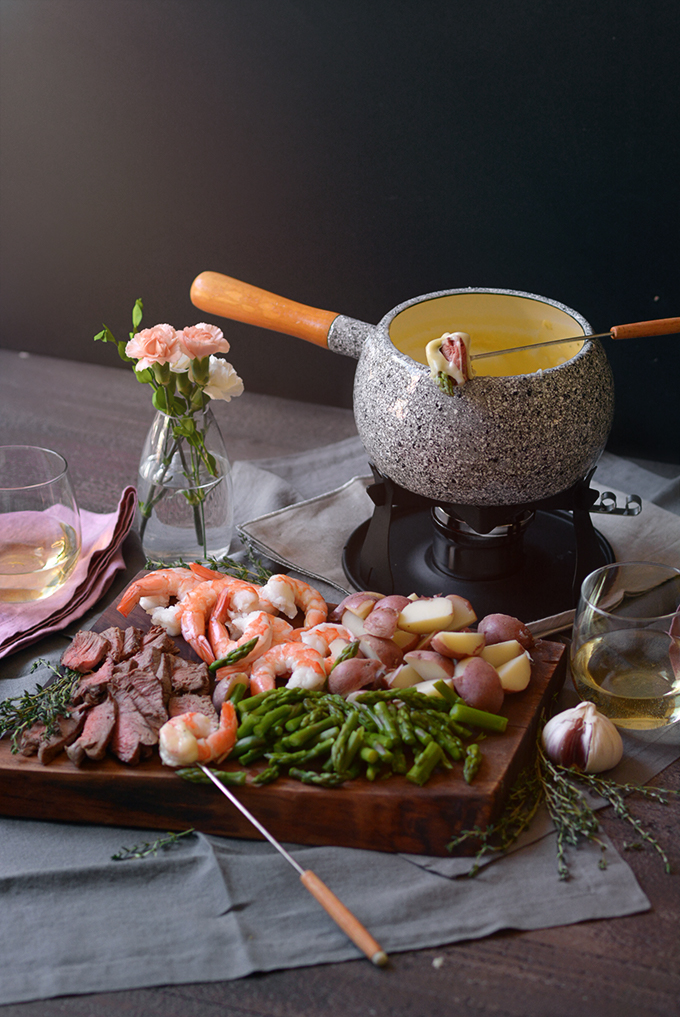 When Mr. Simple Seasonal and I were on our honeymoon we got to spend a couple of quiet days at home before returning to normal life. During those blissful days we opened wedding gifts, set-up house, and we broke out my speckled gray fondue pot. The latter, however, was not a wedding gift – it was just for fun!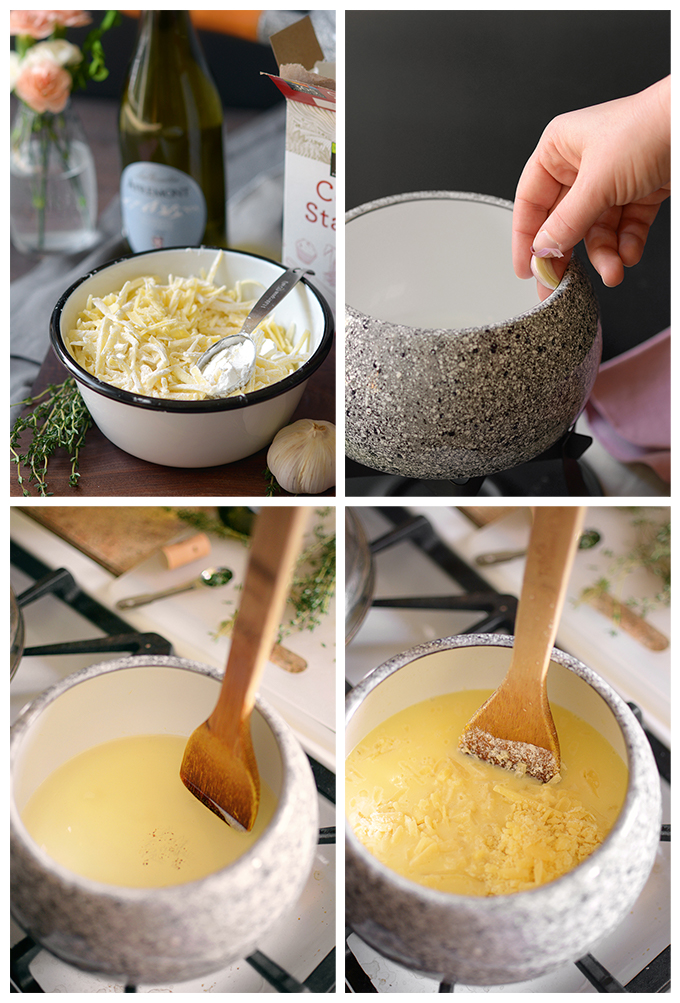 My fondue pot was passed down from my great-grandmother after collecting dust in her basement for what I'm guessing was the better part of a couple of decades. She was a Philadelphia socialite and she was always known for throwing swanky parties and for being quite fashionable. My fondue pot is likely a relic from the 60's or 70's when fondue parties were in vogue – a time when it was stylish to make your hair look like a beehive. Seriously though, my fondue pot is so old that modern Sterno jars don't properly fit in it's old Sterno apparatus, making temperature control tedious at best. I just can't seem to get rid of the old thing with all it's speckles, memories, and charms.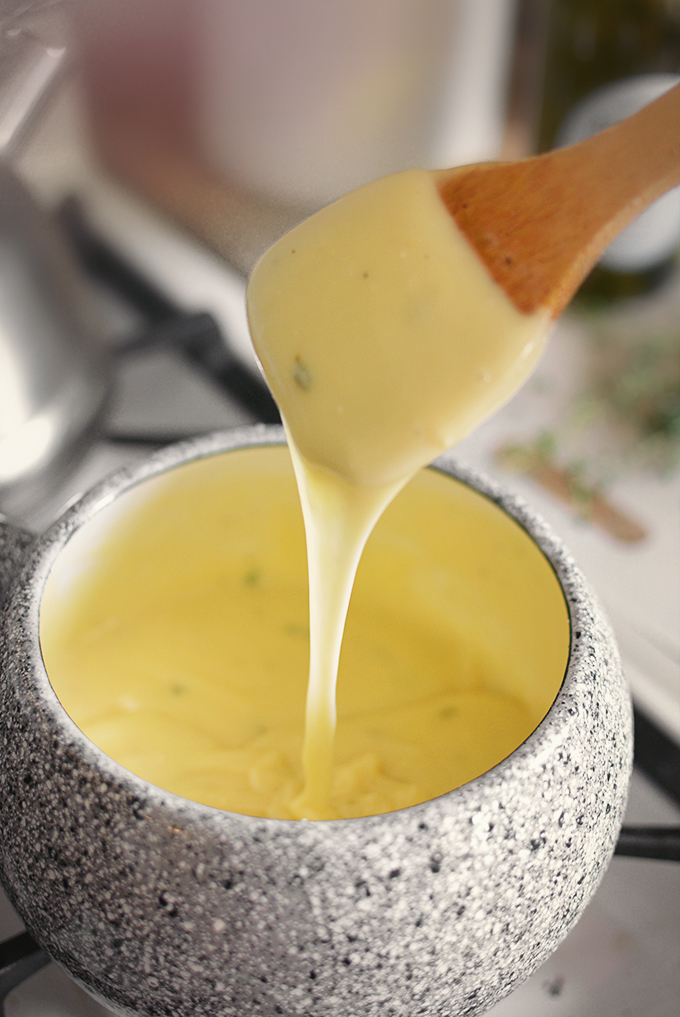 Speaking of old things, fast forward 10 years from my honeymoon, and you'll fid that fondue and fun is still being made in that charming old gray pot! This year Mr. Simple Seasonal and I will be spending Valentine's Day in. As is often the case, Valentine's Day falls on a weeknight and with it being a school night, we're going to send the kids off to their beds early and re-Sterno that old honeymoon romance in the warmth of our living room. We'll be surrounded by the kids' toys and framed pictures that capture many of the memories of our last 10 years together.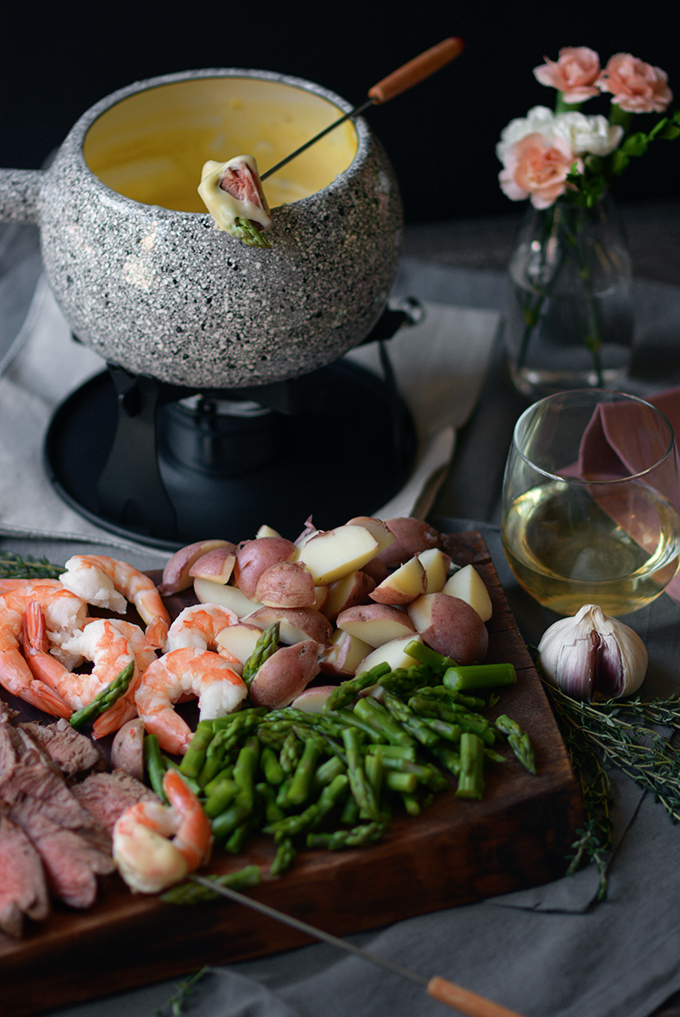 After working and chasing kids around all day, my husband and I are going to be hungry for something more than bread and fruit in our fondue. That's why I made this recipe for Surf and Turf Cheese Fondue. It's a complete Valentine's Day Surf and Turf entrée, but way more fun to eat than your average February 14th special.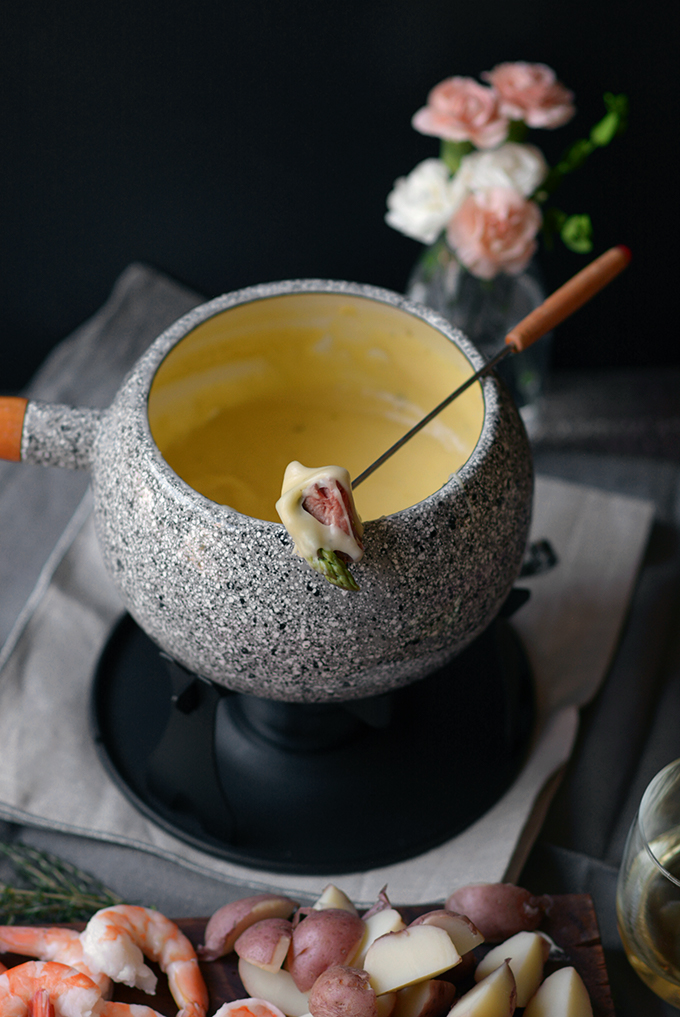 Fondue is normally made with mellow, creamy cheese, but my husband and I both love sharp cheeses. I decided to sharpen things up with an aged gouda. I was worried I'd lose some creaminess because it's a harder cheese than its younger self, but I think the pictures here speak for themselves… Much like my marriage, cheese so often improves with age. This fondue is creamy and complex and is a perfectly delectable way to celebrate with someone you love!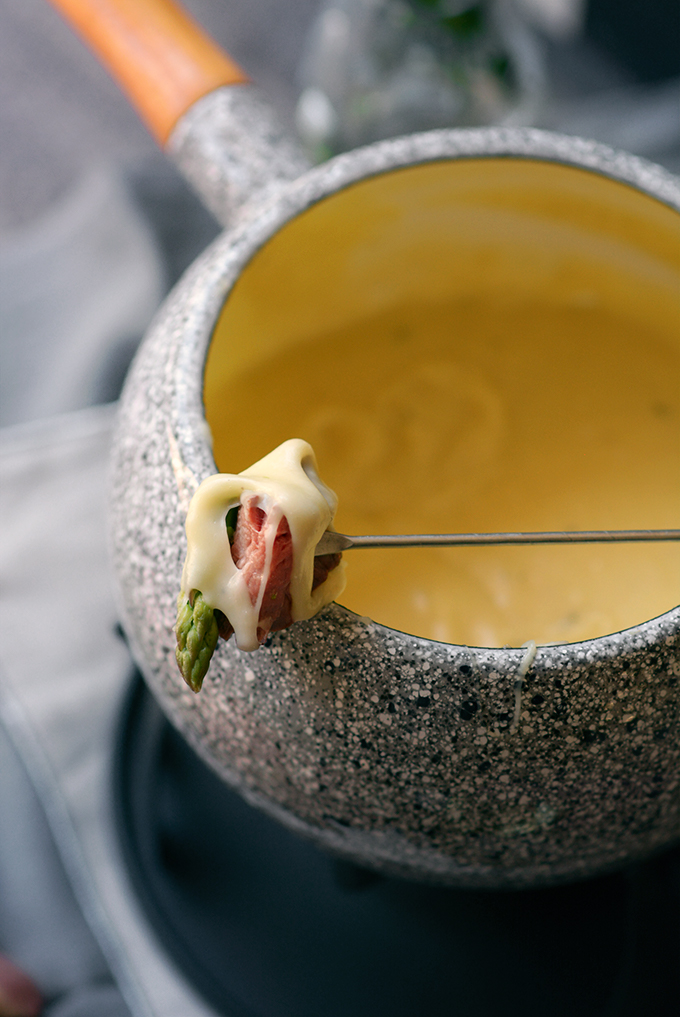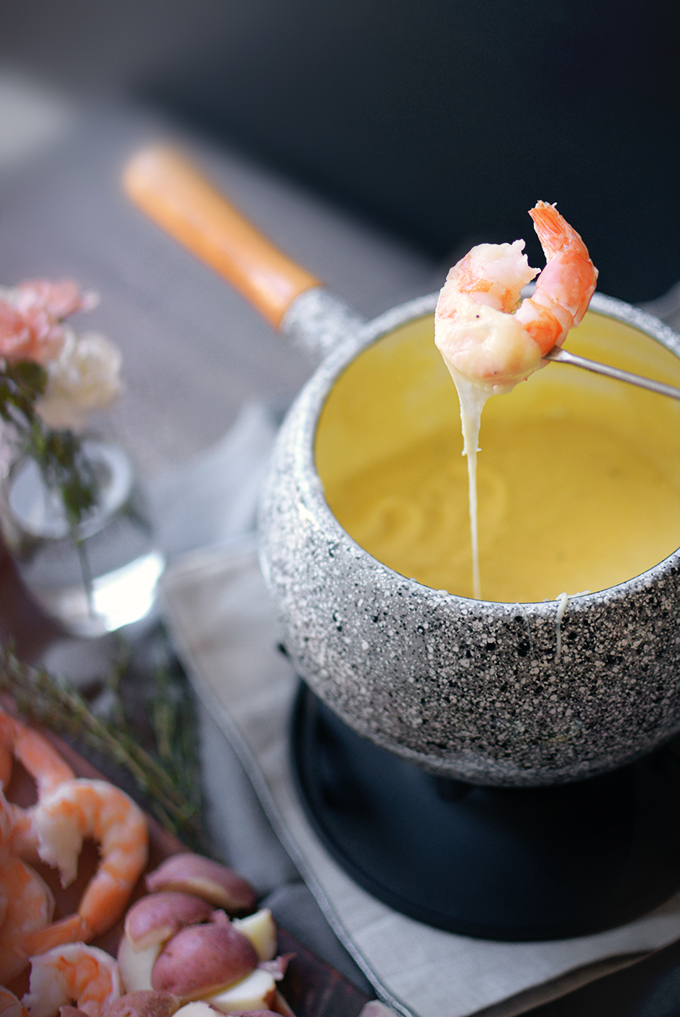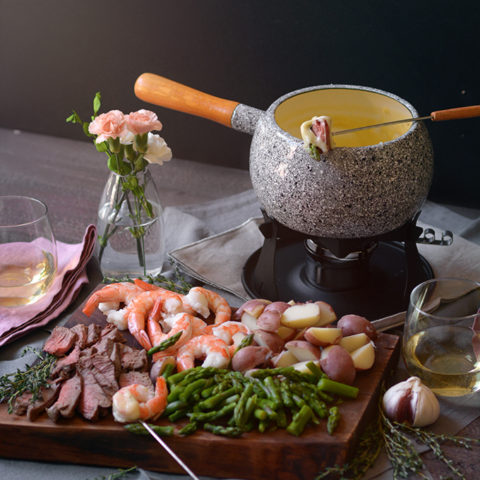 Surf and Turf Cheese Fondue
Yield: 2-4 servings

Prep Time: 1 hour

Total Time: 1 hour

Want to add some romance to your dinner table? This fondue feast is the perfect rich and unique meal to share with someone special!
Ingredients
Fondue
1 1/2 C shredded aged (robusto) gouda cheese*
1 1/2 C shredded gruyere cheese
1 C shredded fontina cheese
2 Tbsp corn starch
1 clove garlic
1 1/4 C dry white wine
1 tsp fresh minced thyme
black pepper to taste
Dippers
2 1/2 C (about 1/2 lb trimmed) asparagus cut into 1 inch pieces
3/4 lb new potatoes or baby red potatoes
1/2 lb filet mignon
1 Tbsp olive oil
salt and pepper to taste
1/2 lb frozen white shrimp (cooked, peeled with tail on and deveined)
Instructions
Preheat oven to 400ºF. Remove the filet mignon from the refrigerator and allow it to come to room temperature for about 20 minutes.
Steam the asparagus** for 4-10 minutes until tender. The cook time can vary based on the size of the asparagus. After the asparagus is done cooking, place it in an ice bath to stop the cooking process. When you're ready to serve the fondue, the asparagus can be served cool, or you can heat it by wrapping in aluminum foil in a 400ºF oven for 3-5 minutes. Take care not to over-cook or over-reheat the asparagus, as it can become too soft for fondue if it's overcooked.
Steam the potatoes** whole for 20-30 minutes until they are fork tender, but not soft. The cook time will depend on the size of your potatoes. Allow them to cool for 5 minutes and then cut them in half or in quarters (depending on their size) so that they are an appropriate size for dipping.
While the potatoes are cooking, brush your filet mignon with olive oil and then season with salt and pepper to taste. Heat a frying pan or stove top griddle over medium heat until the pan is hot. Add the filet to the pan and cook for 5-7 minutes on each side until it reaches an internal temperature of 130-140º depending on how done you like your steak. Let the steak rest for 5 minutes and then cut into thin slices before serving.
Defrost your shrimp by placing them in a colander and running cold water over them for 5 minutes. Next, wrap them in aluminum foil and place them on a baking sheet and heat in a 400ºF oven for 3-5 minutes right before serving.
While the steak and potatoes are resting and the the shrimp is heating in the oven, make the fondue. Toss the shredded cheese with 2 Tbsp of cornstarch. Cut the garlic in half and rub the inside of the fondue pot with it, taking care not to leave any pieces behind. Place the fondue pot on the stove, add the white wine, and bring to a gentle simmer over low heat. Slowly stir in the shredded cheese until it is completely incorporated and is creamy and stretchy. Gently turn up the heat as needed. Stir in 1 tsp of fresh thyme and black pepper to taste before serving.
Place the fondue pot with the cooking cheese over a Sterno flame and adjust the temperature as needed throughout the evening. Arrange the dippers on a cheese board or a plate in an appealing fashion and serve immediately with the fondue cheese.
Notes
*If you can't find aged gouda, you can use regular red wax gouda. The fondue will have a less complex flavor, but it will still be good-a!
**TO MAKE IN ADVANCE: The potatoes and asparagus can be steamed in advanced. Cool them completely and store them in a sealed ziplock bag for up to 4 days. To reheat wrap them in aluminum foil and place them in a 400ºF oven for 5 minutes. Purchase cooked, peeled with tail on, and deveined shrimp so that they only need to be reheated in the same oven as the vegetables, by wrapping them in foil and cooking them for 3-5 minutes. The same can be done for the steak, but I recommend cooking that right before serving so that it doesn't become overcooked while reheating. If you make the fondue in advance, reheat it on the stove over low heat. If it seems too thick, add additional white wine to the pot, a few splashes at a time, until a creamy, smooth, and stretchy fondue texture is achieved.
*** Serves as a romantic entree for two, or as a fun appetizer for 4-6 people.

More romantic recipes…