Grilled BBQ Dry Rubbed Pork Chops – How to make the perfect grilled pork chop that's not dry as a bone? Follow these tips and tricks to juicy pork chop perfection!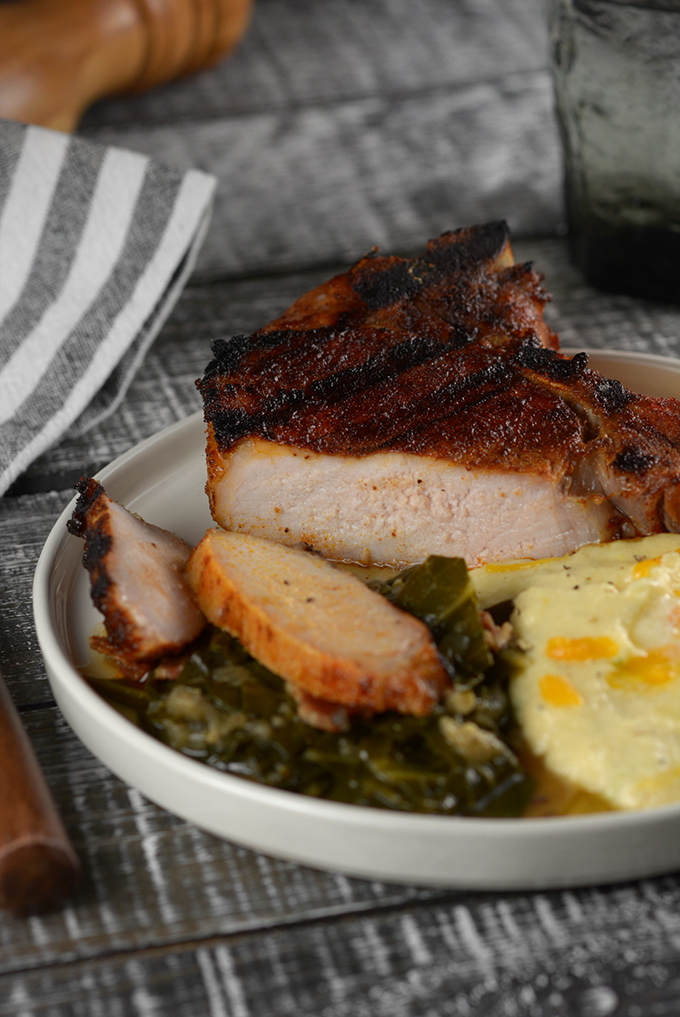 I love pork chops! When done right, they're juicy and flavorful. They're the more savory white meat. If you're trying to be healthier and avoid red meat, pork chops are an essential part of your cooking repertoire, lest you become tired of chicken!
The problem is that pork is really easy to screw up. Just think back to all of the times you didn't enjoy that piece of of tough, dried out pork…
Fortunately, over many years of cooking, I have a couple keys to making delicious pork chops.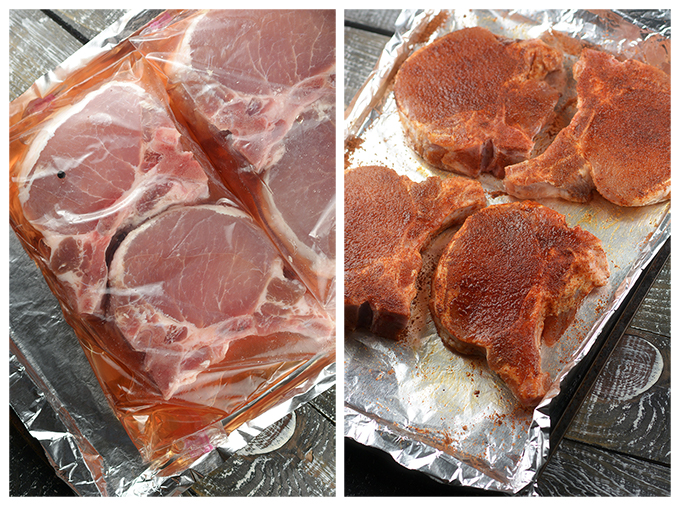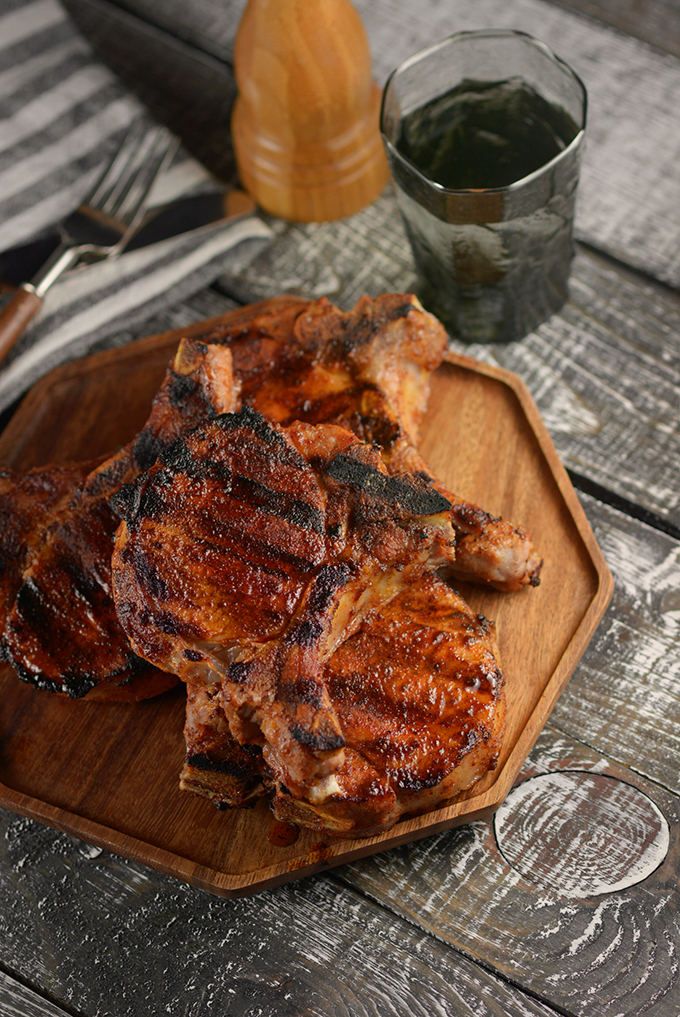 How To Make Amazing Pork Chops
Buy bone-in pork chops, as opposed to boneless, because they're more flavorful.
Brine your pork chops for 6-8 hours before cooking.
After brining, pat the chops dry, then season well with a dry rub.
Allow the meat to come to room temperature, for about 30 minutes, before cooking.
To get a good sear, and to get the chops to cook evenly, cook on high heat, and then reduce to medium heat.
DON'T overcook. Cook to an internal temperature of 145º F. Any higher than this and the juices will begin to be expelled, resulting in a dry pork chop. Be sure to use an accurate meat thermometer inserted into the middle of the thickest part of the meat to measure the temperature. A well-cooked chop should have just a slight amount of pink.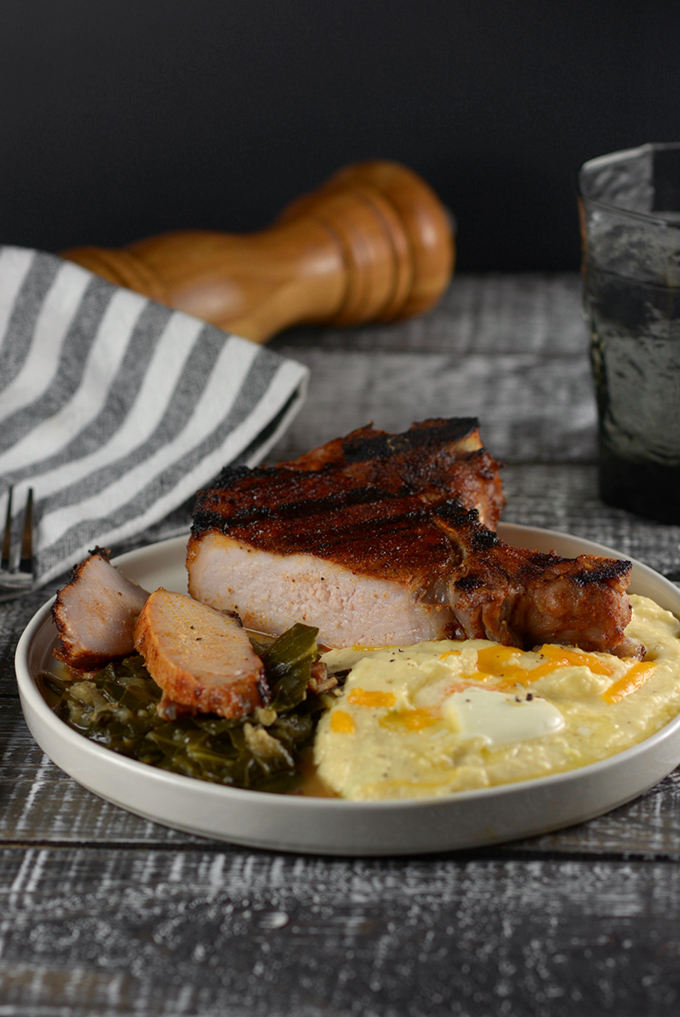 This recipe for Grilled BBQ Dry Rubbed Pork Chops will help you do pork chops right! This recipe is savory, juicy, and flavorful. As we head into the last few weeks of grilling season I find it's a perfect transition to fall with comforting dishes like cheesy grits, collard greens, and stewed or fried apples.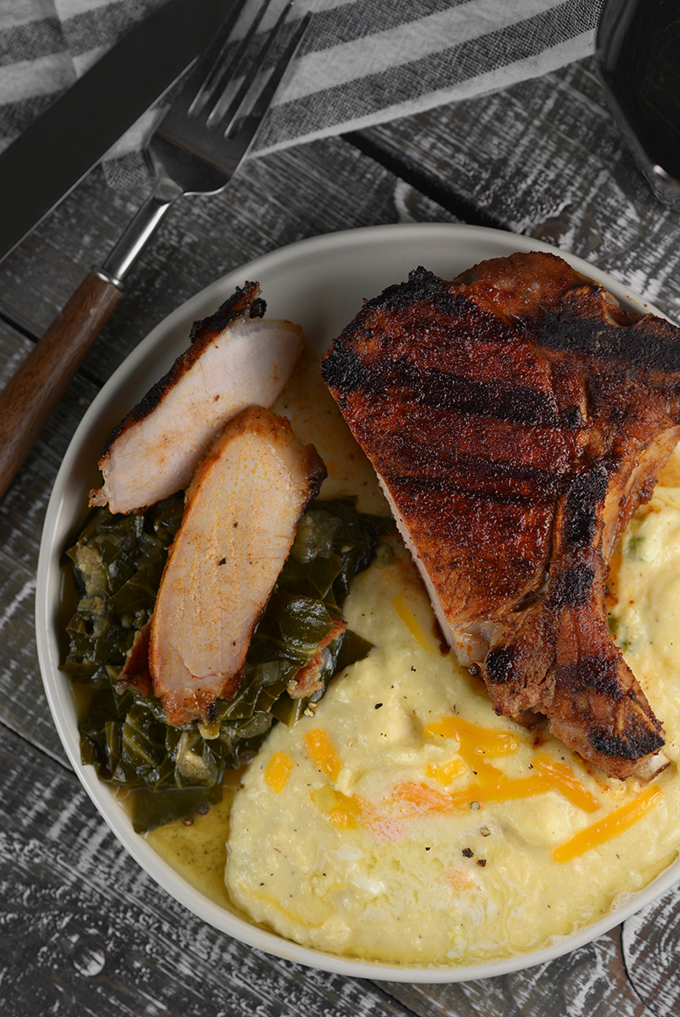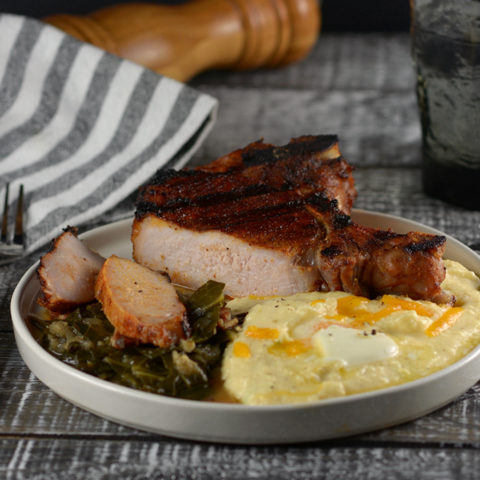 Grilled BBQ Dry Rubbed Pork Chops
Total Time:
8 hours
20 minutes
How to make the perfect grilled pork chop that's not dry as a bone? Follow these tips and tricks to juicy pork chop perfection!
Ingredients
Brine
2 C water
1/3 C salt
1/3 C light brown sugar
6 peppercorns
Rub
4 Pork Chops
1 Tbsp light brown sugar
1/8 tsp salt
1 tsp paprika
1 tsp spicy Mexican chili powder
1 tsp chili powder
1/2 tsp garlic powder
1/2 tsp ground cumin
1/4 tsp dry mustard
Instructions
In a small mixing bowl combine the brine ingredients until the sugar and salt are completely dissolved. Place the pork chops into two zip lock bags (2 chops per bag) and pour the brine evenly into each bag. Remove the air from the bags before sealing. Place the brining chops onto a flat surface and refrigerate for 6-8 hours, flipping mid-way.*
After 6-8 hours have passed, remove the pork chops from the brine, and pat them dry with a paper towel. Set them on a baking sheet lined with aluminum foil.
Mix all of the rub ingredients together in a small dish until evenly combined. Rub the spices evenly onto all four pork chops until they are completely coated.
To grill the pork chops, begin by preheating your grill and scrape the grates clean. Grill the chops over direct high heat 6-8 minutes, flipping once.* Remove from the grill when the internal temperature reaches 145º-150ºF.
Allow the pork chops to rest for five minutes before serving.
Notes
*I recommend placing the chops in the brine on the morning you plan to cook them.
*For chops 1" thick or more, sear over direct high heat until the first side is nicely marked and flips easily, then reduce to direct medium heat on the second side.
GRILLING NOTE: Grills vary greatly, but I've found a method that allows me to create a nice sear on a gas grill. After you've preheated and cleaned your grill, turn the knob to the desired cooking temperature, but place the meat on the grates immediately, rather than waiting for the temperature to drop first. This gives you a couple of minutes where the grates are hotter than they would be at the cooking temp but the fire is not so hot that it will burn your meat. This method results in a consistently flavorful crust and picture-perfect grill marks, like in the photos above.
SERVING SUGGESTIONS: These chops pair wonderfully with Southern favorites like Cheesy Grits, Collard Greens, and Fried Apples.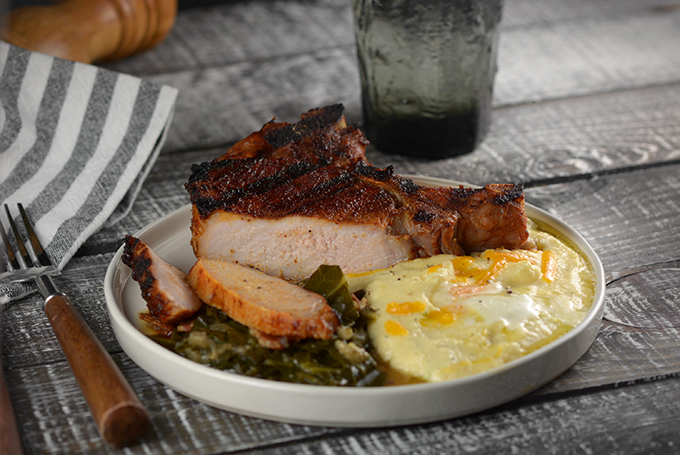 You may also enjoy…