Pork Tenderloin with Cherry Sauce – Simple, but with an air of sophistication, this tasty dish and decadent sauce will have you licking your plate clean!
My 3-year-old loves dipping sauces. I regularly need to intervene lest he has sauce with a side of chicken for dinner. I have actually caught him spooning ketchup from his plate as if it were tomato soup!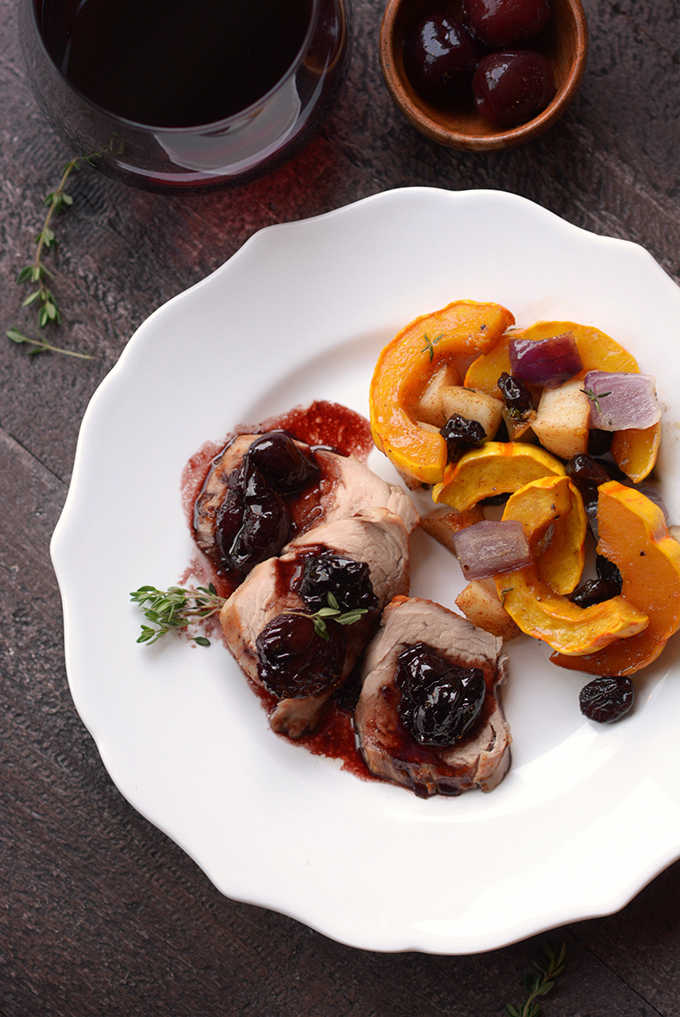 I'd like to admonish him, pointing out how deeply disgusting it is to eat ketchup as an appetizer. Admittedly, however, I'm fairly certain he gets his love of sauces from me and the rest of my side of the family.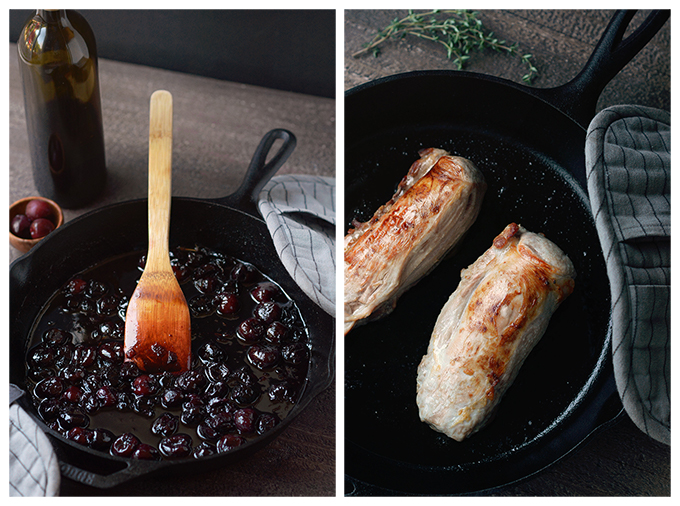 I didn't realize I had a sauce "problem" until after I got married and my mother-in-law sent me a comic clipped from her local newspaper highlighting my over-consumption of ketchup… There's nothing like in-laws to help a girl get in touch with the areas she needs to improve about herself!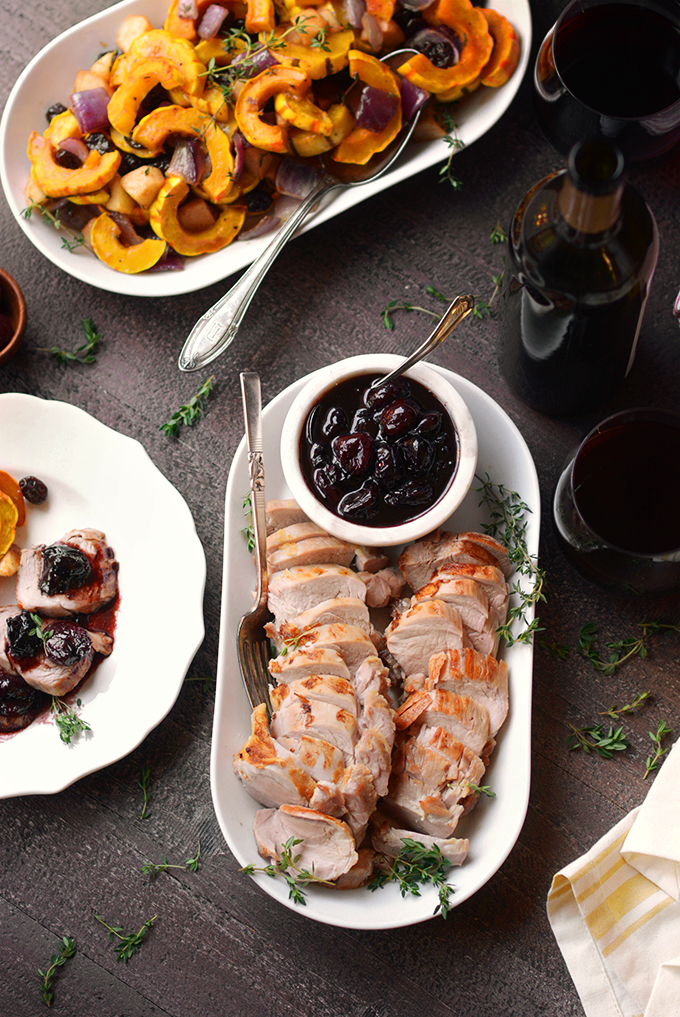 Improve myself I have! Since my newlywed years over a decade ago, I've transitioned from buying sauces in the condiment aisle at the grocery store to making lick-your-plate-worthy ones on my stovetop.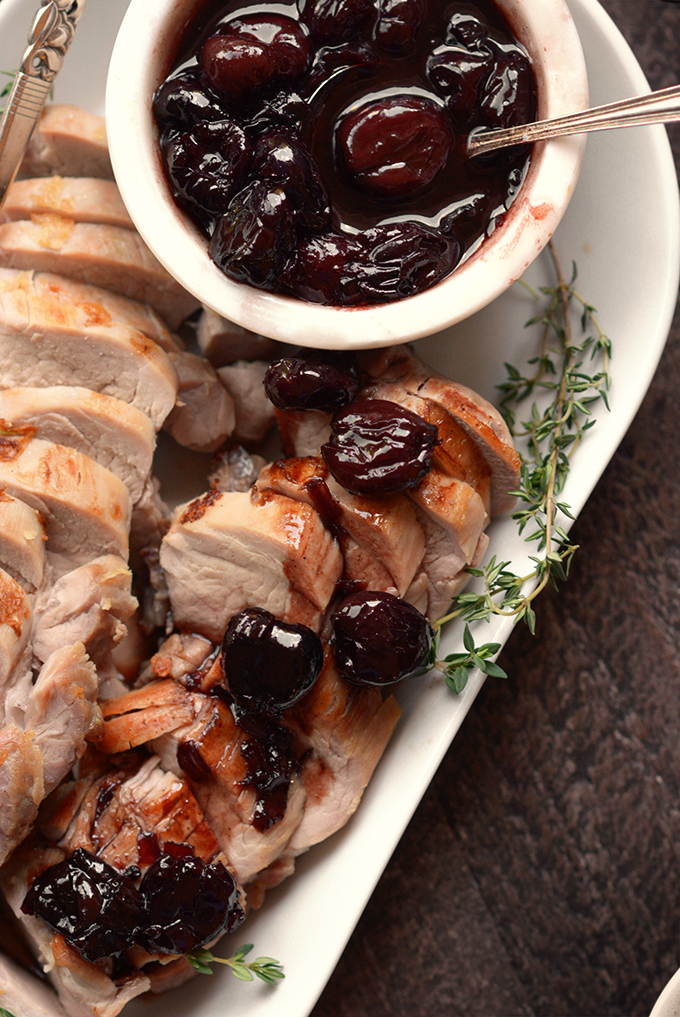 This recipe for Pork Tenderloin with Cherry Sauce has just that kind of sauce. It's sweet and savory, and it brings out the flavor of this juicy pork tenderloin beautifully!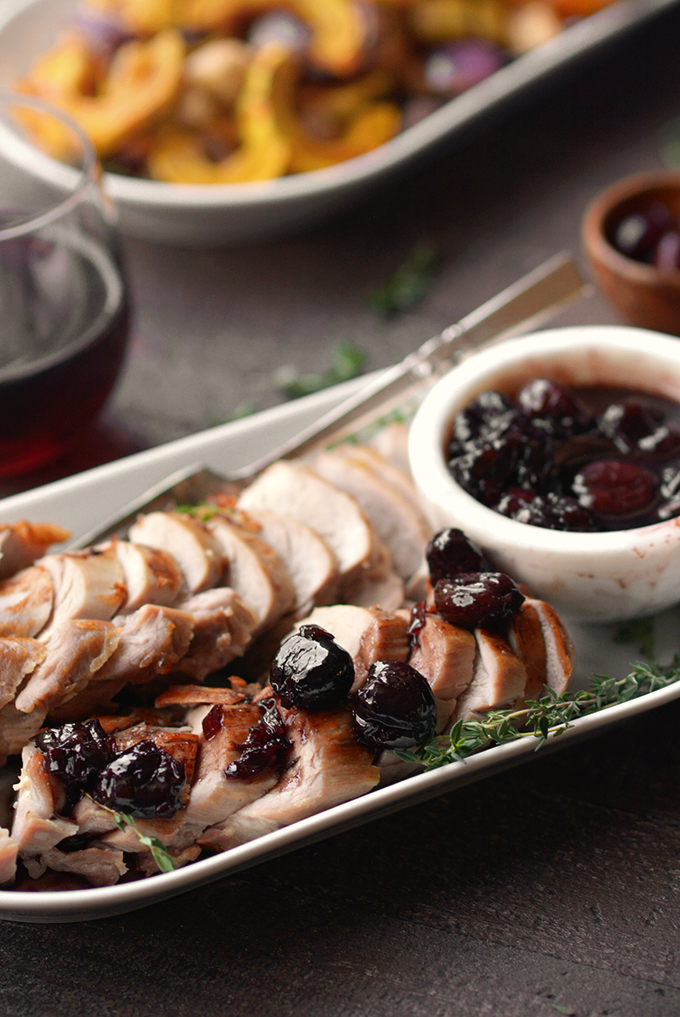 I made this recipe with the holiday season at heart. The red cherries with fresh, green thyme will impress your Christmas or New Year's dinner guests. The great thing is it's technically a one-skillet dish! It has an air of sophistication but I tried to keep it simple.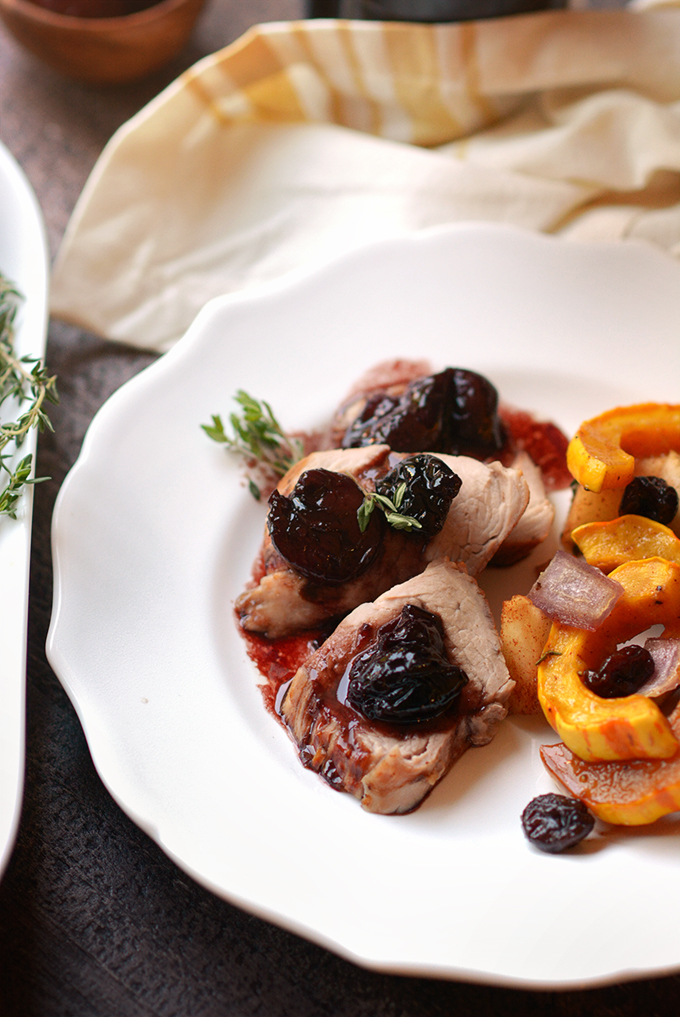 Even better, the cherry sauce in this recipe is so good that I think you may catch your mother-in-law licking her plate clean from across the table. I don't think there have been many cherry sauce newspaper comics made for you to clip, but at least you can then think to yourself, "Would you like some pork with that?"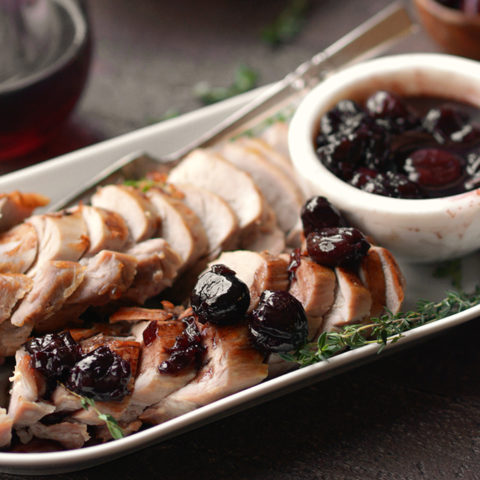 Pork Tenderloin with Cherry Sauce
Total Time:
6 hours
42 minutes
Simple, but with an air of sophistication, this tasty dish and decadent sauce will have you licking your plate clean!
Ingredients
Brine
1/4 C kosher salt
1/4 C packed light brown sugar
4 C water
2 lbs pork tenderloin (you will likely need to buy 2 tenderloins)
Cherry Sauce
4 Tbsp butter
2 Tbsp finely chopped shallots
1 16 oz package frozen sweet cherries
1/4 C light brown sugar
1/2 C dry red wine
2 Tbsp balsamic vinegar
1/4 tsp kosher salt
black pepper to taste
5 sprigs fresh thyme, plus more for garnish
Instructions
In a medium sized bowl mix together the brine ingredients until the salt and brown sugar are dissolved. Place the pork tenderloin in the brine and refrigerate covered for 6-8 hours.
Preheat oven to 450º F. Remove the pork loin from the brine and pat dry with a paper towel.
Add 1 Tbsp olive oil to an oven safe skillet and heat over medium-high heat. Add the pork tenderloin to the skillet and sear on the stovetop for 2-3 minutes on each side.
Place the pork tenderloin in the preheated oven and roast at 450º F for 10-15 minutes, or until the pork tenderloin reaches an internal temperature of 140º F. Once cooked, transfer the pork to a cutting board and allow it to sit for 5 minutes before slicing.
While the pork is resting use the skillet it was cooked in to make your sauce. Over medium heat, melt the butter. Next sauté the shallots for 2-3 minutes, or until translucent. Add the cherries, brown sugar, red wine, balsamic vinegar salt and pepper and 5 sprigs of thyme to the pan. Simmer for about 5 minutes, or until the liquid is reduced by half.
Slice the pork loin and top with the cherry sauce before serving. Serve hot.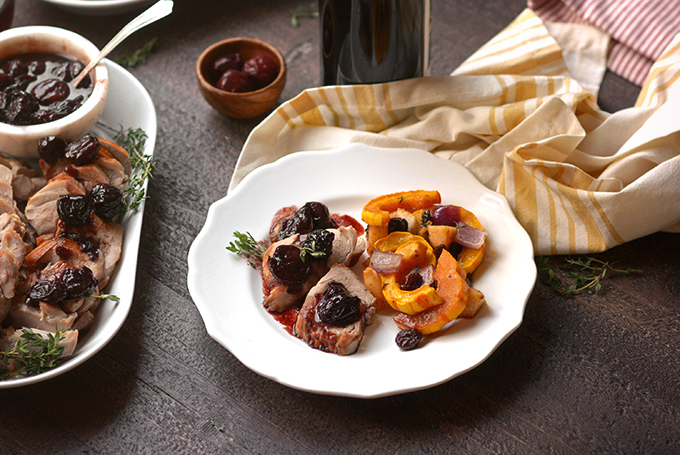 You may also enjoy…