Glazed Sheet Pan Delicata Squash and Pears – With equal parts sweet and savory, you may be surprised how widely appealing this yummy winter squash side dish is at your next family gathering!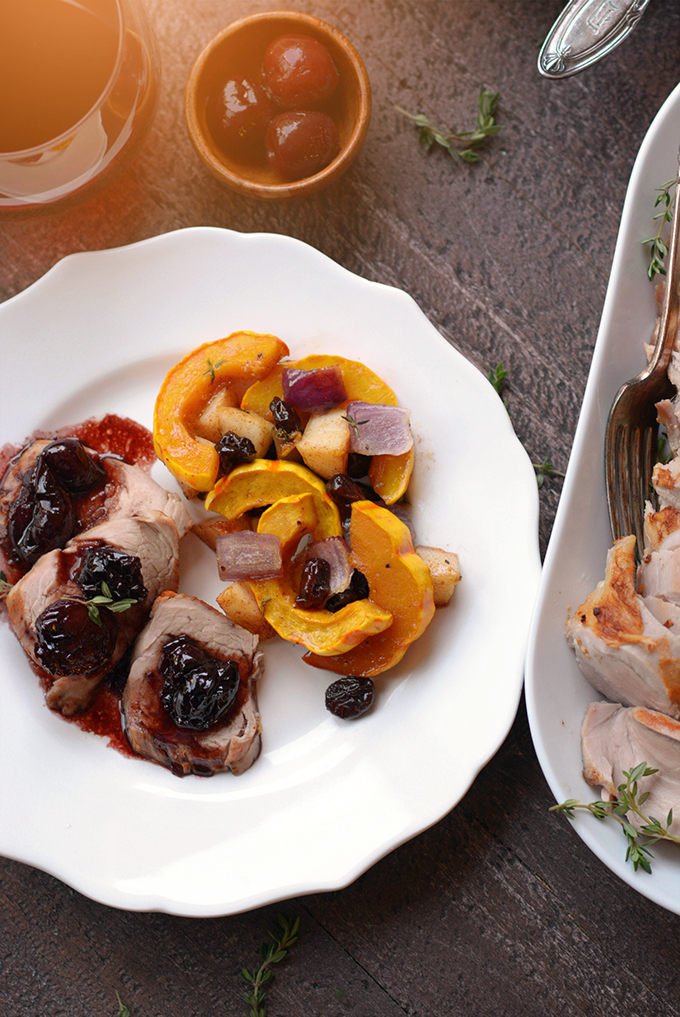 I can't believe it's already time to start getting ready for the holidays. I know it's the season of thanksgiving and all, but this year the season is stressing me out more than normal.
My youngest just turned 3. He's an adorable, curious, red-headed fireball of energy. He's also precocious and stubborn and pretty much monopolizes every moment of my free time. Seriously, if he was half as chill as his big brother was at this age I'd be grateful.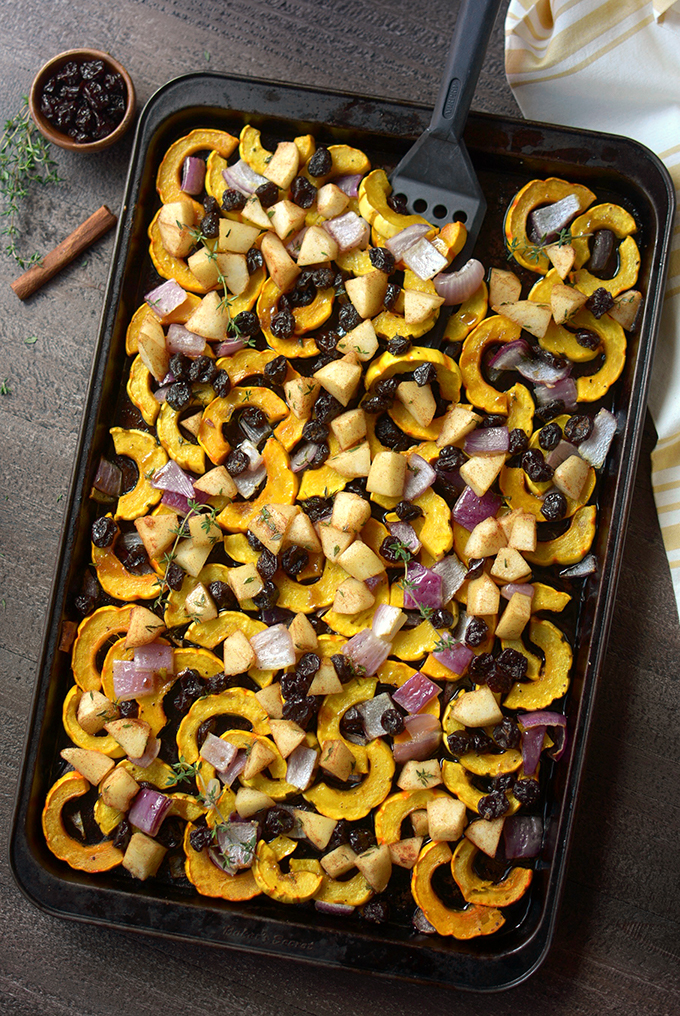 Apparently he takes after me. Whatever…
Anyway, I guess I should be thankful this season for the fact that my oldest is basically an angel. Well, at least when comparisons are made.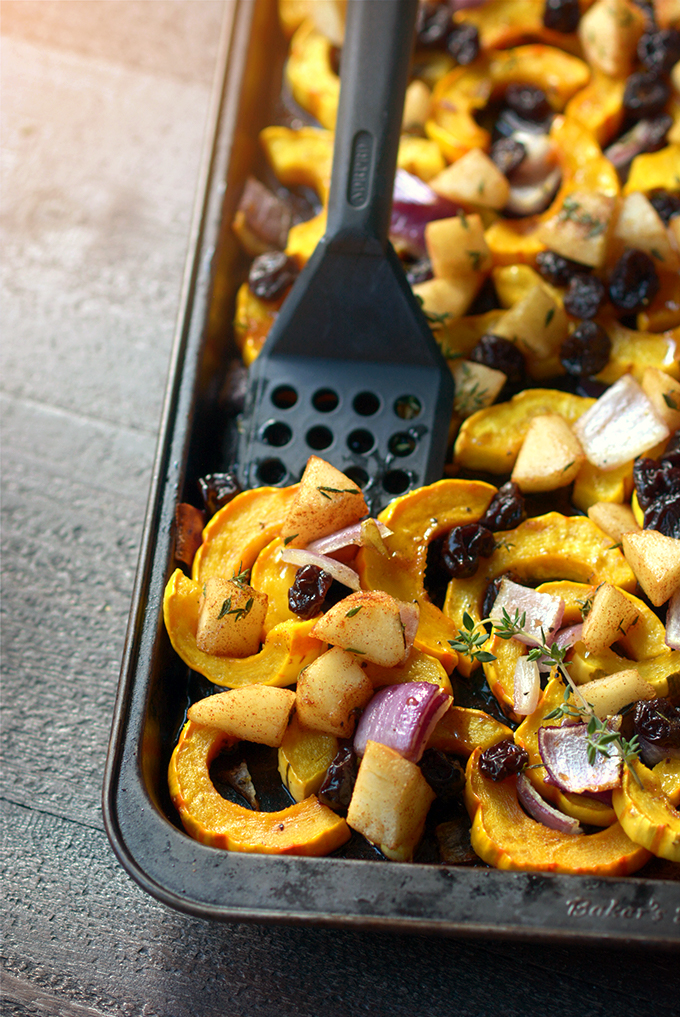 The thing is, my fireball and my angel are a big part of the reason why the holidays are worth celebrating. Being a food blogger, my favorite thing about the holidays is when my family gets together for Thanksgiving and Christmas dinner and memories are made.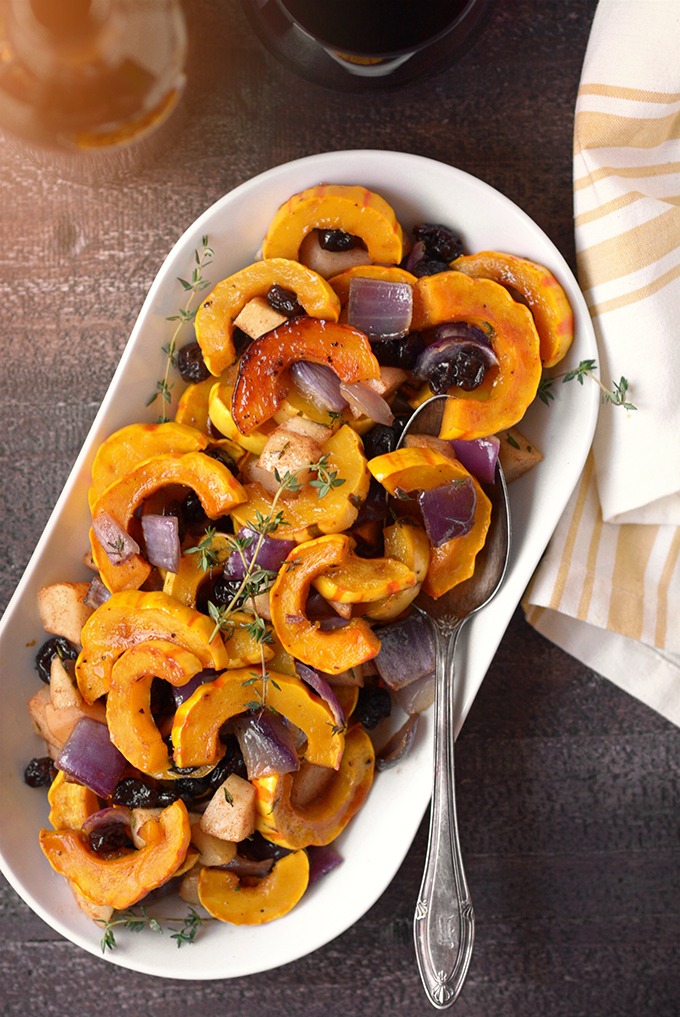 As a group, my family is a little traditional, but also a bit creative with holiday meals. For Thanksgiving we always make turkey and for Christmas it's usually beef tenderloin. We also make the three best kinds of pie (pumpkin, apple, pecan). Otherwise the sides are often switched up from year-to-year.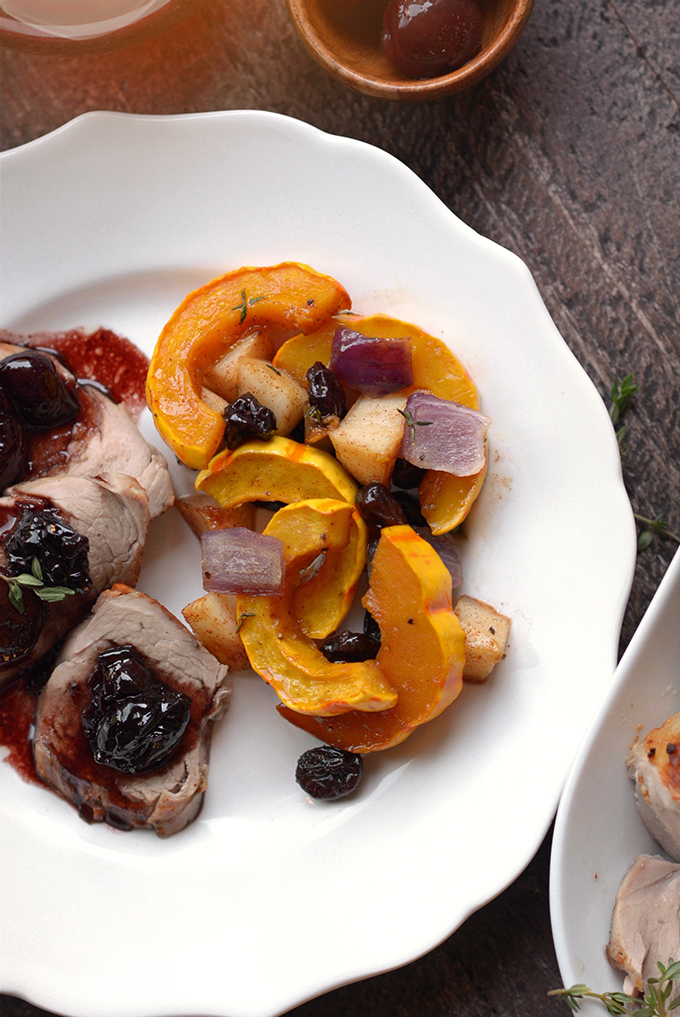 This season I've been experimenting with a couple of new winter squash recipes. The first is this Glazed Sheet Pan Delicata Squash and Pears. The second is… well… you'll have to come back in a couple of weeks to see!
So, this recipe for Glazed Sheet Pan Delicata and Pears is perfect for the holidays because it has the whole sweet and savory thing going on, plus it looks really pretty! If you're looking to switch-up your holiday meal, I'd make this in place of sweet potatoes.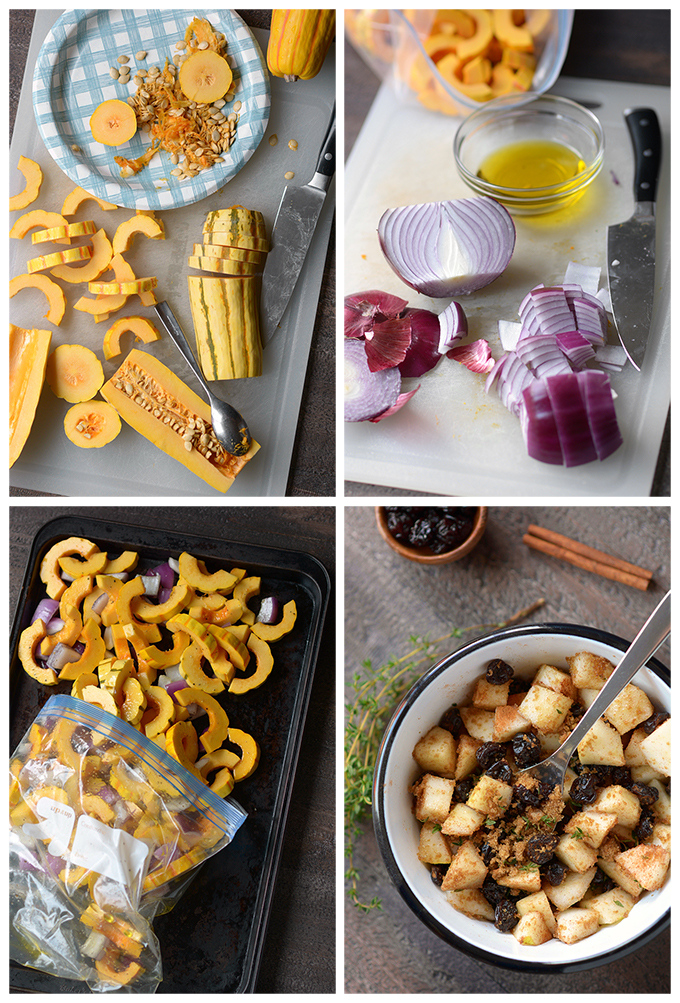 If you're worried about whether or not the WHOLE family will like this side, you can be comforted by the fact that this recipe has been kid tested and approved. That's saying something, because my kids usually turn down all kinds of winter squash. With the addition of pears, cherry, brown sugar, and cinnamon this recipe appeals to the angels and fireballs in your family alike!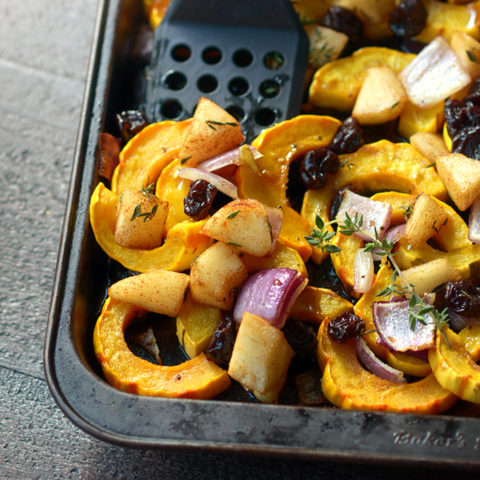 Glazed Sheet Pan Delicata Squash and Pears
Total Time:
1 hour
15 minutes
With equal parts sweet and savory, you may be surprised how widely appealing this yummy winter squash side dish is at your next family gathering!
Ingredients
3 delicata squash, halved, seeded, and sliced (about 3 lbs)
1 1/2 C red onion, coarsely chopped
4 Tbsp olive oil
1/2 tsp salt
1/4 tsp black pepper
2 pears, peeled and coarsely chopped*
3/4 C sweetened dried sour cherries**
4 Tbsp dark brown sugar, packed
1/2 tsp cinnamon
1 Tbsp fresh thyme
Instructions
Preheat oven to 350º F.
Wash, cut in half, and seed the delicata squash. Cut the delicata into 1/4 inch slices. Coarsely chop the red onion. Combine the sliced delicata, chopped red onion, olive oil, and salt and pepper in a ziplock bag. Shake to evenly coat and season. Pour from the bag and evenly spread over a dark baking sheet with the flesh of the squash touching the pan. Roast at 350ºF for 30 minutes.
While the vegetables are roasting, in a small mixing bowl combine the chopped pears, dried cherries, brown sugar, cinnamon, and thyme. Mix to evenly coat and set aside.
Once 30 minutes have passed remove the baking sheet from the oven. Evenly pour the pear and cherry mixture over the vegetables and gently flip and toss to coat the squash. Roast for an additional 10-15 minutes. Once done, serve immediately.
Notes
*Use slightly under-ripe pears, as they hold up in the oven. 
**If you can't find sour cherries you can substitute with Cherry-Infused Craisins.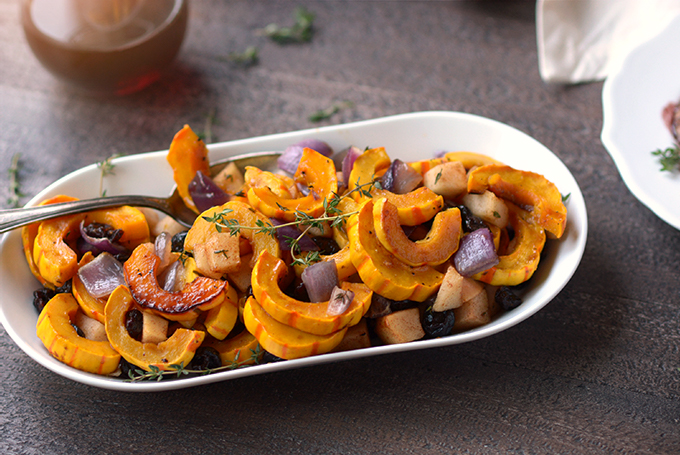 You may also enjoy…