Slow Cooker Boneless Turkey Breast with Gravy – Whether you're trying to simplify Thanksgiving, or just want to enjoy a traditional turkey meal without all the fuss, this recipe is for you!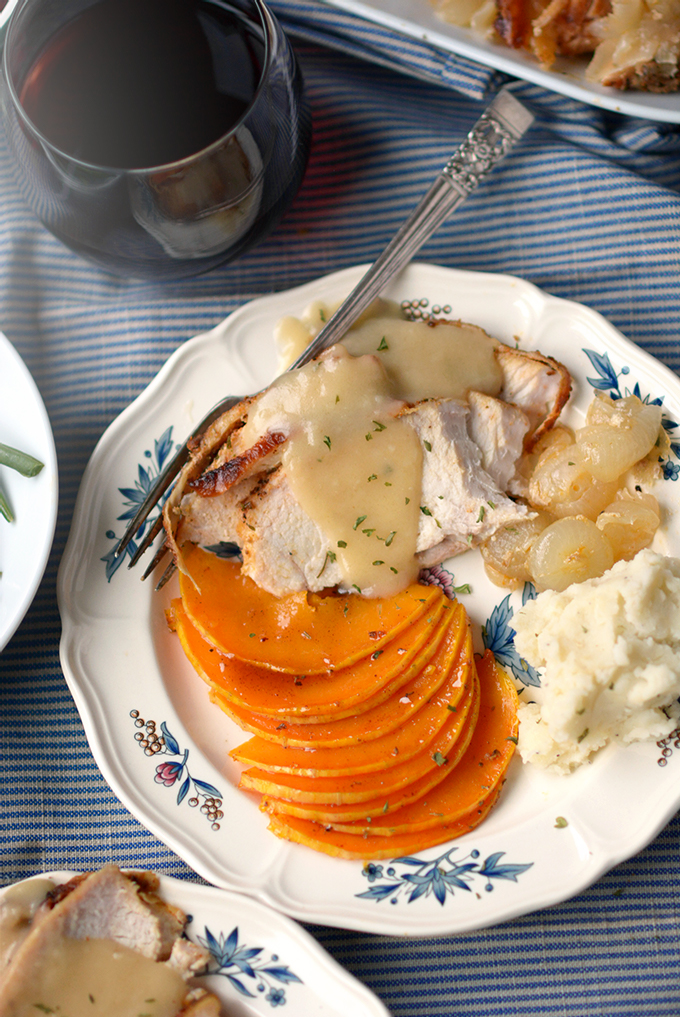 This year is the first year since I've been married that I'm choosing to skip the whole cooking a turkey thing. I've been busy. Plus, I'm a nurse. I work at the hospital on Thanksgiving Day. I'm going to be swapping my home-chef-extraorinaire's apron for my life-saving nurse's stethoscope! Clearly, I think too highly of myself…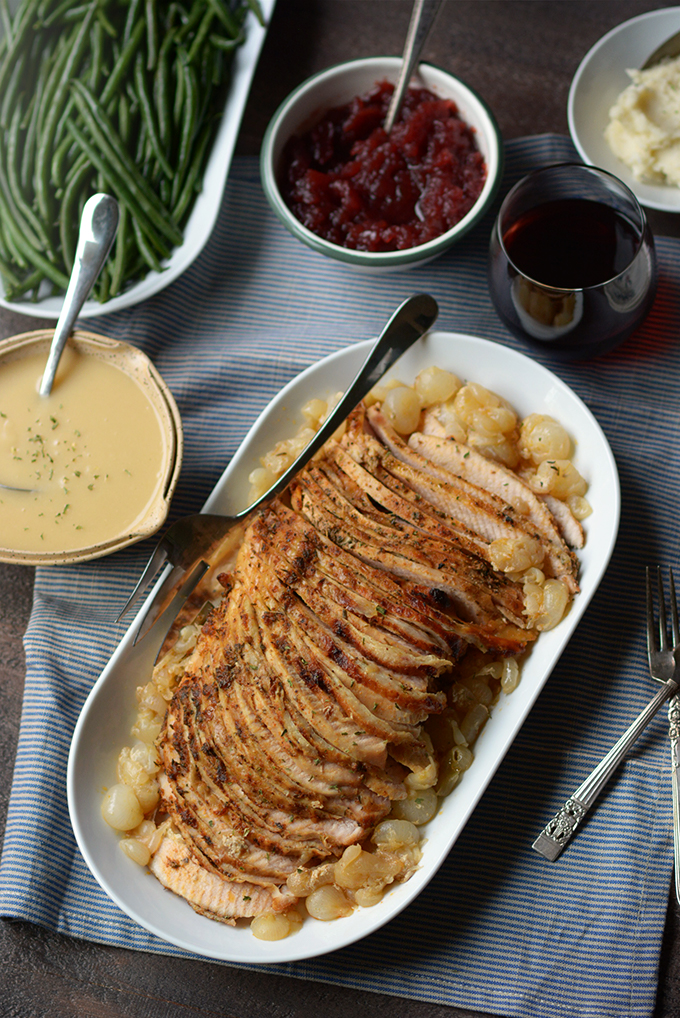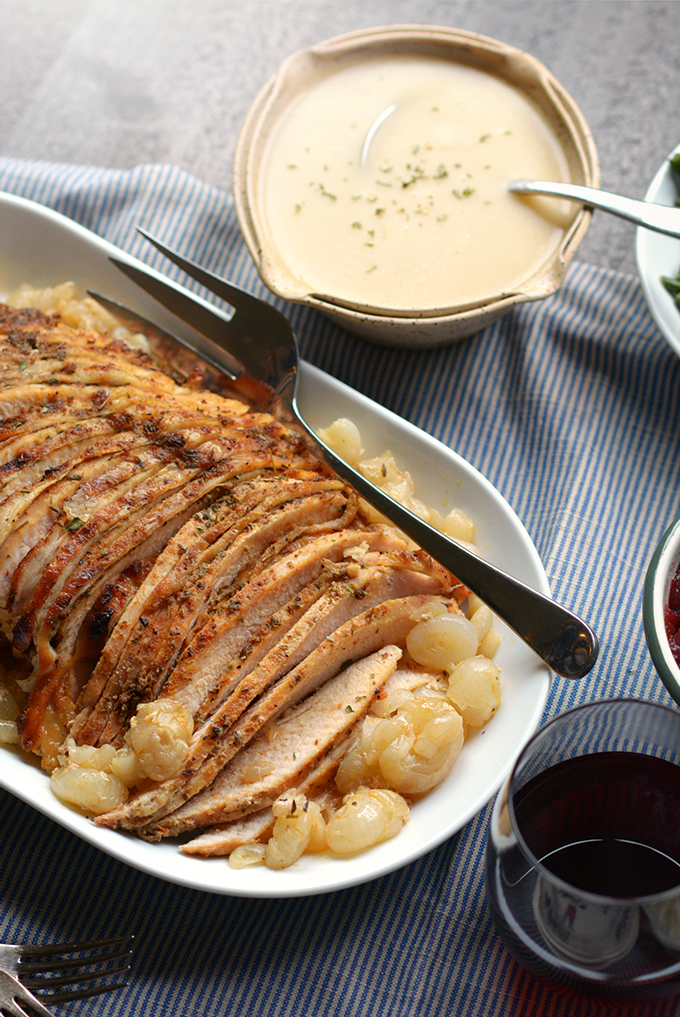 Luckily for my family, not all is lost in the turkey department. A couple of times this fall I've already made them this easy peasy Slow Cooker Boneless Turkey Breast with Gravy. It takes all the stress out of cooking a ginormous bird, but still has all the flavor of a traditional Thanksgiving or Christmas turkey.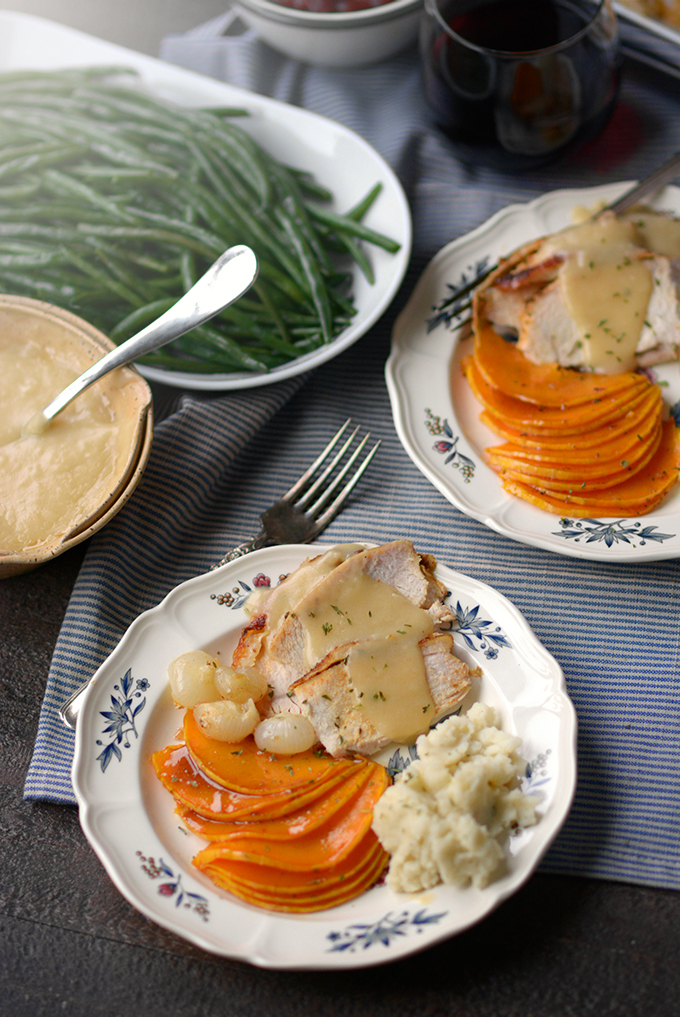 What makes this recipe so delicious is that it still incorporates butter and traditional holiday spices. The main difference is that it's done on a smaller scale. Also, because the turkey is cooked in a slow cooker, it requires no obsessive basting and watching for the white thingy to pop. That means more time for football, or drinking wine, or saving lives, or whatever it is you like to do on Thanksgiving! I know what I'll be doing!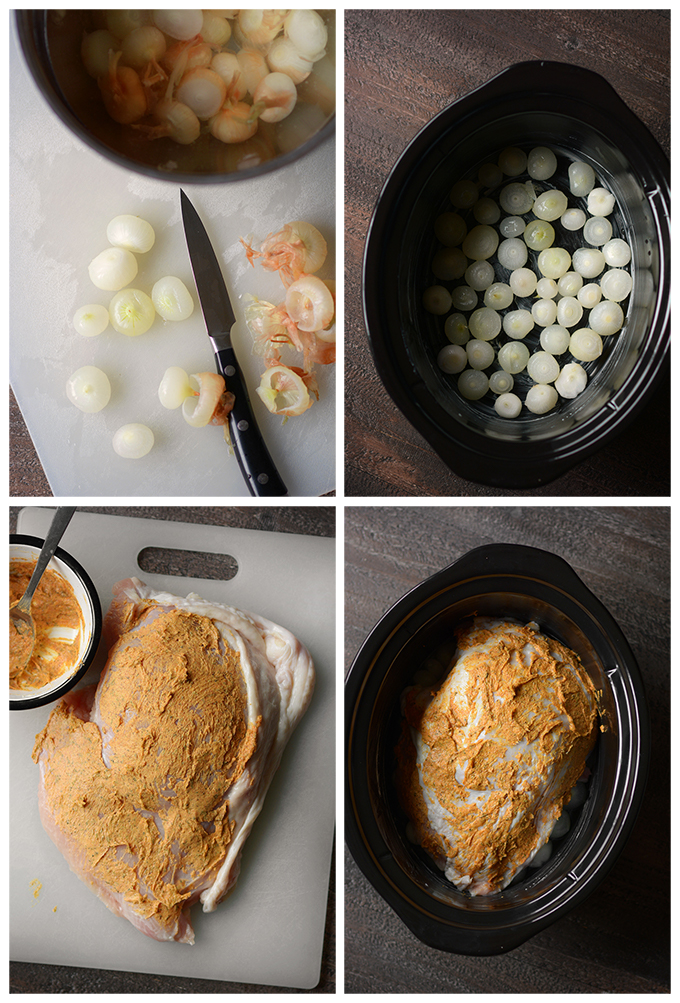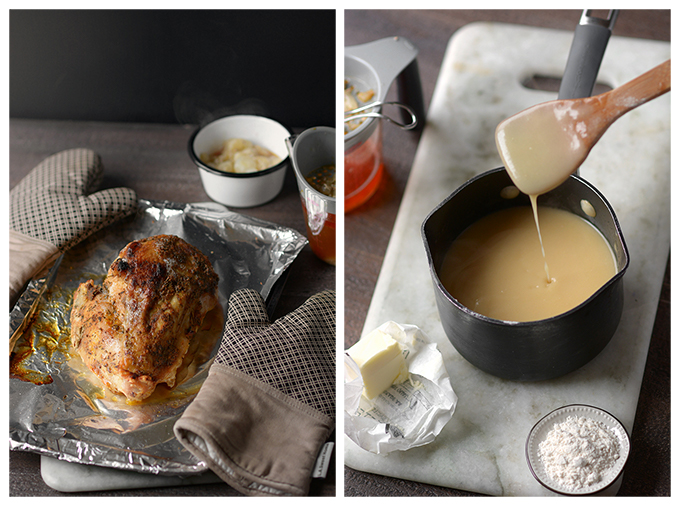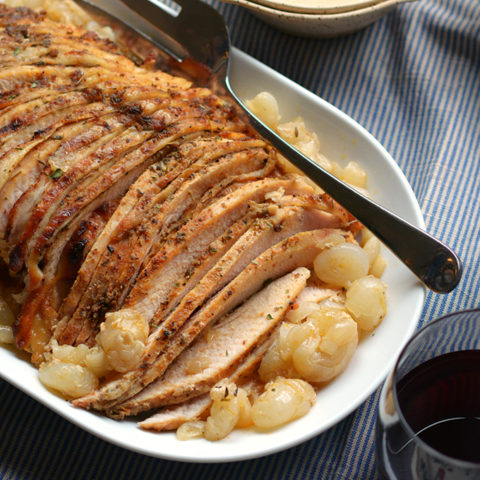 Slow Cooker Boneless Turkey Breast with Gravy
Total Time:
4 hours
40 minutes
Whether you're trying to simplify Thanksgiving, or you just want to be able to enjoy a traditional turkey meal throughout the year without all the fuss, this recipe is for you!
Ingredients
1 thawed boneless turkey breast (3-4 lbs)
1 Tbsp butter
14 oz of fresh or frozen pearled onions
1/2 C water
4 Tbsp butter, softened
1 tsp dried granulated garlic
1/2 tsp dried onion
1 tsp dried thyme
1/8 tsp dried rosemary
1 tsp paprika
1 tsp salt
1/2 tsp black pepper
Gravy
6 Tbsp butter
5 Tbsp flour
2 1/2 C chicken or turkey broth
Salt and pepper to taste
Instructions
If your turkey is frozen, defrost in the refrigerator. Allow 24-36 hours to defrost depending on the size of your breast.
Coat the bottom and sides of the slow cooker with 1 Tbsp of butter and sprinkle the bottom with frozen pearled onions and 1/2 C of water. If you are using fresh onions see the notes section*
Bring 4 Tbsp of butter to room temperature. Mix in the spices until evenly combined. Use half of the butter mixture to coat the space in between the breast and the skin of the turkey. Use the remainder to coat the outside of the breast.
Place the breast skin-side-up in the slow cooker on top of the layer of pearled onions. Cook on low for 3-4 hours. A shorter amount of time should be used for a smaller boneless breast. Allow a longer amount of time for a larger breast.
Check the temperature of the turkey after three hours of cooking. Measure the temperature at the center of the thickest part of the breast. The turkey is done cooking once it reaches an internal temperature of 165 ºF. Caution: Don't over-cook as it will dry out.
OPTIONAL FOR CRISPY SKIN: Once the turkey is cooked through, preheat your broiler to high. Place the turkey breast on an aluminum foil lined baking dish and broil for 3-5 minutes or until the skin begins to get crispy. Remove from the broiler and allow to rest for 5-10 minutes while you cook the gravy.
GRAVY: Over medium-low heat melt 6 Tbsp of butter in an uncoated sauce pan. Add in 5 Tbsp of flour and cook until thick and bubbly. Slowly add the chicken or turkey broth** to the pan while stirring constantly with a wooden spoon so that it doesn't become lumpy. Simmer until the gravy is thick and coats the spoon. Remove from the heat and set aside.
Using a sharp knife or a meat carver, cut the turkey into thin slices. Serve immediately with the homemade gravy.
Notes
*FOR FRESH PEARL ONIONS: Bring a pot of water to a boil. Meanwhile, cut the root end off of the onions. Also prepare an ice bath by placing a tray of ice cubes into a bowl with water. Place the onions into the boiling water for 30 seconds. After 30 seconds immediately strain and place the onions into the ice bath. Once cool squeeze each onion so that it pops out of the skin.
**Feel free to use the juices from the slow cooker. Strain any sediment through a fine mesh metal strainer. If the broth tastes weak add a chicken bouillon cube or two to enhance the flavor.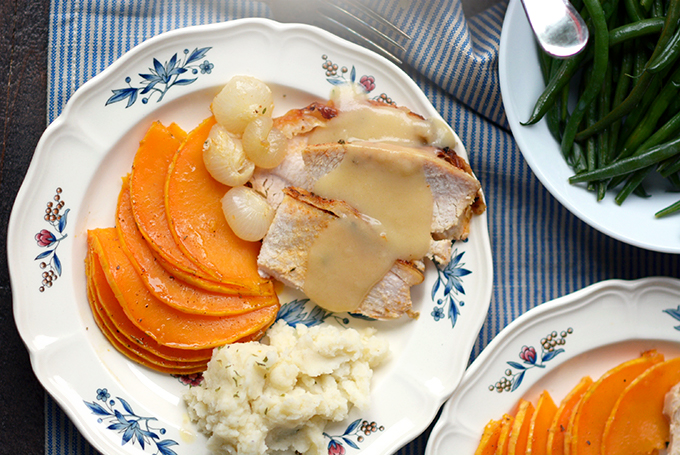 You may also enjoy…