Thanksgiving Wild Rice Stuffed Acorn Squash – This Thanksgiving, why not replace one of the starchy sides with this hearty, seasonal treat. Besides, the whole grains will give you more energy for pie!
With Thanksgiving only a week away, it's time to have a frank conversation about your holiday side dishes. Have you ever noticed that the traditional side dishes for turkey day are various forms of starchy mush? Mashed potatoes, sweet potatoes, stuffing… Even green bean casserole can turn to mush if you're not careful. I understand that this is comfort food, but there is a concept of having too much of a good thing. I think the reason people feel so tired after Thanksgiving dinner isn't because of the tryptophan in the turkey – it's because of all those simple carbohydrates. I think it's time we add some acorn squash and whole grains to the mix! A girl's got to have her energy for pie, you know! I love that acorn squash deviates just slightly off the path of traditional fare, but maintains the essence of the holiday. They're so pretty and they add some noteworthy artful drama to the Thanksgiving table.
In this recipe, the wild rice pops in your mouth and is flavored with what I call the Thanksgiving triad of spices: sage, rosemary, and thyme. Add them to any dish along with a little celery and onion and it magically tastes like Stouffer's Stovetop Stuffing. And let's be honest – to love Stouffer's stuffing is to be American. It's such an important part of my family's Thanksgiving, that while living in Nepal for a year my mom sent a box of the "good stuff" my way. Curry with a side of Stouffer's somehow made Thanksgiving alright on the other side of the world amongst sherpas, yaks, and yetis… As I was saying, this recipe has the essence of Stouffer's, but it's all-natural and full of whole grain goodness!
This year I was excited that I was able to get my acorn squash from my CSA. They're grown from heirloom seeds, thus the unusual patterns on some of the skins. They were perfect, sweet, and tender specimens. They're in season right now so I hope you're also able to find yourself some local beauties!
Now, the key to good stuffed acorn squash, aside from an awesome stuffing, is pre-baking the squash, then adding your stuffing in at the end and cooking until the stuffing is just heated through. That ensures that your squash has time to get tender and sweet and that your stuffing doesn't become overcooked and dried out.
The end result is really quite pretty and festive!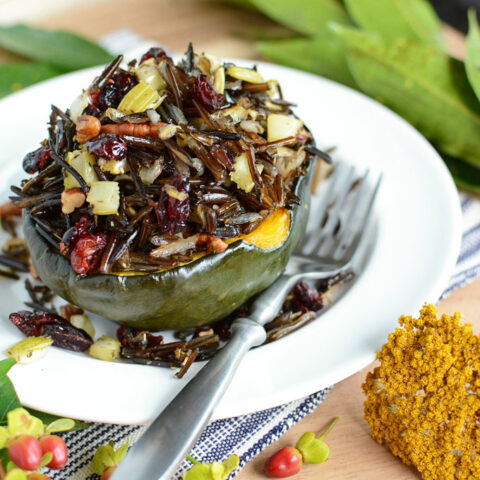 Thanksgiving Wild Rice Stuffed Acorn Squash
Yield: 6

Prep Time: 10 minutes

Cook Time: 1 hour

Total Time: 1 hour 10 minutes

This Thanksgiving, why not replace one of the starchy sides with this hearty, seasonal treat. Besides, the whole grains will give you more energy for pie!
Ingredients
Acorn Squash Bowls
3 acorn squash
1/2 Tbsp olive oil
salt and fresh cracked pepper to taste
Thanksgiving Wild Rice Stuffing
1 C wild rice
2 1/3 C water
1/4 tsp salt
1 tsp and 1/2 Tbsp olive oil divided
1 C diced celery
1/2 C diced yellow onion
1 tsp thyme
1/2 tsp sage
1/2 tsp crushed rosemary
1/2 C dried cranberries
1/4 C chopped pecans
Instructions
Preheat the oven to 375ºF. Remove the stems from the acorn squash and cut the dried part off the bottom. Scrape the seeds out with a spoon and discard. Using a basting brush, lightly coat the fleshy part of the squash with olive oil. Season with salt and fresh cracked pepper to taste. Bake in a 375ºF oven for 45 minutes to an hour, or until the flesh is soft and creamy.
Meanwhile, cook your wild rice by combining with water, 1/4 tsp salt and 1 tsp of olive oil in a saucepan. Bring to a boil, reduce to a simmer, and cook on medium-low heat for 45 minutes to an hour.
About 15 minutes before the squash and the rice are going to finish cooking, make your stuffing. Sauté the diced celery and onion in a skillet with 1/2 Tbsp of olive oil until soft. Add the spices to the pan and cook for an additional minute, then remove from the heat. Fold in the cooked wild rice, cranberries, and pecans.
Scoop the rice stuffing into the cooked acorn squash bowls so that they are heaping full. Cover and return to the oven for 5 to 10 minutes or until heated through. Serve immediately.